Whoah! A Ned sighting!
I spotted this post by @swelker101 a bit too late to catch any of the action. But I'll be skimming the chat and looking for a possible archived edition. (Not sure, but I think @ned went on air?)
Here's a tidbit I already liked.
---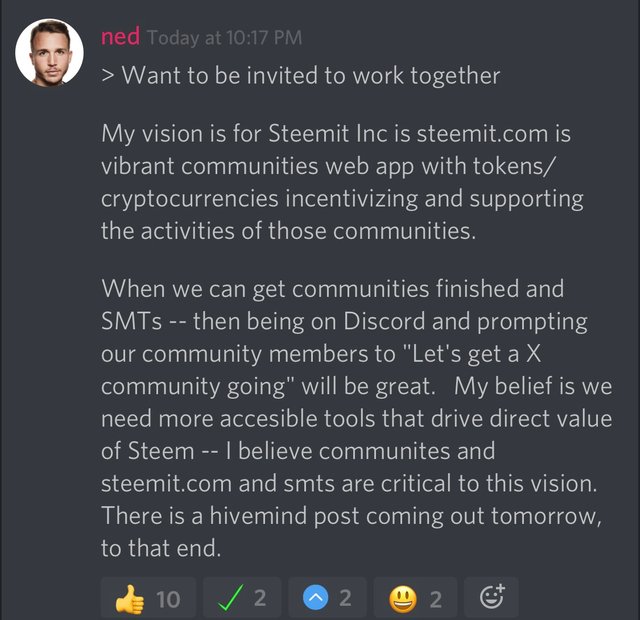 ---
I'm looking forward to some HiveMind info around community tools hopefully. These were in the works before even SMTs and I wish they'd be released standalone, without custom tokens as that's just an extra layer but not necessary.
I've had an eye on a different project called Narrative that has a similar structure to what was described long ago when Steem communities were first teased. User owned & moderated communities that greatly aid user experience, retention, & content sorting... and allow community owners and moderators to run them as mini front end businesses in a sense.
I'd really like to see Steem get there first. The openness and flexibility of Steem is also far superior than what I've seen out of Narrative's plans to date.
One commenter in chat already pointed out that the Steemit Inc. messaging is still a whirlwind of flip flops with the message shown above, as the door seems to swing back toward site & front end development vs. pure blockchain. But if HiveMind tools are accessible to and compatible with the various other apps and Steem sites, it'll prove a boon to the whole ecosystem and still resonate with that core message and goal of developing code & tools for the community at large.
I've been disheartened by recent Steem events just as many have. But my optimism remains. Though I feel Steemit Inc. has been conducting itself rather poorly lately, I'm still excited by what they can bring to the table as just one part of the larger Steem world, and I'll be very interested to hear more in the days to come.
Mini newsflash & commentary rant over. Discuss!
-Bryan