Get Ready For Second Big Bullish Wave Of Ox (ZRX)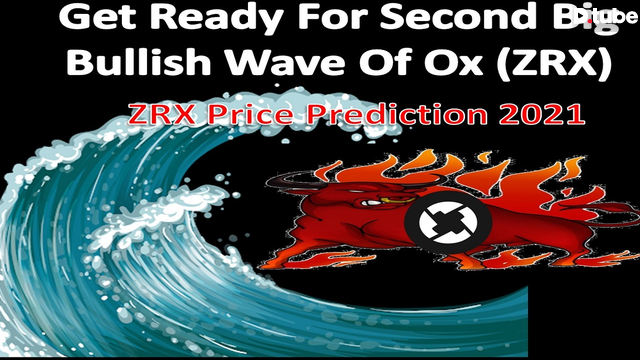 ---
---
▶️ DTube
▶️ IPFS
SMA and key level support:
After a powerful bull run, the price of ZRX dropped at very strong support of $0.50 which is a key level of support for the priceline of ZRX. Previously this $0.50 support level has been working as a resistance as well. Now the same time the price action of Ox has also bounced by the weekly 100 simple moving average support as well. Therefore, at the same time, the ZRX is having a strong support of 100 simple moving average and the key support of $0.50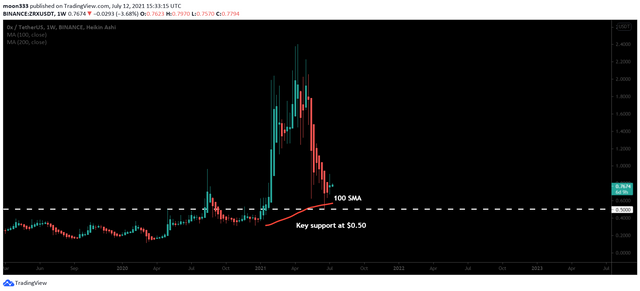 Stochastic and MACD:
After this drastic drop it can be easily observed that on the weekly time frame chart, the stochastic oscillator has entered the oversold zone, which is indicating that the ZRX is quite oversold now. If we take a look at the moving average convergence divergence ( MACD ) indicator then it can be also noticed, that it has started turning bullish, previously it was very strong bearish.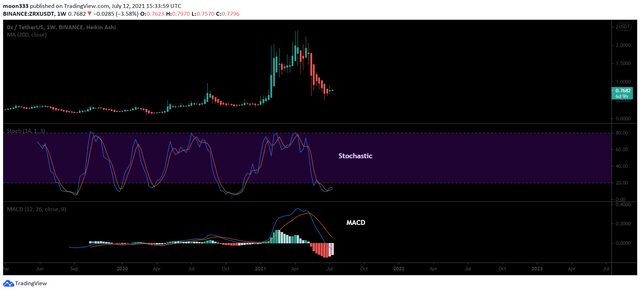 Falling wedge and RSI:
On the daily time frame chart, the priceline of Ox was moving in a falling wedge pattern. This is considered to be a bullish reversal pattern and if we watch the movement of the candlesticks within this falling wedge with the combination of RSI oscillator, then it can be observed that whenever the price line is reaching the support of falling wedge and RSI is visiting the oversold zone, the candlesticks are moving towards the upside and making attempts for the breakout.
Finally, the price action reached support while the RSI was entered the oversold zone. The price action of ZRX started moving towards the upside with the RSI and broke out the resistance of the falling wedge pattern. At the moment it is trying to break out the 50 simple moving average on the daily time frame.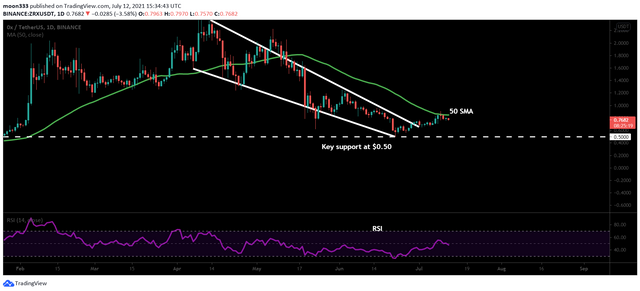 Big bullish Butterfly move:
On the 4-day chart, the price action of the ZRX has completed the bullish Butterfly pattern. There is also 100 simple moving average support in the buying zone and the 200 SMA below this zone. The buying and sell targets as per the Fibonacci sequence of the Butterfly pattern should be:
Buy between: $0.95 to $0.5555
Sell between: $1.26 to $2.00
The maximum extent of potential reversal zone to $0.5555 can be used as stop loss or to minimize the risk factor the 100 SMA can be used for this purpose. As per the above targets, this trade has a huge profit possibility of 260%, and the high loss possibility upto 42% but I would suggest using 100 SMA as stop loss to minimize the loss.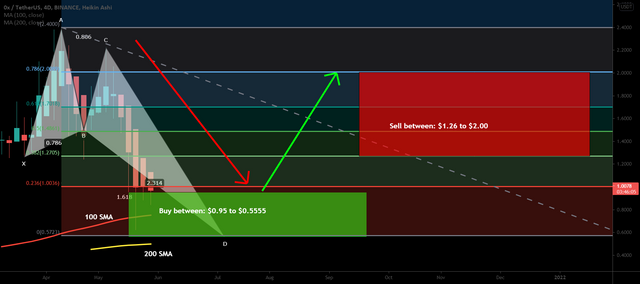 https://www.tradingview.com/chart/ZRXUSDT/DSIc1YEE-Ox-ZRX-formed-a-big-bullish-Butterfly-for-upto-260-big-move/
Don't forget to upvote/tip and share the post, thanks
You can also support my work at Patreon for more ideas:
https://www.patreon.com/moon333
In order to play and watch the current performance of the chart you need at least a free account on tradingview:
https://www.tradingview.com/gopro/?share_your_love=moon333
KuCoin is one of the best exchange to find crypto gems:
https://www.kucoin.com/ucenter/signup?rcode=rJSDVT3
Link for Binance exchange, to trade crypto:
https://www.binance.com/?ref=11256882
Note: Above idea is for educational purpose only. It is advised to diversify and strictly follow the stop loss, and don't get stuck with the trade.