Decentralized Social Media with Chris Kramer of Somee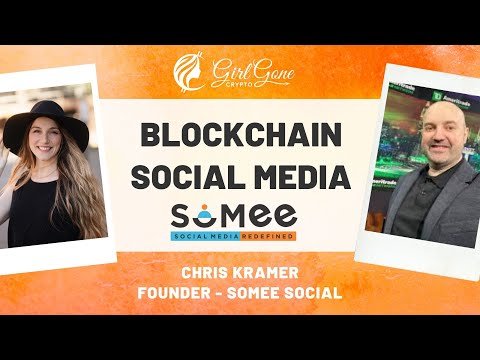 ---
Hi Friends!
Many of you know that I'm a huge proponent of decentralized and alternative social media sites that utilize blockchain technology and cryptocurrency to promote free speech and reduce content censorship. I've been a very regular member of the Hive (formerly Steem) community for about 3 years, and so I've seen the value of actually owning your content first hand.
More recently (about 5 or 6 months ago) I joined Somee! It was originally a fork of Steem actually and so it was pretty easy to get accustomed to using it. The tokenomics and structure is different - but I think those that have used Steem or Hive would probably really enjoy Somee. One of my favorite things about it, is that it is a great "short form" content platform and so I often share my interview announcements and twitter/instagram style content there.
In this interview, I chat with the Founder Chris Kramer to learn more. We do a basic rundown on the various features in the platform and how it works, what the team is currently working on, their recent partnership with Onica, and more.
I really hope you enjoy this video! After using the platform for a long time, it was so great to finally meet the founder!
🔗 Guest Links:
somee.social
https://twitter.com/SoMeeOfficial
https://twitter.com/OneName_Global
🔥Let's Be Friends 🔥
Website - https://lealovescrypto.com
YouTube - https://YouTube.com/c/GirlGoneCrypto
Twitter - https://www.twitter.com/girlgone_crypto
Linkedin - https://linkedin.com/in/GirlGoneCrypto
Instagram - https://www.instagram.com/girl_gone_c...
Hive - https://peakd.com/@coruscate
Steem - https://steemit.com/@coruscate
Flote - https://flote.app/GirlGoneCrypto
TikTok - http://vm.tiktok.com/m3kSQX/
Facebook - https://www.facebook.com/girlgonecrypt0/
🍰 Thank you to my sponsor Cake Wallet! 🍰
Store, send, receive, and exchange your Monero safely on both iOS and Android devices. Cake wallet is open source and you always control your own keys and seed. You can even exchange between XMR, BTC, LTC & more in the app!
➡️ Learn more and download at https://cakewallet.com
---
▶️ DTube