Merging with the Machine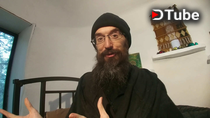 ---
As you're probably aware, humanity is being pushed towards a choice of whether to merge with the machine or to remain classically human. I see the transhumanist option as being viable as long as the people and AI in control of and merged into that instance of hive mind act honorably. Unfortunately, the current instance we're being presented with appears to be controlled by entities who are willing to lie, manipulate and destroy people's lives in order to fulfill their agenda.
Thanks for watching!
Cahlen Lee
---
WEBSITE: https://cahlen.org
TELEGRAM: https://t.me/CahlenLee
ODYSEE: https://odysee.com/@Cahlen:0
VOICE: https://www.voice.com/profile/cahlen
BITCHUTE: https://bitchute.com/cahlen
MINDS: https://minds.com/cahlenlee
EMAIL: [email protected]
---
I am probably wrong about at least one thing I said in this video. Please do your own research before putting this information into effect.
Please read my Public Notice: https://cahlen.org/notice
---
▶️ DTube
▶️ IPFS