Introducing The Canna-Community Curation Trail: A WeedCash Network Initiative to Support the Steem Cannabis Community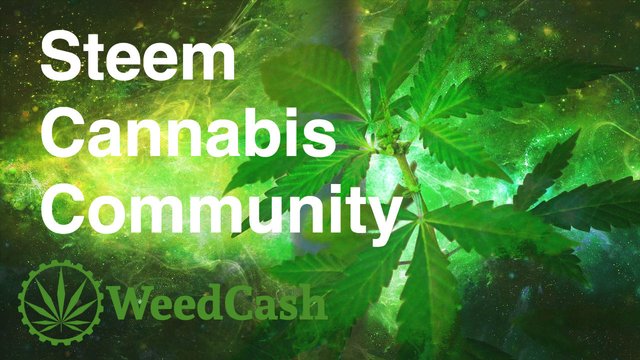 WeedCash was the first Steem-Engine Tribe. We are not the biggest tribe, but we have been steadily growing the user base and market for our token since the beginning. We are honored to be a part of the Steem ecosystem and love interacting with other Steem-Engine Tribes like @naturalmedicine, @palnet, and @steemleo.
Is WeedCash Network a Tribe or a Community? Answer: Both!
We have always planned to integrate with Steem Communities and SMTs as soon as they become available. Communities are only in beta, but we have already integrated our Steem Community into the network by setting up auto posting through the community from the WeedCash Nitrous Steem front-end(https://weedcash.network/), thanks to @eonwarped from the @steem-eng team. This effectively loops in our Steem community and the post is still posted to your Steemit blog.
This has already helped to grow our pending payout numbers making our Steem Community more visible. We were the first to do this and the Natural Medicine Steem Community did it soon after. I expect other tribes probably will too.
At WeedCash Network, we want to lead the way in integrating Steem-Engine and SMTs. Our SMT will be another expansion of our already expanding network. It will be pretty cool when you're earning STEEM, WEED (the Steem-Engine token), and WEED (the SMT), with one post, not to mention all the other tokens that can be earned depending on your tags/topics.
Expanding the WeedCash Network
We are the community for cannabis enthusiasts on Steem AND on EOS! We are currently growing our network through our EOSIO token and eventually through our EOS DApp and Decentralized Autonomous Community for Cannabis legalization through EOSDAC and Telos.
@Ackza just pointed out to me that Coin Gecko has noticed our EOS token after it was listed on NewDex https://www.coingecko.com/en/coins/weedcash?utm_content=weedcash&utm_medium=search_coin&utm_source=coingecko
Curation Guild
Our growth includes a lot more than just giving out WEED rewards. For one thing, giving out STEEM rewards! To that end we are funding this Steem account(@canna-community) with all the funds from the ongoing Steem-Engine WEED sale. The first tier (20k WEED) has already sold out at .042 STEEM each. I should've know that one would go fast because that was some cheap WEED!
Congrats to all who got in on the first tier as we move towards the next one. As @weedcash's STEEMP holdings are already starting to grow, it's time to power up and start upvoting our users and growing the funds with curation rewards.
Earn Curation Rewards
I (@richardcril)l will be personally following our steemauto trail - canna-community with over 10,000 STEEM Power and over 20,000 WEED Power. I will follow the trail with a one minute delay so if you follow the trail, you will be voting in front of me, which will earn you curation rewards!
This will add value to our Steem Community by adding our upvotes to the pending payout total. We will add value to Steem in general by upvoting the best cannabis and psychedelic content on the Steem blockchain while providing a useful trail that you can follow to earn curation rewards.
Curation and Delegation
I (@richardcrill) will be manually curating the best cannabis and psychedelic content on Steem. I will only be using automatic voting on authors that are consistently producing the highest quality content. The bulk of the curation will be done manually. We will not be accepting delegation for votes, but we'll happily accept delegations if you just want to support the Steem Cannabis Community.
---
Join Our Community: https://beta.steemit.com/trending/hive-195708
Follow Our Trail!: https://steemauto.com/dash.php?trail=canna-community&i=1
White Paper: https://weedcash.network/cannabis/@coffeebuds/weedcash-network-white-paper
Trade WEED/STEEMP on Steem-Engine: https://steem-engine.com/?p=market&t=WEED
Trade WEED/EOS on NewDex: https://newdex.io/trade/weedcashntwk-weed-eos
Earn WEED: https://weedcash.network/
Telegram: https://t.me/weedcashnetwork
Discord: https://discord.gg/jMHX3d8
---