Steem-Cameroon Celebrating Quadruple Dolphin Status.
Steem Greetings,
Today we celebrate a major achievement, Quadruple Dolphin. Today, we celebrate YOU for having gone this far with us. The road has been long with lots of challenges but we've stayed focused and committed to building our community account as well as supporting our members to thrive on the Steem blockchain.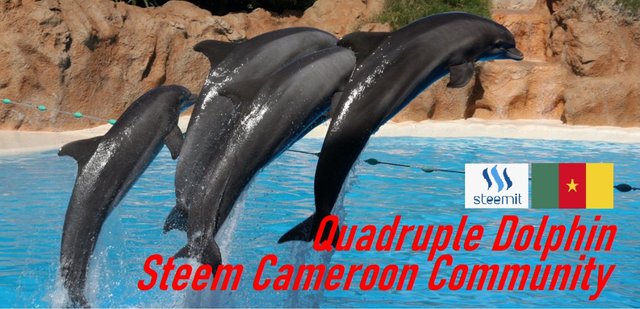 Steem Cameroon was created to serve Cameroonians and we're proud that we're amongst the best supporting communities on the platform. By supporting our community members, we've been able to accumulate curation rewards that have seen us grow our community account from Minnow to Dolphin, Double Dolphin, Tripple Dolphin and now Quad Dolphin. By supporting you to grow, we've grown with your support and today we celebrate our growth.
Our new status as Quad Dolphin is evidence of the fact that From little things, big things grow and corrobarates to the adage that "Little drops of water, form an ocean". Your curation upvotes, our curation rewards, the Cameroon Steemit Njangi, and the support from the Steemit Team have pushed us to this Quad Dolphin Status and we really want to Thank You for your support.
Account Before Power Up.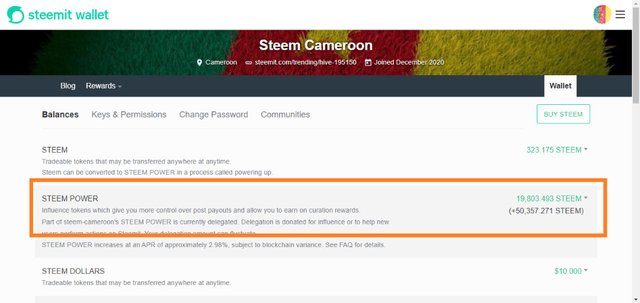 Account After Power Up.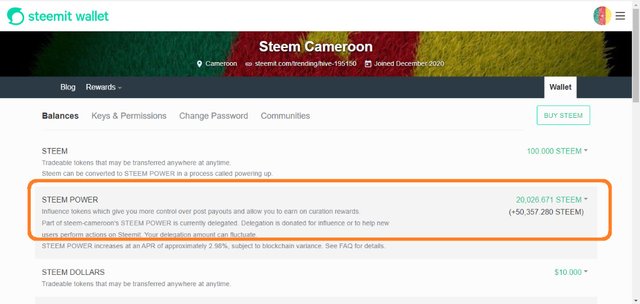 Our journey to the next level has just started and we look forward to becoming an Orca. We will continue to create more avenues to grow the community account so that we can be able to reach out and support more to more users creating quality content in our community and beyond.
We are hereby calling on our community members to;
Continue to support us to grow by commenting, upvoting and resteeming all @steem-cameroon content
Massively participate in Steem Cameroon contests
Be consistent and committed to creating quality content daily on the platform.
Improve the level of engagement on other users' content. This way you create visibility on your content from other users.
Stay original and refrain from all forms of plagiarism.
Always check your account VP on steemworld.org and support others with upvotes. Do not allow your account VP to idle at 100.
Steem Cameroon is growing because of your support. We value and appreciate your support and look forward to receiving more support from you as we grow to become your Orca.