What has been days, is now a few hours left to the steem power up day. I am super excited for this incoming remarkable steem day. I love steem and I believe steem has a great potential of impacting mankind. It's time for me to express my love for steem in a much deeper way. Come on steem power up day.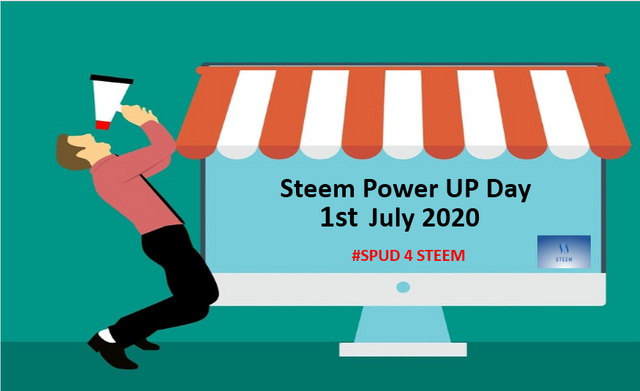 If I remember very well my last and ever biggest steem that I have ever powered up was about 200SP that was back in the days when I had just started out on steem. It's time to for me to break up this limit and have more steem powered come 1st July 2020.
My target for this year is to own atleast 10,000 steem power. When I break it down in small easily attainable portions, I want to have 2000 steem power per month. How do I expect to attain that? On steem I am more of a content creator; I believe by keeping on creating valuable content, engaging with other steemians on this platform plus curating on good content, this is very achievable.
I want to win some steem. Check out these amazing prizes for the 3 lucky winners.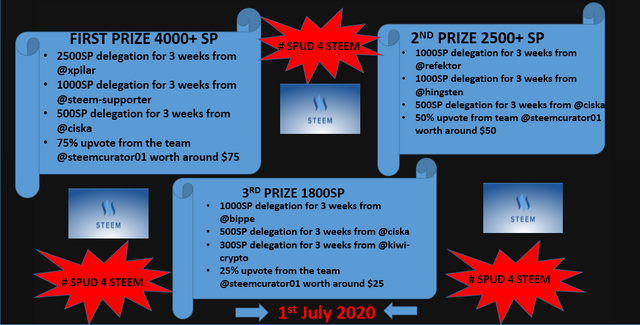 information source: @steemingcurators post
All these prizes are proudly sponsored by @xpilar @reflektor @hingsten @bippe @steemcurator01 @ciska @kiwi-crypto @steem-supporter @stephenkendal
You just can't afford to miss out on these exciting packages.
Reasons for powering up
Steem power helps one to have more influence on the curation payout. I want to accumulate as much steem power as possible during this time, therefore I am considering to power up some steem so that I earn big time on Curation.
Steem is still undervalued and I want to moon with it. I am taking off this great and exciting moment to stake some steem so that I benefit from any future pump.
With steem power your growth on steemit is accelerated. I want to grow my account as I continue adding value to the steem chain through content creation, engagement and curating on the good content created by the steem newbies, my fellow Ugandans and the Africans.
Steem power enables one to save money for the future use. I have lots of dreams and needs in my life that are costly for me to acquire now due to my low financial status. I want to utilize the steem power up day to save money for my future wedding, mansion, bike, car and so on.
Who would i support with 1 million SP?
With 1 million Steem power I will be able to support various charities all over the world on the steem ecosystem. Since I am a steem greeter, a steem Africa Curator, and a Ugandan. I really want to use the 1 million Steem power to support newbies on the steem ecosystem, Africans, and also build up the Uganda steem Community.
How much Steem Power can change your life and those around you?
As for me 100,000 steem power can change my life and those around me. However, this is not the limit, I am steem hungry and I want to have as much steem as possible which I can consistently use to impact many lives all over the world.