SUT - Steemit New User Tracking - WebJob deployed on Azure
Steemit New User Tracking (#SUT)
As I am currently working on an experiment project i.e. New User Tracking. I would like to share an update on the same.
Steemit New User Tracking Url - https://steemut.azurewebsites.net
---
WebJob deployed on Azure
#SUT background job is deployed on Azure App Service as a WebJob. It is scheduled to run at UTC 2300. It is hosted on free tier service with 60 minutes of uses per day.
I just triggered it today from Azure, It ran and updated all records till job run time.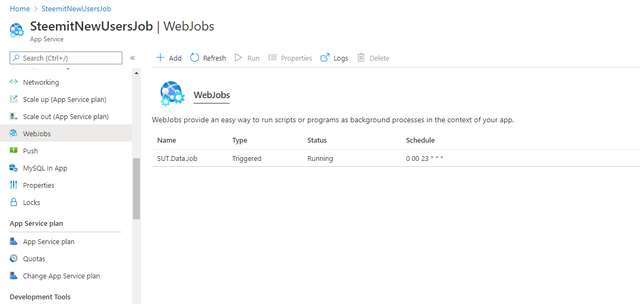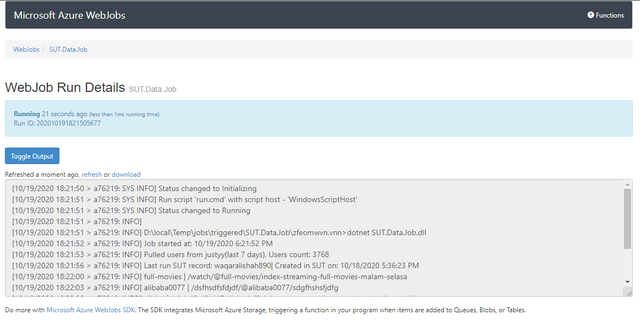 Job triggered on Azure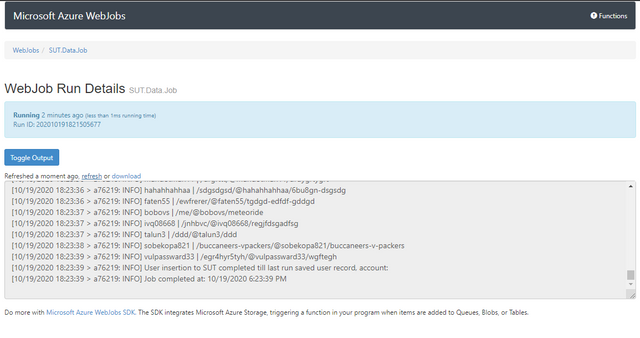 Job completed
The Steem Greeter Fairy Team
Steem Greeter Fairy Team can now go through the list of new users/their posts and can greet them if they find it valid/real account. The new user's list is updated automatically on daily basis on #SUT. I am planning to test and add relevant features to avoid spreadsheet in the future. I understand that few members from Greeter Fairy Team is already using SUT now and I hope it is helping them to find and guide newcomers.
Cc:
@belenguerra
@girolamomarotta
@besticofinder
@adeljose
@tocho2
@kiwiscanfly
Next Steps:
Login feature.
Display country information if available in User's profile.
Add background job to keep checking New Users account in case they publish their first post after 7 days, maybe the program needs to check until 4 weeks.
Show New Users list on another page who has not posted any blog yet.
Active/dormant users list country-wise.
Develop a complete feature page to maintain the Greeted Users list by The Steem Greeter Fairy Team with a searching feature by account name.
There is a possibility that a new user may not publish the post in the initial few days or week but may publish later so the background job can check/track the new users account for a month.
The next set of activities will be defined later once the above is accomplished.
That was all the updates related to the Steemit New User Tracking application. I would really appreciate any feedback/suggestions on this.
Thank you!
Cc:-
@steemitblog
@steemcurator01
@steemcurator02
@stephenkendal
@shortsegments
@cryptokannon
@rishabh99946
@sapwood
**Note: All the screenshots are taken from Steemit New User Tracking application which is managed by me.
---
10% of the reward from this post will go to @bestofindia.
To know more about the Best of India community & its objective, visit this post
---
The post payout is set to "Power Up 100%".