Steemit Contest Management (SCM) update for Project Affable Engagement League for October 2020
Quick Background
SteemIt Contest Management(SCM) project is a step towards providing a simple and effective solution to automate contests score or report generation on a larger scale on the #Steem blockchain.
#SCM is being already used to calculate the #affable score for the month of September 2020. It will also support various contest score calculation in the future. The primary goal is to take the engagement to the next level.
SCM is also in development phase to add more features apart from contest score calculation. Please check this out for other features progress update.
---
Project Affable Engagement League for October 2020
As per the latest announcement of 01st October 2020 by @sapwood, now Project #Affable Engagement League for October 2020 has been already started.
Please click here if you want to know more about #affable contest.
SCM will be updated to support the below hashtags to calculate the #affable score.
Please follow @steemitblog to get the latest updates and uses of the above hashtags.
Contest coverage on a larger scale now
SCM v0.1.3 was developed to support only #thediarygame Season2 but now the scope has been increased and SCM needs to cover/support above mentioned hashtags. It is exciting to implement those and support these new initiatives and contests in SCM tool.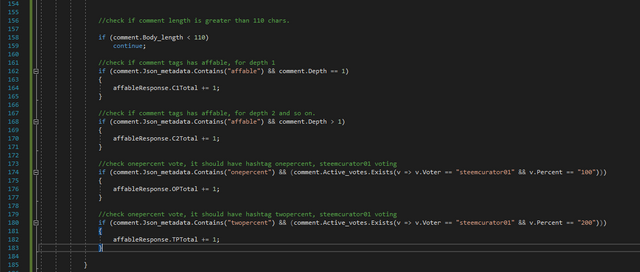 Development In Progress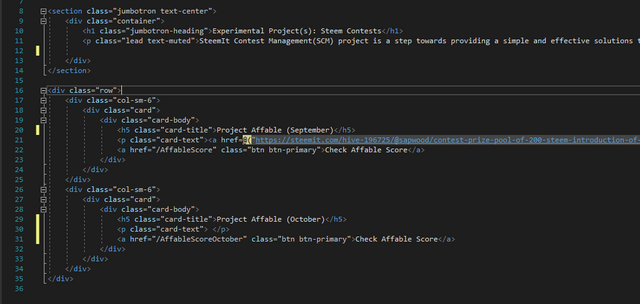 Adding New Button on UI
As I need to add more business logic to cover these contests now, need to check hashtags(json_metadata) in replies/comment and also in blog posts hashtags (json_metadata) to validate the affable rules.
I will keep sharing updates on the development.
---
If you have any query related to the project SteemIt Contest Management(SCM), feel free to ask in the comment section. I will improve the project based on your feedback.
Also, I will be glad to automate the score calculation for any other project on Steemit if there is an opportunity. Please feel free to reach out to me.
Thank you!
---
Cc:-
@steemitblog
@steemcurator01
@steemcurator07
@stephenkendal
@shortsegments
@cryptokannon
@rishabh99946
@sapwood
Cc to all the CR's:-
Ghana (@oppongk, @njaywan), Nigeria (@beautychicks, @focusnow), Uganda (@yohan2on), Venezuela (@anasuleidy, @mariita52, @tocho2, @edlili24), Bangladesh (@tarpan, @toufiq777, @rex-sumon), Indonesia (@anroja, @ernaerningsih, @radjasalman), Japan (@cryptokannon), Pakistan (@rashid001), Sri Lanka (@randulakoralage, @besticofinder), Ukraine (@alexmove, @olesia, @antorv) and New Zealand (@kiwiscanfly), Russia (@knopka145), Argentina (@fendit, @belenguerra), Cameroon (@njiatanga), Turkey (@alikoc07 ), Mexico(@leveuf),
**Note: All the screenshots are taken from my development machine.