[News] Cryptomission (steem dapp) got an award at the 2020 jeju blockchain hackathon.
Hello. We are happy to inform you. Our team participated in the 2020 Jeju Blockchain Hackathon, We received an award.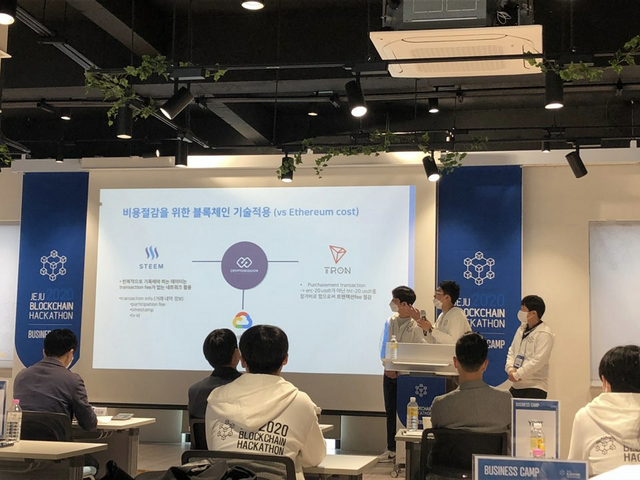 I translated those : 헤드라인제주(http://www.headlinejeju.co.kr), https://platum.kr/archives/147653
The 2020 Jeju Blockchain Hackathon is a program to develop blockchain applications that apply blockchain technology and token economy, and Jeju Center, Ground X, Samsung Electronics, and Kakao participated as co-hosts. This event opened a small business camp after the first online camp was operated due to changes in the Corona-19 situation, and 18 teams to participate in the online camp were selected through screening after recruiting participants held until September 13th. The final six teams were selected to participate in the business camp through the online camp.
---
Introduction to cryptomission
Cryptomission is an STEEM mobile dapp that can reward users and keep good habits. Cryptomission has been running a beta test since about September. Currently, it has been installed by 154 users and has participated in various countries including India, Nigeria, Venezuela, Korea, and the United States.
Cryptomission issues 7 missions every week. The picture below is the daily dream writing mission and dining mission operated by Cryptomission. Users can do missions with people all over the world through these missions. They share photos of eating meal and writing down your dreams.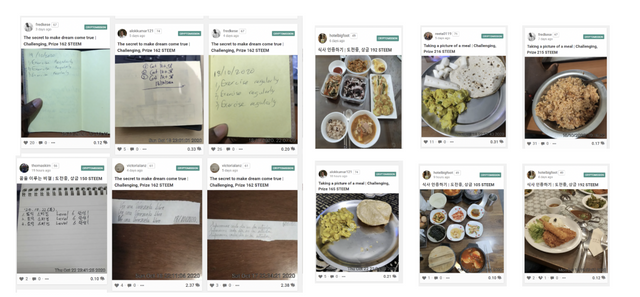 We appealed to STEEM at the hackathon.
1. STEEM network doesn't charge transaction fee
There are two reasons our team used the STEEM Network. We have selected cryptocurrency, not legal currency, so that users from all over the world can participate with a entry fee using crypto.
Second, there is no additional transaction fee required when transferring the participation fee and distributing prize money from the STEEM Network. So we decided that this service could be operated with a small operating cost.
2. Active STEEM Community
Our team was able to do an mvp test with the steem community to determine if the service was feasible and if it was an app that would benefit users.
In particular, the @project.hope community gave a lot of very good response and feedbacks. Thanks to the community, our team was able to quickly test the service by scale-down. Thanks to the Project Hope team community and operations team. @crypto.piotr, @project.hope ,@steemitblog, @steemcurator01
https://steemit.com/hive-175254/@cryptomission/steem-entrepreneurs-program-cryptomission
Future plans
The primary goal is for cryptomission to become the best dapp on STEEM. we hope to be our app that is easy for steemian to use and is helpful to them.
As the second goal, our team is planning to expand the cryptomission service to Tron dapp. In addition to paying the entry fee through STEEM, we will be able to pay the entry fee in trc-20 usdt as well.
Making it consistently available to users is an our important mission. We will do UX improvement work. For example, if you haven't done a mission for one day, our app can send a push message. Also we can add function for other users' missions visible in the app.
Our Cryptomission aims to provide a service that allows everyone in the world to make good habits and earn rewards with blockchain technology.
Thanks,
---