Steemit Engagement Challenge S12W1 | The Luck.
Hey Everyone!
I am here after a very long time and When I took a break, It was Season 6 of Engagement Challenge and Now, It is Season 12. Time passes so fast.
So, New Season has just started and I am also back and will be regular here from now.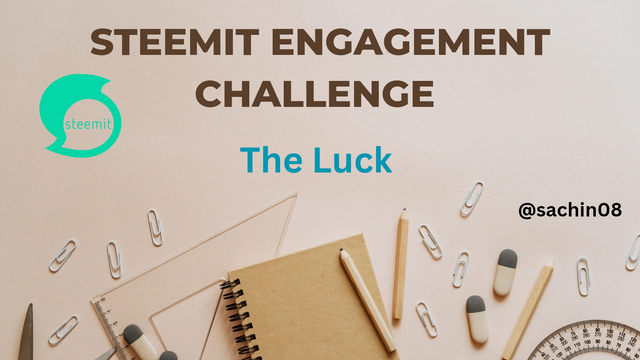 Made on Canva
So, let's focus on our topic of this week which is Luck. Some People believe in luck whereas some people don't. I believe that yes There is luck which can be good or bad but you have to take a necessary action to check your luck and According to my opinion, If you succeed in your action, then yes It's your good luck and If you failed in that then You can say that It's your bad luck.
---
Have you had a stroke of luck in your life? Tell us an anecdote.
---
According to my Point of view, I can say that there are many chances in my life where I faced good luck or bad luck.
Like, Recently around 1 month ago, I was playing a tournament in Bgmi and It was a qualifier match and My team have to come in Top4 to qualify for the finals. But, We came #5 and We all teammates told each other that it was our bad luck at that time.
And If We are not sure in something but still we do it and We succeed in it and We can say It is our good luck and It's totally upon us, If we don't try anything, then We will also don't have any luck.
---
Do you think your achievements have been due to hard work or luck? Support your opinion.
---
I wouldn't not say that My achievements have been due to only luck. Luck only works when We take an action. So, It is important to take a decision and work on it.
If we work hard and succeed in it, then we can use the word "Luck". But I believe that If we work hard and do our work with all our effort, then Good luck has to be with us.
So, Hard Work is important and All our Achievements are just because of our Hard work because Luck comes with Hard work according to me.
---
What does the phrase "Fortune favors the bold" mean to you?
---
This Phrase means Those who have the guts to take risks can have the luck with them because sometimes, Taking risks can lead to provide us what we wanted.
If we have enough courage to do our work or If we are afraid of something but We take risks and succeed, then Fortune will favour us as We are brave or courageous.
---
What was the last time you had good or bad luck? Talk about your own experience.
---
I will tell you about another incident which I believe It was my good luck as I have invested around 220$ in Spot trading in Gala 3 days ago and I thought that I would left them and I would not see them and had decided to hold them for long time.
But I was scrolling Facebook and suddenly, I saw a message in a random crypto group about Gala coin that The Co founders of Gala had filed lawsuit against them. Then Instantly, I opened Binance and sold out all my Gala holding at 10$ loss.
Then, I expected a heavy dump in this coin. So, I started short trade using some fund. And Guess what, I made 100% profit in that trade and Here is the Screenshot of that trade which is of yesterday.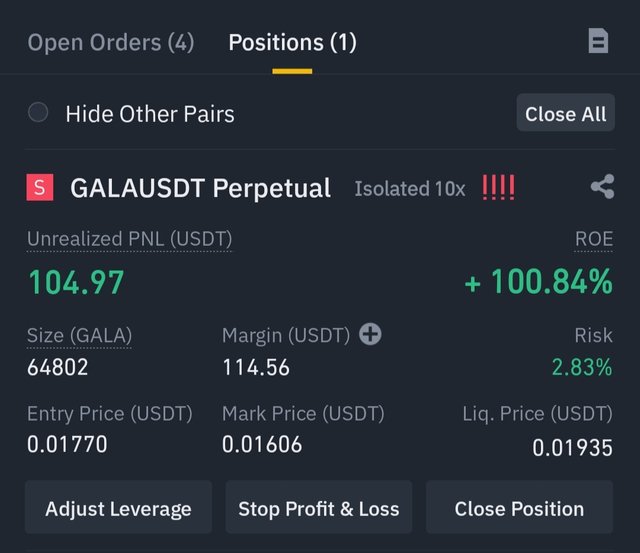 Started short trade on Binance just after I saw about Gala incident
---
So, That was all from my side. It was really a nice topic and I am glad to share my opinion on this topic and I would like to thank this community for organizing such an interesting contest this week.
I had posted after a long time and It feels very nice and I will definitely post regular here from now.
Thank You!