PROMO-STEEM CAMPAIGN : @Steem-Ghana Reaching #700 Subscribers, #150 Active Posters & 5,000 Steem Power
---
---
You are welcome to Steem-Ghana blog!
---
We are very excited to announce to the entire Steemit Team that we have reached a wonderful milestone in our course of championing promo Steem Campaign. Though we have not climax the race yet, but this seems to us a very respectable reputation acquire and it's going to motivate us to do more and work as a team.
The Good News is that our Community is thriving well on the Steemit blockchain with the great and faster speed of which the whole homo sapien on this planet of crypto would appreciate We have now reached #700 Subscribers, #150 Daily Active Posters & important of all; 5,000 Steem Power. We decided to make some simple flyer to demonstrate to the whole about how we are Keen and passionate to promote Steem Community and the entire Blockchain.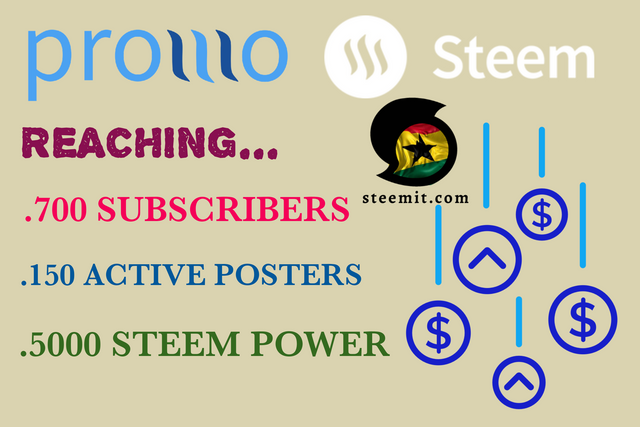 We wouldn't have reached where we are now without the great support from Team members of Steemit Inc., The great initiative of Steem POD Project by @steemitblog, daily Curation by @steemcurator01, @steemcurator02 and other individual philanthropists. We say a big bravo to your immense support and love we have shown us on all our journey in Steem.
We can never be complacent about this little shake or move, since we have now began the journey. Our vision is to empower Steem so that at the end freedom would be leverage on individual team members. That's why currently we have been holding a lot of Meetups, Meeting on Telegrams and Discord to put the best measures in place to impact lives. Our goal is let people see the reality of Steem, understand what Steemit stand for and of course if they become internalized with the whole concept of Steem blockchain, they will just spread the news to the world.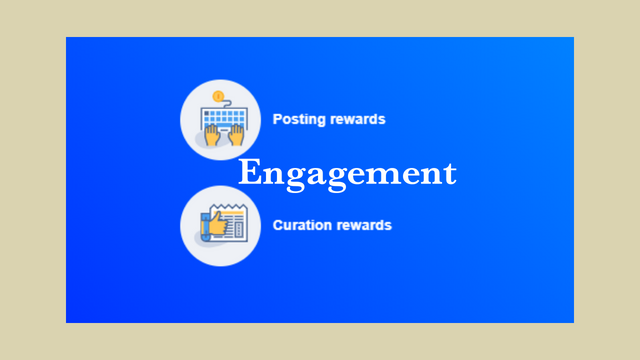 We discourage viewing Steem blockchain as short term investment, since those who see it in this way has never understood or learned the real mission of Steem. But we motivate people that Steem is a long term investment which is here to stay change lives for better, hence the need to hold Steem or power up rather than excessive powering down which turns to drain the Community.
Lessons have been taken from our lifestyle of Steem and our mindset of how we viewed steem way back 2016 and 2017. This fade out our Commitment to grow Steem since most people were passive investors and thinking about claiming rewards, spend and that is all. By this time, as more and more members are recruited and retain in the community, we would be able to study those who are here to support the Community to grow or just came to visit us get some Steem tokens and leave us.
One must understand how Crypto world works, is the same thing as Steem. There is no denying fact crypto would rise steadily to infinity without crypto prices being falling. That is why Newcomers are advised to take the various Achievement tasks course on Steem very seriously to understand these changes. The recruiters are advised to disclose the dynamism of crypto and for that matter Steem blockchain to their recruits so that they would not be completely at sea if these changes come.

Administrators, Country Reps and Moderators are putting many measures in place to come out diversity of projects that would benefit our people in the team. Not only those who only join Steem will benefit but also those who isn't Steem user. Because we have seen that such projects would by all means attract those that we will give them support. Very soon, we will make a lot of presentations here for all members to see.
We would like to use to use our Steem earnings to also power up our account. We have began today by powering up 41Sp round up our power to 5,000Sp.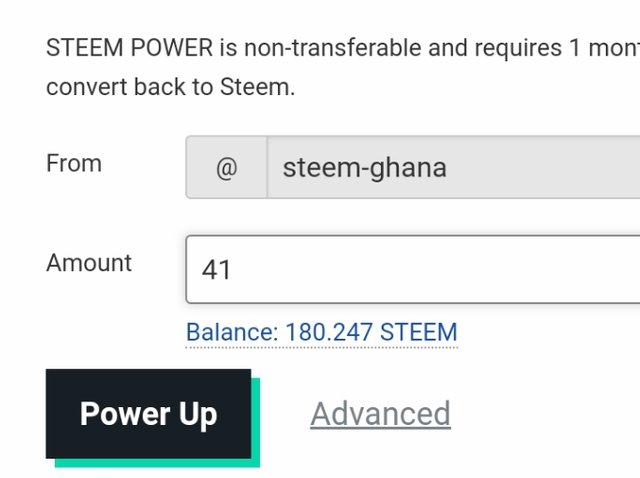 We believe to get every member involved in our Community so we have invited some members to support the community since together we can build. Currently, the two Moderators of Steem Ghana, @nattybongo and @mcsamm is making weekly contest to support members and to empower the Community. We urge the Entire Steemit Team to give us your maximum support and attention.
Aside this, we have also invited individuals to write guest posts for our account so that they are give some SBD rewards base on their efforts. This area too is helping the Community to become very busy all the time as well as helping members who partake.
We encourage all members to avoid all abuses and plagiarism which will tarnish the image of our Community. We expect neat work from members devoid of copying and pasting. Leaders are therefore vigilant on such abuses using plagiarism tools to scrutinized all works and if found such cheap effort the user would be sanctioned. Make sure to cite the source well if you use someone's work, either being text, page, image or video. Edit content well before posting.
Just use the opportunity to explore Steemit Community to find more information. Follow @steemitblog and @pennsif for Steemit updates.
Currently new Crypto Academy has been appointed to support the existing professors. We know in no time there will be more home for Students so be ready, reflect and get more rewards. You can visit the original announcement here:
https://steemit.com/hive-108451/@steemitblog/the-steemit-crypto-academy-appointment-of-new-crypto-professors

Community engagement is very vital in Steemit Community, so all members are advised to go round the Steemit Community and comment on others posts. It's not good to dump your post and leave without commenting or upvoting on others posts. Steemit is all about supporting each other to build together.
Announcement:
There is going to be meeting on our Telegram today, 6:30 pm. Make a date and join us while we think about our Community.
Thank you!
"This post was compiled by @oppongk, CR - Ghana."
Cc:
@steemitblog
@steemcurator01
@steemcurator02
All Country Reps.