Receiving one hundred(100) steem from @stephenkendal as sponsorship to support Steem T-shirt in my promotional campaign. Thank you for supporting steem promo in Ghana.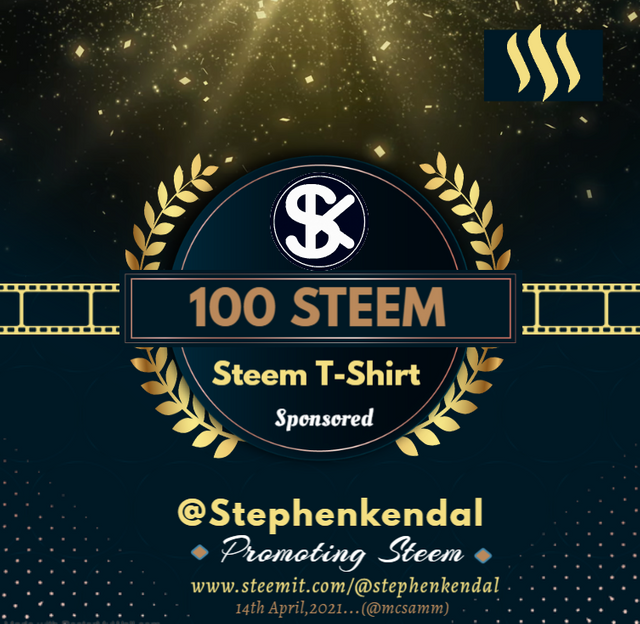 This is nothing but an expression of so much gratitude to you @stephenkendal for your high sense of generosity and kindness on the steem blockchain. I see so much greatness in being grateful to you for your support. Indeed, you have demonstrated to the world in all possible ways your effort to ensure steem promo work is intensified by hard-working people. The feeling is great but l am more grateful for making me greater in my promo work. I still believe there is a lot more to achieve in this journey. And the presence of promoters like you is the motivation we have in achieving every single dream that is identified on blockchain technology.
I write also to appreciate the effort of every promo member for their direction to ensure #promo-steem reaches its core objective in reaching out to the world. The new trend of social media blogging needs the presence of selfless people like you @vipnata @slon21veka @arie.steem @pennsif @dorbatim and many others. The #promo is much more than a community to make impacts with steem in the lives of people.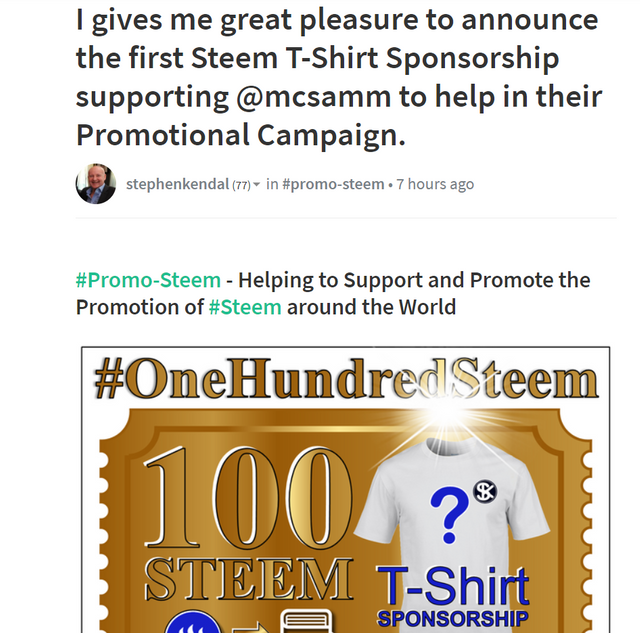 @stephenkendal sponsors steem shirt for promo

The given support is hereby going to sponsor the production of steem shirts for educational campaigns here in Ghana. Reaching out to many youths in most of our educational setups is of great need. One of the most powerful materials needed in promotional work here in Ghana is the steem shirts. Printing enough shirts to help all promoters and people to share steem with will yield a significant effect on the promotion of steemit. In this regard, l call on all promoters on this platform to engage massively in spreading the promotion of steem. Social media handles of our friends and families must be flooded with our steem activities. This is what the world needs.

In addition, a new steem shirt design is underway to demonstrate the hard work and support of you @stephenkendal in promoting steemit. Once again l say thanks a million for the support. We obviously wouldn't make the best out of things without you. This and many reasons we also want to work harder in promoting steem in our own way. I entreat all local steem promoters to constantly work on bringing ideas in helping to develop divert ways in achieving our target. All activities and plans that will go into this production will be shared for directions to be able to make the intended promo in an educational setting a successful one.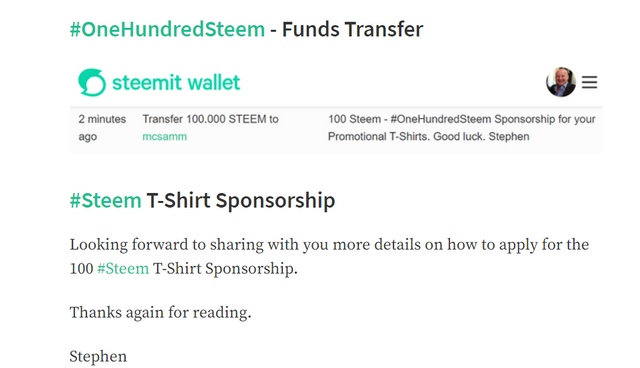 100 steem received from @stephenkendal

Let us all join hands to support @stephenkendal with all the great ideas he has in helping to promote steemit. The steem promo work is a collective activity that requires the input of everyone. No one at all is left out of the journey. We win together. The new design of the steem shirt will be shared soon for the sponsorship that has been given in its production for the campaign. Thanks to all for helping me achieve this milestone. This is our world, let us live it well.