Spanola fortress in Herceg Novi - Day #3
I finally reached my destination, I arrived in a city of a thousand steps. My accommodation is located in the beautiful hilly town of Herceg Novi. As soon as I arrived, the first thing I did was go to bed. I was too tired from the trip. After five hours of sleep, I open my eyes and go out on the terrace overlooking the beautiful fortress which is only 100m away from my hotel. The fortress is not far away, it seems interesting to me, I quickly got dressed and ate, made my brother come with me to take photos of me and keep me company.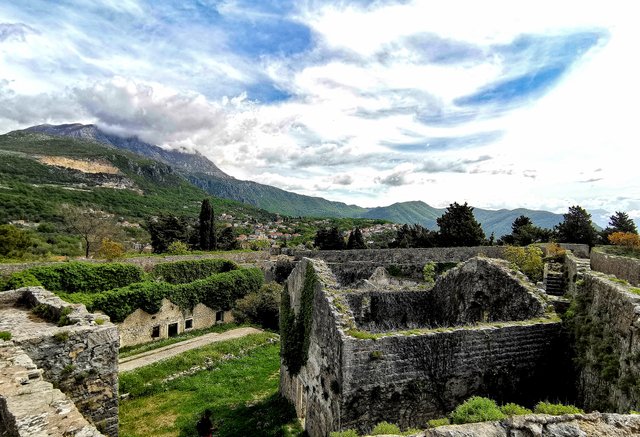 The fortress is small and beautiful, everything is calm and quiet. I climbed to the top and saw something I had never seen. A beautiful landscape of Montenegrin mountains covered with playful clouds through which the blue sky breaks through. Everything is beautiful and all the scents of the sea and the mountains, this combination of scents I felt for the first time. I am grateful for this beautiful nature and the fortress that allowed me to climb it and show me this landscape that rests the mind and widens the horizons.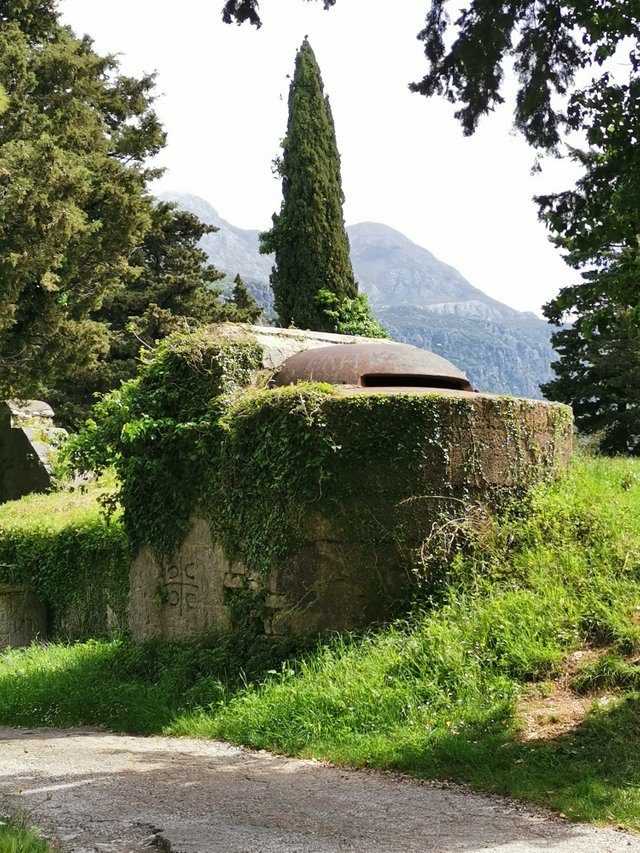 Bunker at the very entrance to the fort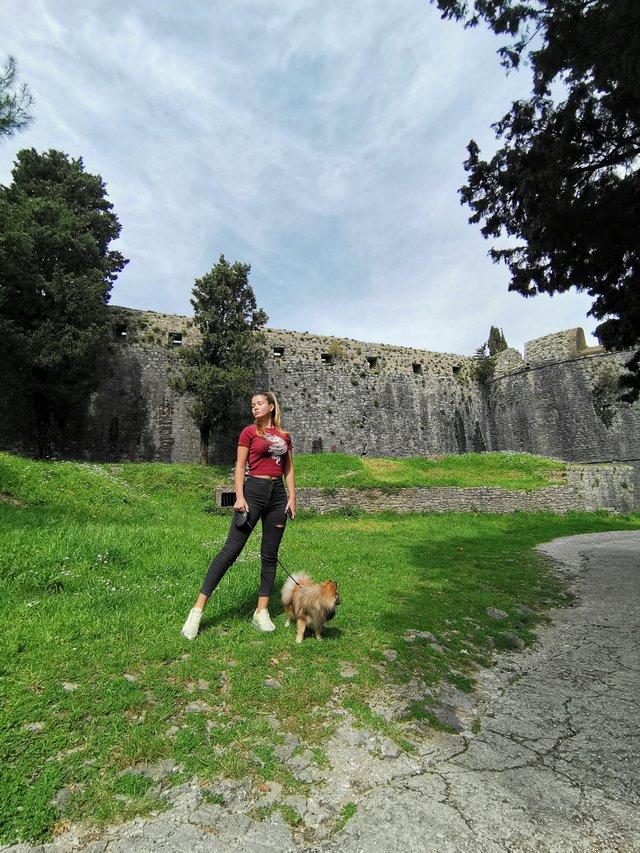 Enough about the view from this fortress and this beautiful landscape, let's start from the beginning, what the entrance to the fortress looks like and how I got to it. Although everything seems simple and even though the fortress is only 100m away from my hotel, I was spinning in a circle. After I got out from behind the hotel and although I still see the fortress, I miraculously went the wrong way. I saw the stairs leading to the main road so I headed in that direction after I got off and went out on the main road I saw a sign for the fortress, ah to almost forget, I didn't tell you what the fortress is called, this fortress is it is called Spanola and has a very unusual name. Let's go back to how I got to the fortress, so I saw a sign that shows that I have to climb uphill, that's what I did, but since everything is winding and in curves, such as the whole of Montenegro, I decided to go back since it was that one huge guilt that I thought I wasn't going anywhere, I met a kid who told me I should go back if I wanted to get to the fort, I go uphill again and it occurs to me again that I need to go back, which I am and did. I arrive at my hotel and my brother tells me how stupid we are, he saw the road leading right to the fort, but we hadn't noticed it before. But well, we are forgiven we are still in an unknown state and we were too tired to think about it. Ok, okay ... it's just an excuse to turn out less stupid: D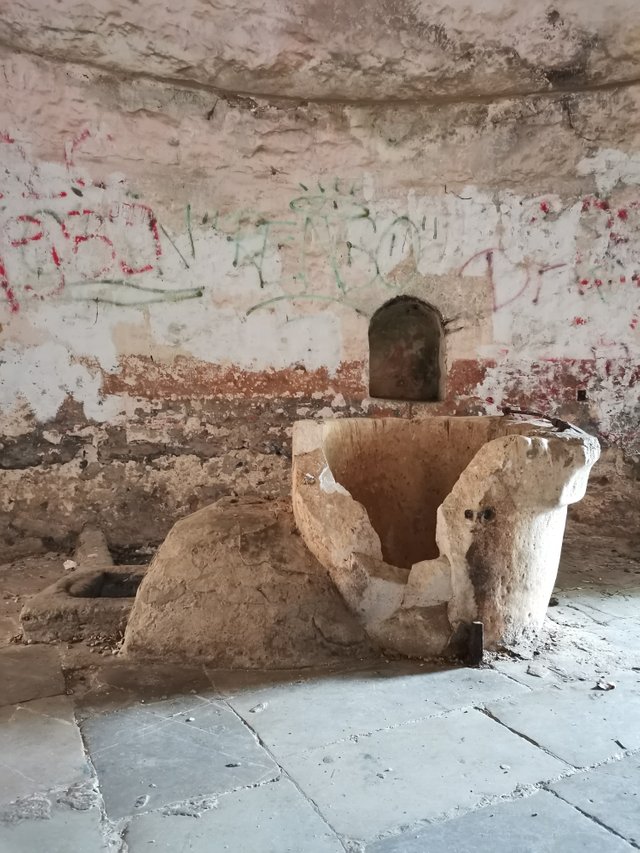 After telling you about my little adventure, I finally enter the fort. For the entrance to the fortress, there is only one gate that first leads to a dark tower, in that tower, there is a well that does not look like a well, it may not be a well, but it is deep. Of course, if my brother hadn't been so curious and hadn't approached this miracle, I wouldn't have found out that it was too deep. As he approached and looked at how deep it was, he also pointed a lamp from the phone to see where the end was, which didn't help him, and a woman came in, who looked very creepy, pale, and skinny, looking at my brother, and it went through my head so she could push him that hole too and no one would ever get him out of there. Fortunately, it didn't happen, and after the woman left I told him my whole scenario in my head of what could happen, of course like any brother he smiled in my face, and started to scare me and talk about how that woman will appear to me in a dream and how will I see her every time I go to the toilet. I hit him hard and said it wasn't funny, after which I laughed too.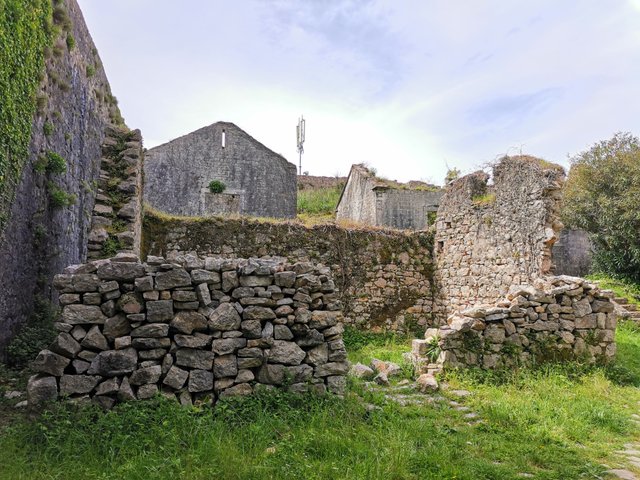 A demolished house overgrown with grass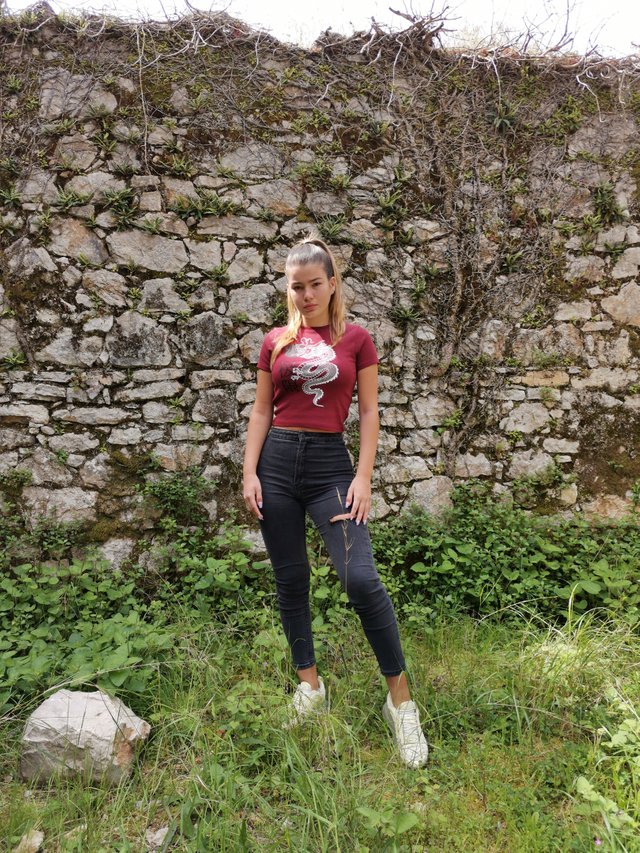 Me in that same ruined house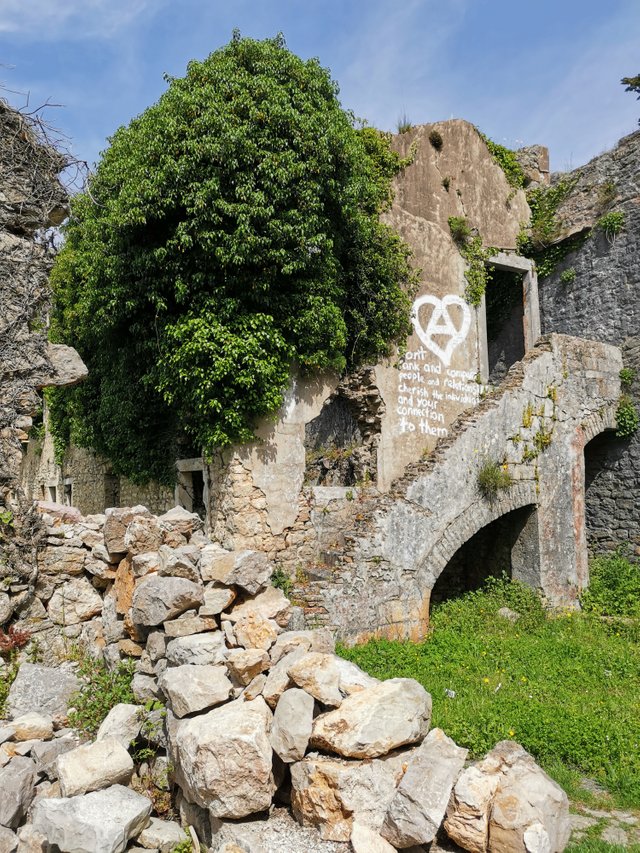 We finally entered the fort, after many events and adventures that happened to us along the way. As soon as I entered, the first thing I saw was a collapsed house that was all overgrown with grass, but not only her, everything was overgrown and overgrown with grass, I didn't mind at all, I even liked it, because it woke up the adventurer in me, I felt like a researcher, even though I was just an ordinary girl who came to be photographed, this fortress gave me many new experiences. It is spring and everything is green, which the emperor added to this fortress, like icing on a cake. I am happy to have come in this period of spring which makes everything look more beautiful. This mix of old medieval stone and tall green grass that is in full force makes this fortress look amazing as if someone pulled it out of a movie.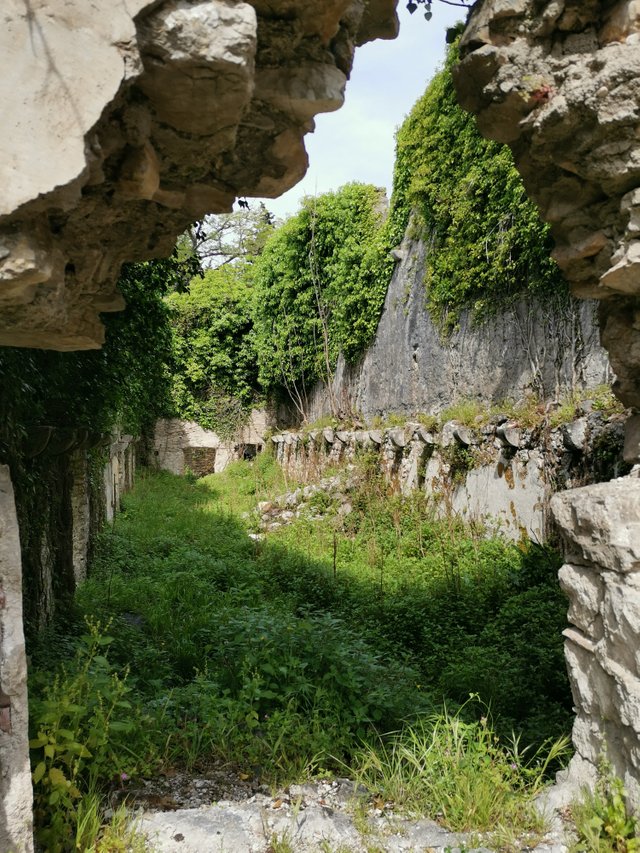 The jungle in the house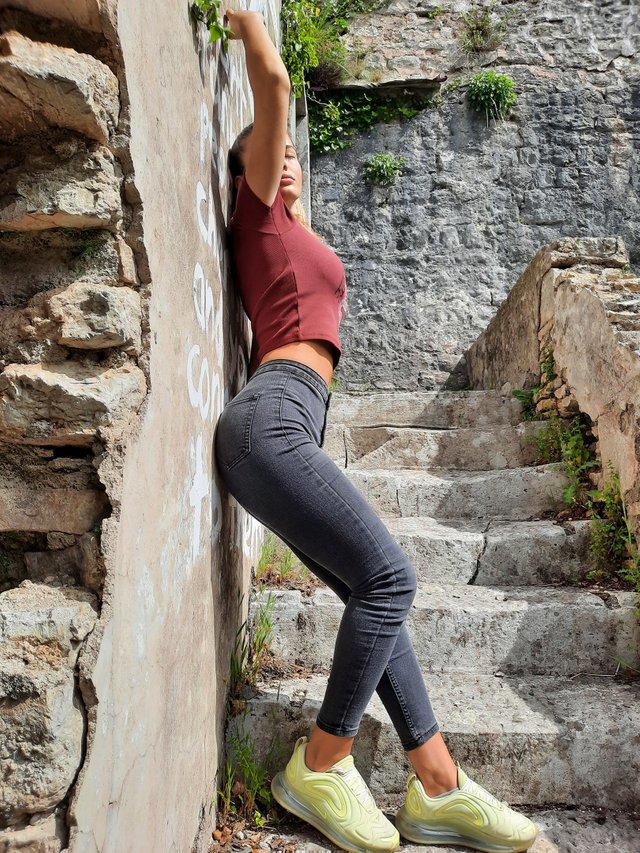 One of my cool photos of a jungle house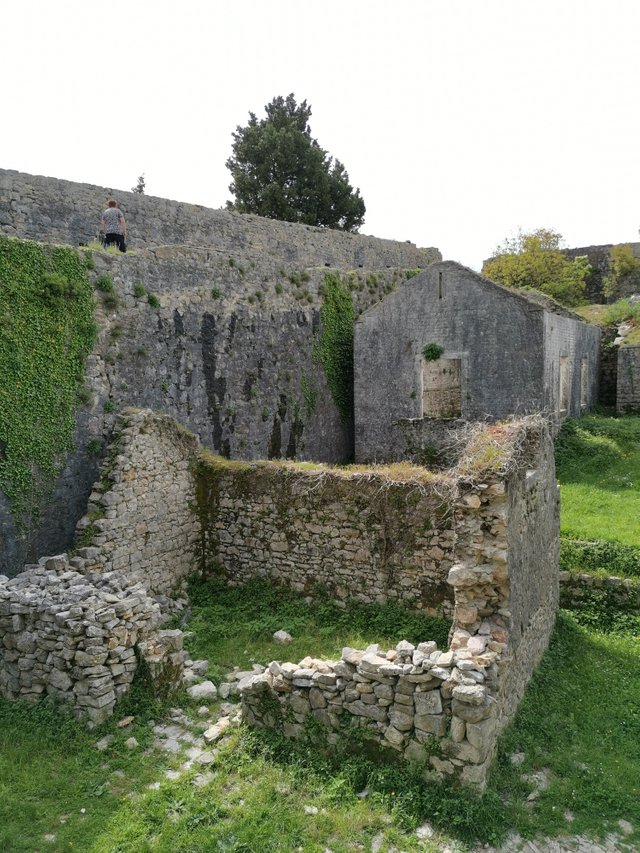 I don't know what movie this fortress looks like to me, but it reminds me of some adventurous one, I felt like I was in some ancient fortress located in the middle of the jungle. Please tell me what movie this fortress reminds you of, I'll just watch a new movie.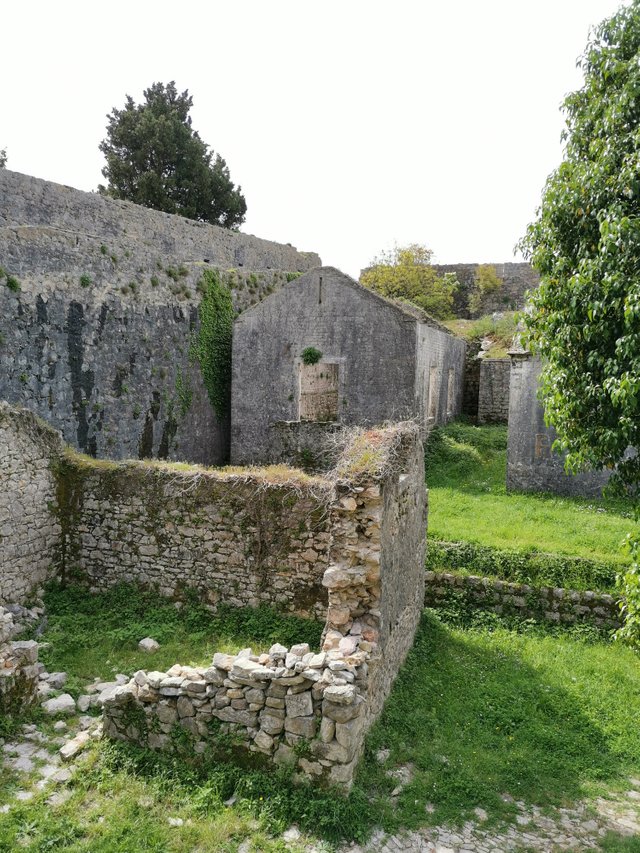 Landscape of ruined houses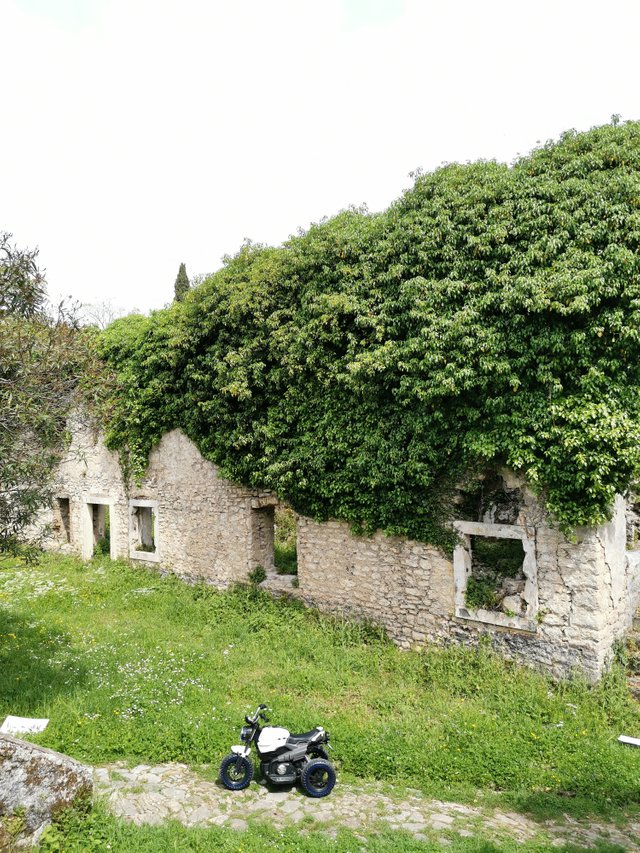 A jungle house from afar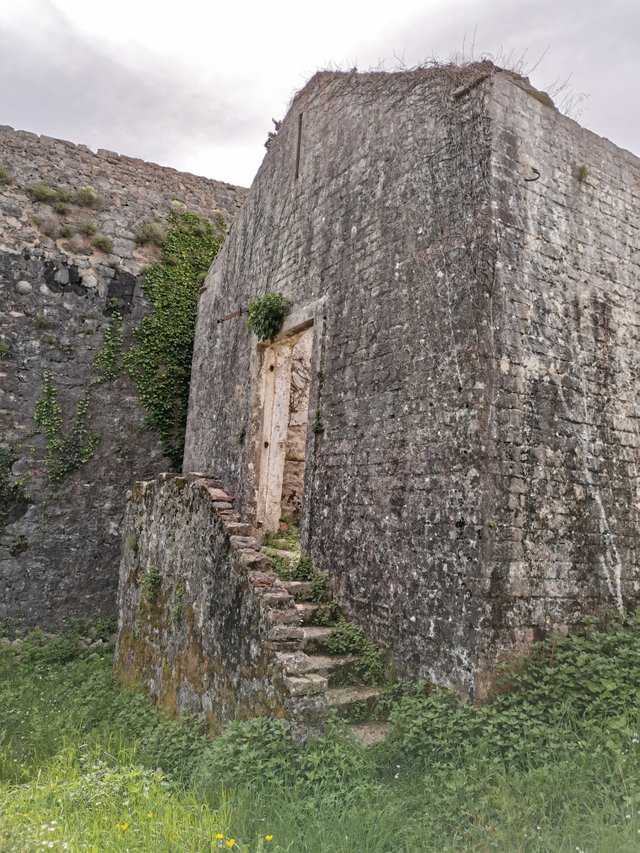 All the houses are without roofs, and everything is collapsed, but again all this makes this fortress look like this. I would not change anything, except to illuminate the dark and scary places I was not allowed to enter, and I really wanted to enter a house, which seemed interesting and scary to me, like from a horror movie, I was not allowed to enter. It was an equally dark tower, but at first I was not allowed to enter it, of course I have a crazy brother who turned on the lamp on the phone and bravely ran inside, after I saw that he was fine and alive, I ran inside and I had nothing to see, it was just an ordinary tower, there was nothing inside, only drops falling from the top of the tower, although I was convinced that there was nothing inside, it was still creepy, I ran outside and went to enjoy the rest of the fort.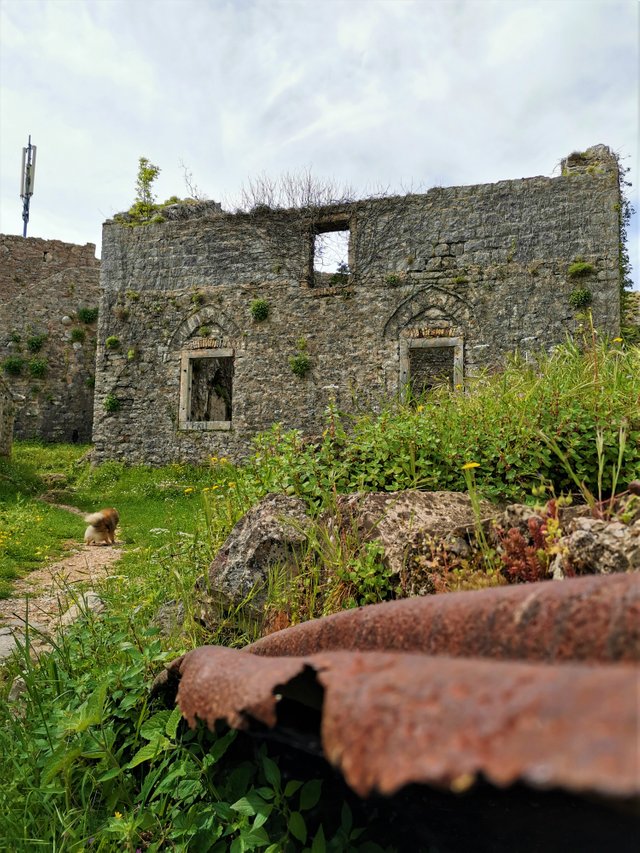 A wild beast heading for the biggest house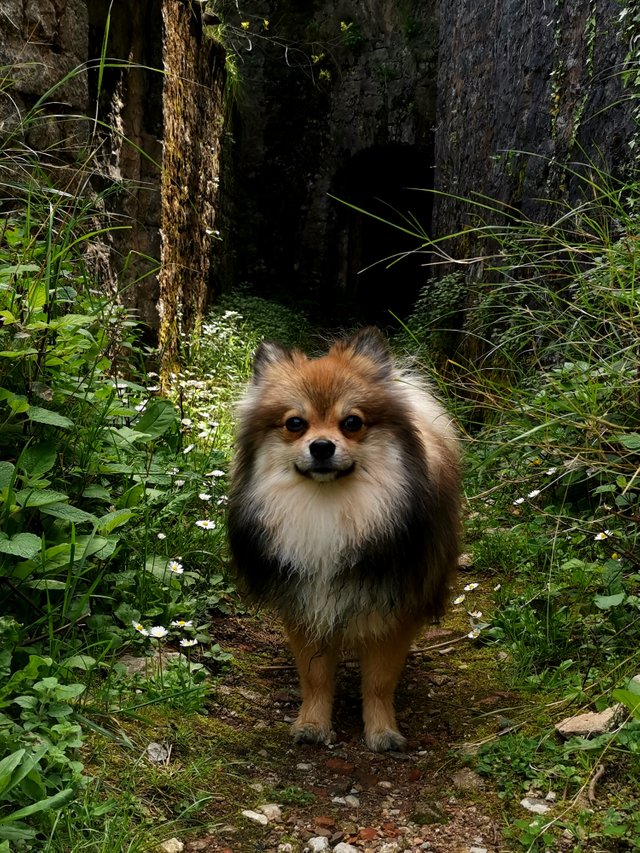 My brother and I were not alone, we met a wild animal, to be honest, I didn't know how to approach it, I don't know how those ancient wild animals react, if it attacked me I don't know what I would do, maybe it can fly, but luckily there was my brother who happened to call her by the name of Buddy as well as my dog, she approached us and started to wag her tail. Yes it's just my cute little Buddy after all, but you have to admit it looks really cool in this photo, it looks just like it belongs to some jungle, it looks like it lives in some dangerous ancient pyramid. There was no way I could take this photo alone, my brother took a photo of Badia, and he barely calmed him down, since Badi is still small and playful, but fortunately obedient, ie he only listens to my brother, since he only has awe for him.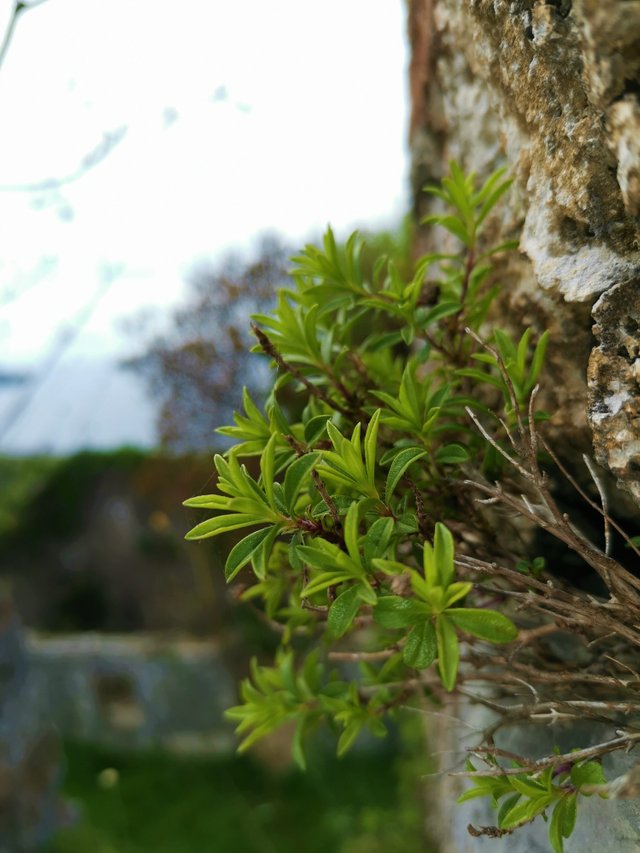 A young plant that bravely came out of the wall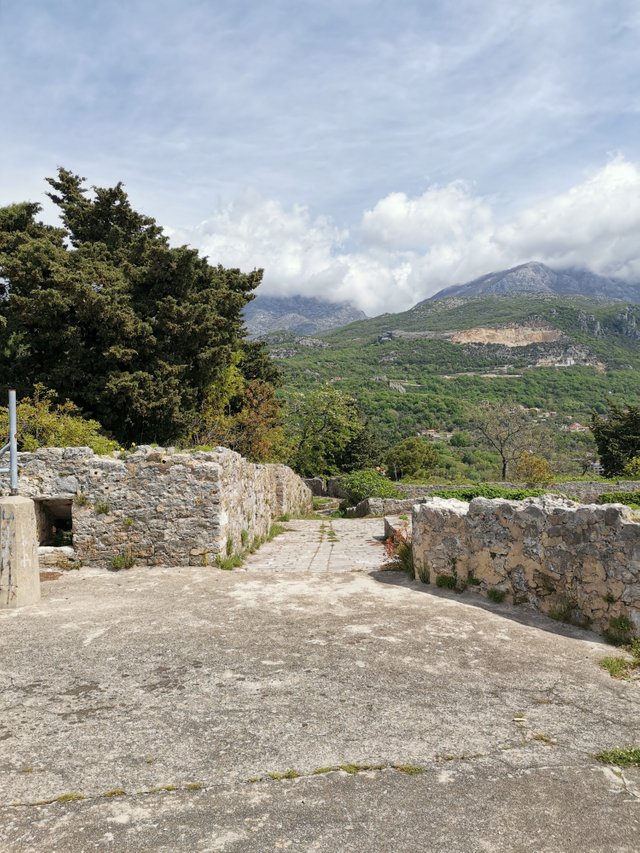 I almost forgot, looking at these photos I felt like I was in that fortress again, which doesn't mean I won't leave again. After this adventure that happened to me, my brother, and Buddy, I forgot to tell you something about the true history of this fortress. So let's learn something new for you and me.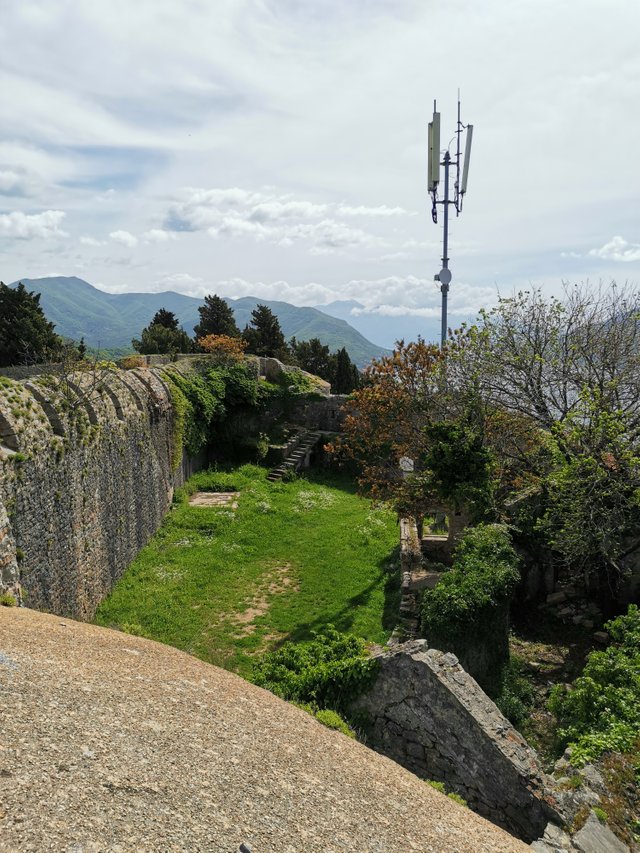 View from a height on the side of the fortress that is impossible to reach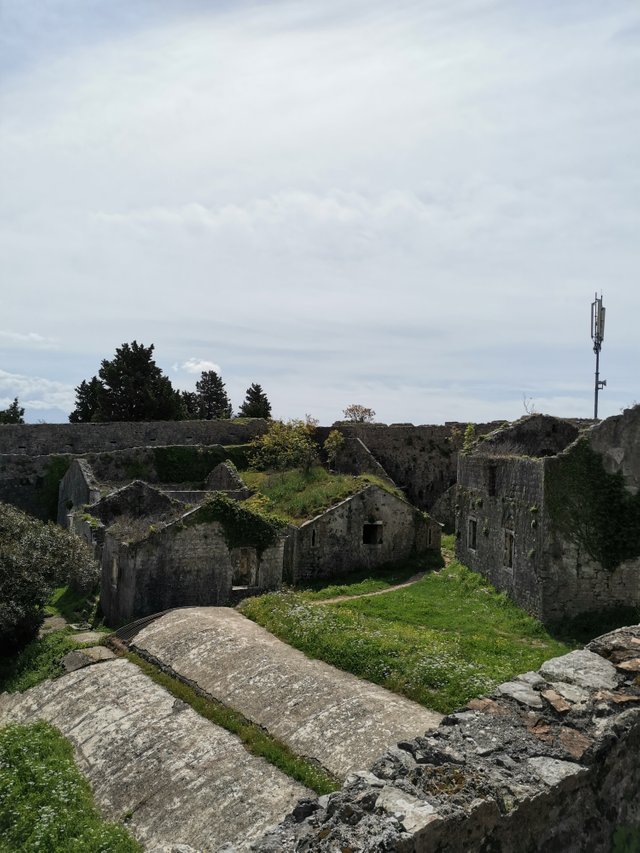 We have learned that this fortress is called Spain. It was built during the short rule of the Spaniards, which we can see by its name. They ruled from October 1538 to August 1539, but it is believed that due to this short reign they could not erect any significant fortifications. It seems that they built a smaller, perhaps ancient fortification on the same site, which the Turks later demolished to build a powerful fortress. It has been preserved to this day, with minor damage and alterations. According to numerous authors, the Turks expanded and fortified the earlier fortress of Gornji grad, or Spanola, in 1548. It seems that during the conquest of Herceg Novi in ​​1687, the Venetians did not significantly damage the fortress. The Venetians began to conquer Spanola and began to make plans to improve the fortification system that included the fortress of Spanola but these plans were never realized. The fortress was used with minor alterations throughout the Austro-Hungarian rule, and even the Second World War, which with the quality of building structures is the reason that to this day this beautiful fortress is preserved, and like everything throughout history, it has some mental and physical culture. the times this fortress went through.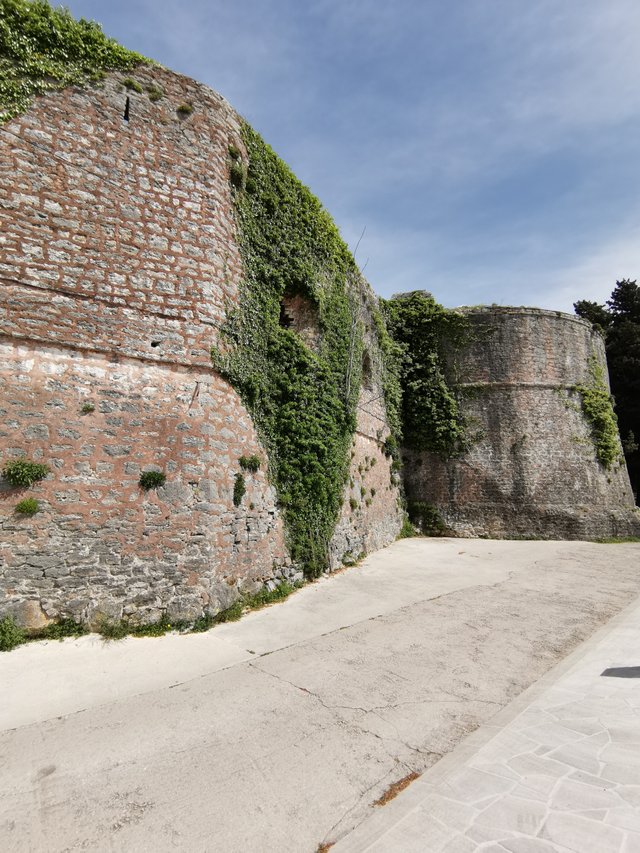 This fortress is beautiful, and I know that I have used that word many times, but what if it is. As always, I recommend everyone to visit, not only this fortress but the whole of Herceg Nova, no ... I recommend you to visit the whole Balkans because even though we are small, we have beautiful nature as you can see. Come all, for you are all welcome
With love, Sarah❤️