The alien. Short fictional story. Xpliar's Competition 78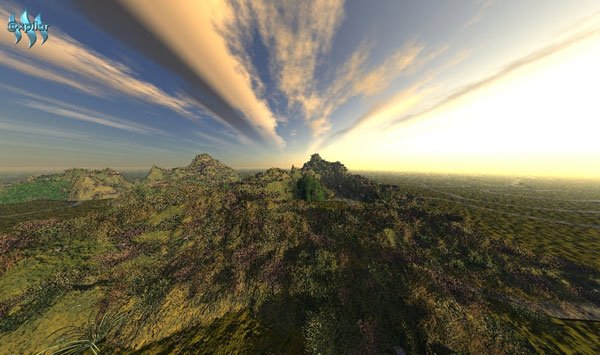 Digital art made by @xpilar

The spacecraft burned up as it passed through the atmosphere of the strange planet. The controls indicated that there were adequate amounts of oxygen, water, and other gases necessary for the existence of wildlife and perhaps intelligent life. The pilot hardened his countenance when he saw a red warning on the screen. He had to find a place to land as soon as possible.
He could indeed see an entirely green field in front of him, there would probably be water and food in that place. He took command with both hands and directed his landing towards a mountain. He had to look for a high place so that he could send a distress signal. The ship shuddered with the wind gusts, it was not designed to fly into an atmosphere of gases. He fired the rocket boosters to stop his descent. Despite the turbulence, the pilot managed to maneuver the ship enough to land on some trees, which broke like toothpicks before him, burning in the heat and creating a great commotion in the whole place; thus scaring away all animal species in 50 meters around.
"I don't think it was a good way to make contact with the species on this planet," said the pilot.
"Any landing you come out of safely is a good landing," he comforted himself casually.
After shutting down all systems, the pilot opened the hatch of his ship and went out into the open. He slid the helmet visor up and let the cold morning air into his lungs. From where he was, he could see how the nearest star to the planet was beginning to rise. The first rays were reflected in the dewdrops on the leaves of the trees he had not destroyed.
He glanced at his ship and a look of regret escaped his lips.
The impacts of the battle had wrecked far more than the fuselage, but his old wreck had held out long enough to leave him alive. Who knows where.
He stroked the charred hull of his ship and expressed his gratitude for that last trip. They had survived many battles, but finally their old starfighter, The Lucky One, had put up its last fight.
He opened some consoles on the side of the ship and activated the beacon and it began to emit the emergency signal. After making sure that the signal was transmitted correctly, he decided to sit down on the floor and lie down on his rickety ship. It would probably take a few hours to find him.
To his bad luck, this not only alerted the attention of his companions in space but also other beings inside the planet.

"Alba! At last! I've found you!" the boy whispered angrily.
It was not very pleasant to return to the forest from which they had fled, nothing was safe with the danger of the androids who looked after it.
The girl was very stubborn, and he did not understand why he was risking his life for a girl he hardly knew. The shudder before was so great that he had lost sight of her. But fortunately, Remi had experience hunting animals, which made it easier for him to keep track of the girl.
To make matters worse, the girl's curiosity had to make things worse. He would normally have fled in the opposite direction from the explosion that had occurred, but he had been determined to get her to safety and that meant going where she had gone.
They were both close to where the ship had crashed. Alba watched as the crewman lay lazily on the large, strange-looking metal machine. From the looks of it, the crewman was not an android and did not appear to be from any of the tribes where Remi came from either.
Alba turned to look Remi directly in his eyes.
"I've told you a thousand times to leave me alone," she whispered in a higher voice.
"I know how to stand on my own two feet. The forest has always been my home."
"I will not give up the search for my mother"
"I told you a hundred times that thing is a machine, it's not your real mother," refuted Remi
"It is to me"
Remi was going to remind her of her synthetic mother's tragic end, however, he saw the concern in Alba's eyes as she turned to the ship. The pilot was gone.
The two looked at each other in confusion and intrigue. Remi wielded his spear.
"Normally we are forbidden to have contact with the species from other planets. But I guess I'll have to make an exception."
The voice came from behind them.
Remi jumped and hid behind the protruding root of a large tree.
Alba again froze at the new threat. She was at a disadvantage, having no weapon to defend herself. The memory of her mother bleeding and the androids torn to pieces returned to her mind.
"Hey!", the pilot shouted to Remi with his palms facing forward.
"Take it easy! I do not wish to harm you."
The pilot took off his helmet and Remi was amazed to see that it was another human being, although of particularly different skin color.
"Probably, I must have damaged my universal translator"
Alba recognized the pilot's language, so she relaxed her jaw muscles.
"I... Being... Coming from the stars," he pointed up to the sky
Remi kept wielding his spear but found the sounds and signs the foreigner made, with his mouth and hands, intriguing.
"Fall... Here... But... soon my people will come... for me."
"You come from the stars?", asked Alba, confused.
The pilot opened his eyes wide. There was no explanation as to how such a primitive species could speak the language of his world.
"How is that possible?" she asked again
"Before I begin to explain, could you tell your friend to put his weapon down? I mean no harm to both of you"
After convincing Remi that she could understand the pilot and for some unknown reason she could trust him, assuming he was male, or at least he was not a threat to them.
"Yes, I am of the male gender," said the pilot
Despite the explanations, Remi decided to keep his spear close to him.
Both sat in front of the pilot while he explained where it came from, and Alba served as a translator for Remi.
Both decided to call him Pilot because they couldn't pronounce his real name correctly.
The pilot explained to them that he was coming from very far away, a distance unimaginable for them and unfortunately his ship had broken down during the trip home. According to him, it was not necessary to fall into technicalities and explain how his ship had been damaged, as it was very complicated to understand. However, Remi doubted what the foreigner was saying since his ship had burn impacts similar to what the androids had received when they fought Gaia-3155, Alba's artificial mother.
Finally, unable to control his ship, he had to make an emergency landing.
It was nothing new for Remi to see an aircraft, even though he came from a primitive tribe, he had memories of an advanced civilization that plied the skies and beyond. Nor was Alba unfamiliar with aircraft technology. However, she had no idea that extraterrestrial civilizations existed.
Although the conversation was interesting, Remi reminded Alba that it was not convenient to stay in the forest and that they should leave as soon as possible.
The pilot noticed the primitive boy's impatience and anguish. Even though both persons belonged to the same species, there was an abysmal difference between them. The boy wore clothes made of fur and the girl had an artificial garment made. He also had no idea how the girl knew his language, perhaps not perfectly but well enough to communicate with him.
Suddenly, the pilot's helmet emitted an alarming beep. The pilot put on his helmet immediately and the display indicated three unidentified, possibly hostile objects flying at high speed towards them.
They would arrive in approximately 10 minutes.
"We must go now. It sounds like androids. Soon!" shouted Remi as he ran away from them.
"What's going on?", asked the Pilot
"This area is guarded by androids programmed to restore life to a decaying planet," Alba quickly explained
"Unfortunately, they consider us enemies and I don't blame them. It was our ancestors who almost destroyed the planet, thanks to their technological innovations, excessive pollution, and nuclear wars, completely extinguishing the human race."
"If they completely destroyed the human race on the planet, how could you possibly exist?" asked Pilot.
"It's a long story, but I can tell you that somehow we're from an alternate universe"
That really created more questions for Pilot's mind, unfortunately, he didn't have enough time to find out.
Pilot's warrior nature prevented him from leaving his ship behind.
"You'd better go with your partner and get as far away from here as possible. I'll stall them while you escape," was the last thing he said before he disappeared from her sight. The pilot's suit had a cloaking mechanism that made him invisible.
Alba wanted to explain that Remi wasn't really her partner, but she knew it wasn't the best time to say it. She ran as fast as she could, she knew how dangerous the androids were. But she stopped halfway, she knew she couldn't abandon the pilot to his fate. Perhaps Pilot's technology could help her find her mother, so she decided to return.
On the way back, she could see the flashes of light before hearing the deafening detonations, produced by the explosions of the android shots. The pilot was injured and was no longer completely invisible. His invisibility device may not have worked for the range of the androids' sight
Two androids were destroyed not far from the pilot's ship; the pilot was likewise fiercely returning fire, but soon three more androids appeared. Suddenly, the pilot ran to where Alba was
"Run away," he shouted.
They both ran as far as they could, but the blast wave from the ship explosion threw them into the trees.

The flames were still burning where the ship used to be
"We'd better go," Alba warned, reaching out to the pilot who was still lying on his back.
"More androids will come, but we'll have enough time to get away. The androids will repair the damage caused by the battle, first. It is their prime directive," the girl explained.
The pilot was saddened to have to activate the self-destruct system of his beloved spaceship.
"Damn androids!" the pilot shouted
Hopefully, his companions would locate him and he would soon leave that primitive planet.
Unfortunately one of the androids had survived the explosion and the pilot's scream gave away their position.
They both heard the sound of the android's laser cannon lighting up. Alba closed her eyes tightly. The pilot was unarmed, however, he stood between her and the menace.
A strong detonation occurred, but both were unharmed.
"Alba," a familiar metallic voice filled the girl's ears with hope
The enemy android lay destroyed at the feet of a new android.
The pilot did not understand what happened next. Alba unraveled his arms and ran into the arms of her beloved Gaia-3155.
The familiar purr of the android's chest brought tears to the girl's eyes.
"Mommy! You're alive."
"Mom?", the pilot wondered in confusion.

So much for this delivery. The image reminded me of a story that I had started writing almost a year ago.
If you want to participate in this contest, visit:
https://steemit.com/hive-185836/@xpilar/the-image-is-made-of-own-imagination-and-thoughts-competition-78-we-are-testing-our-new-community-world-of-xpilar
Thank you for reading me!
Stay at home and take care of your loved ones!

La nave espacial ardió al traspasar la atmósfera del extraño planeta. Los controles indicaron que habían las cantidades apropiadas de oxígeno, agua y otros gases necesarios para la existencia de vida silvestre y quizás vida inteligente. El piloto endureció su semblante al ver un advertencia en rojo sobre la pantalla. Debía buscar un lugar para aterrizar lo más pronto posible.
Efectivamente podía observar un terreno totalmente verde en frente a él, probablemente habría agua y alimento en ese lugar. Tomó el mando con ambas manos y dirigió su aterrizaje hacia una montaña. Debía buscar un lugar alto para poder enviar una señal de auxilio. La nave se sacudió con las rafagas de viento, no estaba diseñada para volar dentro de una atmósfera de gases. Encendió lo cohetes retropropulsores para frenar su descenso. Pese a las turbulencias, el piloto logró maniobrar lo suficiente para posar la nave sobre unos árboles, los cuales se rompieron como mondadientes ante de ésta, quemándose ante la ráfaga de calor y creando una gran conmoción en todo el lugar; ahuyentando así a todas las especies animales en 50 metros a la redonda..
"Creo que no fue una buena forma de establecer contacto con las especies de este planeta", se dijo el piloto.
"Todo aterrizaje del que sales a salvo es un buen aterrizaje", se consoló despreocupado.
Después de apagar todos los sistemas, el piloto abrió la compuerta de su nave y salió al aire libre. Deslizó el visor de casco hacia arriba y dejó que entrara el frío aire de la mañana en sus pulmones. Desde donde él se encontraba, podía ver como la estrella más cercana al planeta estaba comenzando a levantarse. Los primeros rayos se reflejaban en las gotitas de rocío sobre las hojas de los árboles que no había destruído.
Le echó un vistazo a su nave y una expresión de lamento se escapó de sus labios.
Los impactos de la batalla habían arruinado mucho más que el fuselaje, pero su viejo cacharro había aguantado lo suficiente para dejarlo con vida. Quién sabe dónde.
Acarició el casco de su nave chamuscado y agradeció ese último viaje. Habían sobrevivido a muchas batallas, pero finalmente, su viejo caza estelar, The Lucky One, había dado su última pelea.
Abrió unas consolas a un lado de la nave y activó la radiobaliza y ésta comenzó a emitir la señal de emergencia. Después de asegurarse que la señal se transmitía correctamente, decidió sentarse en el suelo y recostarse sobre su destartalada nave. Posiblemente tardarían unas horas en encontrarlo.
Para su mala suerte, esto no sólo alertó la atención de sus compañeros en el espacio sino también a otros seres dentro del planeta.

"Alba! Por fin te he encontrado!", susurró molesto el muchacho.
No se encontraba muy agusto volver al bosque del que habían huido, nada era seguro con el peligro los androides que cuidaban de él.
La chica era muy necia y él no entendía por qué arriesgaba su vida por una chica que apenas conocía. El estremecimiento anterior fue tanta grande, que la había perdido de vista. Pero afortunadamente, Remi tenía experiencia cazando animales, lo que le hizo más fácil seguir el rastro de la chica.
Para colmo, la curiosidad de la chica tenía que empeorar las cosas. Él, normalmente habría huido en sentido contrario de la explosión ocurrida, pero se había empeñado en ponerla a salvo y eso significaba ir hacia donde ella había ido.
Ambos estaban cerca de donde la nave se había estrellado. Alba observaba como el tripulante yacía perezosamente recostado sobre la gran máquina de metal de aspecto extraño. Por su aspecto, el tripulante no era androide y tampoco parecía ser de ninguna de las tribus de donde Remi venía.
Alba se volteó a ver a Remi directamente a sus ojos.
"Te he dicho miles de veces ya que me dejes en paz", ella susurró en un tono más alto.
"Sé cómo valerme por mi misma. El bosque siempre ha sido mi hogar."
"No voy a desistir en la búsqueda de mi madre"
"Ya te dije que esa cosa es una máquina, no es tu verdadera madre", refutó Remi
"Para mí lo es"
Remi iba a recordarle el trágico final de su madre sintética, sin embargo, vió la preocupación en lo ojos de Alba al voltear hacia la nave. El piloto había desaparecido.
Ambos se miraron entre sí confundidos e intrigados. Remi empuñó su lanza.
"Normalmente tenemos prohibido tener contacto con las especies de otros planetas. Pero supongo que tendré que hacer una excepción."
La voz provino desde atrás de ellos.
Remi dio un brinco hacia atrás y se ocultó tras la raíz sobresaliente de un gran árbol.
Alba nuevamente se quedó congelada ante la nueva amenaza. Estaba en desventaja al no tener ningún arma para defenderse. El recuerdo de su madre sangrando y los androides hecho pedazos volvieron a su mente.
"Hey!", gritó el piloto hacia Remi con las palmas de las manos hacia el frente.
"Tranquilo! No deseo hacerles daño"
El piloto se quitó el casco y Remi quedó boquiabierto al ver que se trataba de otro ser humano, aunque de un color de piel particularmente distinto.
"Probablemente debe haberse dañado mi traductor universal"
Alba reconoció el lenguaje del piloto, por lo que relajó los músculos de su mandíbula.
"Yo… Ser… Venir de las estrellas", él señaló hacia el cielo
Remi no dejaba de empuñar su lanza, pero encontraba intrigante los sonidos y señales que el extranjero hacía con su boca y sus manos.
"Caer... Aqui… Pero pronto venir por mí"
"Tu Viene de las estrellas?", preguntó confundia Alba
El piloto perplejo abrió sus ojos de par en par. No se explicaba cómo podría una especie tan primitiva hablar el idioma de su mundo.
"Cómo es eso posible?", ella preguntó de nuevo
"Antes de dar explicaciones, podrías decirle a tu amigo que baje su arma? No pretendo hacerles daño"
Luego de convencer a Remi que ella podía entender al piloto y que por alguna razón desconocida podía confiar él, asumiendo que fuera del sexo masculino, o por lo menos no era una amenaza para ellos.
"Si soy del genero masculino", afirmó el piloto
Pese a las explicaciones, Remi decidió mantener su lanza cerca de él.
Ambos se sentaron frente al piloto mientras él explicaba de dónde provenía y Alba servía de traductor para Remi.
Ambos decidieron llamarlo Piloto al no poder pronunciar correctamente su nombre real.
El piloto les explicó que venía de muy lejos, a una distancia inimaginable por ellos y lamentablemente su nave se había averiado durante el viaje de retorno a su hogar. Según él, no era necesario caer en tecnicismos y explicar cómo se había dañado su nave, ya que era muy complicado de entender. Sin embargo, Remi dudaba de lo que decía el extranjero ya que su nave presentaba impactos de quemadura similares a lo que habían recibido los androides cuando lucharon contra Gaia-3155, la madre artificial de Alba.
Finalmente, al no poder controlar su nave, él tuvo que hacer un aterrizaje de emergencia.
Para Remi ni era nada nuevo ver un aeronave, aun cuando provenía de una tribu primitiva, tenía recuerdos de una civilización avanzada que surcaba los cielos y más allá. Para Alba tampoco era desconocido la tecnología aérea. Sin embargo, no tenía idea de que existiera civilizaciones extraterrestres.
Aunque la conversación era interesante, Remi le recordó a Alba que no era conveniente quedarse en el bosque y que debían irse lo más pronto posible.
El piloto notó la impaciencia y la angustia del chico primitivo. Aun cuando ambas personas pertenecían a la misma especie, había una diferencia abismal entre ellos. El chico usaba ropa hecha de pieles y la chica tenía confeccionada una vestimenta artificial. Además no tenía idea de cómo la chica conocía su idioma, quizás no a la perfección pero si lo suficiente para comunicarse con él.
De pronto, el casco del piloto emitió un pitido alarmante. El piloto se puso el casco e inmediatamente la pantalla indicó tres objetos no identificados, posiblemente hostiles, que volaban a una velocidad vertiginosa en dirección hacia ellos.
Aproximadamente ellos llegarían en 10 minutos.
"Debemos irnos, son los androides. Pronto!", gritó Remi mientras corría lejos de ellos.
"Que sucede?", preguntó el Piloto
"Esta área está custodiada por andróides programados para restaurar la vida de un planeta en decadencia", explicó rápidamente Alba
"Desafortunadamente, nos consideran enemigos y no los culpo. Fueron nuestros ancestros quienes casi destruyeron el planeta, gracias a sus innovaciones tecnológicas, la contaminación desmedida y las guerras nucleares, extinguiendo por completo la raza humana."
"Si destruyeron por completo a la raza humana del planeta, cómo es posible que ustedes existan?", preguntó el Piloto
"Es largo de contar, pero puedo decirte que alguna manera somos de un universo alterno"
Eso en verdad creaba más preguntas para la mente del Piloto, lamentablemente, no disponían de tiempo suficiente para averiguarlo.
El carácter guerrero del Piloto le impedía marcharse y dejar atrás a su nave.
"Será mejor que acompañes a tu compañero y te alejes lo mas que puedas de aquí. Los entretendré mientras escapan", fue lo último que dijo antes de desaparecer de su vista. El traje del piloto contaba con un mecanismo de ocultación que lo hacía invisible.
Alba deseó explicarle que no realmente Remi no era su compañero, pero suposo que no era el mejor momento para decirlo. Ella corrió lo más que pudo, sabía lo peligroso que eran los androides. Pero se detuvo a mitad de camino, sabía que no podía abandonar al piloto a su suerte. Posiblemente la tecnología del Piloto podría ayudarla a buscar a su madre, por lo que decidió regresar.
De regreso, podía ver los destellos de luz antes de escuchar las ensordecedoras detonaciones, producidas por las explosiones de los disparos de los androides. El piloto se encontraba herido y ya no era del todo invisible. Posiblemente su dispositivo de invisibilidad no funcionaba para el rango de vista de los androides
Habían dos androides destruidos no muy lejos de la nave del piloto; éste, de igual manera, regresaba el fuego ferozmente, pero pronto aparecieron tres androides más. De repente, el piloto corrió hacia donde se encontraba Alba
"Huye!", gritó
Ambos corrieron lo más lejos que pudieron, pero la ola expansiva de la explosión de la nave los lanzó contra los árboles.

Las llamas aún ardían en el lugar donde solía estar la nave
"Será mejor que nos vayamos", advirtió Alba tendiendo la mano al piloto que aún yacía de espaldas al suelo.
"Más androides vendrán, pero tendremos suficiente tiempo para huir. Los androides se dedicaran primero a reparar el daño ocasionado por la batalla. Es su directiva principal", explicó la chica.
El piloto se encontraba triste por haber tenido que activar el sistema de autodestrucción de su amada nave espacial.
"Malditos androides!", gritó el piloto
Con suerte, sus compañeros lo localizarían y pronto se marcharía de ese planeta primitivo.
Desafortunadamente uno de los androides, había sobrevivido a la explosión y el grito del piloto delató su posición.
Ambos escucharon el sonido de encendido del cañón láser del androide. Alba cerró sus ojos fuertemente. El piloto se encontraba desarmado, sin embargo, se interpuso entre ella y el androide.
Una fuerte detonación ocurrió, pero ambos estaban ilesos.
"Alba!", una voz metálica y familiar llenó de esperanza los oídos de la chica
El androide enemigo yacía destruido ante los pies de un nuevo androide.
El piloto no entendió lo que sucedió luego. Alba se desenredo sus brazos y corrió hacia los brazos de su amada Gaia-3155.
El ronroneo familiar del pecho del androide, hizo que fluyeran las lágrimas de los ojos de chica.
"Mamá! Estas viva"
"Mamá?", se preguntó confundido el piloto.

Hasta aquí esta entrega. La imagen me recordó una historia que había empezado a escribir hace casi un año.
Si deseas participar en este concurso, visita:
https://steemit.com/hive-185836/@xpilar/the-image-is-made-of-own-imagination-and-thoughts-competition-78-we-are-testing-our-new-community-world-of-xpilar
Gracias por leer me!
Quédense en casa y cuiden a sus seres queridos!