INKTOBER #16 ROCKET
---
Hi guys, welcome back to my late Inktober, today we are going into space through the powerful combustion in the engines of a rocket, the mission is to explore new worlds and travel the universe, the limit is your imagination, so join me in this fabulous journey through the confines of the space fabric and the step by step of this illustration.
Today I will be shorter than usual regarding the texts of the illustration, I have a lot of illustrations ahead of me and I want to catch up with them, however I hope you like what you see. See you in a while.
Materials:
Opaline Cardboard (A4)
HB Graphite Pencil
Black Ballpoint Pen
Black marker, fine tip
-Sketch:
As usual, I used the HB pencil to sketch my whole idea, setting up the rocket in full space flight.
-Outline:
Then, with the pen delineate all the illustration, taking care of the pulse in each line as any error with ink is practically irreversible. Even so, I had several errors, especially on the saturn rings.
-Ink filling:
Since it's all about space, this time it was ideal to use a lot of black filler to cover the background. I had to do this in layers, since the black marker didn't cover very well with just one pass, also I tried to use liquid ink, but too much ink didn't go well with the opaline, it was deforming it, so I used only the marker again.
-Final Touches:
With a bit of pointillism, I gave depth to the planet and the moons floating around, plus I gave the rocket a metallic look by simply adding some black shading. Finally I gave more style to the propulsion with some wavy lines.
---
I'll leave you a little gif with the whole process in it, so you can better appreciate the step by step.
¿What is Inktober??
The Inktober is an initiative created by illustrator Jake Parker in 2009, with the aim of improving his artistic skills, but over the years has had a great impact on the international art community. The challenge is to make an ink drawing every day, hence its name, "ink" "tober" (October), although for the most part this is respected, many other artists prefer to stay in their comfort zone, so you can see illustrations made with watercolors, graphite, charcoal, digital and any existing technique.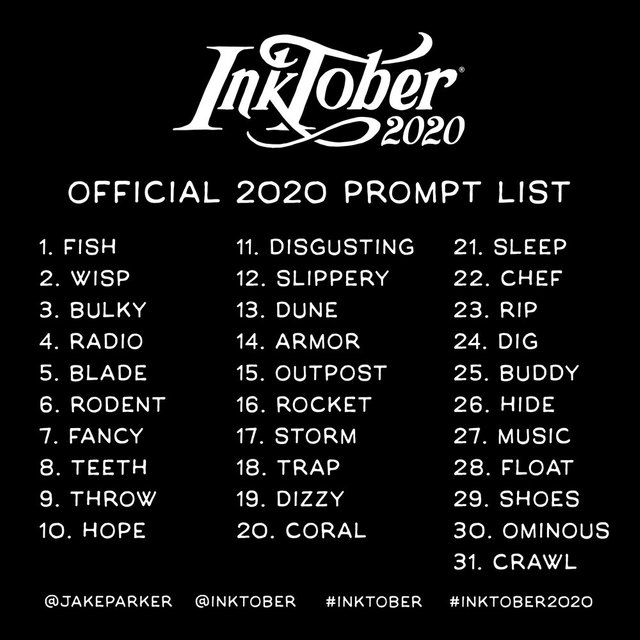 31 DAYS, 31 DRAWINGS
If you want to improve your artistic skills, this challenge is for you, you can publish your results in social networks using the hagstag #inktober or #inktober2020.
Copyright @hadley4
See you in a future post!
Thank You for Supporting My Artwork