WHO IS- @infovore? Practice your steem words/preachings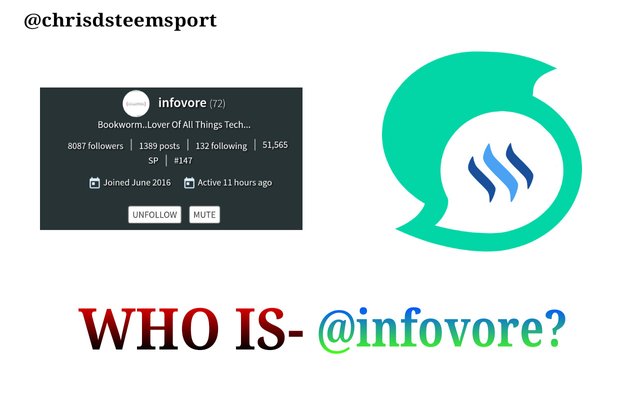 For sure, who is @Infovore? I know that this question may go a long way of blowing wonders into your mind, it may even cause you heart worries until you go down the write-up.
I keep asking- Who is @infovore?
Naturally, life goes well when one's legacy keep flying on the air even when the person in question is not available. The greatest achievement in life is what you kept behind, boys you build that became men.
@infovore is a man of honour, always helping steem through encouraging newbies practically even without contest. I wish other top steemians would emmulate from his system. He never rest. His hospitality is too much. I can't pay him back, chaiiii. This man/woman must be blessed anywhere he/she may be. Same as @papa-pepper always encourages newbies comment by an upvote despite him being busy.
It is not by talky talky, for sure we said to always help and encourage people, but yours is always to talk without practicing, lol.
How do a steemian keep talking about growing steemit, preaching steemit to the grassroot around the world, but it's very hard for him/her to encourage by upvoting a newbie's comments on his/her post, rather, what you only get from him/her is- thanks for coming in or thanks for passing by lol.
Forgetting that the constant arrival of newbies makes/keeps steemit.com strong.
The way no one could stay alone in the world is the way only you can't be on steemit despite your high level here. Steem is a crypto/blockchain, it needs flow of investments and heavy trafic to keep it strong. Many newbies now and yet to come are heavy investors, the problem is that they're yet to get the info or yet to be encouraged by the top steemians as suppose, not by saying Thank you for your comment only.
In no doubt, many people whom I had taken my time in convincing into our dear steemit came in because of a prove of its benefits from me, because no one goes were there is no goal/benefit, despite how you may try to pretend as if you don't need profits, then while buying data with your hard earn cash for steemit?
Please let's work together as @dobartim would always said- We will win together.
Your S.P is nothing to steemit when you don't make use of it to encourage others. Stop preaching in just mouth only, encourage the newbies, sets contest, then preach to them on how to convert SBD to steem and always power up their Steem Power to keep our dear steem strong.
Meaning that you are not only talking/preaching in just mouth rather practicing it.
Remember that a successful newbie today is an invitee of many newbies tomorrow
Let's leave sentiment, tribalism, religion for we are one family despite the community you are operating on. A Chinaise can help a Nigerian, A Nigerian can help a philipians, A Ghanian can help a German,etc. We are here for same purpose
Every plagiarism is made to be corrected not to kill or block the steemian forever. No one is above mistake. Correct and encourage your fellow steemians to stand again despite the mistake.
Few days ago @infovore and @Davidad brought my hope back to steemit again. My fellow steemian frustrated me instead of him to correct and put me through, he chooses to end my upvotes, in so doing that indirectly asking me to keep off from steemit, but thank God for this great motivators.
Now, i'm back to my project preparation-
Getting and registering prospective steemians outreach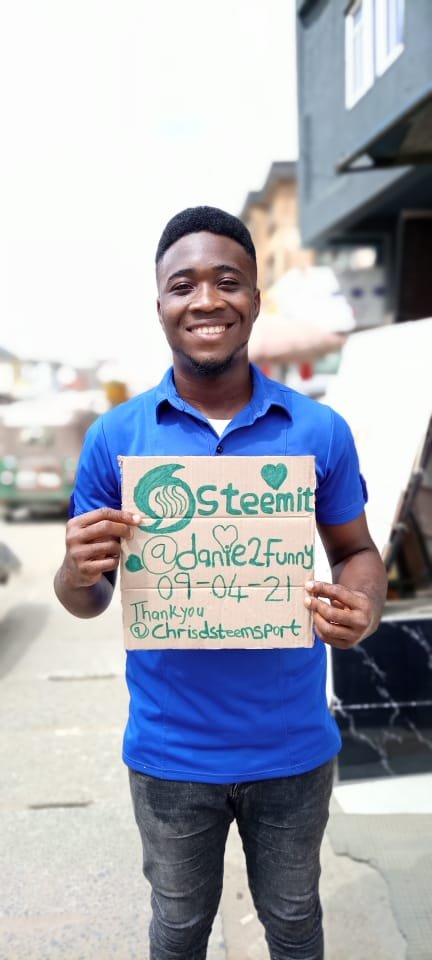 Only the thank-you that bears my name @chrisdsteemsport is much enough to be always happy. I can never rest untill the world hears it. The passion is too much.
Expect the outreach in a huge...
The preparation is on going.
I SAY NO TO STEEM POWER INTIMIDATION!
WE ARE ONE AND WE MUST WIN TOGETHER!
Special Thanks @infovore @davidad @dobartim @xpilar @papa-pepper
Coming soon---