Thanks to
@xpilar
for the invitation to the contest. Where imagination plays an important role, starting from a digital image. (competition 81).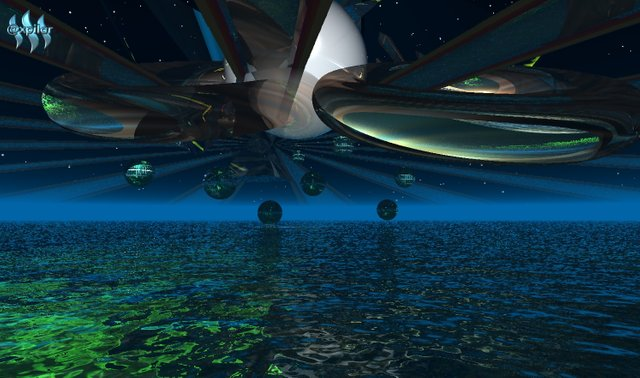 Image created by @xpilar.// Imagen creada por @xpilar.


Attack by enemy ships.
When it was thought that everything was over, surprisingly, two enemy ships arrive to destroy our world that was full of innocent people rescued from the previous attack.
Inside the ship, the moment lived was one of terror. Seeing the end so close, they activated some capsules so that the innocent passengers would be saved when the sea fell.
The pilot responsible for our ship made a maneuver to save the ship and make the enemy ships crash into each other. Everything happens in fractions of seconds, under the blue sky with some stars, in the middle of the sea.
Our ship activates some rescue devices to save the innocent passages that were floating in the sea by bringing them back to our ship.
Everyone is safe, the joy is heard again and the smile appears on their faces again.

Agradecemos a
@xpilar
por la invitación al concurso. Donde la imaginación juega un papel importante, a partir de una imagen digital. (concurso 81).
Ataque de naves enemigas.
Cuando se creía que todo había terminado, de forma sorpresiva, llegan dos naves enemigas a destruir nuestro mundo que se encontraba llena de inocentes personas rescatadas del ataque anterior.
En el interior de la nave el momento vivido fue de terror, al ver tan de cerca el final activaron unas cápsulas para que los inocentes pasajeros se salvaran al caer el mar.
El piloto responsable de nuestra nave hizo una maniobra salva la nave y logra que las naves enemigas se estrellen entre si. Todo sucede en fracciones de segundos, bajo el cielo azul con algunas estrellas, en medio del mar.
La nave nuestra, activa unos dispositivos de rescate para salvar a los inocentes pasajes que flotaban en el mar subiéndolos de nuevo a nuestra nave.
Todos están a salvo, se escucha de nuevo la alegría y la sonrisa aparece en sus caras nuevamente.