Igloo Hotel Davos (Part 1) - snow sculpture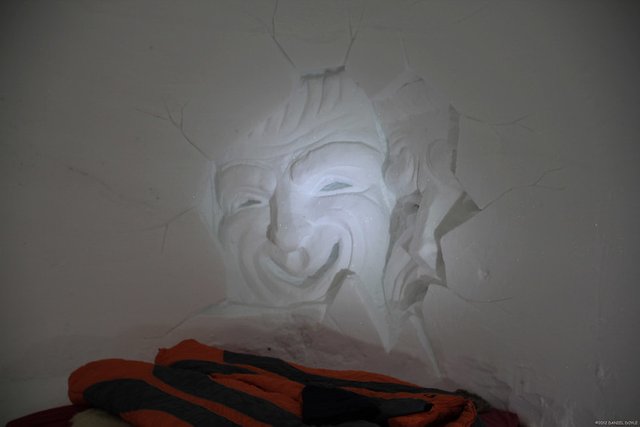 This will be a two-part post, there is lots to say and lots of images to share. I was first going to cover the project as a whole and then cover the artworks in the second post but, after thinking about it for a while I thought it best to explain the technical side alongside the artworks created. This way you may be more inclined to read both posts to get the full story. This was an amazing experience for me and I hope I can do it justice with my writing.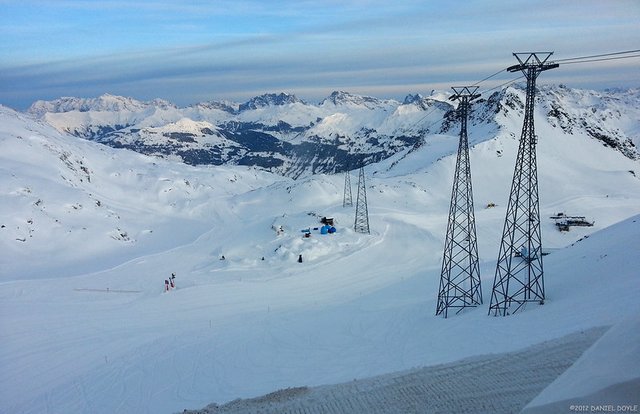 The up and up
I flew straight from my project in La Pineda, Catalonia to Zurich and found my way with several trains to Davos. It was hell, trying to carry three pieces of luggage with my Sciatica. I just took my time resting 30 seconds for every 30 seconds I limped. This was my first time to Davos and I was quite curious, seeing as it was soon to have that meeting with all the rich and powerful twats. I was surprised at how beautiful and picturesque it was in the snow and how fresh the air was after Catalonia. I can see why the elite would choose it as a location, easily secured and far away from the stinking proletariat.
I was met from the train by Elias Togler who is the main organiser, or the Chef as they called him. After sleeping one night in Davos town I then got the cable trains to the top of Parseann. This would be my home for the next two weeks, I was to sleep in the giant ski lift station at the top of the mountain in the staff quarters. Out the window, I could see the worksite a couple of hundred meters below, surrounded by ski slopes.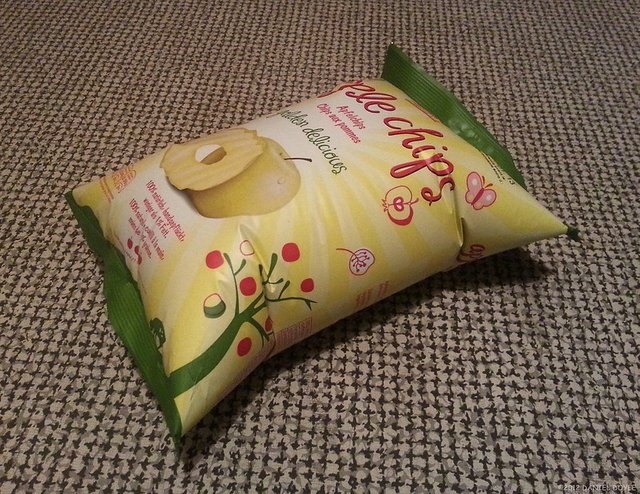 Walking on thin air
This place is far up in the Alps, over 2600m in altitude and I found the smallest exertion made me gasp for breath. I'm healthy enough but the lack of oxygen made me feel 20 years older. I was to stay up here at the top of the world with maybe one trip down to Davos halfway through to buy some more food. Above are some apple chips I bought before heading up the mountain, you can see how thin the air was from the inflated package. Knowing what food to buy was difficult, I would have to cook for myself and wasn't sure of the arrangements. So, most of what I bought was dried and simple to prepare after a long days work.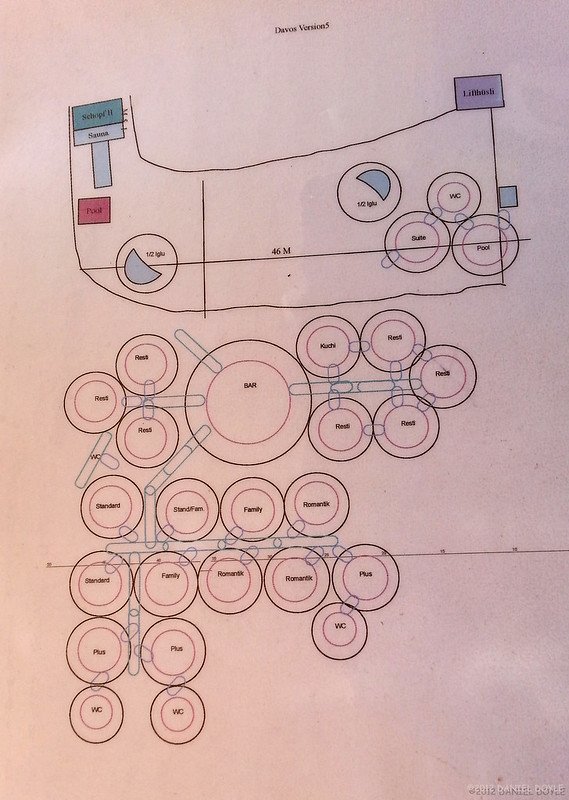 I was here to work on an igloo hotel, to create all the artwork inside the rooms. In a few short weeks, it would become a 12 room hotel with Bar, restaurants, toilets and jacuzzi. Along with Martijn Smits from Holland, we were to do the overall internal design.
There was a group of around 6 tech guys there to build the actual structure and then Martijn and I would try to give decoration to each of the rooms making it as cosy as an igloo can be.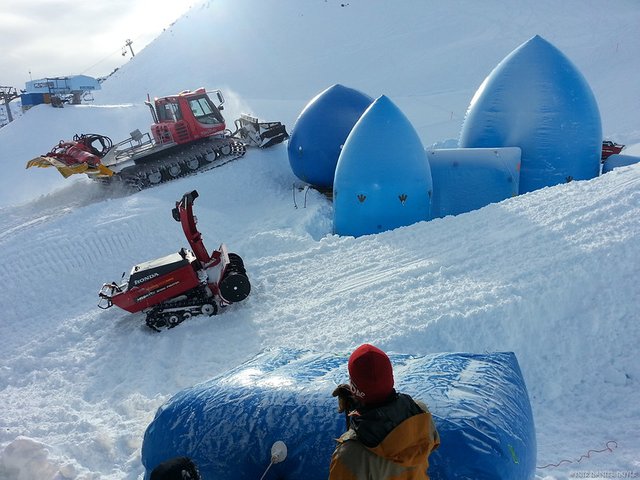 Snow balloons
The process of making the actual building is really quite clever. They have different sized balloons which they blow up and then use a snowplough to cover them in snow.
There are egg-shaped ones for the rooms and sausage-shaped ones for the corridors. Covering them in the snow with the snow fighters is not a job I envy. I few guys would spend days in the freezing cold operating the ploughs and in the noise, fumes and wind they worked tirelessly to keep ahead of us carving.
The balloons are egg-shaped because the resulting room will be more structurally sound and as the snow wants to compress with time the ceiling will stay higher for longer.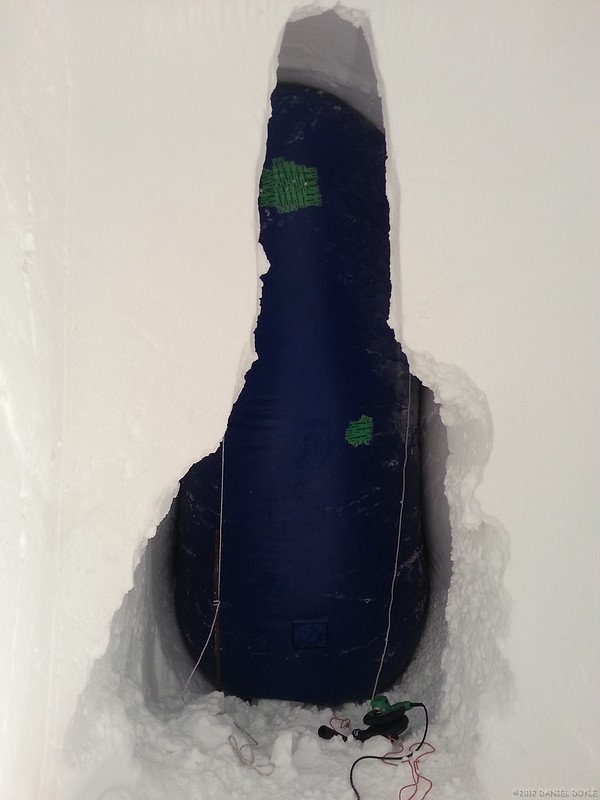 Once the snow has been built up around the balloons (till it is around 1 meter thick) they are left for a day or two and then the balloons are deflated leaving the space inside which are the rooms and corridors. It is really that simple but having the correct temperature and snow is something that can cause a continuing variation in the quality of the finished igloo.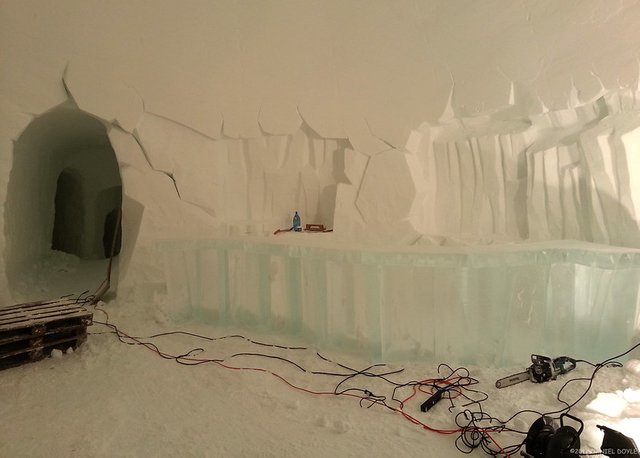 Best place to start
We got started immediately in the bar. As I said this was my first time to work in igloos and trying to get my head around working from the inside out on a sculpture took some getting used to. Mostly when you make a sculpture you are on the outside looking in and as you cut away more the sculpture gets smaller. Here, as you cut away your surface got bigger. So I quickly realised that you had to be very thoughtful of the process, keeping in mind the time you actually had to create something. For me, I was also dealing with my sciatica, The pain was running all the way down my left leg and I could hardly stand for 30 seconds before having to sit for a break. These moments gave me time to calculate what I had to do in my next 30 seconds of tolerable pain. I would then get up and put the plan into action until I couldn't stand anymore.
Working together at the start helped me to pick up some great tips from Martijn as he had been doing this a few years and it also helped us come up with certain motifs that we could use throughout the hotel. This was a big job and with only two of us to do it, I was determined that I would do my best and not let my disability bring the side down.
The bar itself was made form ice, big blocks that we fused together and to the snow to make a structure which would last till the following spring.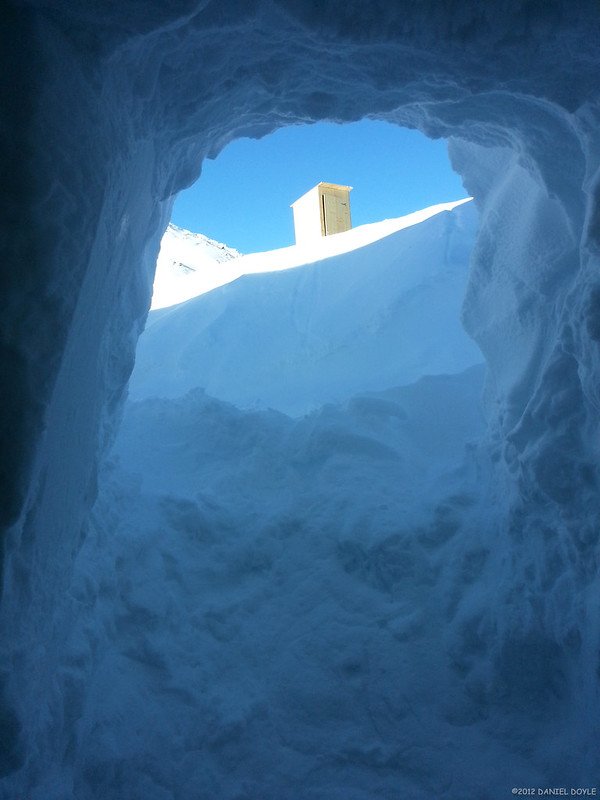 Housekeeping
It was around -10 outside but inside the igloos were around -3 or -4. Those Eskimos really know their stuff. Snow turns out to be a great insulator. So it was actually quite comfortable to work temperature-wise but of course, swing a chain saw around in the thin air was very tiring.
There weren't many creature comforts during the workday. Just a small cabin where we had a very plain lunch and for toilet facilities, there was an outhouse. This was a little box on top of a big 1 meter by 1-meter container. It was ok for a number one but I made sure I did most of my poos in the ski lift station where I slept, well not actually where I slept but in the nice functioning toilets that were available.
Some of the igloos in the hotel were on suite so they also had their own toilet this again was just a container in the ground that a real toilet bowl was fixed to the top of. It was a chemical toilet and would be emptied at the end of the season.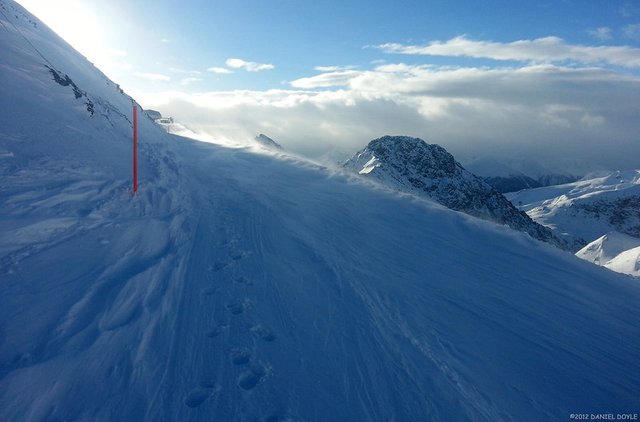 Our workdays were usually around 12 or 13 hours. We got paid by the hour and with such a short period to make the hotel every hour we could work we did. The tech crew left at around 4:30 so they could catch the last cable train down to Davos but Martijn and I worked on till around 8 or 9 pm. Then we needed to walk up the hill back to the Ski station. It took our last energy of the day to walk up the incline with many stops along the way. I was forced to crawl most of the way due to my back. It must have been a funny sight to see Martijn walking along with me, like a dog, beside him.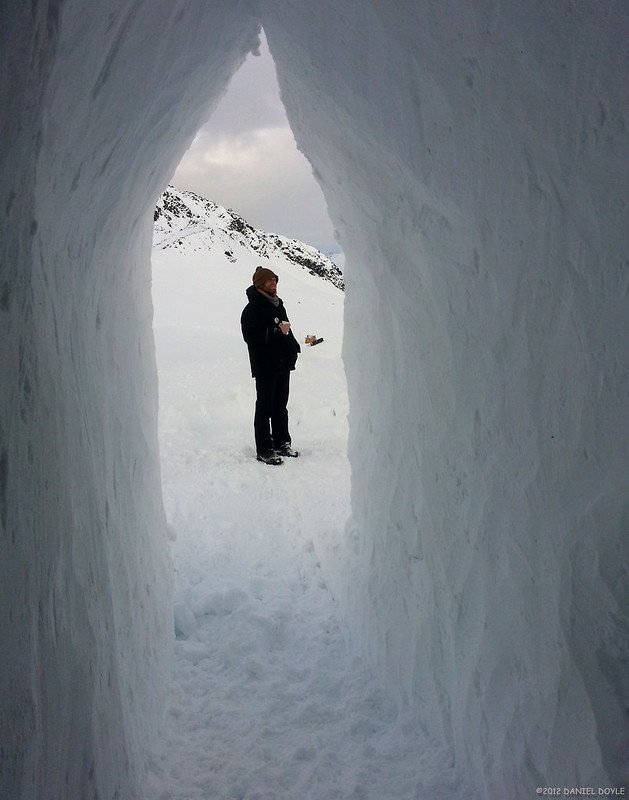 Mountain man
Martijn, or Smits as I lovingly call him is who I spent most of my time with on the mountain. When he is up there he really seems to be at one with the mountain, even though he comes from a country where most of the land is below sea level. We had known each other for a few years and have had our arguments which really made me hate him at times. We weren't the best of friends but I think we had a quiet respect for each other. I was quite surprised, honoured and slightly scared when he asked me to join him in this adventure. There had been other carvers the previous years but it had never really worked out to Martijn's liking. Being a very tough job there are not many people who are crazy enough to take it on and succeed. I was happy that he thought I was crazy enough.
He also wanted to move the project away from the more representative style from the past towards giving people a more artistic experience and he thought I could help him achieve that. This was an amazing canvas and the artistic possibilities were endless so I was happy to join him.
Over time, being up there we have become very good friends and although the work is back-breaking having someone around that you could rely on would draw anyone closer together. We sometimes joke that this is our Brokeback mountain but as I was to get married a few weeks later in January 2013 to the girl of my dreams I can assure you that our relationship was more brothers in arms than a romance.
That's all for now, folks
I'll stop here before I get too sentimental. I think this post is long-winded enough and I want to leave something for the next part.