MY DIARY GAME - 4 Agosto. E si sale! A 1800 metri. / And up we go! At 1800 metres. [Multilanguage]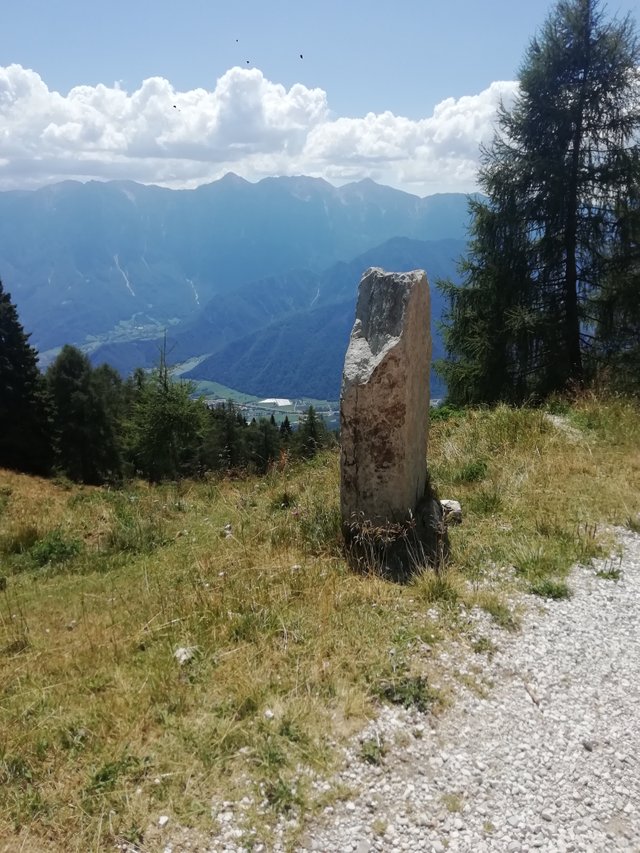 Ciao a tutti, amiche e amici di Italy e Steemit!!
Finalmente la nostra prima escursione in montagna della vacanza.
Abbiamo deciso di visitare il Lago Grande situato a 1860 metri nella catena del Lagorai.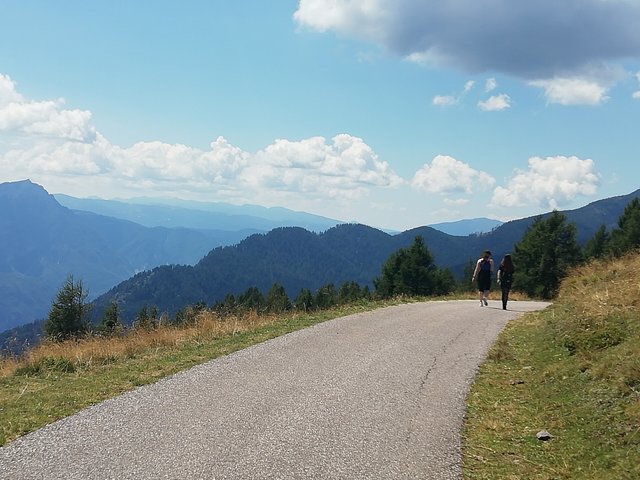 Abbiamo lasciato la macchina alla Malga Trenca e abbiamo proseguito a piedi tra i masi sparsi sulle montagne incontrando qua e là mandrie di mucche al pascolo innocue e intente a ruminare erba fresca.
Inizialmente la strada era asfaltata poi salendo cominciava ad essere sterrata e più faticosa da percorrere.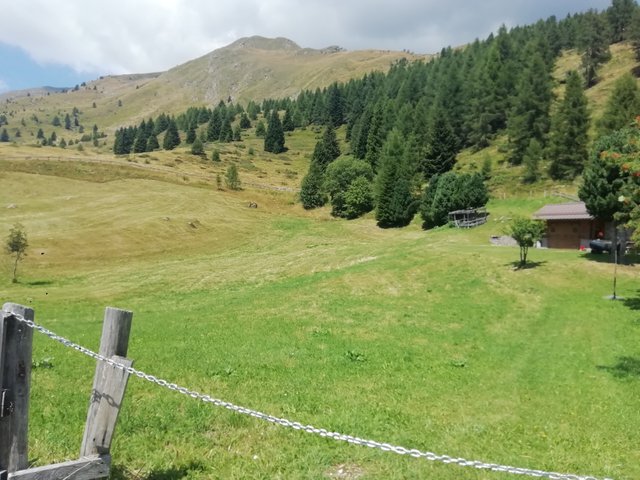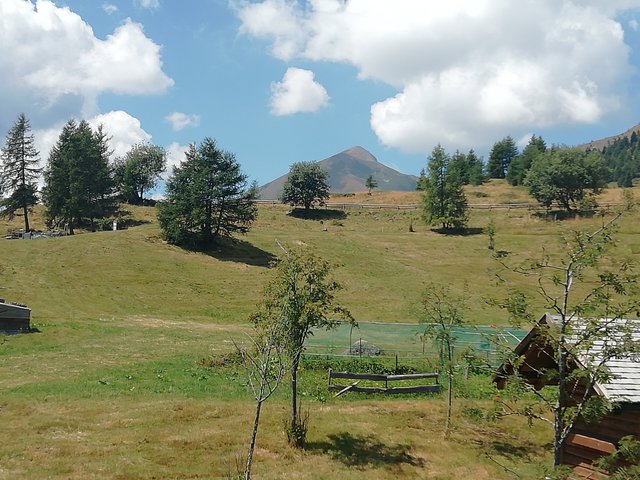 Per fortuna abbiamo incontrato un'altra malga chiamata Colo e ci siamo riposati un pochino e degustato il loro yogurt si poteva scegliere una base di frutti di bosco oppure di mele e cannella.
Noi li abbiamo assaggiati tutti e due!! :D
Il sapore ve lo lascio immaginare perché è indescrivibile.
Comunque mancava l'ultimo sforzo, un'ultima salita ripida che purtroppo dalla foto la pendenza non si vede bene ma vi assicuro che è la parte che ci ha tolto più fiato.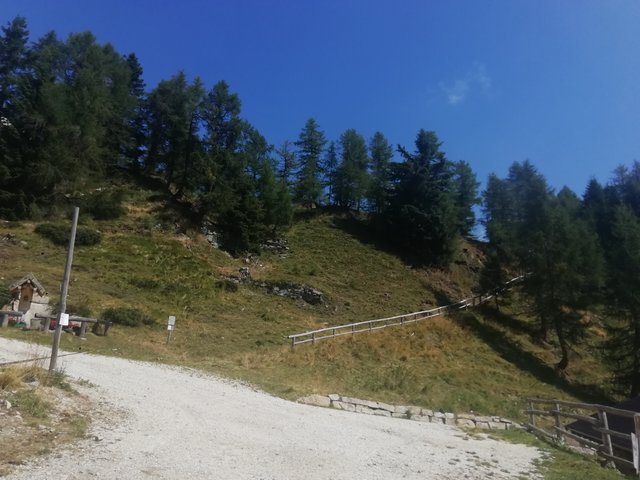 Poi però si apre una vallata meravigliosa e in mezzo si trova il tanto agognato Lago Grande ma abbiamo scoperto che il nome crea troppe aspettative perché in realtà si tratta di un piccolo lago alpino.
Però un laghetto che in un freddo maggio del 1916 aiutò le truppe italiane a fronteggiare l'offensiva austriaca poiché i soldati sprofondarono nel lago coperto da ghiaccio e neve che non resse al loro passaggio.
Insomma c'è storia ovunque anche in questi luoghi naturalistici meravigliosi in cui alzando lo sguardo sembra quasi di poter toccare il cielo con un dito..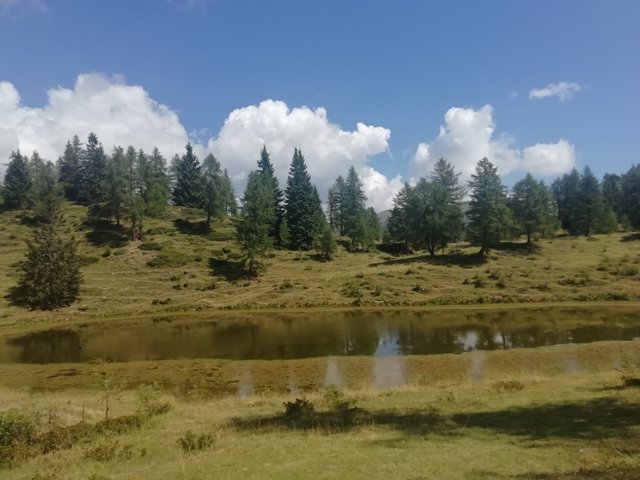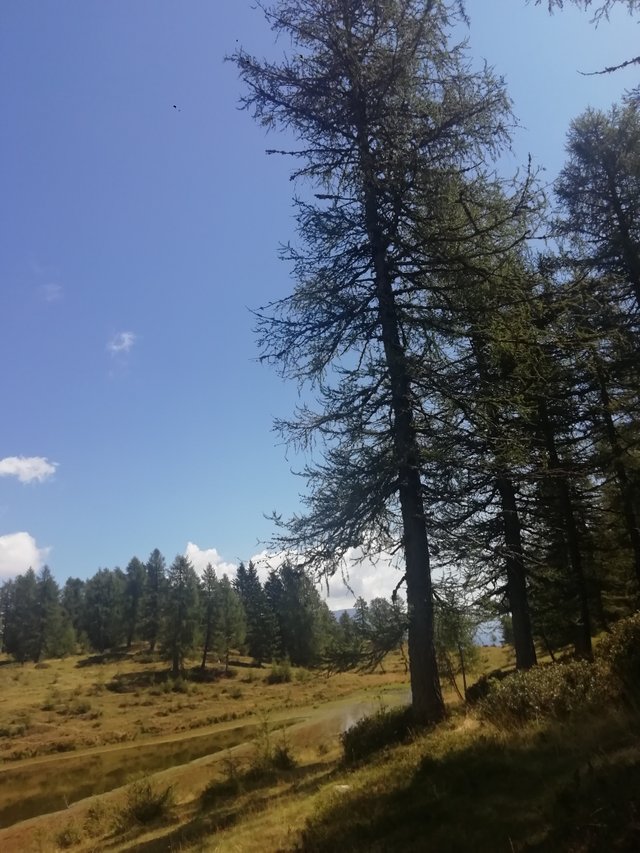 Grazie per aver letto il mio post.


Quality Comments deserve to be Rewarded. Read more.
I'm part of ITALYGAME Team
together with:
@girolamomarotta, @sardrt, @mad-runner, @famigliacurione