The Diary Game 20/10/2021 - Out of Love For Rome. Ten Movies With And About Rome.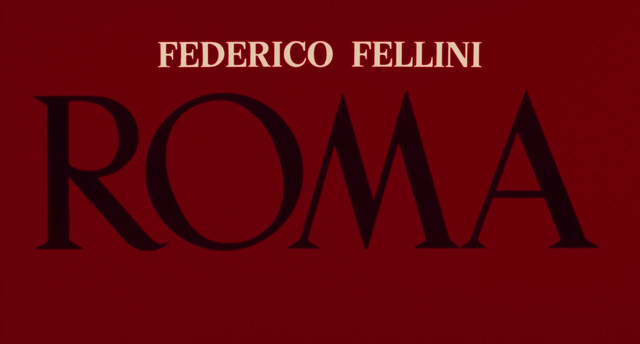 After the article dedicated to the Roman Holiday movie, naturally follows an article for and about Rome, the city of so many fountains, palaces, museums, the city of the Colosseum, Renaissance art but also good food and many special films produced here. Rome was in luck thanks to a director who trained and created here. Just as Woody Allen is bound by thousands of threads to New York, so is Federico Fellini bound to Rome. Although he was not born in Rome and visited the city for the first time when he was 13 years old.
Rome
Because I started with Fellini and his love for Italians and for Rome, I also start my list of recommendations with a film signed by Fellini.
It is a film without necessarily a narrative thread, coagulating more like an essay about Rome with biographical references to Fellini's childhood, adolescence and youth: how he learned at school about the city's monuments,
how he moved to Rome to study and took direct contact with the inhabitants of Rome, plus his first visit to a brothel.
For most of us, Rome is Fellini's, the one we saw and experienced through his films, before we arrived, if we managed to get to Rome in the meantime. As in all his films, Rome is either that of the noisy inhabitants, who eat pasta in the street and talk to everyone practically in the choir, with men who think they are beautiful girls dressed in T-shirts, while women are the ones who work hard. to raise children. Either it is modern Rome, in which it is built continuously, in which industry uproots the old way of being of the inhabitants.



The belly of an architect
British director Peter Greenaway could not stay cold in the decadent charm of Rome, especially in view of his great love for art. Greenaway therefore made an entire film that focuses on the architecture and art of Rome.
If the image of Rome offered by Fellini is a living one, where people animate any corner of the city, in Greenaway's film - about an American architect who comes to Rome to
organize an exhibition - the monuments and statues of Rome crush by size and beauty any person in the frame.
In addition, Greenaway recreates many famous Italian works of art through the scenes of the film, while the main character builds a parallel between him and the Roman emperor Augustus. Just as Augustus was poisoned by his wife, the American Kracklite considers that his wife is plotting to poison him.



Habemus Papam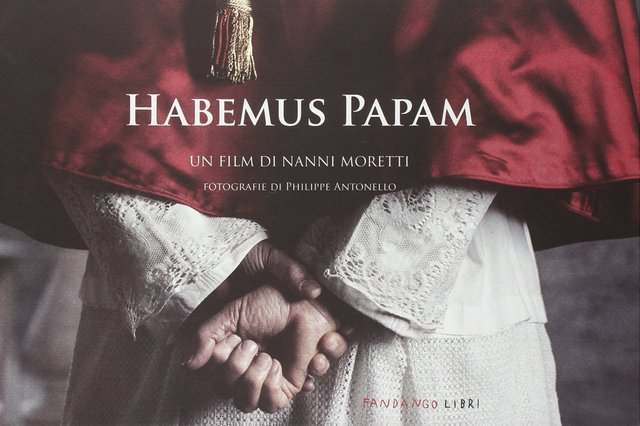 Habemus Papam is an Italian film from 2011,
a counterfactual rewriting of history in the style of Inglourious Basterds: what if the person chosen as the future Pope refuses to assume this role? The film delicately and humorously describes the organization of the conclave of cardinals for the election of the new Pontiff,
after the disappearance of the last pope. Immediately after the vote and after accepting the role, Cardinal Melville begins to have doubts about his ability to rise to the occasion.
While Melville tries psychotherapy and analyzes his life, the cardinals, who are not allowed to communicate with the outside world until the official announcement of the new pope's name, play in an ad hoc volleyball championship at the Vatican.



To Rome with Love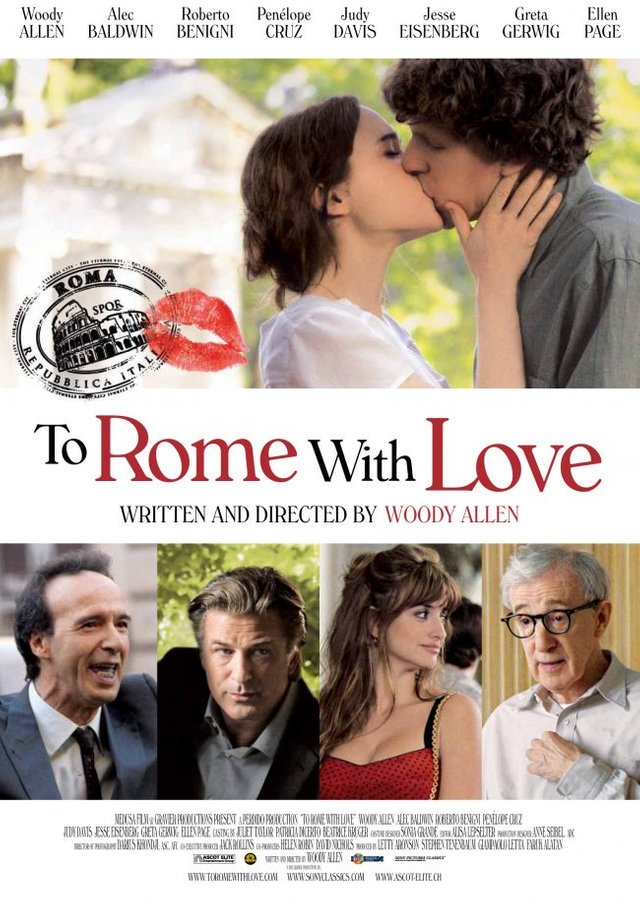 We know, Woody Allen's great love for cities is New York, but
Rome also has a special place in Allen's heart.
This is not only because it is a city of art and history, but especially because of
Woody Allen's great admiration for Italian directors: Vittorio de Sica, Roberto Rossellini, Michelangelo Antonioni but especially Federico Fellini.
So, after films made in London, Barcelona and Paris, it was Rome's turn. But perhaps
intimidated by his idols in directing, the film does not rise to the heights of the city and not even Allen's love for Fellini, whose influence is felt in all his films.
Roman Holiday
Audrey Hepburn's debut film, Roman Holiday is perfect to watch when you miss a holiday, a vacation in Rome or somewhere else, or you want to see a good romantic comedy.
Audrey plays the role of a princess who escapes the strict duties of rank to experience the pleasures of a tourist in beautiful Rome, with an American journalist, played by Gregory Peck.
Audrey is free for a few days to eat ice cream and walk the streets of Rome, to cut her hair on the street corner and to waste her time in a few other delicious and pleasant ways,
but forbidden as a princess.
The eclipse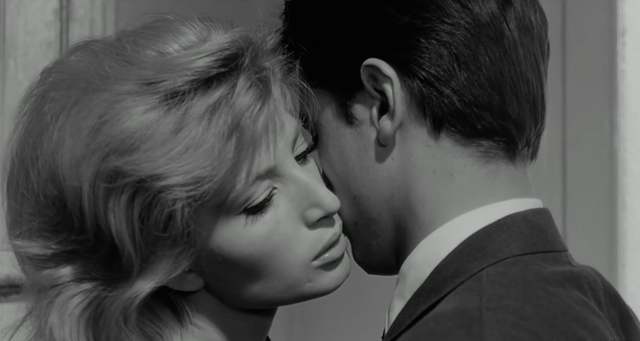 The eclipse is part of Antonioni's Italian trilogy about the contradictions of modern life. If in most films in which Rome is an important character, the city is especially romantic,
imposing, beautiful or characterized by another positive adjective, at Antonioni Rome is under construction. It is
Rome of the early 60's, in which the economy and the stock market are going from good to better
and in which the urban landscapes change from day to day.
Precisely because of the new rhythm, people become alienated and no longer know what they want. Vittoria (Monica Vitti), a very beautiful and sensitive young woman, breaks up with her boyfriend. Soon, she begins a relationship with a young broker (Alain Delon) on the Italian stock exchange, dominated by the idea of material gains. Despite the attraction between the two, the relationship filmed from a very meditative and elliptical angle ends without too many explanations…



La dolce vita
La dolce vita could not be missing from this list. Too many scenes that have already entered the memory of moviegoers and pop culture are part of La dolce vita.
Probably the best known of these is the scene in the Trevi Fountain, in which the voluptuous
Anita Eckberg dances and bathes in all its splendor, while Marcello Mastroianni is totally enchanted by her movements and shapes and rhetorically wonders
who this beautiful actress is, beyond of enchanting surface.
La dolce vita is a continuous party, the journalist Marcollo living from adventure to adventure and from party to party. But at the same time, it fails to overcome a meaningless gap. A sign that dolce vita is not really sweet, and urban animal life is as petty as anywhere else, even in beautiful and decadent Rome.



Contempt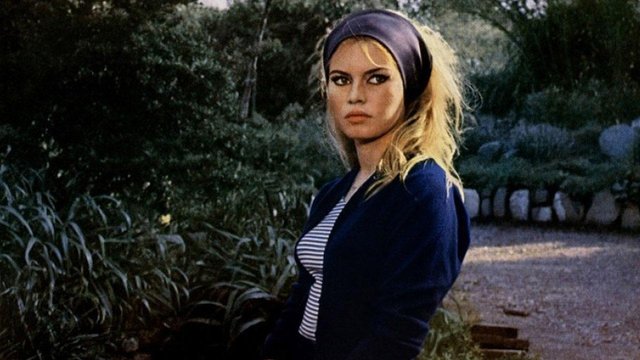 Godard's film, Contempt, is not necessarily intended for Rome, but the action takes place in Rome, being a film within a film.
Michel Piccoli and Brigitte Bardot are married. He is a screenwriter and is working on a film that is being made at the famous Cinecitta film studios in Rome.
Le mepris is actually focused on the gradual alienation between the two spouses, just like The Belly of an architect, but the sumptuous villas, the Colloseum and the light that is nowhere like in Rome give the film something special. And the streets of Cinecitta have an equally special load, knowing that so many scenes from movies that have become classics were filmed there.



Bicycle thieves
Bicycle Thieves is a film about another Rome, not the bright and decadent one, but that of the workers who hardly make a living from day to day in Rome after the Second World War, in 1948.
It is a poor Rome , in which people pawn their sheets for a bicycle and in which the same bicycle can tell the difference between having something to put on the table in the evening or not.
Vittorio de Sica's film is a masterpiece of Italian neorealism, it was filmed with a team of amateur actors and without a hint of melodramatism.
The portrait of a lady
Directed by a novel by Henry James, the film starring Nicole Kidman is partly set in Rome,
where two newlyweds move after a brief love affair in Florence. She is the young American Isabel - a
Nicole Kidman of a delicacy, fragility and beauty like in no other film of hers - and he is Osmond (John Malkovich).
Osmond manipulates young Isabel into believing that he loves her, even though he is only pursuing her fortune.
Financially independent and intelligent, Isabel does not judge correctly many of the events she experiences, but she decides to assume the wrong choice until self-destruction. The Portrait of a Lady certainly has something extra besides the actors' play and the fine psychological observation of Henry James, a plus brought by the interiors of Italian houses, as well as by the streets and monuments that the characters visit. If you need extra arguments to give it a try, Christian Bale and Viggo Mortensen also play in the film.


You will fall in love with all the characters in the movies as much as you will fall in love with eternal Rome, thanks to the actors. In fact, you will quickly realize that each character is a typology that allows all directors a complex and mind-boggling exploration - cultural, social and political - of Italy over the years, without dispelling the summer spell of Rome by referring to contexts and stressful events.
Image Sources:
Roma, la dichiarazione d'amore di Federico Fellini alla città eterna
Habemus Papam – il film di Nanni Moretti sulla fragilità e lo smarrimento
TO ROME WITH LOVE/ Lomaggio di Woody Allen alla commedia italiana
LA GEOMETRIA DEI SENTIMENTI – "L'Eclisse" e lo sguardo di Michelangelo Antonioni
Il disprezzo": a Camaiore il film che consacrò Brigitte Bardot
YouTube Sources:
He's Dead scene from The Belly Of An Architect, film by Peter Greenaway.
Roman Holiday (1/10) Movie CLIP - Take a Holiday (1953) HD
La dolce vita di Federico Fellini - Marcello!
Bicycle Thieves (1948) Trailer #1 | Movieclips Classic Trailers
The Portrait of a Lady Official Trailer #1 - John Malkovich Movie (1996) HD