TacoCat's Travels #197 (SG): A Taste of Culture in Chinatown! 🏯
Read this post on TravelFeed.io for the best experience
---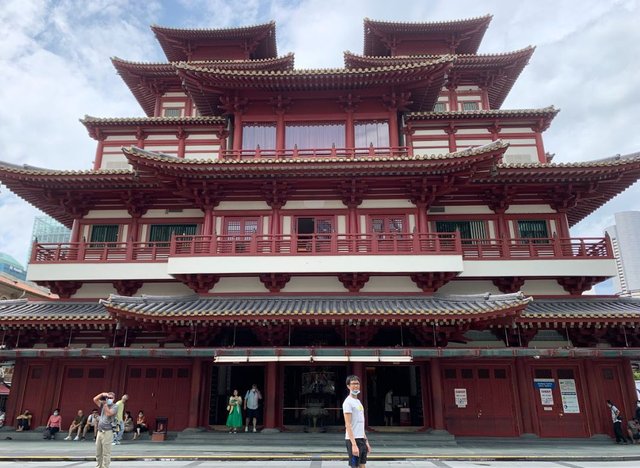 ---
Hey Hive!
It's time for another local trip because back in 2019-2021 we couldn't really fly anywhere due to travel restrictions and/or safety reasons. During that time, we saw more of our own country and I thought it'd be cool to share some interesting places from Singapore!
4 July 2022. Monday.
It'd been a while since I got a haircut so Sean and I decided to make a day of it since we had to go into town anyway! We stopped by one of the most famous hawker centers in Singapore for lunch - Maxwell Food Centre!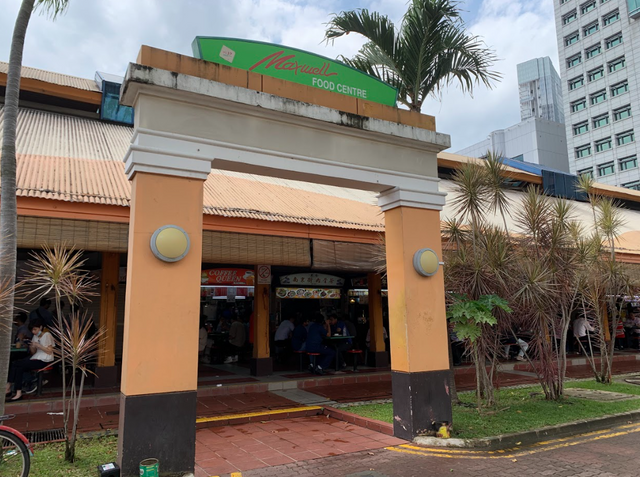 It's not the biggest but Maxwell is one of the most famous hawker centers in Singapore since it's in a central location near Chinatown and a few other tourist spots.
Some interesting history I found was that the site for Maxwell Food Centre was one of Singapore's earliest Chinese burial grounds (in the 1800s). In 1907, the graves were exhumed the land was earmarked for a marketplace. It was completed in 1928 and named Maxwell Market after a wealthy Scottish merchant who lived in Singapore at the time.
The building itself is pretty unassuming since it's quite low-rise compared to the other buildings in area. But the inside of the hawker centre is filled with food stalls specialising in all sorts of dishes and cuisines!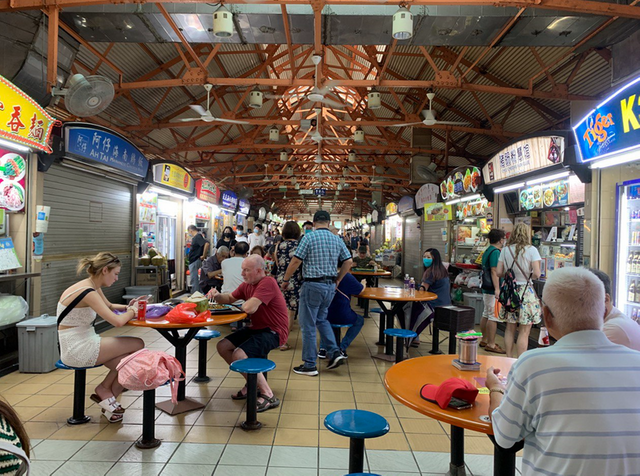 This is probably one of the most classic hawker centres in Singapore since it still retains its older image with the colourful furnishings. But since it's located near sightseeing spots it's also the one most frequented by tourists!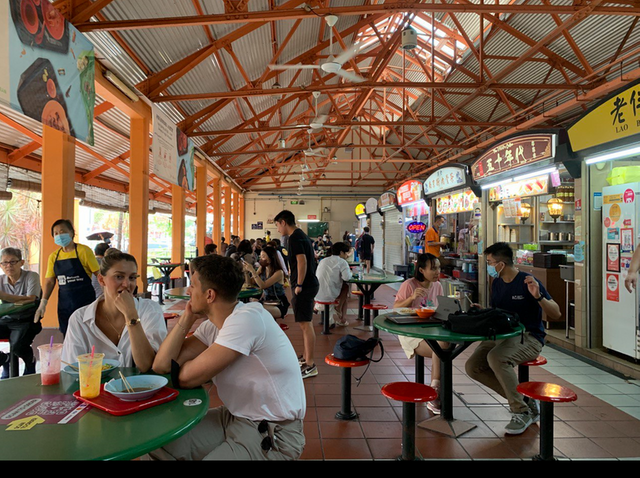 We saw quite a few non-locals there and with so many stalls we were kinda spoilt for choice! We decided to give the famous Tian Tian Hainanese Chicken Rice a try. Sean has never tried it but I have and I thought it was kinda meh, but it is really famous for some reason so I wanted to give it another chance.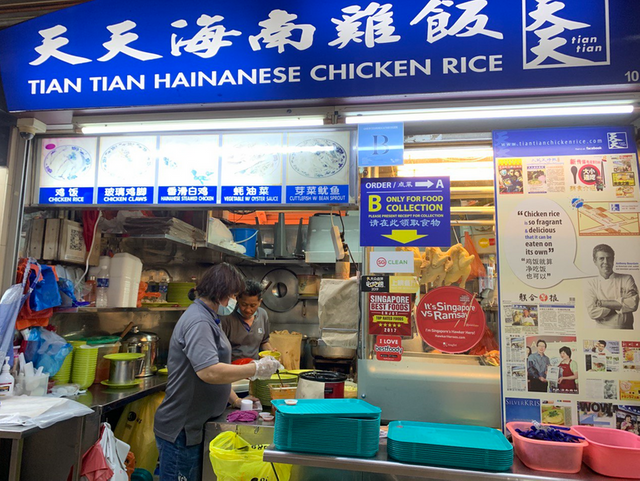 And as it turns out I was still right in my initial thoughts from trying it years ago. I think they specialise in white chicken but they had roasted chicken as well and since both of us prefer roast chicken we bought that instead, and it was pretty average.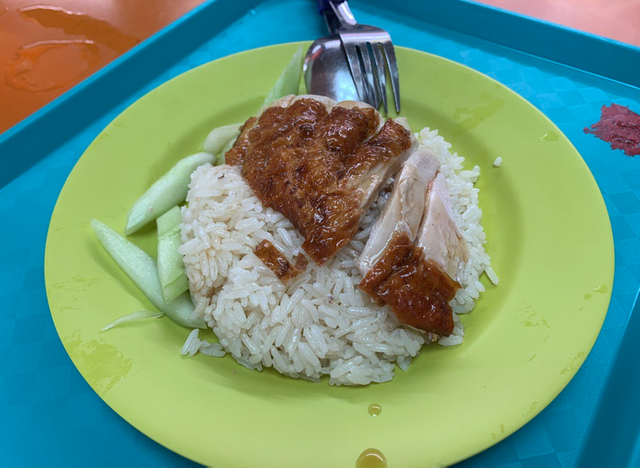 The chicken was nice and tender and juicy at least, but the rice was not as flavourful as I would've liked. It tasted kinda bland compared to other chicken rice we've had that's for sure. And for $6 I thought it would be more impressive, so it was kinda disappointing.
That was hardly satisfying so we decided to try another stall, this one called Chee Cheong Fun Club!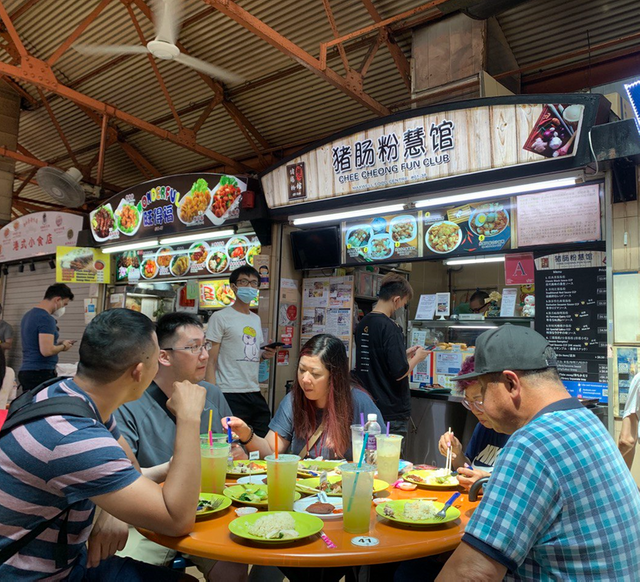 Both of us like Chee Cheong Fun (which is a steamed rice roll) but this was a different kind of dish compared to the one we're used to since it looked like it was served as a noodle soup. They even had curry and laksa chee cheong fun too which was typically made with yellow egg noodles or thick rice noodles.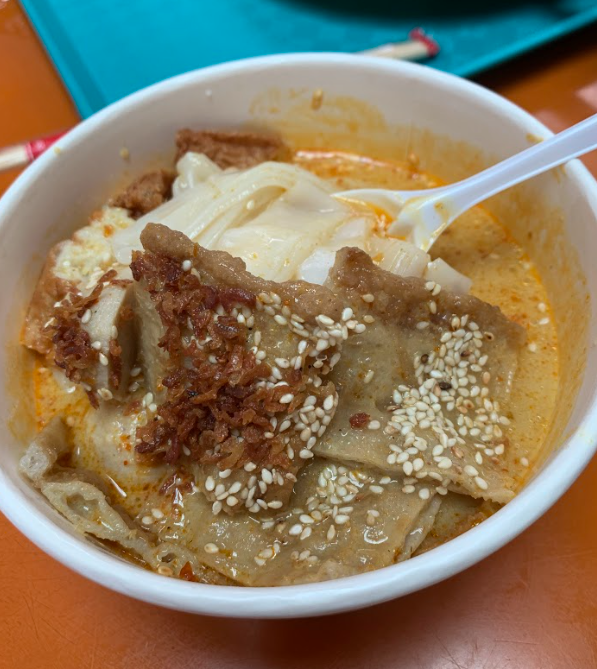 It looked and smelled so good! And there were plenty of other ingredients as well like meatballs and different types of beancurd skin rolls and fish cakes. It was quite a full bowl and the laksa broth was so flavourful without being too spicy. It was actually very hearty and satisfying!
We still weren't full yet so we decided to get one more snack from this Shanghai dim sum shop selling dumplings!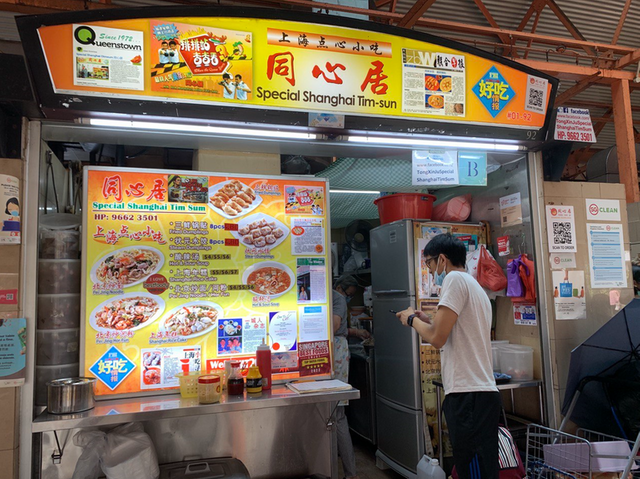 The fried dumplings looked pretty good and I was craving something a little crispy so we decided to try it!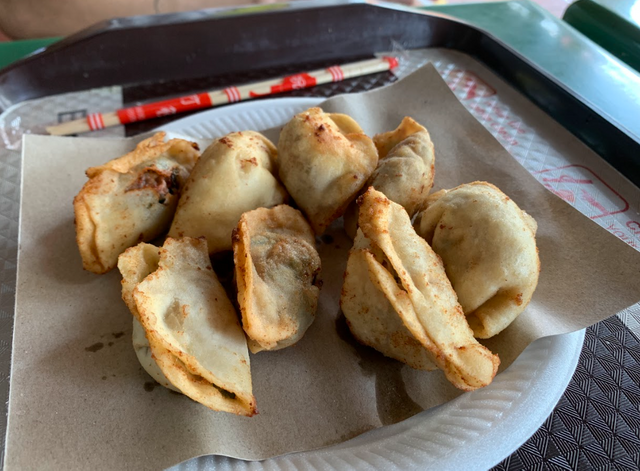 It wasn't very deep fried which was good since it would dry out the dumpling filling but was fried enough so that the edges were crisp. The dumplings had meat and chives in them and were actually pretty filling for a snack.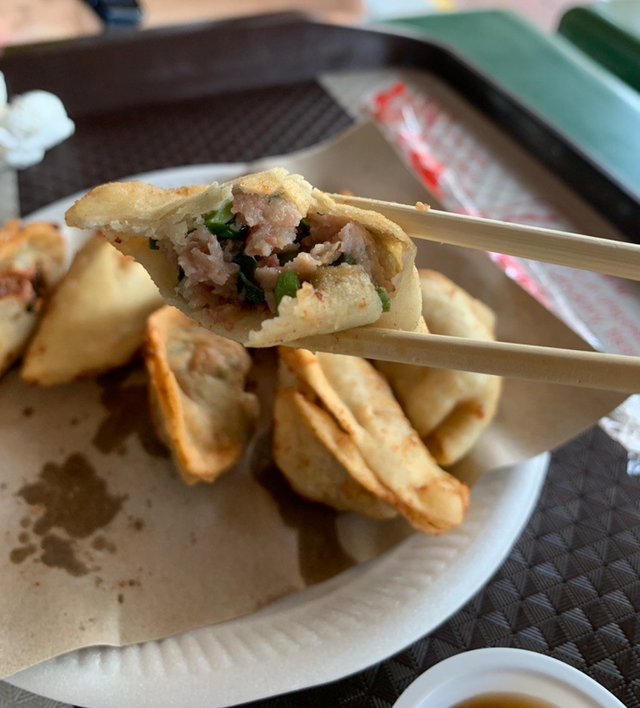 After all that we were sufficiently full especially after getting a honey grass jelly drink from the drink stall. One issue about these older hawker centres is they're pretty cramped and lacking in ventilation so it was getting a little warm in there and the cold drink helped.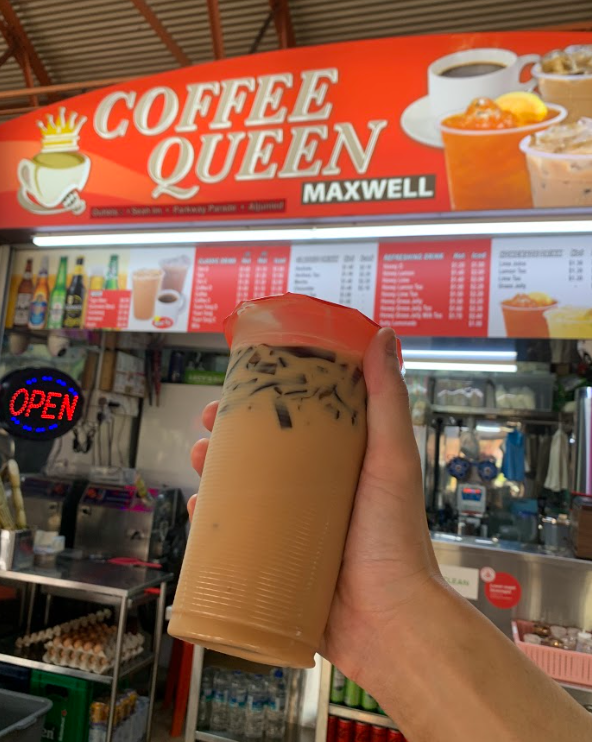 After all that food we decided to go take a walk in Chinatown! We've passed by this area quite a few times but often just to eat or run errands and never actually took the time to look at the biggest temple here!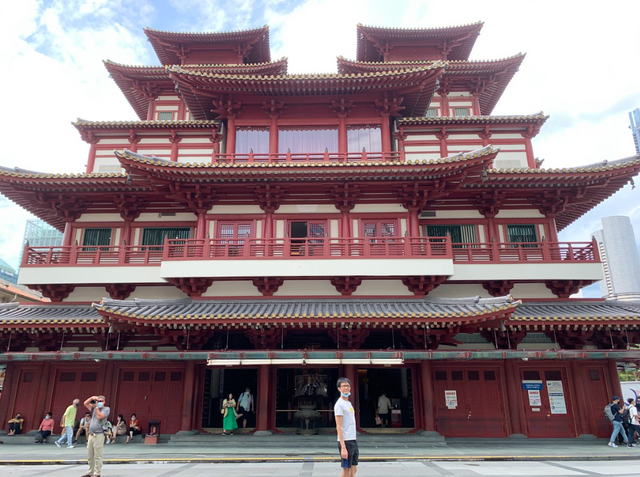 This is the Buddha Tooth Relic Temple and Museum! It was built in 2007 and gets its name from what the Buddhists regard as the left canine tooth of Buddha, which has been recovered from his funeral pyre in Kushinagar, India and displayed on the temple's grounds.
It's totally free entry and at the entrance is this huge urn for people to put joss sticks in. The smell of incense is pretty strong even before you enter but we're used to it.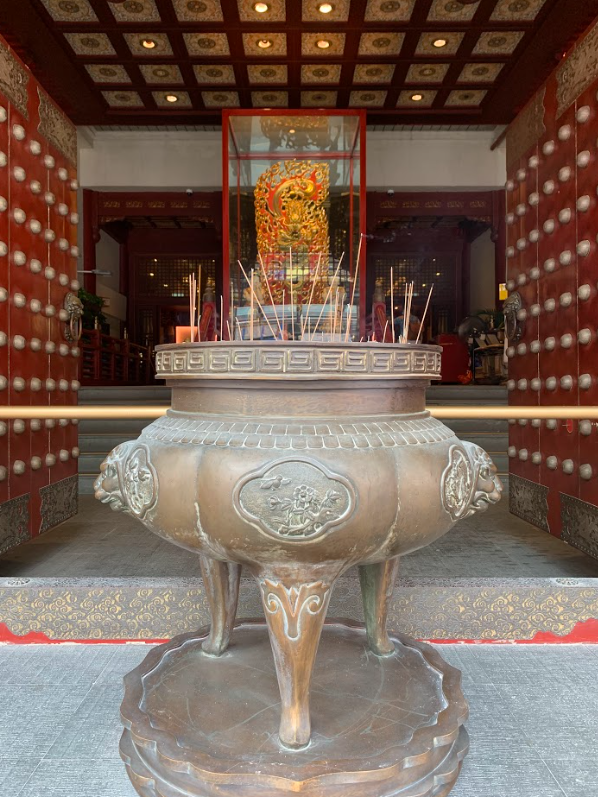 Since it's a temple, visitors have to make sure their attires are decent to show respect. There are sarongs provided so you can cover up in case your attire is too informal.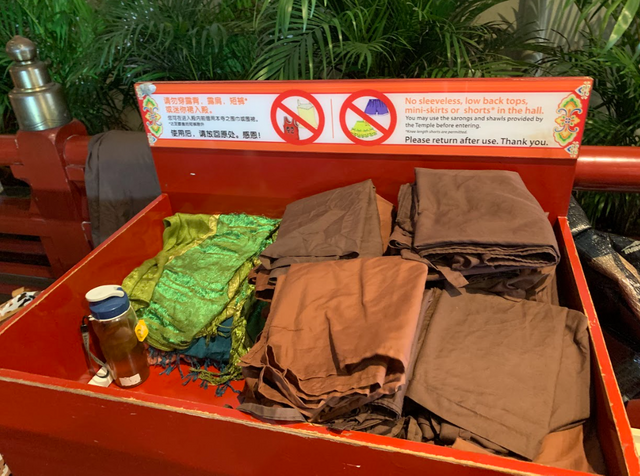 This seems to be a rule for only girls though since both of us were wearing shorts but only I had to wear the sarong. It seems a little sexist and my shorts weren't even that short but the security guard still asked me to wrap up. I complied though since it is a sacred place of worship.
For visitors there is a dedicated pathway to walk along so as to not disturb the monks and those working or offering prayers in the temple. And of course one of the first things you see is a donation box with this very intricate Buddha statue.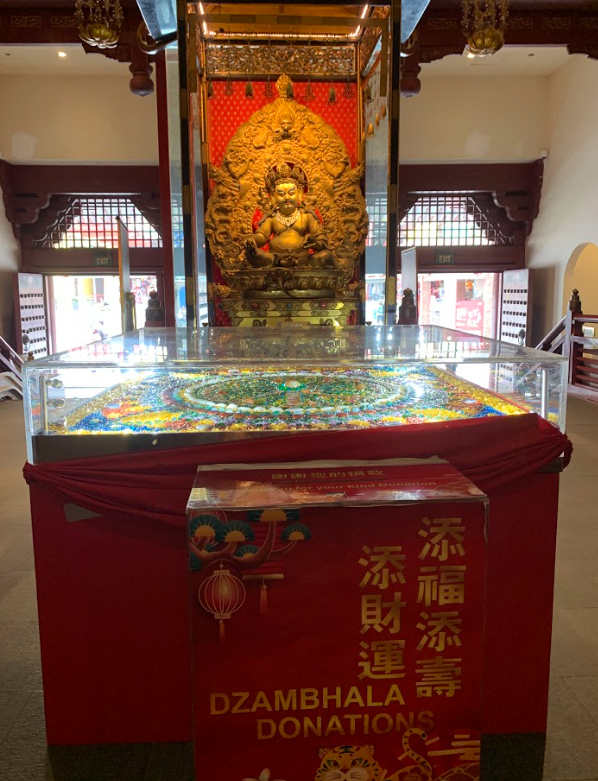 Thankfully they had no issues with photography for the most part, since the interior of the temple was pretty amazing. The next area we passed was this Wisdom Hall where there was a monk studying or writing some scripture of sorts in front of these statues.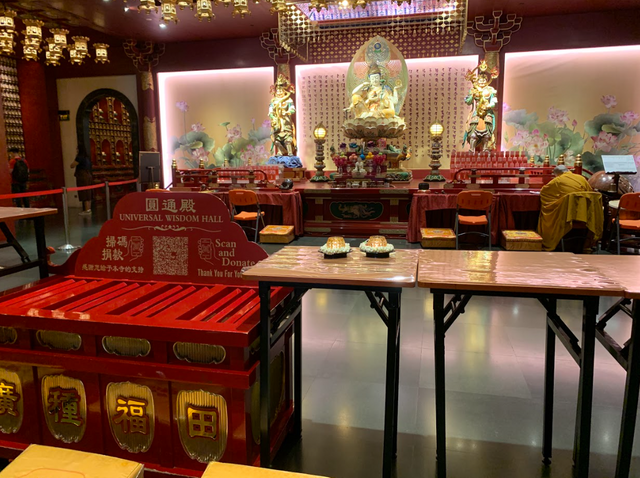 Along the walls of the hall were these very detailed sculptures of the Thousand Arm Avalokiteshvara, known for being the Guardian Deity forthose born in the year of the rat!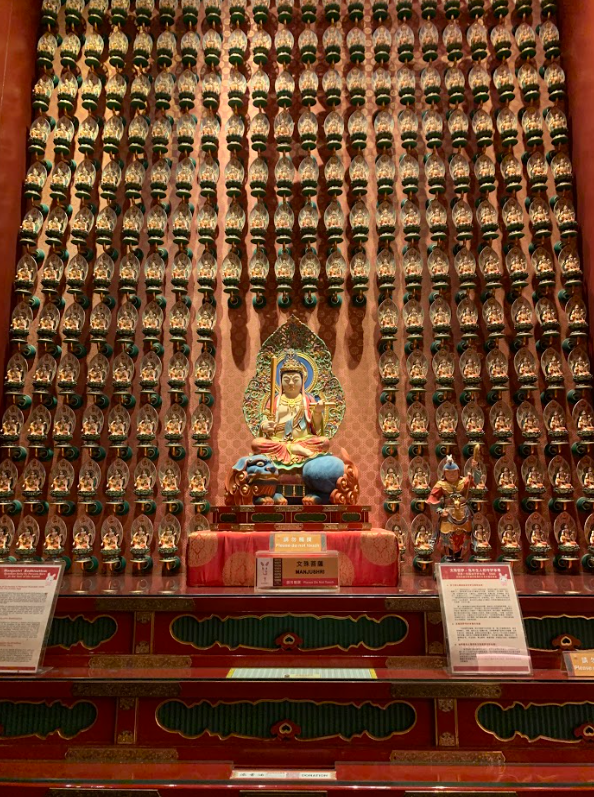 I guess since it was the year of the Rat in the Chinese Zodiac this particular deity was on prime display.
After that we walked into the main hall of the temple and it was phenomenal! The interior design was truly impressive, and tell stories of culture over thousands of years old.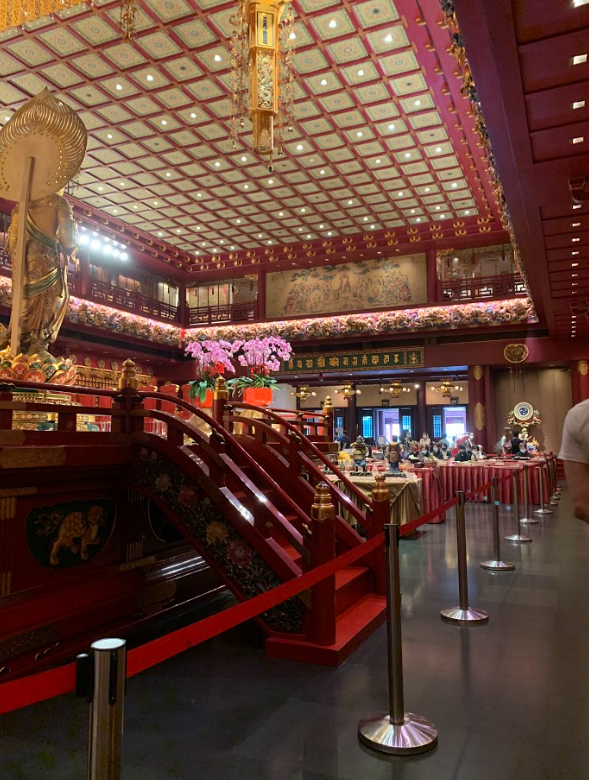 It felt like every part of the architecture was packed with so much detailed history; I'm just sorry I couldn't be up close to appreciate every bit of it. Just look at the walls with all these Buddha statues!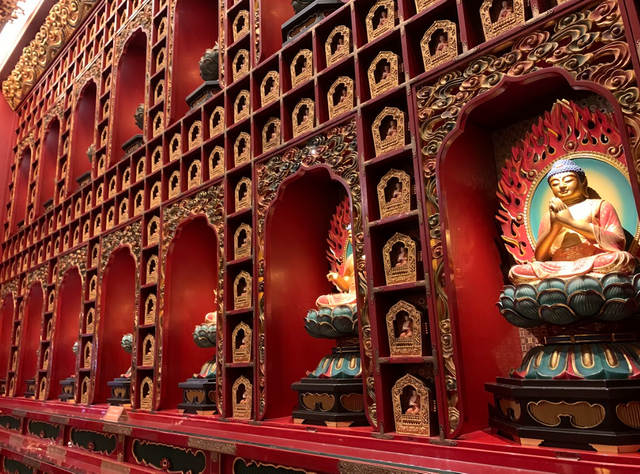 Apparently there was a hundred of them packed wall to wall in the main hall, and were individually handcrafted by several sculptors! Looking at them individually you could tell since each one held a different pose.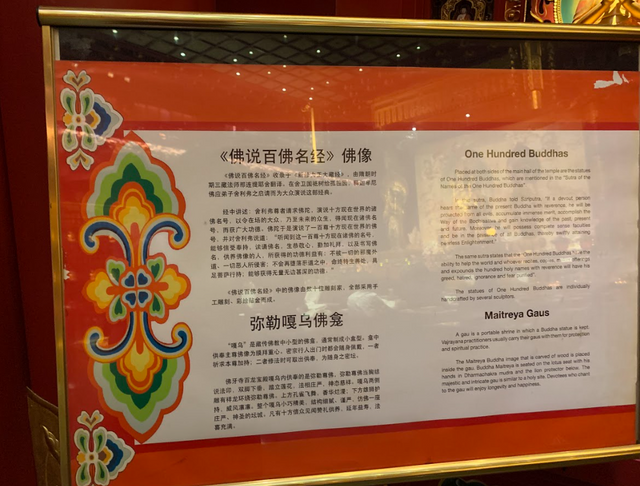 In the sutra it is said that these hundred Buddhas have the ability to help the world and whoever recites, copies, makes offerings and expounds the hundred holy names with reverence will have his greed, hatred, ignorance and fear purified.
It was truly very impressive, and I wish I could've taken a better photo of it all but it was hard to see the details and the number of them in one shot. You really had to be there.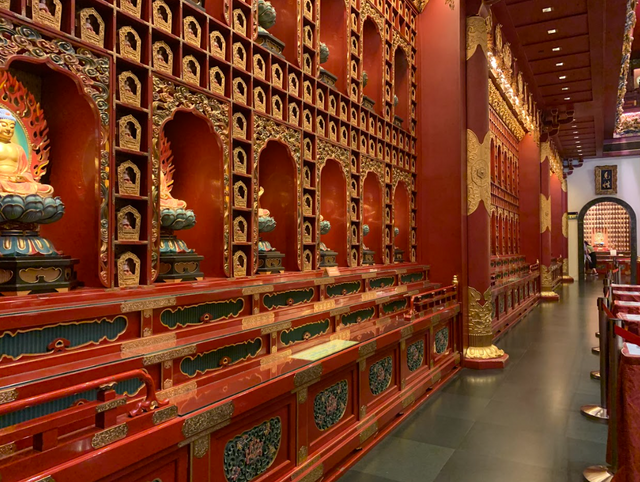 I also wanted to be respectful since there were people sitting in the main hall reading or studying the sutra, and I think there might have been someone reading the scripture over the microphone so we tried to be as quiet as possible.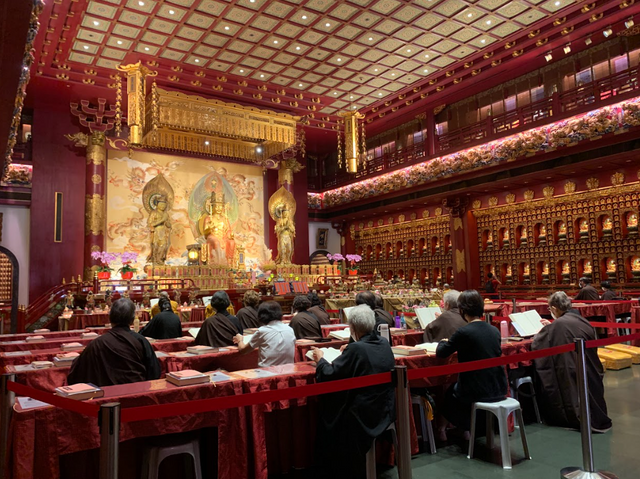 They were probably used to tourists walking through the hall though since this is a very famous temple right in the heart of Chinatown. But it was really cool to be able to see the main hall in all its grandeur.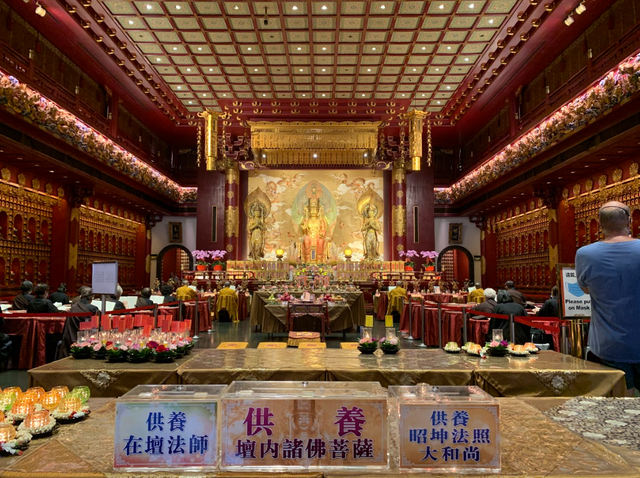 At the back of the hall was of course the gift shop where you could buy offerings to make within the hall itself.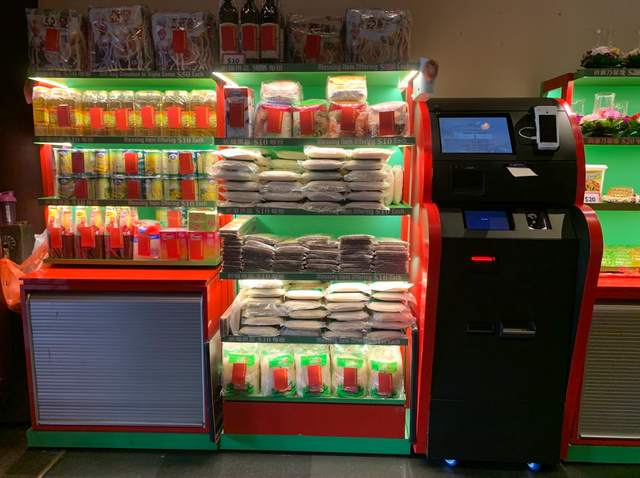 There was a bunch of foodstuffs and flower lamps you could get and they even had contactless payment which looked odd to me since it was strangely high-tech for a temple but since there was still covid it was understandable given the high traffic here.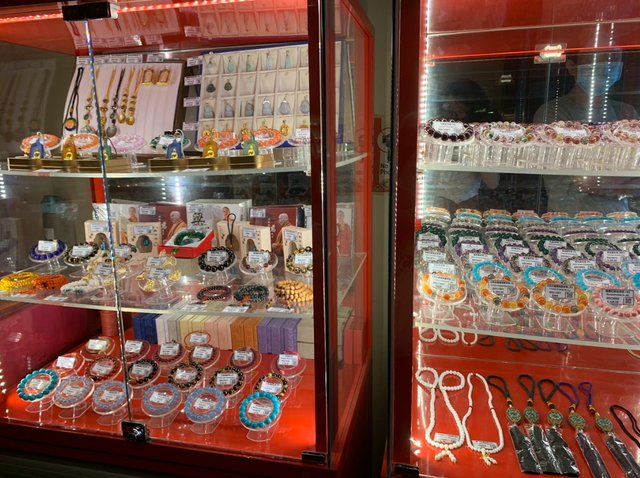 They even had the bracelets that monks would wear on sale, and it was quite pricey too! I wonder who actually bought these.
We exited out the back entrance and were on the other side of the temple! It was difficult to get a full picture from this area since the main road is too close but I thought the statues were really cool!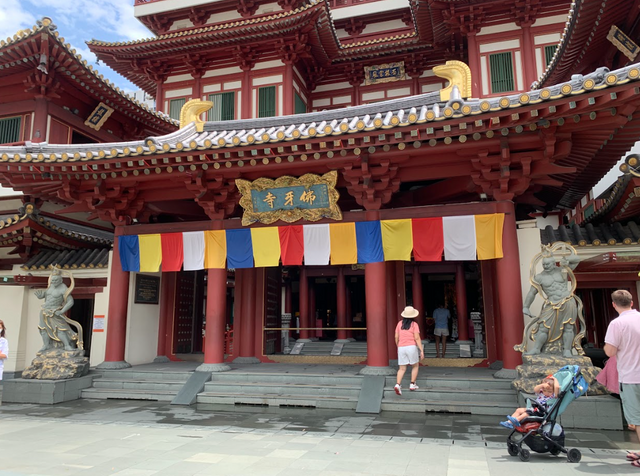 Just around the corner was a side street you could walk through to go back to the main entrance without going through the temple.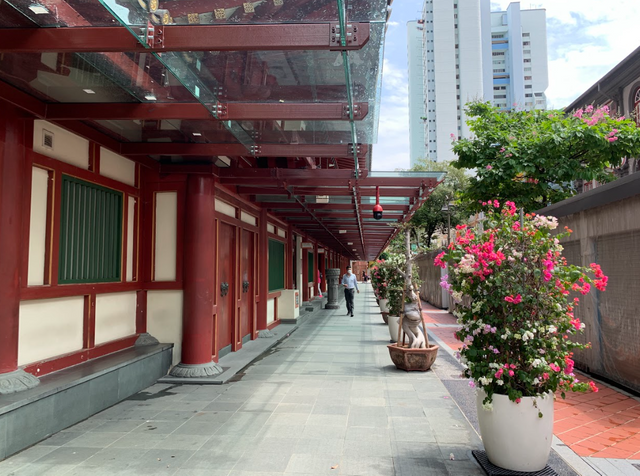 I'm not a Buddhist so I wouldn't know what other temples in Singapore are like, but this was a really cool experience! I think this was my first time visiting a Buddhist temple in Singapore and it was truly eye-opening!
After that Sean told me there was a bakery shop with some nice egg tarts nearby that we could try so we went to find it just across the road!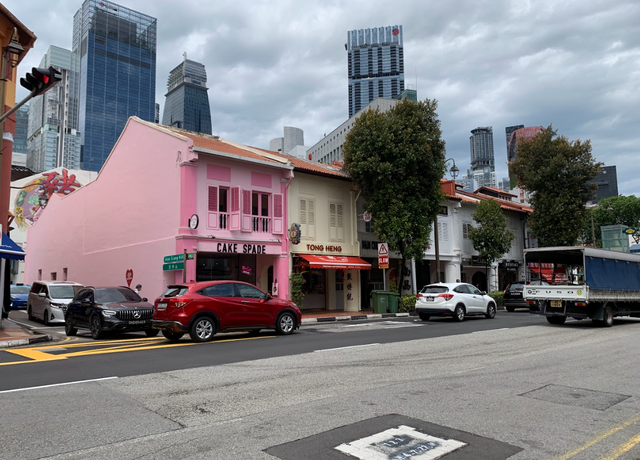 It's this bakery shop called Tong Heng and they have a bunch of different tarts and pastries!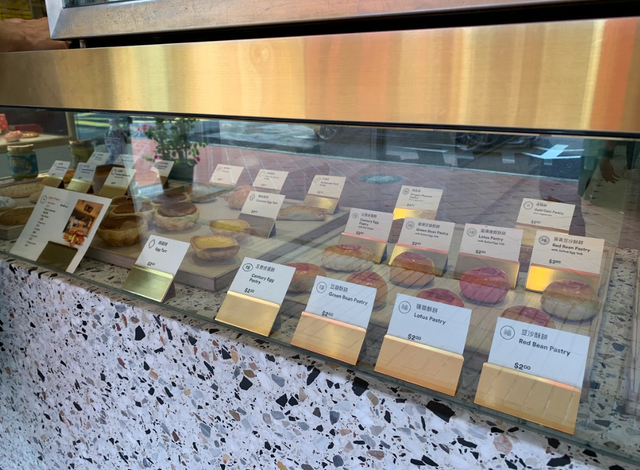 We tried their egg tart (priced at $2.20, pretty expensive imo) and it had a unique shape as well.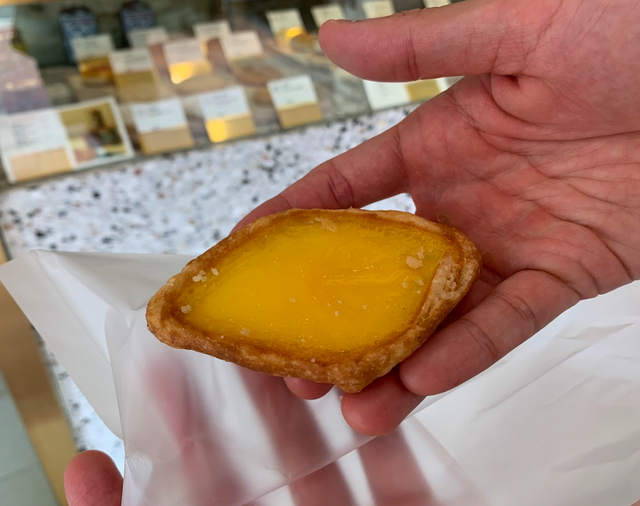 It was pretty crispy despite being left out for some time and had a slightly flaky crust but not dry or too flaky to the point of disintegrating when you take a bite. It was actually really good, and the custard wasn't too sweet either! I can see why it's so pricey but I probably wouldn't go out of my way to get it again.
We passed by this cool mural featuring Detective Conan on the way back to the train station!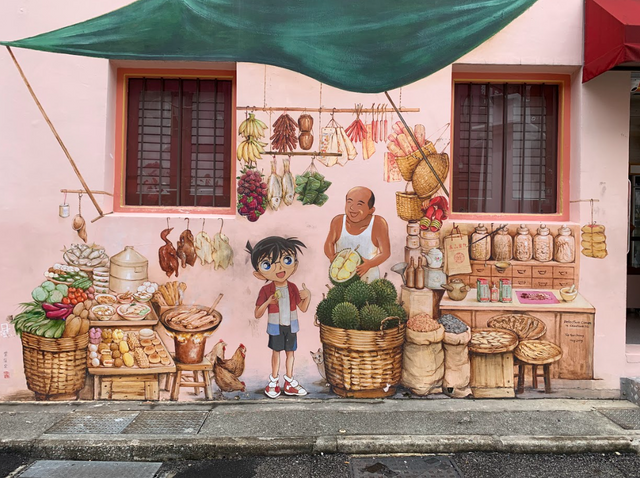 We took a nice stroll back to the train station since it was getting really warm and we were in dire need of some air conditioning.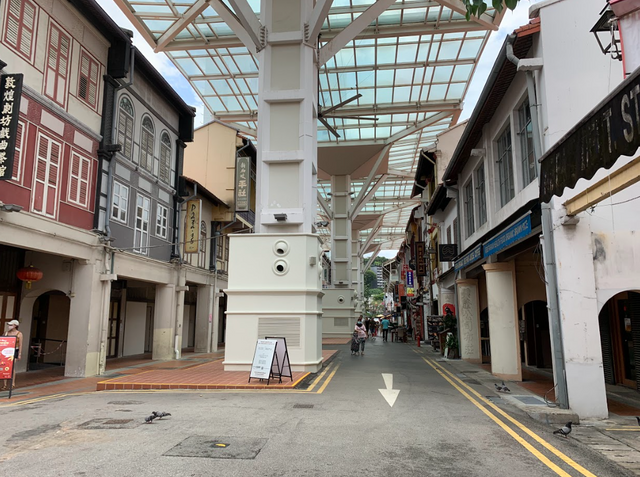 We took the train to Clarke Quay to go get my hair cut and after about about an hour or so we were done!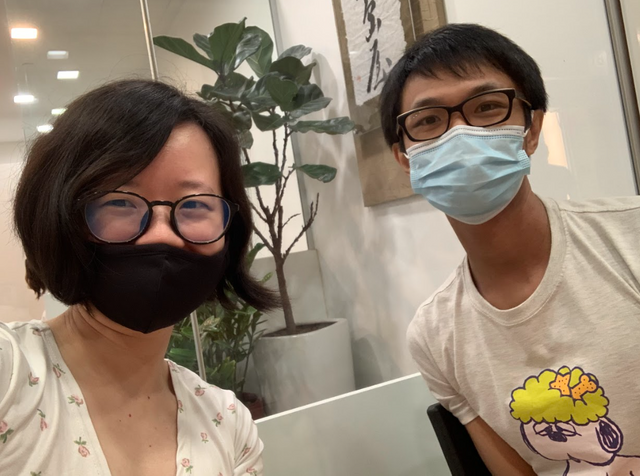 We were still in the market for some winter wear for an upcoming trip we had planned so we went to this mall called Funan and ended up on the rooftop of the mall to enjoy the view!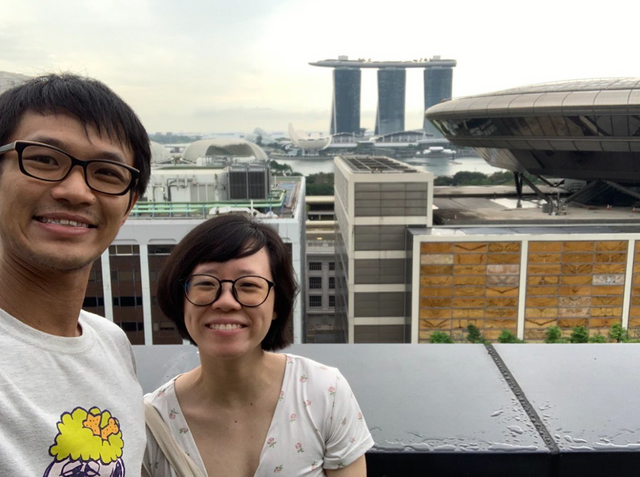 The mall had a nice rooftop garden and it had just finished raining so we could go to the roof to take a look, and we could see the famous Marina Bay Sands from here!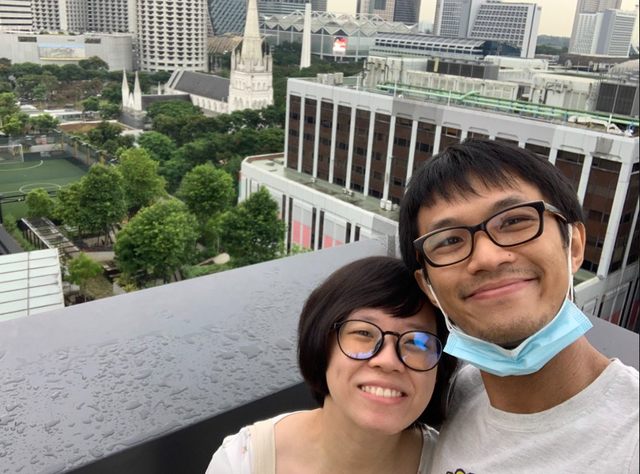 It was quite a view; we even saw the St. Andrews' Cathedral from the rooftop! The garden was quite a nice place to walk in too, and I guess some other people had the same idea since we weren't the only ones up there.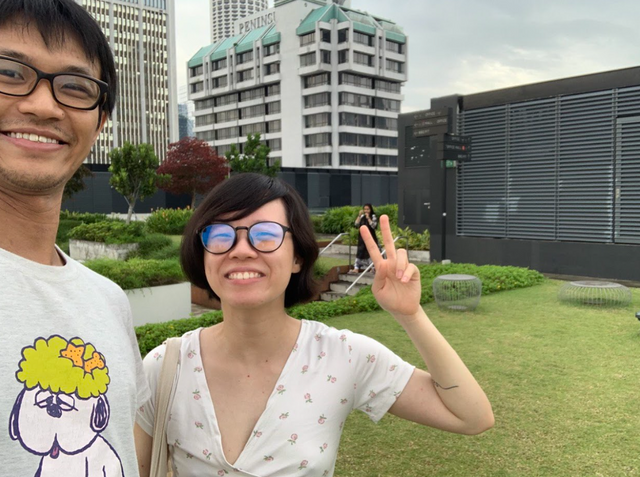 After that we just went walking around the mall since it was getting humid outdoors and we saw a giant Sally at the PLAY LINE FRIENDS store which has LINE Friends and BT21 merch! Sally is our favourite character so seeing such a huge statue of her was awesome!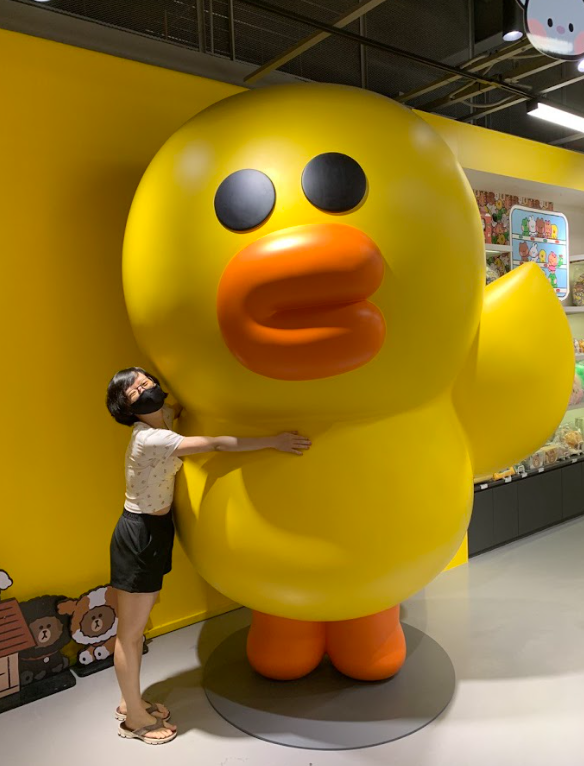 Sorry for the long post but that's all for now! Hope you enjoyed our little romp through some of Singapore's sites but we'll be back to our travels next week so look forward to that!
Thanks so much for reading!
To find out more about me, check out my intro post here!
---
Check out my previous post in this series!
TacoCat's Travels #196 (SG): Getting Blessed by Giant God of Fortune! 🤑
---
View this post on TravelFeed for the best experience.