Pandemic Road Trip: Florida to North Carolina: Hiking for Waterfalls in a Thunderstorm
Read this post on TravelFeed.io for the best experience
---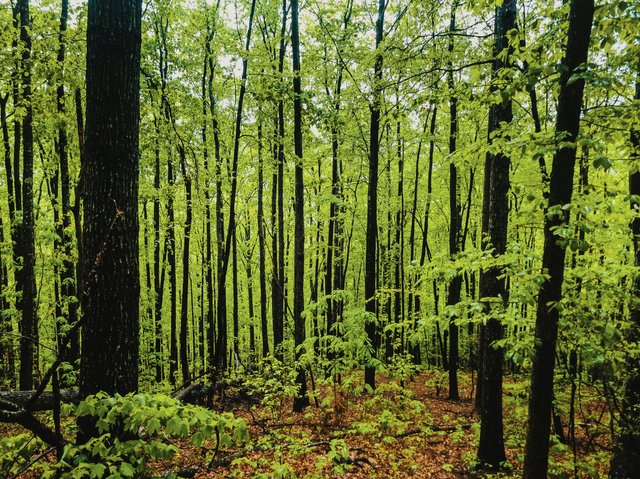 ---
Hello Hiveians! Welcome back!
Today I wanted to pickup kind of where we left off last time. We had left Ginnie springs in Florida, and drove another 9 hours or so to the mountains of North Carolina, not far from the Smokie Mountains.
It's the day after all that driving and more than a few Little Caesars pizzas, so it was definitely time for some exercise. Only problem was, it was supposed to be thunderstorms throughout the day.
So faced with limited time, and the choice of sitting in the house all day or not, we decided to go for it. Oh boy.

We leave the house during cloudy grey skies, but no rain or anything too crazy looking. We were heading to a hike to a pretty amazing waterfall, and hoping for the best, maybe some drizzle if anything. We were in for a surprise.

We park at the lot, pay the fee, and head towards the trail head. We cross a bridge with a beautiful view of the river.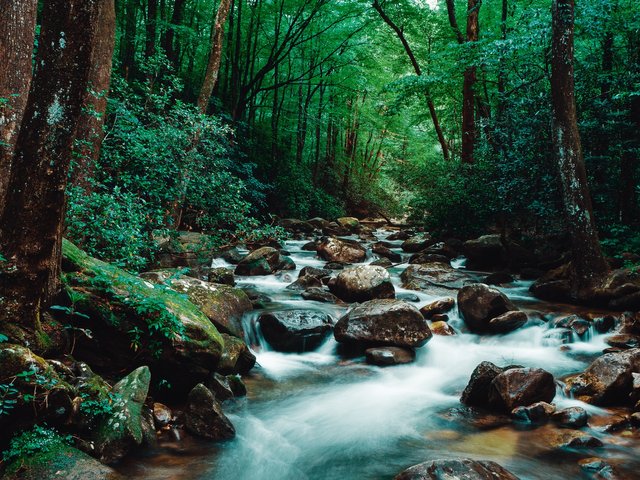 We hike in for about 10 minutes, mostly flat, weather holding decent still. Now we have to make the choice, do we split up towards the waterfall and commit, or do we do the smaller loop incase the weather gets bad? Commit we did, and we began our ascent.

We got a good 45 minutes or so in total with holding. weather, but then, rain started. And quickly escalated to downpours. I have my drone and my camera gear on my back, and I'm getting drenched. What did we get into?

We have no phone service, can't check the weather, and we're just getting drenched. We head up a bit more and find a rock sitting out a bit that gave some cover. We stayed there for a few minutes to dry a bit and hope the rain would tapper off, but it didn't.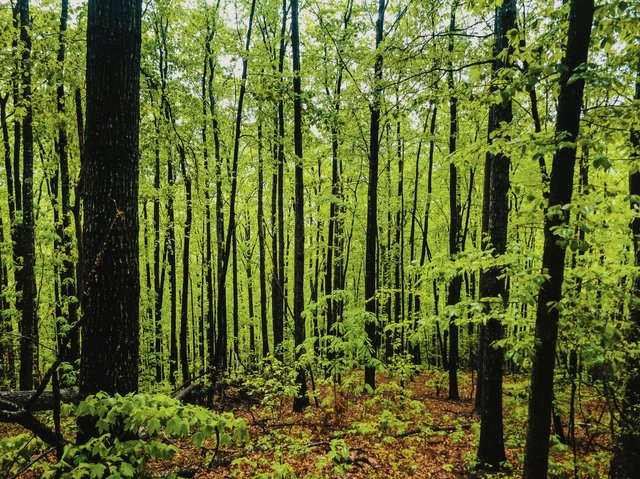 My phone vibrates, turns out we were at a spot that had a little service. I check the weather to see what we're up against. Steady, heavy rain for the next few hours. Do we turn back? We have about 15 minutes further to the falls. We decide we're already drenched, and we're almost there, so might as well make it worthwhile. 
We leave our shelter and make our way. Rain still steady but a bit lighter than earlier. After about another 15 minutes or so, we can hear the rushing water. And then there it was, the thing we came for, Rainbow Falls!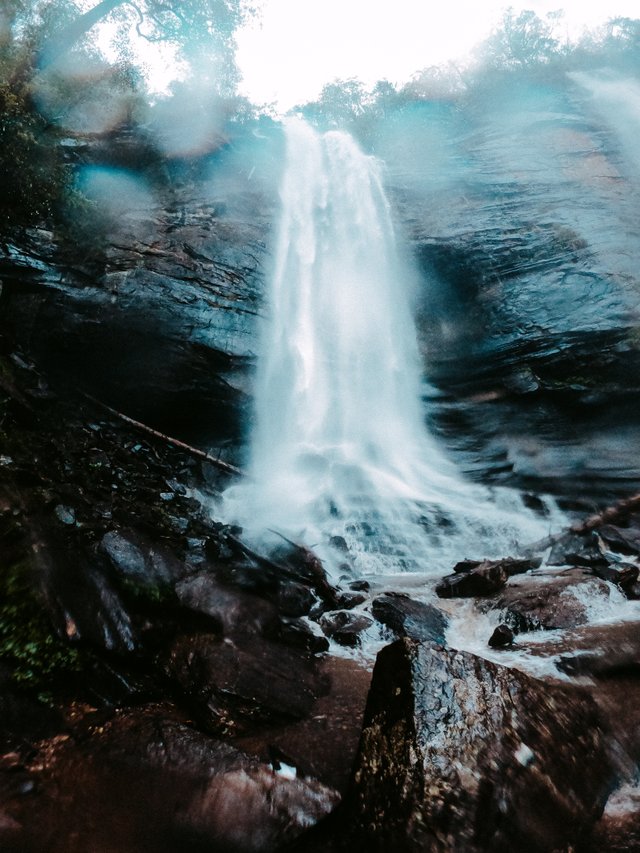 Soaked, and worried about my gear a little bit, it still felt worth it now that we were there. I quickly spot another rock over hang that is blocking the rain, and realize I can throw my backpack in there to protect it for a little bit and maybe dry off a bit while we explore and enjoy the falls. This was the cave.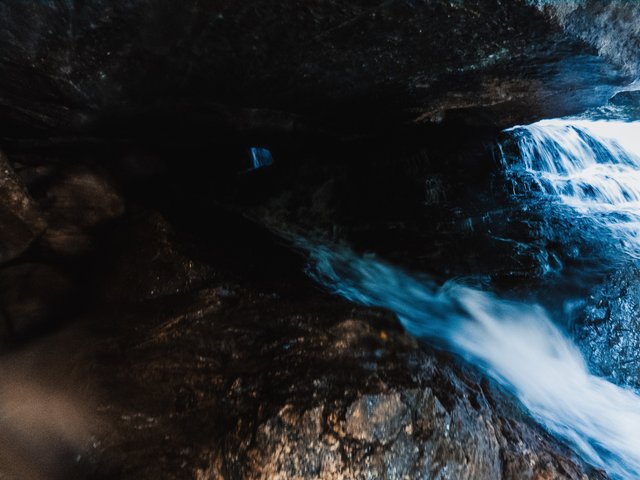 With my bag somewhat safe, it was time to checkout and photograph the falls!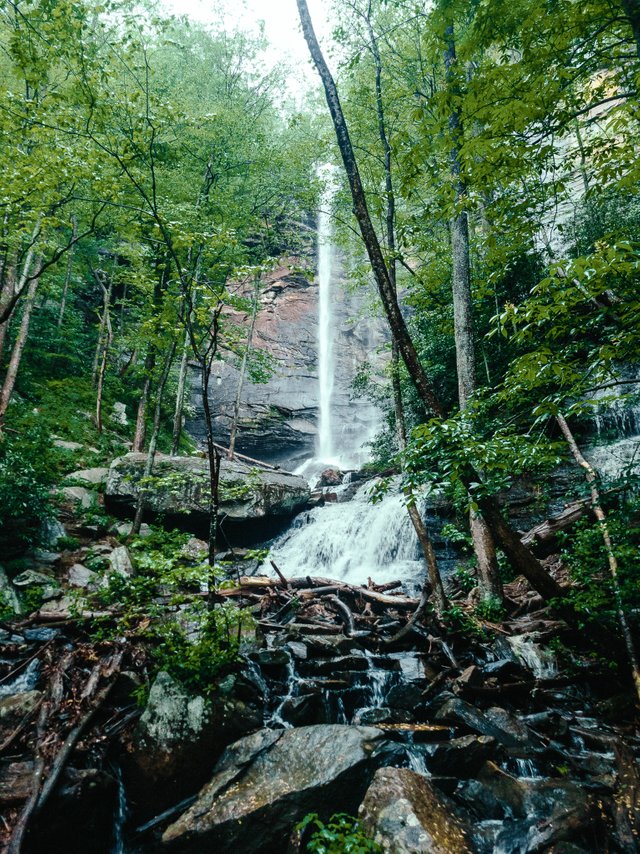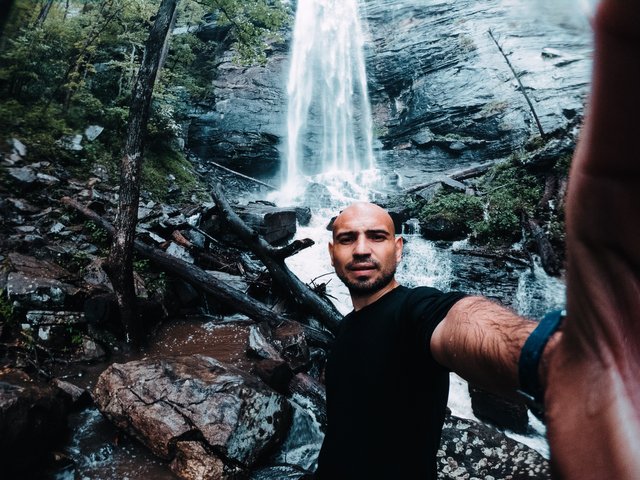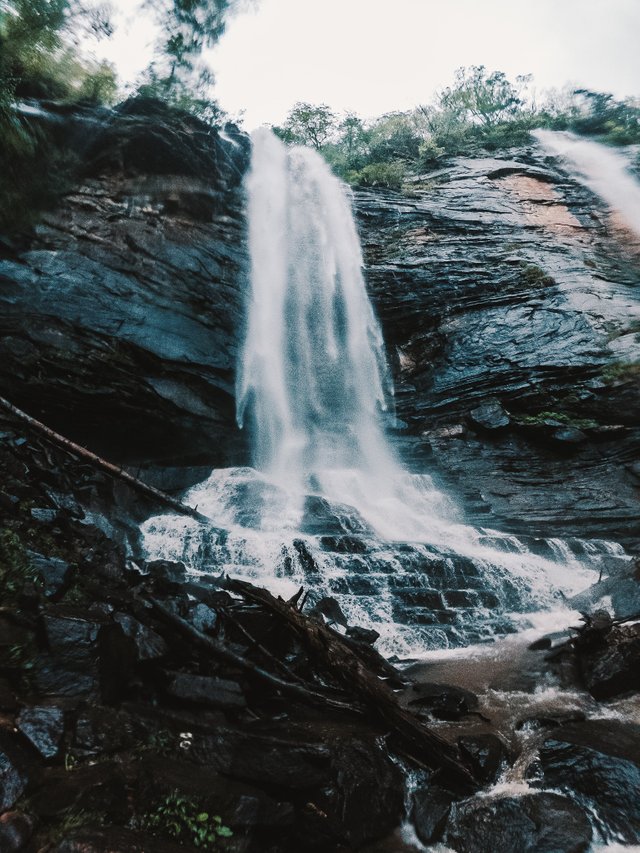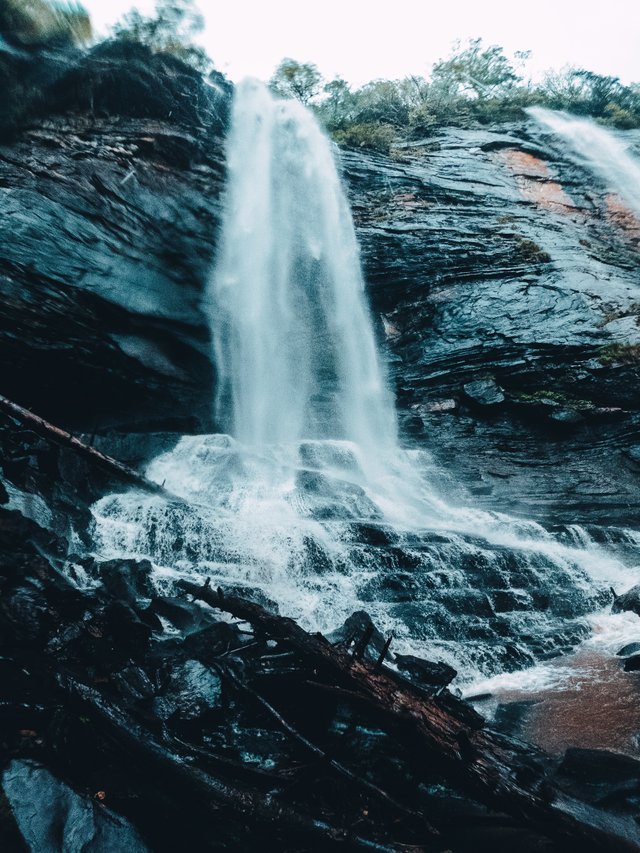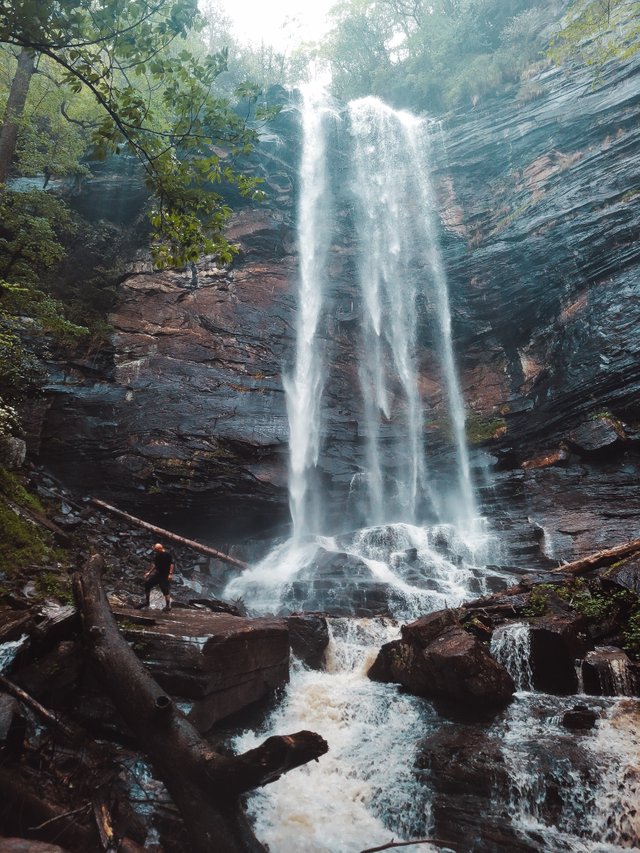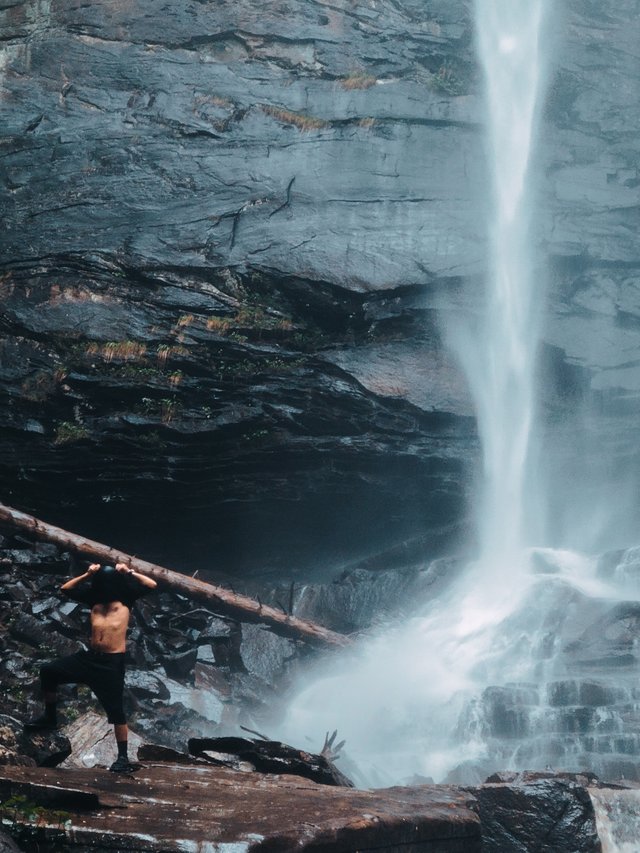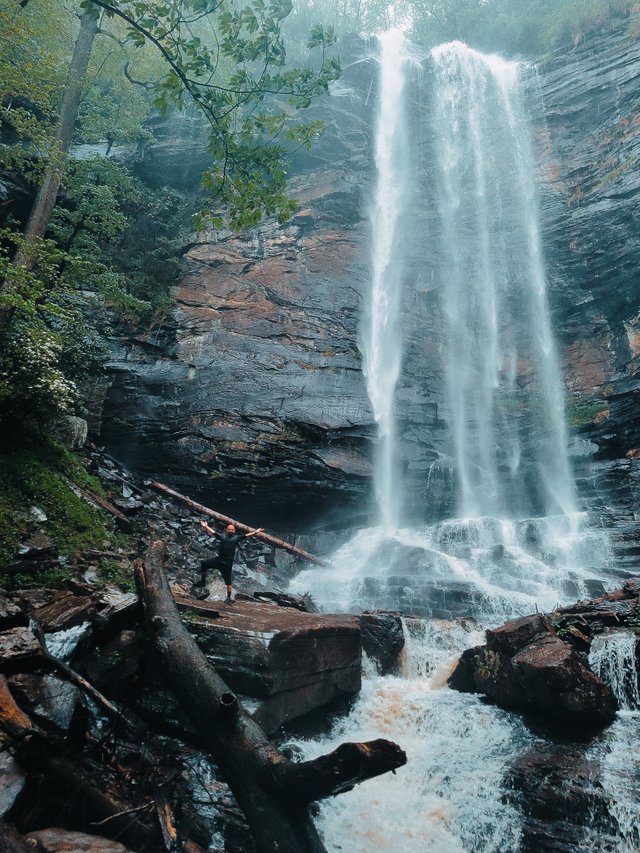 Because of the heavy rain, I didn't want to use my main cameras, so I used just my phone cameras and my GoPro. After spending about a half hour here, we decided it was time to head out, in case things got worse. I looked back, and took one last selfie, before starting the hike down.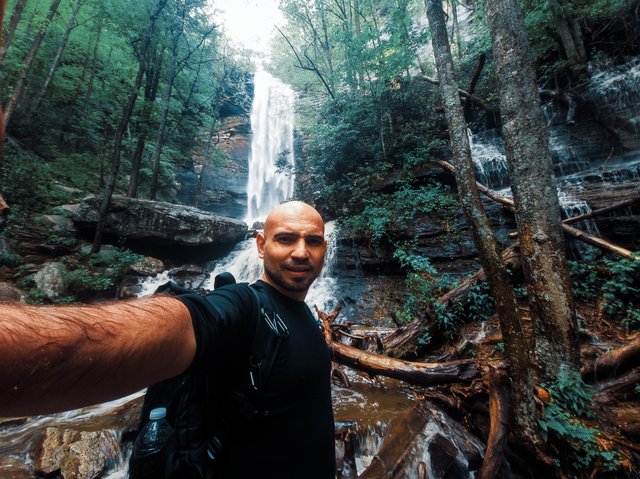 On the way down, the rain got really heavy again, and I grabbed one more shot of the rainy forrest.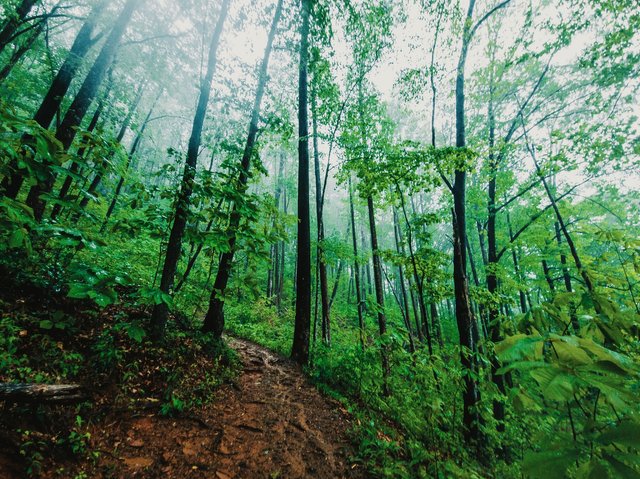 After a little bit, we made it down and back to the car. We dried off a bit with towels and headed back to the cabin to assess to water damage.

Fortunately, not too bad. Bag was pretty wet but all my gear was safe and good. We contemplated going back out again to another place, but on second thought, it seemed like a good time to call it a day.

So that was my first full day in North Carolina, and it was interesting to say the least. I have probably one more post to make for this trip, another day of chasing waterfalls, so keep an eye out for that, and other posts soon!

In the meantime, you can see more of my work and prints for sale at www.SeanGold.com and on Instagram at @SeanGoldPhotos
Til next time,

Sean
---
View this post on TravelFeed for the best experience.