Travel to Herceg Novi - Day #1
This month has started very interestingly. For Easter, I decided to go on a trip with my family. It could be said that it has become a tradition for us, we celebrate every Easter in a different place. Last year I was supposed to come here where I am now and I can tell you that it is beautiful here. But in this post, I will not show you what Herceg Novi looks like.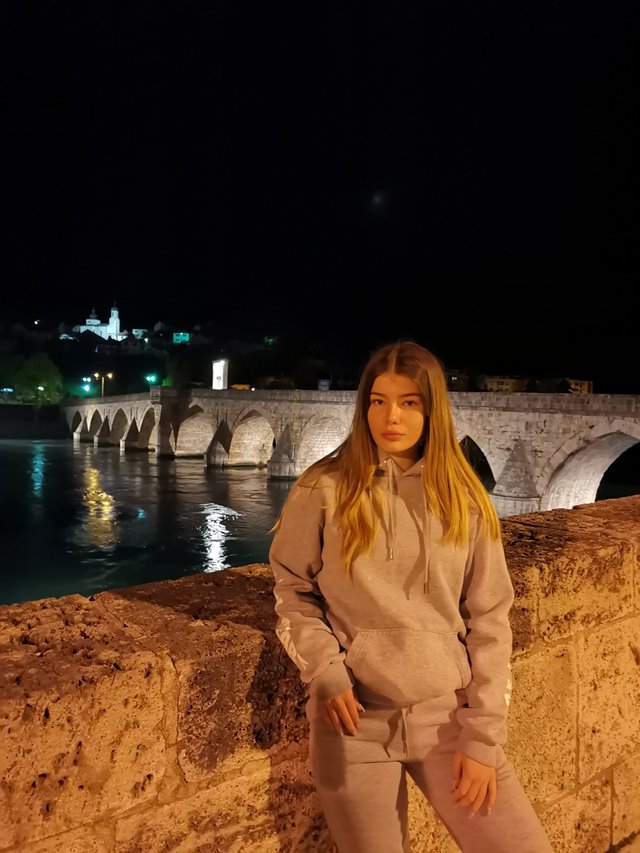 We always travel by car, and the driver is my father, we travel by car because we can take breaks where we want and when we want, but we love to take breaks in interesting places, to enrich our culture and learn something new. Of course, we can't take every break in such an interesting place, but we try not to stare and see as many interesting and beautiful things along the way as we get to our destination.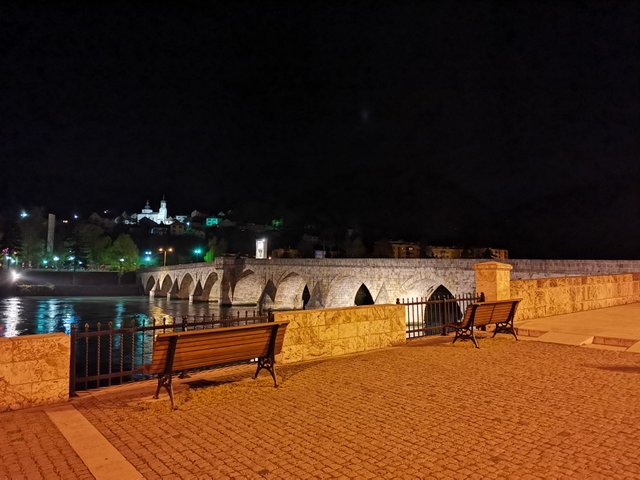 Unfortunately, there were only two interesting breaks on this trip, maybe there were more, but I didn't see them because I slept, but it doesn't matter, I had a great time at these two destinations. The first interesting break was on the bridge near the Drina called the Mehmed-Pasa Sokolovic Bridge. This bridge is located in Visegrad, where we took a break. We planned to take a break on this bridge and at first, we didn't know how to get to it so we continued on and accidentally stumbled upon a parking lot next to the bridge, we immediately stopped and made the most beautiful break on this trip. Too bad it's dark, I would love to see this bridge filled with smiling people during the day, but what to do when we like to travel at night, it has its drawbacks and advantages. One day I will visit this bridge when everything is illuminated by the sun and I will show it to you.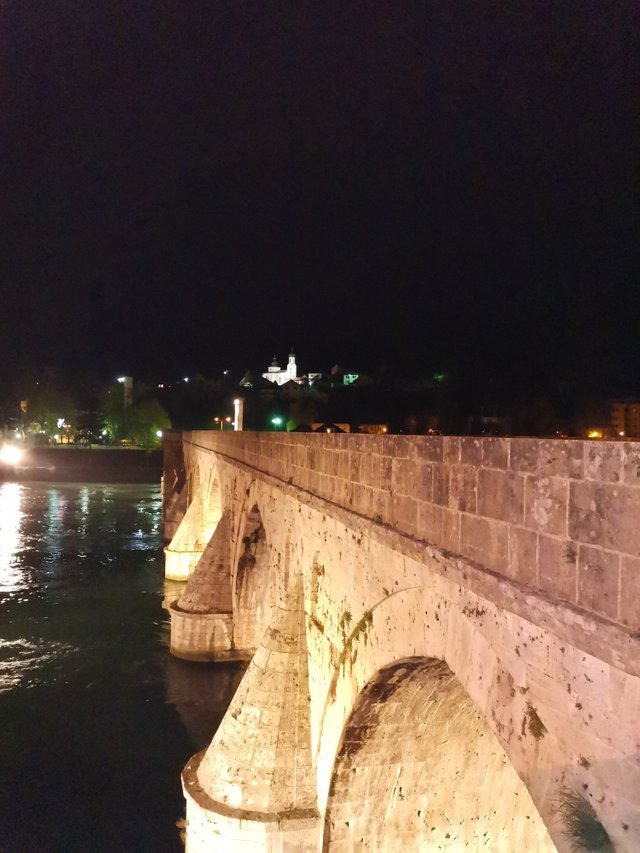 This bridge is beautiful and you have to see it in person, and I will do my best to show you and draw you to this part of the Balkans. This bridge also has its own book written by Ivo Andric, the book is called "On the Drina Cuprija". I recommend you read this book, although it doesn't sound like an interesting book it actually is, I would never have read it if it wasn't mandatory to read this book in my school and now I know why it is mandatory.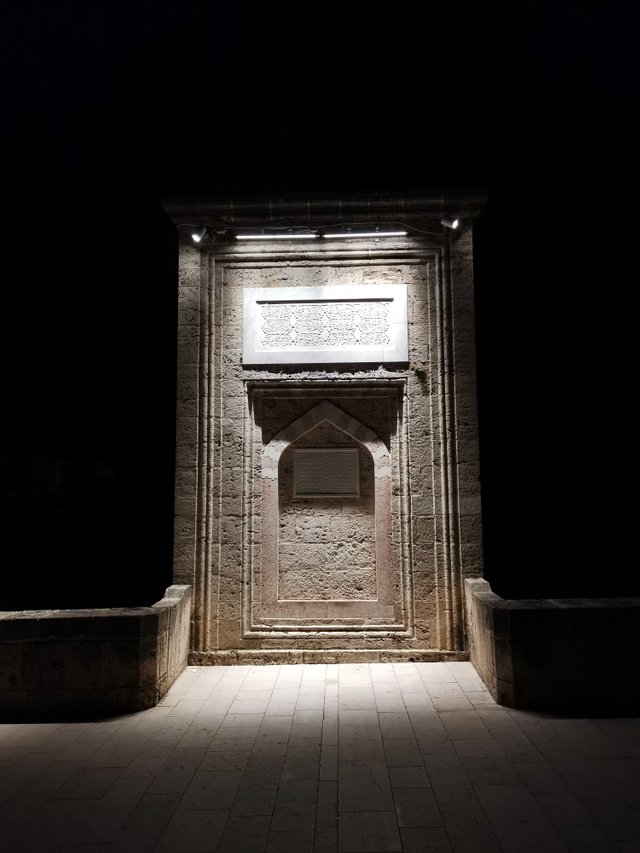 I wouldn't be me if I didn't tell you something about the history of this bridge. This bridge has a rich history, especially because it was built in the period from 1571 to 1577. This bridge was built by the then most famous Turkish architect Kodza Mimar Sinan. It was built in the Eastern style and is a masterpiece of the construction of that time. This bridge suffered many accidents, was renovated several times, and the first damage occurred in 1873 when the Drina grew and flooded a large part of Visegrad. The next damage to the bridge occurred in 1914 when two pillars were demolished, and in 1943, four pillars were destroyed by blasting. In the period between the two world wars, the bridge was temporarily enabled for traffic with the help of metal construction. A detailed reconstruction of the bridge was carried out in the period from 1949 to 1952. This is the most beautiful bridge I have ever visited and I will definitely visit it again, and maybe one day I will go on vacation to Visegrad and it is clear to me that in 2007 it was inscribed on the UNESCO World Heritage List.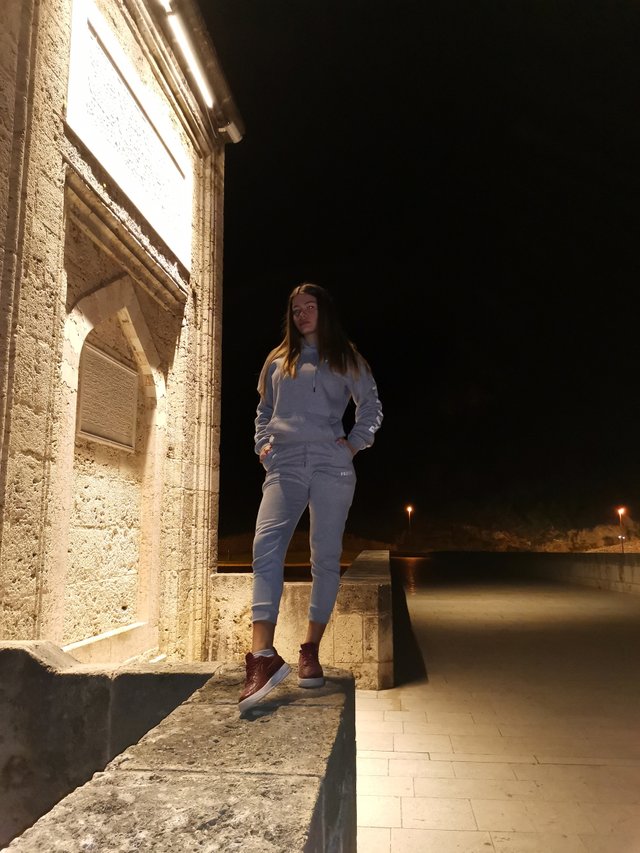 I wouldn't want to be boring, but the bridge is really beautiful and huge, there is an extension in the middle where I took photos and almost fell into the water, I risked my life and climbed the stone wall of this bridge. The thought flashed through my head that in the book I recommended you read, a girl who was the most beautiful in that village at the time should marry a guy she didn't love, she counted the days until her wedding, she knew she had to she fulfilled her word that was against marrying that guy, but she also knew she had to fulfill her father's word that it was for her to marry that guy. On the very day of the wedding she crossed the bridge riding a horse, stood on the stone wall of the bridge and asked her brother to hold her horse, she at that moment threw herself from the bridge into the water, they were all in juice, but she fulfilled both her and father's rec. Of course, this is just a short part of the book, there are many more interesting events, but I will not tell you all of them, you have to read the book, this part has its meaning, and that is that this young girl fought against the patriarchal regime.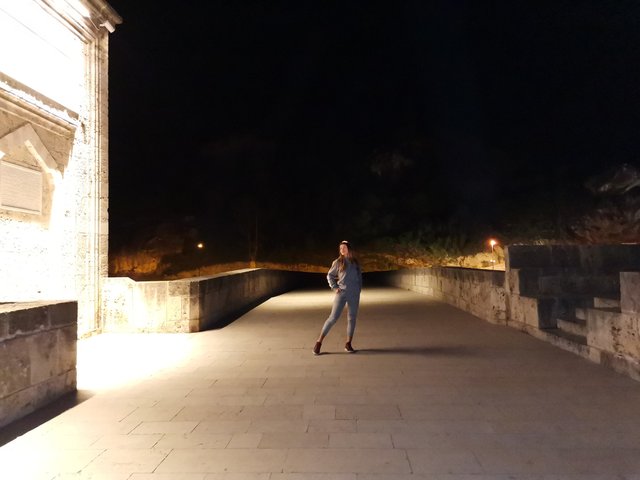 I think in a way she both managed and left a deep message. I didn't want to jump off the bridge, I got off the wall and continued to have fun and take photos in my own way. I knew there was no one because it was late and that was one of the benefits of traveling late. I was tired I have to admit, but I gathered strength, who wouldn't, if you came to this bridge no matter how tired you were, the desire would drag you to cross from one side of the bridge to the other and take some interesting photos like I did.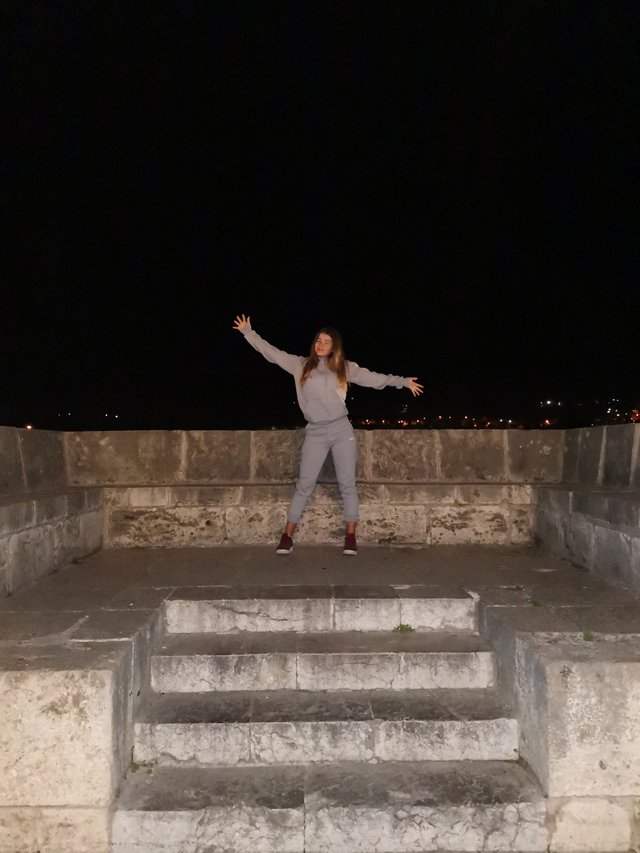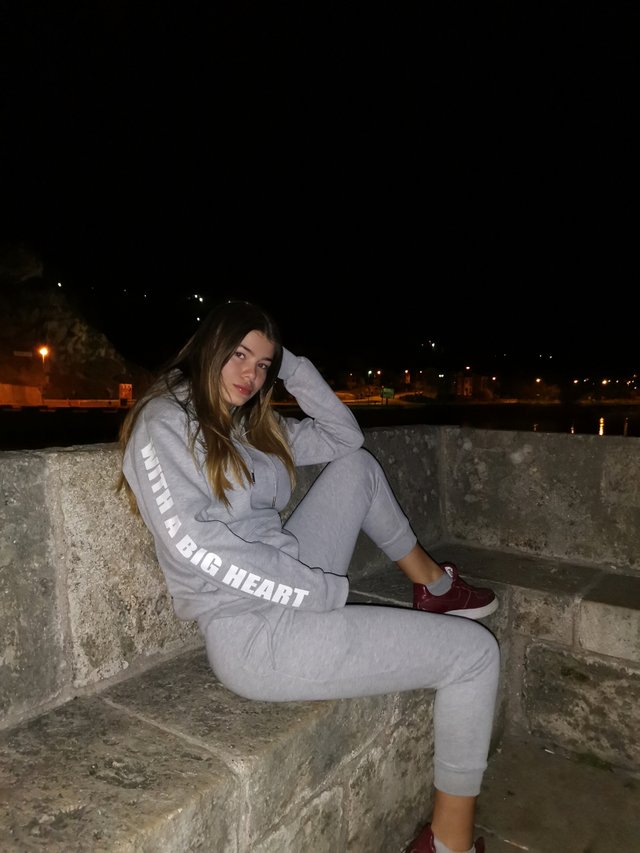 With love, Sarah❤️