Radical rock art sculpted by nature on Africa's southern shores
Read this post on TravelFeed.io for the best experience
---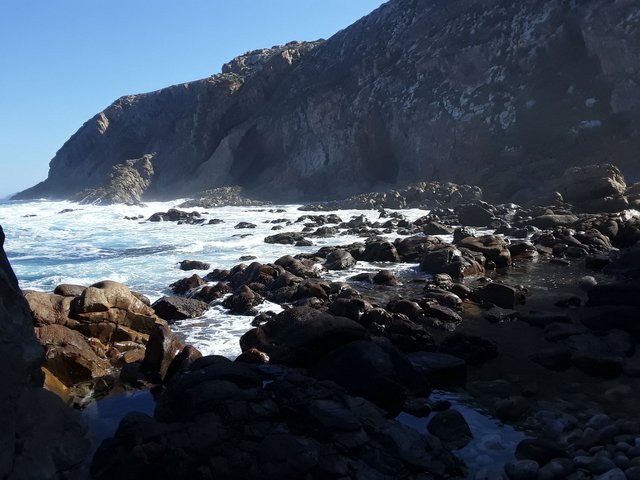 ---
Today I want to show you some of the most awesome artworks that I've encountered while hiking along the southernmost shoreline of the African continent. These are purely natural artworks, sculpted by the wind, water and general elements of nature over perhaps thousands of years. Yet I find them to be simply stunning in their majesty and monumental might. Is this raw and rugged beauty simply a subjective perspective in the eye of the beholder, or do you also sense an artistic appeal in nature's carvings?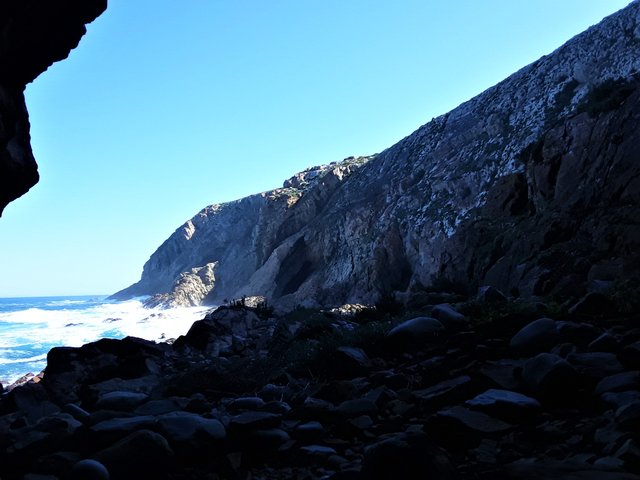 View from one of the caves - looking out at some slices of rock up ahead
Perhaps I have been out here on these remote cliffs and this far flung shore for too long and have lost touch with objective reality, but having immersed myself in this beautiful natural scene, I can't help but feel truly inspired by the rock features and formations as presented by nature and the elements. With less digital art in my life, like movies or computer generated imagery, I have become absorbed in organic and natural features and impressions for many months now. Thus I'm seeing nature as the finer artist and her sculptures as priceless pieces of modern – or is it ancient – art.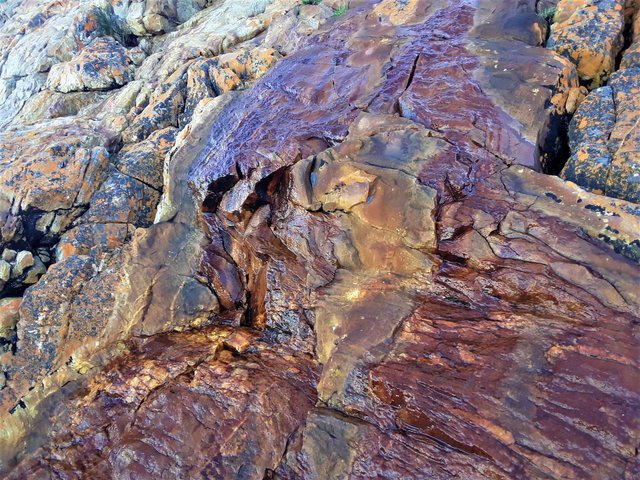 Fresh water springs out of the cliff side and brightens up the rock face near the shoreline
The continent of Africa comes crashing down and plunges into the Indian Ocean on these remote shores. So few people, if any, actually come exploring this particular region, so I feel like one of the only humans to actually encounter these fine scenes. That's why I love capturing them in photo and sharing them with you. I want the whole world to also get a glimpse of these sultry shores and there surreal art features, all made by the hand of nature and limitless time.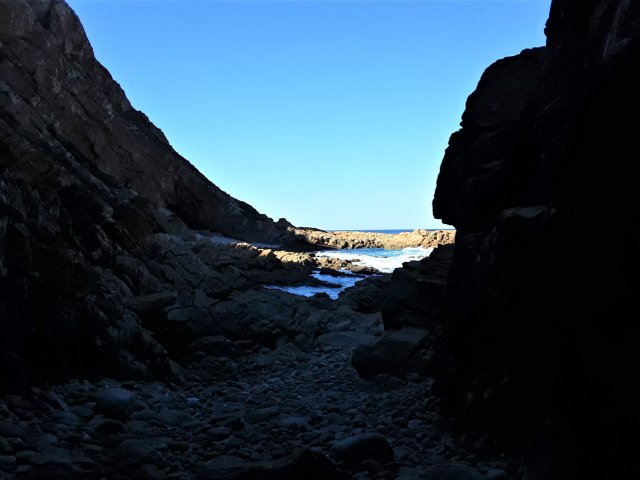 A little alcove protected from the elements
Geologists would love these rock formations, as would any nature lover. I can wonder about admiring these rocks, plants and ocean waves for days on end. Time just slips by and before I know it months have gone past. It feels like a timeless zone at the edge of the world. Humanity seems to have missed this region, so I bask in its glory all to myself. What a truly African style – no worries and no time constraints – like an endless summer.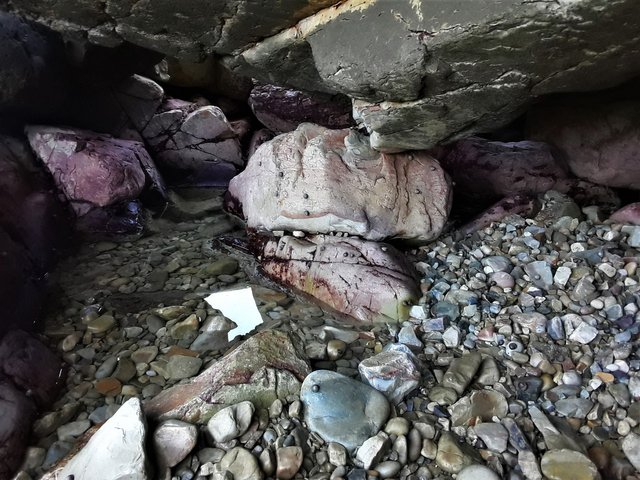 Hidden rock pools at the water's edge, with amazingly colored rocks
You will love this shoreline if you're an intrepid traveler and global adventurer. These is a mystique about it that is simultaneously subtle and bold at the same time. Some might find it unassuming yet if you take the time to simply stop the busy rush of life and just observe the surroundings, you will find yourself slipping into an awesome space filled with inspiring art all around you. That's how it feels to me.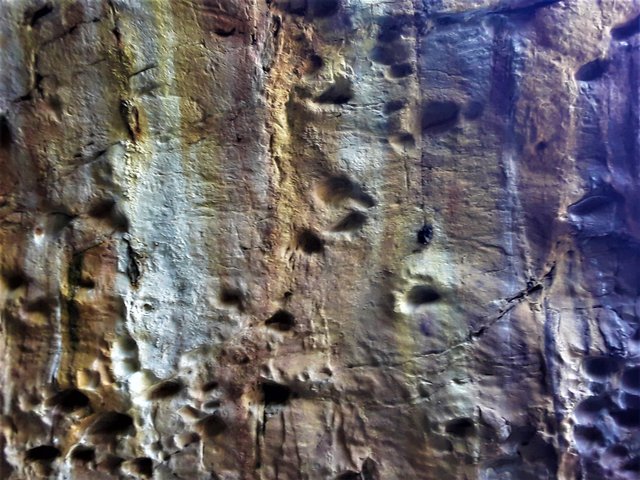 The mystery of the pocked rock
For example look at these strange pock marks on the wall of this cave on the shoreline. I can't see any cause for them. What would make such neat little holes in the rock wall of this cave? It's a mystery to me. Perhaps you know more and can explain it.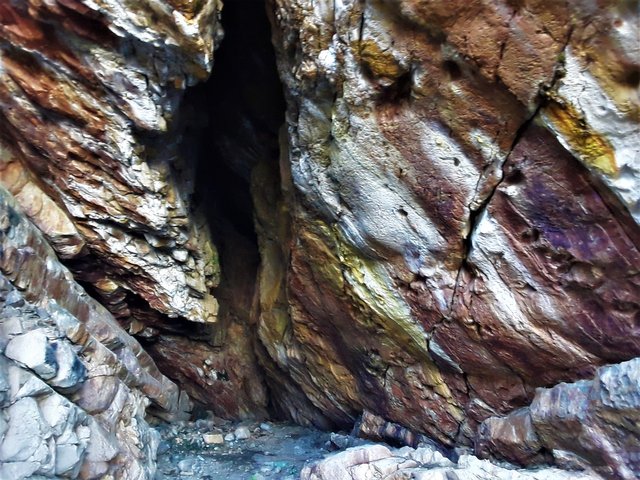 Another little cave with multi-colored walls from water run-off presumably
Or how is it that these rocks come in such diverse colors and shades? I know it's probably just the weathering and erosion of the sea and elements, but it looks very curious to me. It must be my inner child emerging all over again at this late stage of my journey across the planet. To rediscover a fascination for the simple beauty of nature and life, is truly magical. And all it requires is the right setting and mindset, undisturbed by time constraints or the presumed concerns of the wider world.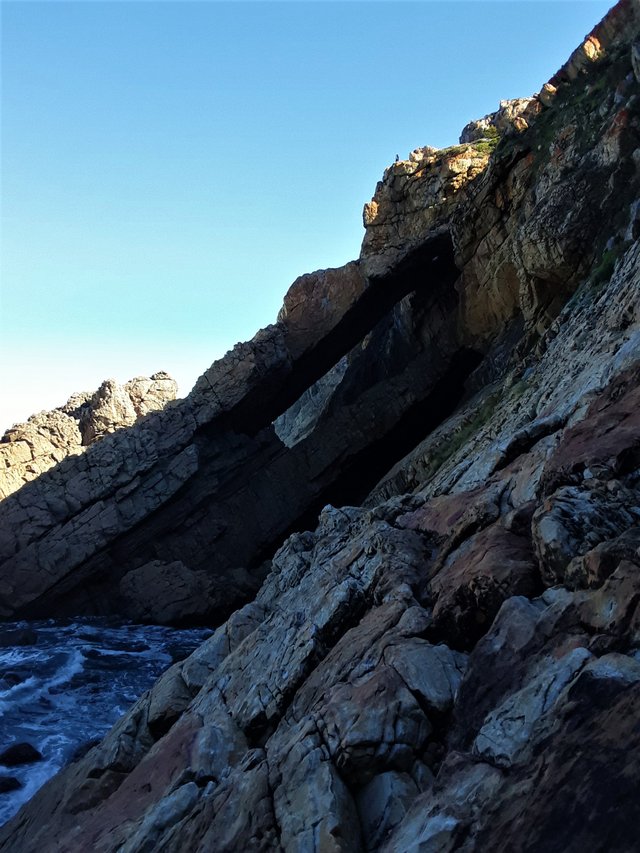 One of the most majestic rock features. Can you see the lone fisherman standing on the top? He must have a really long line.
These remote African shores are as good as any Himalayan mountain retreat for a meditating yogi. As Bob Marley once sang: "There's a natural mystic flowing through the air..." I have traveled to some awesome places in my years, like the exotic islands of Thailand, and the mystical pilgrimage places of India, and these southernmost African shores are equally as inspiring.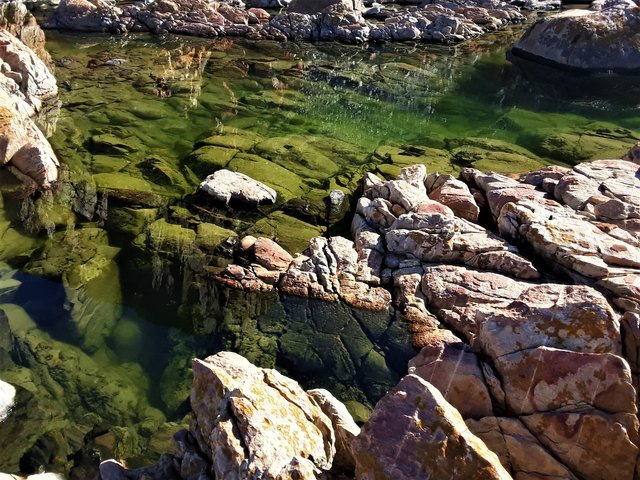 Curious pools left behind by the receding tide
So if you get a chance, then be sure to add this destination to your travel itinerary. Let me know when you are arriving and I will be happy to meet up with you and show you around. There's plenty of space and it's great for the health, so grab your flight today.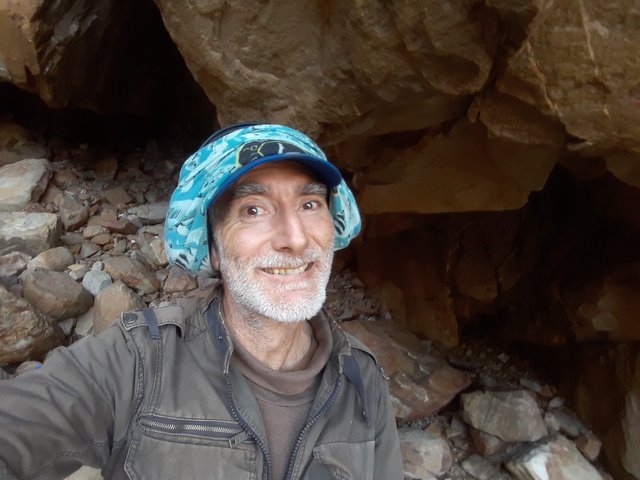 Self-portrait of the wonderer and curator of rock art
(photos my own)
---
View this post on TravelFeed for the best experience.