Drawing and coloring Kirby / Dibujando y coloreando a Kirby
Kirby is one of the most emblematic characters of the Nintendo company, among all the games that have appeared with this character I got to play Super Smash Bros, which is undoubtedly a great title that they have launched.
I decided to make this drawing because I really needed to practice to improve my hand fluency, that is to say, to be able to draw well and in a good way the lines without the help of tools of any kind, and also as a perfect excuse to use some colored pencils that are not to my liking because the quality of them leaves much to be desired. These are Solita brand, I bought them because they were cheap and my knowledge of these materials at that time was null.
Even so I leave you this drawing, what do you think?
Kirby es uno de los personajes mas emblemáticos de la empresa Nintendo, de entre todos los juegos que han aparecido con este personaje yo llegue a jugar Super Smash Bros, que sin duda es una gran titulo que han lanzado.
Decidí hacer este dibujo porque en realidad necesitaba practicar para mejorar con la soltura de mi mano, es decir, para poder trazar bien y de buena manera las lineas sin ayuda de herramientas de cualquier tipo, y también como una excusa perfecta para usar unos lapices de colores que no son de mi agrado porque la calidad de las mismas deja mucha que desear. Estos son de marca Solita, los compre porque eran baratos y mis conocimientos en aquel entonces en cuanto a estos materiales era nulos.
Aún así les dejo este dibujo. ¿Qué les parece?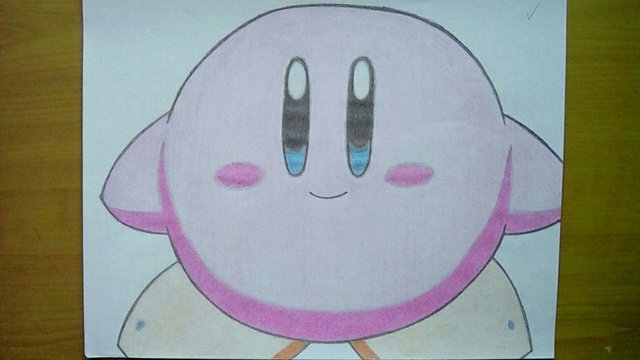 Note: image taken with my Amazon Fire 7 tablet.
Nota: imagen tomada con mi tableta Amazon Fire 7.