My introduction post on Steem infinity zone 10/10/2021
Asslam-o-Alaikum to all my steemit friends.I am new here. So this is my first post in steem infinity zone.So I would like to introduce myself.
First of all I thanks for community admin @cryptokraze. Who created this community.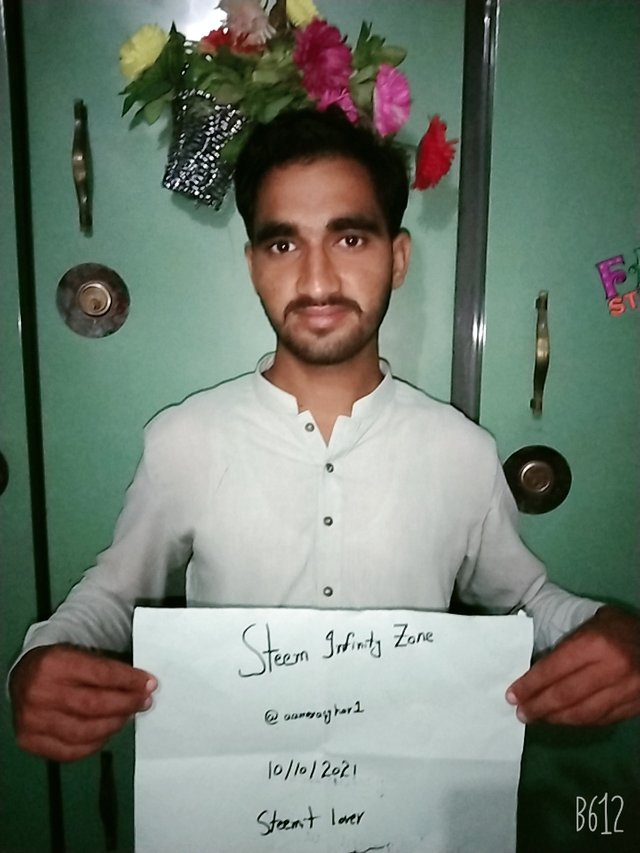 Introduction
My name is Aamer Asghar.My father name is Asghar Ali.My mother name is Naseem Bibi.
I'm 18 years old.I am eldest in my family.
I'm a student.My father is a laborer.My mother is a house wife.
I belong to a poor family.My is a nice family.
I'm a Pakistani.I belong to Muslim nation.My national language is Urdu.My mother language is Punjabi.
Education
I got my primary education from govt High school chourasta Main Khan.I got my middle education from govt High school Chorassta Main Khan.I got matriculation education from govt High school Basirpur with excellent marks.
Then I joined Govt Degree College Depalpur where I passed my Inter examination and I got 70% marks.
Then I want to become software engineer but I have no money and I cannot got admission.
I waste my last one year due to lack fee.
Then I want to get admission in software engineer.I work hard day and night on steemit. I hope this community support me.
Hobby
In games
Cricket is my best hobby.I like the cricket from my childhood.My favourite team is Pakistan.I like to see live match most.I also won many matches in my college life and also got many prizes.I also play match on my mobile phone.
Now a days I like the PUBG game most.
I spend my most time on it to play it.
I drama series I see only one drama.
Now a days my favorite drama is Ertugrul Ghazi.I am seeing season 4 with Urdu subtitles.
How I come to know about it
One day I came from Lahore to see my family in village.I met my friends.I was a bit worried about my educational expenses.When I met with my friend @mohammadfaisal .He told me about this steemit.I did not trust on him and I said to him that how a company will give you money? After a week when he withdraw money I trusted on him and I went to his house and I asked him to make me account.He is my best friend.So he made my account and guide me completely.He asked me to put my first post in steem infinity zone about my introduction.So I posted this.
Now I like this steem very much.I will try my best and I will do work hard.It is the best way to reach my destination and I hope I will do it.
Now I joined steem Infinity Zone
Special thanks for
Best Regard