Migrant worksites tend to look after strays in Thailand
I am sure this is also true in other parts of the world but this is the only place I have lived in that had a real problem with the stray animal population. Perhaps it seems strange, but these temporary camps that get set up and filled with migrant workers tend to keep stray animal populations and look after them a lot better than other areas where the housings is permanent. Perhaps it is the security that the animals provide as an early warning since the temporary housing is normally made of some easily broken into materials such as sheet metal, but for whatever reason, virtually every migrant worker housing site has a few dogs at it.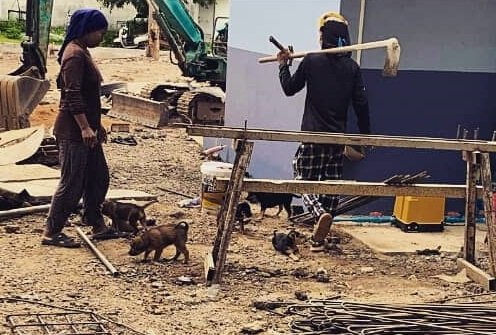 We visit these sites on a regular basis and with the help of a translator we explain that we are there to look after the health of the animals and the people are almost always very accepting of our presence and have a good attitude towards us. It is also very heartwarming that even though these people have very little in life, they tend to always offer us some snacks or tea when we are visiting.
At this particular site we found a mama dog that has seven pups she is looking after and this is a prime example of how easily the stray animal population can get out of control. It is very nice that the migrant workers provide mama with their leftovers at meals, but we have to keep in mind that at a certain point in time a few months down the road these workers are going to move on to the next site and all of a sudden, mama and pups' food supply is going to disappear since as far as I have seen, these camps rarely if ever take a dog along with them to the next site, let alone 8 of them.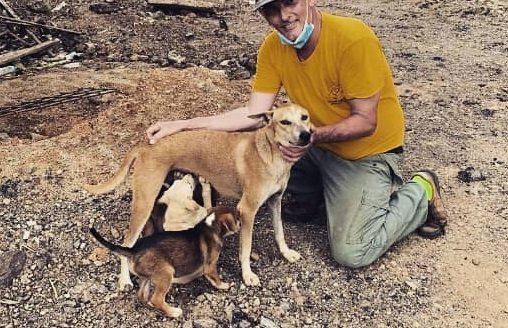 In the meantime we picked up mama and took her to get sterilized and informed the workers about what we are doing. We never want anyone to think we are kidnapping their animals and they tend to always agree that it would probably be best if this mama was unable to have another litter. Imagine having 7 kids every year or two? Then those kids produce the same number. This is why we have the problem that we do in Thailand and elsewhere around the world.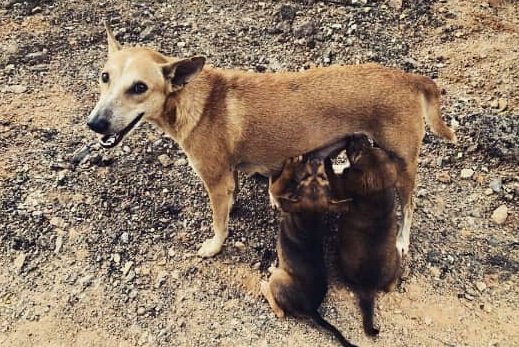 We gathered up all the pups as well while mama went in for her surgery so that they wouldn't wander off. We also didn't want to create another job for the workers who are already seriously hard-workers as it is. So we crated up the pups and mama and went off to the doctor.
Thankfully, all the pups and mama are in good health but the puppies are too young to undergo sterilization surgery for at least another couple of months. We will be keeping a close eye on this site and as soon as we can safely sterilize all the female puppies we will do so with them as well.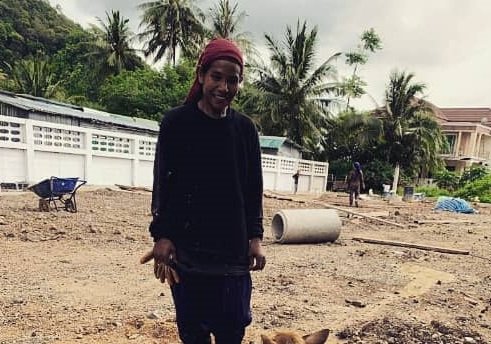 It is wonderful that the people at these job sites look after the animals that wander into their midst while they are living and working there, it is just tragic that at some point in time these 8 dogs are going to see their caretakers removed and their way of life, which is relatively comfortable (for a street dog) at the moment, there will come a time when they are confused as to why their biped friends are all leaving, and will probably not know what to do and then the real struggle will begin.
I don't want to call it a "problem" because the migrant workers MUST move on in order to continue to make a living and while they are around they are a huge help to the stray animal population in the area.
If only the permanent residents of these areas were as caring as the temporary ones, we could solve a lot of the stray animal problem in the region a lot quicker. We remain hopeful that through sterilization and education that eventually the situation can be brought under control. It can be frustrating at times because we don't really see a massive reduction in the numbers of stray dogs but we need to remain positive because for every operation that we do perform, we eliminate the need for dozens of them down the line.
Once again I want to encourage everyone out there to adopt pets not shop for pets and to also donate your time and money or both to your local animal rescue or shelter: The help is always appreciated, no matter how small.
---
If you would like to see how you can help out or simply spread the word, please visit our website at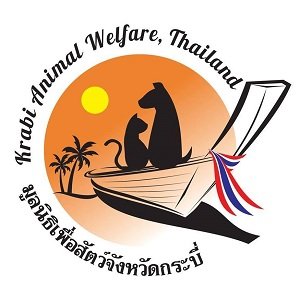 Krabi Animal Welfare is a charity run entirely by volunteers and are a registered non-profit organization in Thailand and the U.K.. We aim to relieve the pain and suffering of dogs and cats within Krabi Province.
เป็นผู้สนับสนุนรายเดือนหรือบริจาคครั้งเดียวได้ที่:
---