Steemit Engagement Challenge S5-W1 / My Family Steemians
Hello dear Steemians,
Today I wanted to join the Contest that is organized by SCOUTS y sus amigos @hive-181136 community with the topic "My Steemians family" and tell you about those ones who we have learned and who we still continuing our journey on Steemit.
I believe because of being on Steemit now 5 years there were many people who accompanied us on different stage and it is a shame that some of them not here anymore.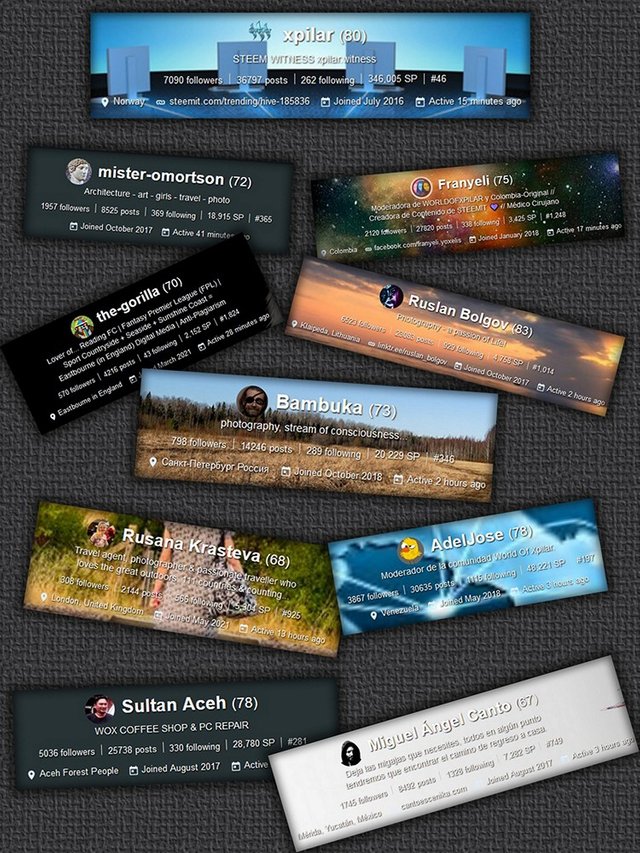 To start with, of course, I want to mention @xpilar, he is our oldest companion who we have met few months after our journey. First I noticed that he was organizing the comment contest about the digital art that he was creating. What attracted me was his interacting character. He replied to all the comments and he read all the stories written and of courses, he also visited the blogs of each user and after voting, left comment there. You can imagine how much time that usually takes and not many do that. He is the person who appreciate the hard work of others, he is noticing that and appreciate it. That is why we are always on his side and supporting his Initiative.
@sultan-aceh, first time when I noticed Sultan's account who was always involved in all the activities of @xpilar, I also thought that these two accounts are one person. But of course, shortly after we learned Sultan it was clear that he is completely different person. What I like in him is his dedication to the people living in his area. He supports many landsmen and he is a great adviser for new people, he established a Steemit community in his village and supported many of them with his projects. He is like @xpilar always working hard to help the people and friends in his village and it is a great promotion for Steemit in Aceh Indonesia.
@axeman, Ruslan I know for a last few years, he is brilliant photographer and due to his expertise, he is the best detective to Plagiarism. He organizes a lot of Photography contests on WOX which are very well accepted by users.
@bambuka he joined Wox slightly after it was created, he is very supportive user and always tries to help when he can. He is like a guide for newcomers in our community and he is always there with his nice words and advises. He is an organizer of "30/14 Days Diving Program - WORLD OF XPILAR Community"
@mister-omortson, is an architect from profession, but also he is skillful photographer, like me he loves drawing and watercolour, although the same like me he has not much time for that. But he is actively organizing multiple different contests in WOX and interacting with other users.
@franyeligonzalez and @adeljose, they are the moderators in WOX and also active users in Venezuela community but also they have other responsibilities like country curators, SteemcuratorsXX . Both of them very friendly and cheerful personalities ready to help anyone, despite of being so busy both are working hard to fulfill their tasks but also to take part in WOX activities.
@the-gorilla, he is more in background at present, but if we need him he is always there immediately. He has a great knowledge about the blockchain but also he is the best to detect abuse. I like his fair personality and his contribution to the activities of WOX and platform in general.
---
There are dear Artists who became a part of my friends on Steemit:
---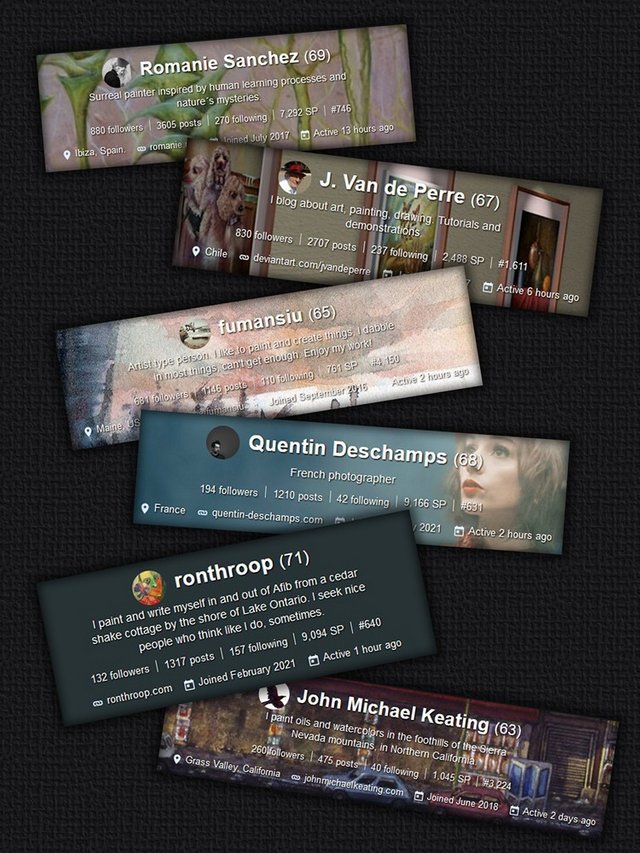 @jorgevandeperre, professional artist, who I met while seeing his mushroom drawing illustration, that was so detailed like in encyclopedia book, so I had to ask him if that was really him who made it. I was glad dropping him a message that opened a door to this friendship. I found such wise, kind and skillful personality, who takes the tasks seriously and since he started his Tutorial introduction into the Drawing but also analyzing the works of anyone of Steemit who takes part in those teachings.
@romanie, she is wonderful professional artist but also in her free time she is busy to keep her island Ibiza free of forest fire. First time I met her while taking part in contests in old Steemit time, later on we started communicating after disintegration and that allowed me to discover Romanie as she is now. We have communicated via emails outside of Steemit when discussing the details of contests. She organized one of the very special Art contests with the Prizes of her painting that she posted to different part of the world because of the winners spread in different countries.
I have learned those two users @xaviduran and @silviadiez closer through Romanie, they all live on beautiful, sunny island Ibiza and often we see them around in our community. I like the way to hear they open opinions and thoughts in regards to some topics. I would love to visit this sunny island Ibiza one day and of course, to meet them there.
@arcoiris ir another professional artist from Spain who is an illustrator and our tutor in Watercolour tutorials. He started to share his knowledge with our "WOX Artschool" lessons. He is Spanish speaking that is why often his son is helping him to translate the lessons in English so that wider auditorium is able to read and get involved.
@fumansiu, one of our professional artist from USA and tutor of "WOX Artschool" through the simple exchange of comments we were able to learn Erik as a teacher who were happy to share his knowledge of colour study with the users on Steemit. Like Jorge, he is happy to interact with users who following his tutorials and advise on the works but also to advise how to improve the weaknesses.
@jmkartworks is also professional artist from USA who is an interesting personality who were highlighted by @romanie and I also had a chance to get in touch with him via emails and to get an interview. That is so exciting to be able to ask questions from the experts and to learn. The fact to have them so close and approachable despite of their busy time and between the projects and Exhibitions.
@ronthroop, another user and professional artist from USA who we discovered now about two years ago and also who developed himself in an active user in WOX but also one of the active commenter. We learned him as a mucisian, I love the videos of him and Rose when he is playing guitar and dinging. But also the exhibitions that he organized and of course how via Steemit there was a friendship between him and our Ibiza team.
---
The users who comment:
---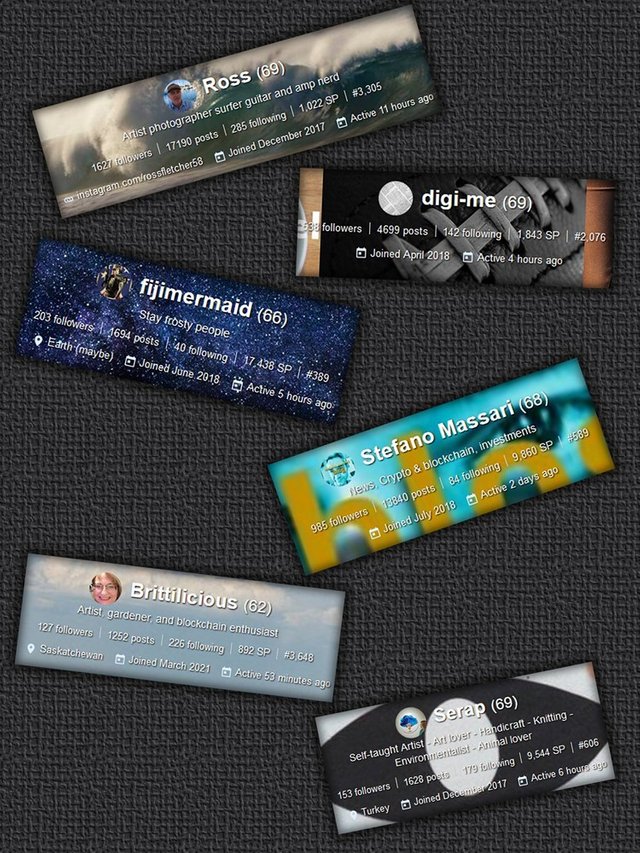 Because my post became lengthy despite of very little number of people who I contact here, I want to highlight those ones who less known but who I love to see around and who I find need a bit of highlighting:
@rossfletcher, the user from USA who attracted my attention with his beautiful crashing wave photography. Later on I discovered that he is a musician and had a band, performed. He is also an artists and have impressive paintings. He usually does not write much but his stories mostly in his photography. If you start commenting on his posts, you discover very interesting personality.
@digi-me, from Norway, wonderful account and you can find different topics behind it, I already wrote about it in the past. What I love in this users (because there are three users behind it) that even though there is not many comments left but I know that the posts are read and there sometimes will be a short comment but exactly reaching the point- bullseye!
@fijimermaid also a user from USA, who did not post much at the very beginning but recently he is more often to see with the digital art but also with his thoughtful comments. That helped him to learn more people around but also for others it helped ud to discover an interesting personality.
@brittilicious is an user from Canada, another country that we do not have many users from. She went through @bambuka's newbies program and nicely integrated into out community. Her posts have nature, historical heritage and daily life topics. She is noticeable due to her active commenting around and that her posts set up 100% Power Up
@stefano.massari is a user from Italy but we see him in different communities and under many different posts. He is very active, supportive and full time Steemian.
There are two users @serap from Turkey and @petface from UK who have similarity in their nice and supportive character. Their posts coming from their heart, they are not only posting but also commenting that is why both were winner of Commentor Initiative on WOX.
I think I can continue with listing the names and of course, my post then will be very long but there is not enough space and I am sorry that I am not able to include all of you. I really enjoy my Big Steemit Family and if you find one or another name and decide to communicate then you discover new good friends among them.
*
---
CURATION TRIAL @worldofxpilar
---