Steemit Engagement Challenge S7-W2: "A Special Lunch With A Steemian"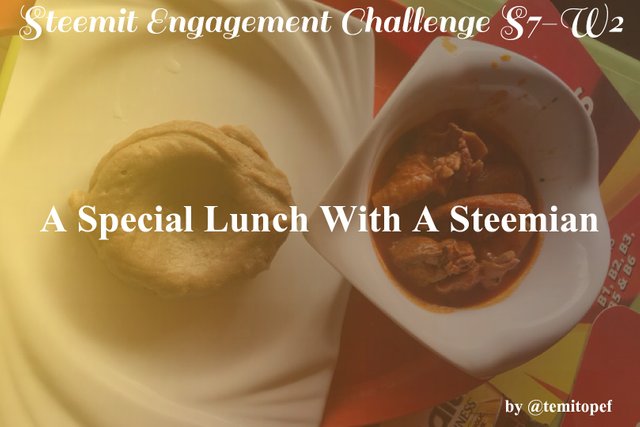 Cover Image Created using Poster Maker
---
---
Good day Steemian, it's the second week of Engagement Challenge Season 7 and I am so excited to be here in this community for the first time and participate in their engagement contest titled A Special Lunch With A Steemian. Follow me as I unveil the special steemian I would like to have a special lunch with.
---
---
Which Steemian would you like to have lunch with and why?
---
The Steemian I would like to have lunch with is Ruth Chidinma with the username @ruthjoe on the steemit platform, the reason why I choose her is that I believe we are more than a stranger but a friend since we met, as sometimes she do check on me via WhatsApp when she noticed that I was not active or have not written a post for a while and I also do the same thing.
I think we have a good level of communication as virtual friends and trust for each other and having a lunch date with her is an opportunity to meet her physically and get to know her better in the real world.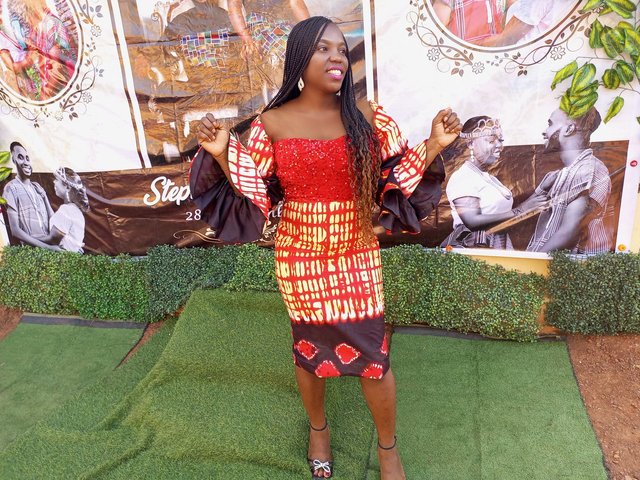 Ruthjoe Image taken from her post
I am a simple person that does not fake things or go beyond my capacity just to please someone and I believe if I invite her for lunch she will accept whatever meal I presented without expecting me to go overboard.
Furthermore, I know she will like and enjoy the type of meal I will present because even though she is not from my tribe, we have once discussed her love for the meal since she tasted it and I believe she will enjoy the homemade more than the ones prepared at the restaurants.
---
---
Describe the lunch, what kind of food would you prepare for that special Steemian?
---
I would prepare a swallow meal called Amala and Ewedu, Gbegiri, Stew soup, and meat. Amala is flour made out of dried yam which gives a brown color solid meal and is a very good meal for lunch. Amala has many health benefits which includes; it improves the digestive system, regulating blood glucose and cholesterol level, and being a good source of carbohydrates while ewedu, gbegiri and stew are soups commonly used for eat amala.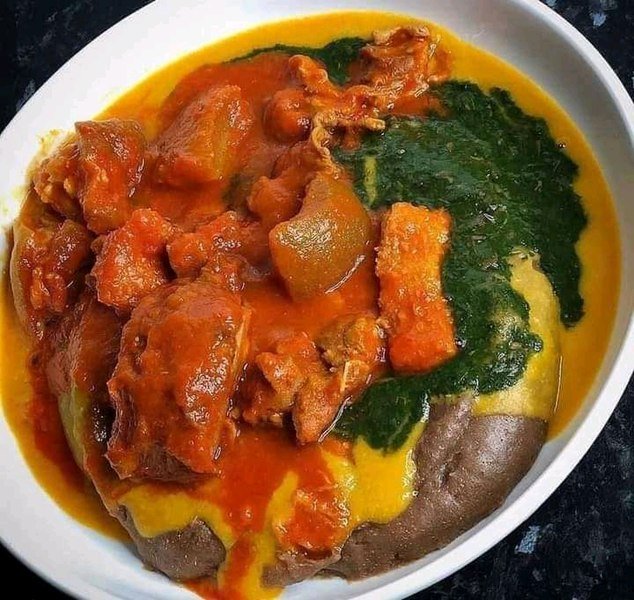 The combination of Amala, Gbegiri, Ewedu and Meat soup
Some people enjoy eating their amala meal with the combination of gbegiri, ewedu and stew while some prefer gbegiri and stew alone and some ewedu and stew only. Preparing these three soups gives me an advantage so that she can choose the types of soups she loves using when eating amala.
---
---
Would he help you cook or would you already have everything ready to surprise him? Or going to a restaurant would be the ideal menu.
---
I would love to prepare the meal all by myself rather than taking her to help in the kitchen and that brings the idea of preparing all the soups used for eating amala so that she would be able to eat the amala with the soup of her choice. All I want from her is to sit down graciously and enjoy the meal I prepared, without me stressing her to enter the kitchen with me.
Although I know of a nice restaurant that is very good at making Amala and all these soups in my town but I would love her to try the homemade amala that is prepared by me and with that she will be able to enjoy herself with the delicious food and soup.
---
---
What would be the best drink to accompany lunch?
---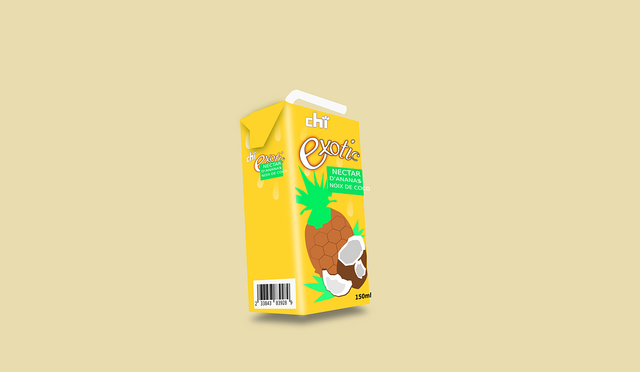 Chi Exotic Juice
I would love to serve her my best drink called Chi Exotic pineapple and coconut nectar though I don't know if she would like it but I believe it's a nice drink, almost everyone I know loves it and she will enjoy eating the meal with it.
---
---
Would you offer him a coffee, a dessert, or all of the above?
---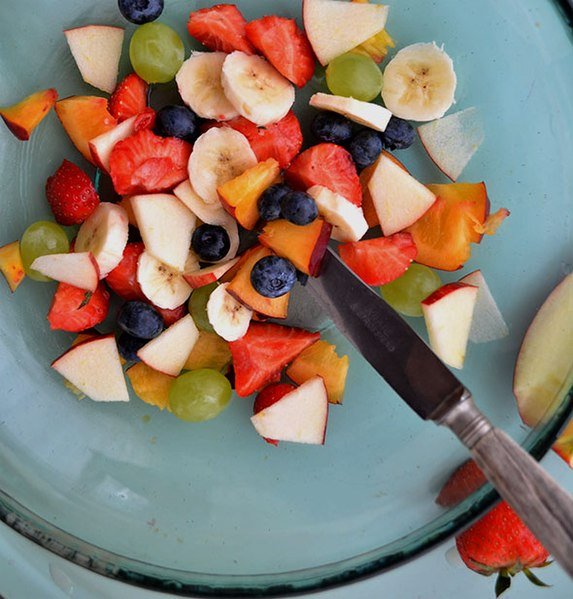 Fruit Salad image
I believe a dessert of fruit Salad will be nice to give to her after the meal as it is a combination of different fruits which does a lot of benefits for a healthy body and it's natural fruits without going through machine processing or preservatives which makes it more healthy.
---
---
Conclusion
Having a special lunch date with
@ruthjoe
is a great way of getting to know each other better, we will have to discuss life at Steemit, the benefits we have enjoyed, and challenges, and also discuss life outside steemit. Furthermore, I would love to see her eating the food prepared by me. Thank you for reading.
---
I invite @josepha, @jasminemary and @yakspeace to participate in this contest.