Steemit Engagement Challenge S9-W4: My Favorite Ingredient
Hello Chefs!
Welcome to another week of participating in an interesting contest from steemit Iron Chef Community.
I love cooking a lot and discovering new ingredients is what I enjoy doing as well. Everyone has that one/more ingredient they can't do without because it is what makes their meal special. There are many food ingredients I like using to make my meals yummy and delicious.
For the purpose of this contest, I would pick one ingredient out of many. Onions, my favourite food ingredient.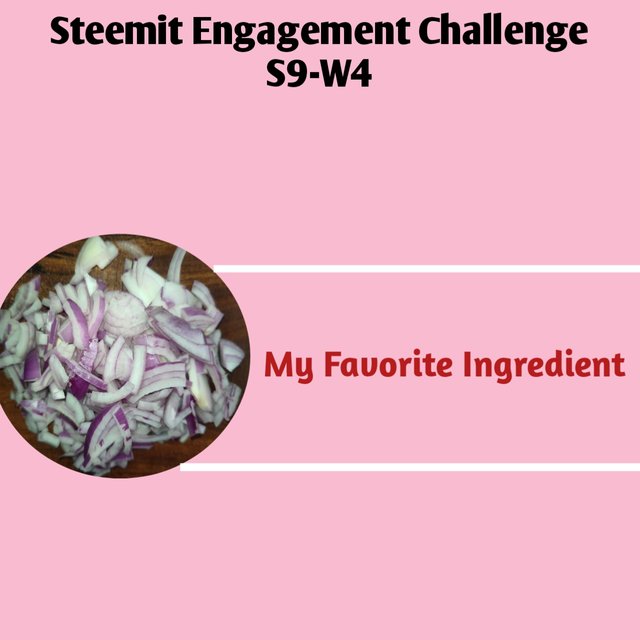 Designed with PixelLab
What Makes Onions Different from Other Ingredient?
I have been using different types of ingredients in the time past and even up to this moment. I have observed that most ingredients are just for a particular meal. The aroma of onions is very unique and once you skip putting it in food, most people will notice and question why.
However, the health benefits of onions are one of the reason why it is different from other ingredients.
Here are some health benefits of onions;
Onions improve digestive health
Onions contains nutrient
Onions hinders diabetes and cancer.
Onions supports heart and bone health
Onions also makes the hair healthy.
| Unpeeled onions | Sliced onions |
| --- | --- |
Onions is often used in my home on a daily basis. I enjoy using onions, I can't prepare a meal without adding onions to it because it makes my food taste good and better. Even before I discovered the health benefits of onions, I have always been using it, I grew up to see as my grandma used it as one of her regular food ingredient.
Is onions expensive?
No, onions is not expensive at my place but it depends on the quantity you are buying. Small size of onions is two for #50 (0.40 steem) and a bigger size just like the one posted above is #100 (0.75). In my home, we prefer buying in bulk so we get a basket for #10,000 (72 steem) most times.
The Recipe I Prepare with my Favourite Ingredient
Onions goes with all times of recipe except baking.
I make use of this ingredient in all my meal especially when I want to steam meat and fish. I rather pause the cooking process instead of steaming my fresh ingredients ( fish and meat) without onions .
| Plantain and crab | Steaming chicken with onions as one of the ingredient |
| --- | --- |
Onions can not miss in my stew, sauce, jollof/fried, beans, vegetable soup and pepper soup e.t.c.
I will be inviting my friends (@ruthjoe, @eliany and j@josepha) to join the contest.