My Application for Community Curator in January 2023.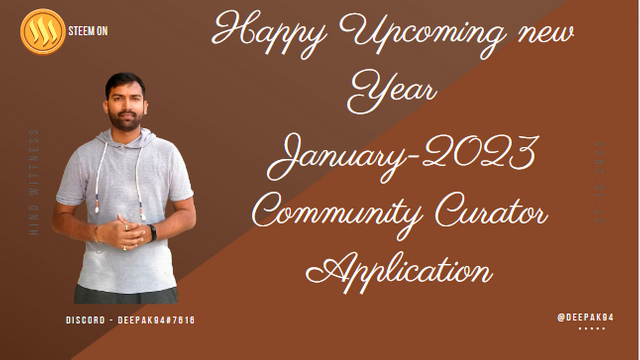 Dear @steemitblog
I am Deepak Soni from India and my steemit Id - @deepak94.
I am here to apply for community curators for the month of January 2023. I feel that the way I have been working as a community curator for the last 6 months is really exciting and I will continue to do so in the future also.
---
My journey on this platform
---
When I joined this platform, I wanted to learn something new skill in my life, and I learn almost.
My friend introduced me to this platform and I wanted to improve my writing style first. Along with that, I also started getting rewards with the help of this platform. Then I felt that if a new user joins this platform and is rewarded for his good writing style, then his morale increases further. That's why I curate all such good users while working for the curator team for the last 6 months, which they deserve. So that he keeps writing his post like this and remains ready for the development of steem. I respect all projects by the steemit team. And it is always my endeavor to do everything possible for the growth of Steemit That's why I follow all the campaigns run by the Steemit team like burnsteem25.
Right now I see a bright future for Steem, So I've always been a member of Club100 ever since I created an account on this platform. I power up all my earned tokens. I am doing curation work with my previous curation team for the last 6 months and I like it when I help all the members of this platform who write good posts.
---
Position of Responsibility on Steemit platform
---
All of you should do complete your achievement so that you can understand the Steemit platform very well. That's why as soon as I joined this platform, I first completed all the Achievement Tasks so that I can understand this Blockchain.
After that, I joined the boi community and started writing my diary. Seeing my good work and honesty, I worked as a Mod in the steemindiaa community. But I have always believed that people should be helped and not the community, that's why I am currently working as an admin in the @hindwhale community so that the talent of the people can be enhanced. Looking at all my previous work, I was appointed CR of India by the Steemit team. I give the details of my work in my weekly pod report you can see. I believe in curating user good posts from the very beginning and that's why I always guide newcomers through Discord, Telegram, and WhatsApp communication platforms.
I have 2 months of curation experience through the steemcurator08 account and 3 months of curation experience through the steemcurator07 account and 1 month of experience with steemcurator09 especially for Newcomers.
---
Specialist or professional skills or expertise you have in 'real life'
---
I m a Mechanical Engineer student so that's why I post my tutorials related to my subject.
Working as a Data Scientist in IT Industry.
I know about data visualization and Python Programming Language.
I m a Social worker and do charity work for my country's people. I always post my diary related to my charity or act of kindness work.
I take a steem Growth publicity session and make people aware of Steemit. So that Steem is prevalent all over India. Now I try to collaborate with my charity work through steemit, So that's a way steem become more popular and familiar in India.
Our #Hindwitness program is running well.
---
What country do you live in and what language you can read fluently
---
I live in Prayagraj, Uttar Pradesh, India. I know English, Hindi, and Bhojpuri language.
I try to write all my posts in Hindi so that more and more people of India get influenced by reading my post and start their journey by joining this platform.
---
Your keys stats - Own SP, CSI, Reputation, Delegations
---

source-steemworld.org
My reputation is 71.179 and 7315 own SP which I collected by powering up since the date of joining this platform. So, I fulfill all the terms and conditions. My voting CSI is always more than 15.
my delegation to the Hindwhale community is 4200SP and 500SP to project hope.

Delegation-steemworld.org
---
Any Subject you particularly enjoy curating
---
I loved to curate related to charity, act of kindness, steem growth, Development, diary game, tutorials, lifestyle, food, health, and contest.
---
Minimum team size you would be willing to serve
---
I am comfortable with any team size because I work with 7 team members and now currently working with 5 team members. I fit comfortably in any situation bcos of my kind and helping nature.
---
Conclusions
---
I hope I will accept whatever decision comes from the Steemit team. And the way I have been working on this platform, I will try to do better in the future also. I'd love to be able to help people on Steemit through the community curator.
Thank-you
Regard