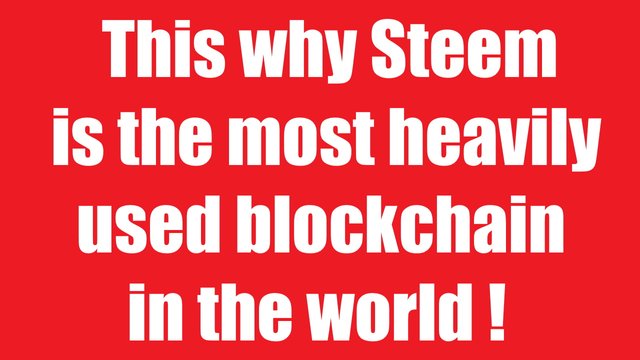 It's my entry to @theycallmedan initiative about promoting steem in quora !
I usually ask questions there to create awareness, but answering them is also fun !
---
I like the answer of @eftnow , he's also a member of @dcooperation , I interviewed him about a year ago and he's delegating to us 205 steem power. I saw his answer to the question and since now I'm active in steem and would like you to follow him and watch his content. He's a really dedicated steemian who wasn't active, but he is now !
So, here is his answer to the question :
There are so many reasons for this. I guess the overall main one is that it offers many social media platforms and you get directly rewarded for your content, comments and even your likes! (upvotes). It's also an awesome place for developers with super fast transaction times (3 seconds) and zero fee transactions among much more. Here's an article which sums STEEM up nicely - It's time to start paying attention to Steem. All of this makes it one of the most underpriced tokens out there in my opinion. It is now truly established and when mass adoption and investment takes off, I reckon it will go through the roof (not investment advice folks!) !
How awesome is his answer about steem, answered more than year ago !
So, in this post I would like to share my answer today, because as you all know, a lot of things changed now. But, the main principle is still on !
---
Here is my answer to the question :
I see this question was asked more than a year ago, even though steem is still active and still used by enough people ! I would like to say that it's even more active now.
There are a lot of reasons behind that !
---
The first one is that's decentralized. So, we can create on it without the fear to be censored or manipulated by big institutions !
The second thing is the transparency. So, being a blockchain, steem is showing all the transactions and all the operations done on it and nobody is able to edit or modify that. So, it's against corruption and misinformation.
As Sam Neffendorf mentioned it's fast. So, the transactions in it last only 3 seconds and we don't have to pay any fees sending that to each other or while buying with it something. It's completely p2p.
We have somany communities created on it. We usually use discord servers for that, but we also have Steemian Roundup Steemian Roundup created by Dan Hensley in quora. We have much more communities related almost to any topic in the world. You can also find that in all the tokens created on http://steem-engine.com
We also have so many useful applications created on it. Like http://3speak.online for videos. http://dsound.audio for audio,http://busy.org for articles. And more applications that can be used by all types of people, like actifit for sport, tasteem to review restaurants, steemitworldmap for travelers and much more. You can find all of them here : http://steemapps.com
The final thing I would say, is that steem is giving all us a big opportunity not just to earn money from our content, but to improve in all the aspects of our lives.
That's why steem is and will be the most used blockchain in the world !
---
For more info, join : Steemian Roundup !
Here is the link to the question in quora : Why is Steem the most heavily used blockchain in the world?

You can follow me in all these social media and let me know in the comments, how can I find you to follow :
---
Facebook group , Twitter, Quora, Reddit, Youtube, Instagram, TikTok , Medium, lbry
I'm promoting steem in all of them. Let's connect there and promote it together !
I'm also promoting steem in a crypto community called lbry, you can follow me there or use my referral link to join and earn at the same time lbry with your content and help me to promote steem there !
I'm also the founder of @dcooperation , the community where we collaborate. You're welcome to join us in our discrod server.
Here is the community in beta.steemit, you can subscribe and post in it : https://beta.steemit.com/trending/hive-177976 . We are giving autoupvotes for that !
Check here what else I do to promote steem : The efforts I do to promote steem !