🗞 Daily Crypto News & Video, September, 25th💰
Welcome to the Daily Crypto News: A complete News Review, Coin Calendar and Analysis. Enjoy!
Bitcoin had a small rally Thursday. Meanwhile, the ether options market is giving some investors protection from decentralized finance downsides.
Bitcoin (BTC) trading around $10,653 as of 20:00 UTC (4 p.m. EDT). Gaining 3.3% over the previous 24 hours.
Bitcoin's 24-hour range: $10,135-$10,736.
BTC above its 10-day and 50-day moving averages, a bullish signal for market technicians.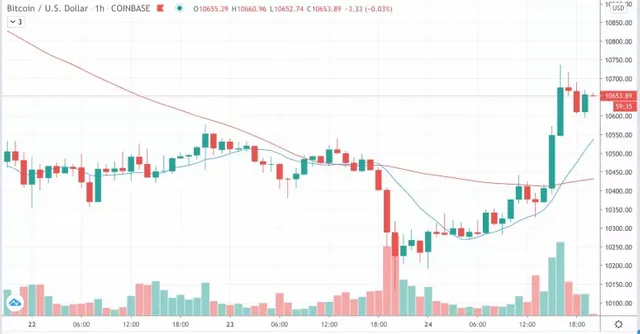 "If volumes are low, traders and algorithms are in charge," Clayton said. "This last move down was on pretty low volume and coincided with the sell-off in stocks."
Momentum in the crypto market had been absent this week prior to bitcoin's rise Thursday, according to Denis Vinokourov, head of research for the digital assets prime broker Bequant. "There has been a distinct lack of aggressive liquidations and the actual bitcoin futures curve has been flat for much of the month," he said.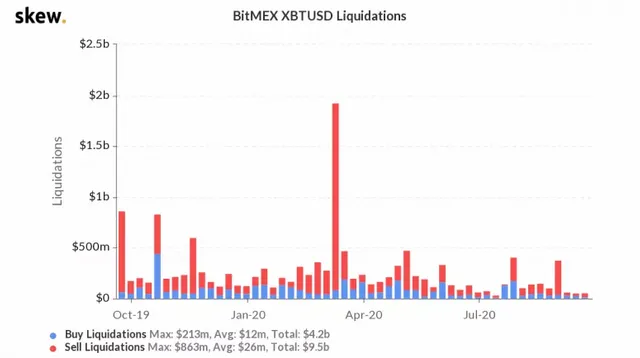 Ether options hedging DeFi
The ether options market for October expiration seems to favor the cryptocurrency being priced below $360. Traders are betting there is a 50% chance of ether trading over $340 at next month's expiration, a 40% chance of it priced over $360, and just a 24% chance of it being over $400 according to data aggregator Skew.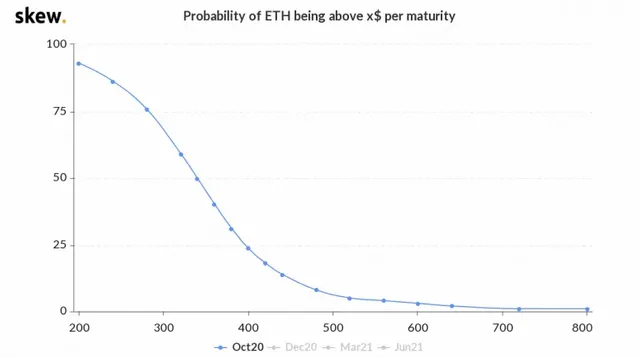 The total value of stablecoins has now surpassed $20 billion, reflecting the growing demand of investors looking to hedge their risks in both crypto and traditional markets amid the coronavirus pandemic.
Data from Coin Metrics show that the total value of assets for all stablecoins breached the $20 billion mark Thursday, only a little more than four months after the number broke a $10-billion record in May. Stablecoins are digital tokens, the values of which are pegged to fiat currencies like U.S. dollars.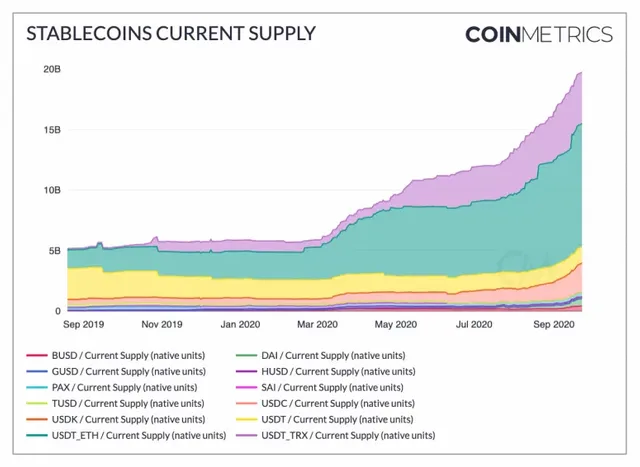 The main driver of the most recent rise is the latest downward pricing trend in non-stablecoin digital currencies such as bitcoin, according to John Todaro, director of institutional research at cryptocurrency analysis firm TradeBlock.
Data from crypto data site Glassnode show that the balance on exchanges for tether, the most popular stablecoin by market capitalization, hit its all-time high in April.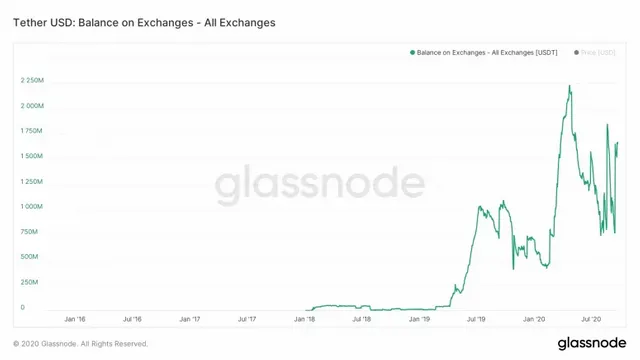 Popular day trader and founder of Barstool Sports Dave Portnoy revealed that he bought $1.25 million worth of Bitcoin even though he thinks its "just one big Ponzi scheme" in an interview with crypto podcaster Anthony Pompliano. Portnoy summed up his view of crypto trading as:
"You get in, and you just have to not be the one left holding the bag."
The sport and pop culture celebrity, whose day trading exploits have become hugely popular during the coronavirus pandemic, only recently delved into the world of crypto. He entered the Bitcoin (BTC) market in mid-August, following a meeting with the billionaire Winklevoss twins.
Chinese crypto advocates have reacted with surprise after a number of state news outlets in the country reported on a positive-spin story that explains how cryptoassets have become the most successful asset class in the year to date.
But the story itself is not exactly a pro-crypto piece of reporting from Beijing. In fact, it merely consists of a commentary-free report on the contents of a Bloomberg article from earlier this week, detailing how crypto is outperforming other asset classes in 2020 – quoting bitcoin (BTC) advoctes such as Mike McGlone, Senior Commodity Strategist at Bloomberg Intelligence.
The Chinese piece, which is essentially little more than a Mandarin-language version of the Bloomberg report, does not really pretend to be anything else, can be seen here, published by the Xinhua news agency, via Yicai.
Following a six week downtrend from its all-time high, LINK has rebounded 30% in the past 24 hours after a reported developer selloff resulted in downward pressure on the oracle protocol token's price.
The strong rebound in the Bitcoin price, a sea of green among DeFi coins and a new Chainlink partnership announcement have all contributed to the price increase.
Chainlink's native token had fallen over 60% from its peak of $20 mid-August, bottoming out at crucial support levels around $7.50 on Thursday, September 24. The six week downtrend appears to have been been accelerated by multiple sales of large chunks of LINK from what UK crypto publication Trustnodes reports is the dev address.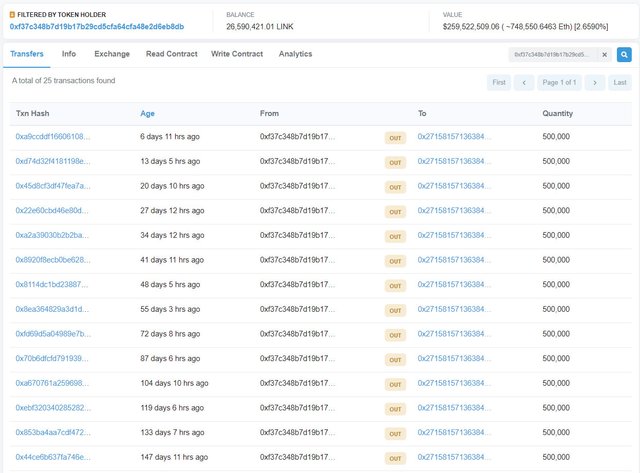 That bullish momentum mounted resulting in a surge of 30% in less than 24 hours as LINK prices topped out at $10 a few hours ago. Since then, prices have retreated a little and are currently hovering around $9.80.

🗞 Daily Crypto Calendar, September, 25th💰
"Zcoin's first halving is set to happen on block 302438 (approximately 24th September 2020) which also marks the end of Founders' Rewards."
"Krypton launch is estimated for Thur Sep 24, 2020."
Measurable Data Token (MDT)
"The next Thursday AMA with @heathermhuang is rescheduled to September 24th, 19:00 PM."
"Our bi-monthly newsletter! Are you interested about our latest updates and developments? Join T.me/BoltGlobal to read."
"We are excited to announce that we will be hosting an #autonomous economic #agent deep dive and community Q&A webinar next Thursday"
"This Thursday, at 4 pm CEST, Alessandro Ricottone will host a live AMA on Lisk.chat to answer your questions."
Last Updates
➡️ Be paid daily to browse with Brave Internet Browser
➡️ A secure and easy wallet to use: Atomic Wallet
➡️ Youtube
➡️ Twitter
➡️ Medium
➡️ Hive
➡️ Publish0x
➡️ UpTrennd
➡️ Read.cash
➡️ LBRY