NFT and its promise for the future
Have you ever thought, once upon a time there was an item as expensive as a cruise ship but not in shape? Items we can have, but can't touch? Now in the digital era, almost all goods and services that we usually use can be accessed through applications or websites on the internet. One of the everyday items that have evolved from this digital era is money.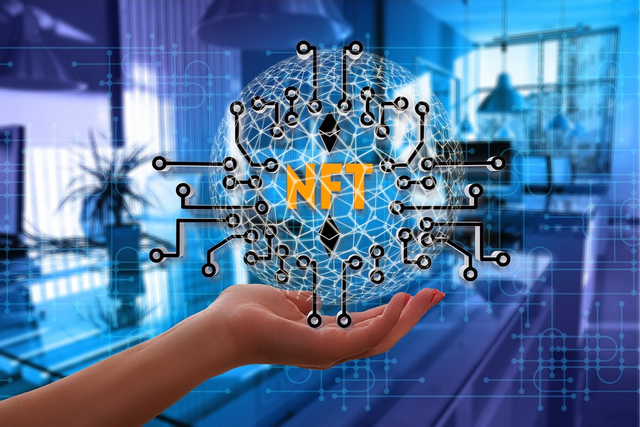 Source
In general, the money we often encounter is just a piece of paper with the nominal and bank currency written on it. Meanwhile, currently money is in the form of digital money which is usually found in e-money applications or electronic wallets. Over time, not only money is affected by digitization, now works of art also have digital forms that have economic value and can be traded like works of art in the real world. This causes the trend of the world economy to shift towards asset digitization and NFT or Non-Fungible Token is one of the products of this trend.
Initially the concept of NFT started in 2012 which at that time still used the term Colored Coin. The true function of Colored Coin is as a medium that represents goods in the real world and as a sign of ownership of an asset such as precious metals, cars, houses, and even corporate bonds. With the Blockchain party recording every change in ownership of this digital asset, the Color Coin system is guaranteed to be very safe.
Since then, Colored Coin has continued to change until 2017 when two digital artists named John Watkinson and Matt Hall created 10,000 digital characters that later became the standard for ethereum tokens (a type of cryptocurrency) and became the forerunner of modern NFT.
Then in 2018 to 2020 NFT slowly gained public attention because an artist named Kevin Abosch held a charity auction of his work entitled The Forever Rose which sold for one million US dollars. Simultaneously with this incident, NFT experienced a very significant increase in popularity until at the beginning of 2021 yesterday, NFT is now known by the majority of people in various parts of the world, especially those who are engaged in the economy.
Opportunity for Artist
Following the rise in popularity of NFT, not a few people are now using this digital token as a source of opportunity for profit. Because the media used by NFT is digital work, the group most affected in this asset trading realm are digital artists. Most of the painters in this digital era use NFT as a means to exhibit their works such as museums or art exhibitions.
Many of them use token trading sites to 'peddle' their work on the internet the creation of smart tokens aimed at new owners of sold NFTs, and so on.
For now, NFT is still dominated by digital paintings made by freelance artists because the concept art is relatively easier to express. However, in the future, we may see various works, such as musical works by famous and new singers or digital works by writers who will soon enter the NFT world.
This means that the NFT market has a reach that is not limited by distance and can consist of various classes, which of course makes NFT a suitable activity for those who want to maximize profits.
NFT still feels 'too' sophisticated
Although NFT itself has undergone several changes over the years, the reality is that we are still in the early days of technology, so this invisible asset is still 'too' sophisticated for most people. This is due to the many obstacles that prevent NFT from being fully achieved. Some of the main obstacles such as the absence of a true NFT function -- of the many existing technologies and benefits, the main role of NFT for the world community itself is still unclear.
The technology is also still difficult to understand. Considering that NFT is an asset that runs and is traded on the internet, this can be a big obstacle for NFT to enter every level of society, especially those who are still unfamiliar with the digital world.
NFT is becoming a part of the engineering world of the future. With the creation of a virtual world that aims to turn the internet into a real world called Metaverse, NFT will be used as one of the main essences of that world. Of course, this will make NFT technology even more difficult for the general public to understand for the next few years.
Another factor is volatile cryptocurrencies. Although the medium of exchange used for buying and selling NFT can be determined according to the agreement of the seller and the buyer, the main currency used is cryptocurrency and therefore the uncertain stability of the cryptocurrency can have an impact on the NFT market as a whole.
NFT is undoubtedly one of the innovations, if not the only one, that will be humanity's stepping stone to transforming real-world assets into usable items in digital reality. With the continuous development of human understanding and the rapid flow of digitalization that will sooner or later flow to all corners of the world, of course, the shortcomings of NFT can be easily overcome.
Besides being a valuable asset for those who like to collect, NFT can be a place of livelihood for those who are in the arts. This makes NFT has the potential to have a good influence on the community's economy because its function can be a buying and selling commodity or as a job.

Special Thank To
@crypto.piotr
@lanzjoseg
@josevas217
@achim03