Factory Nanotechnology/Nanotecnología de fábrica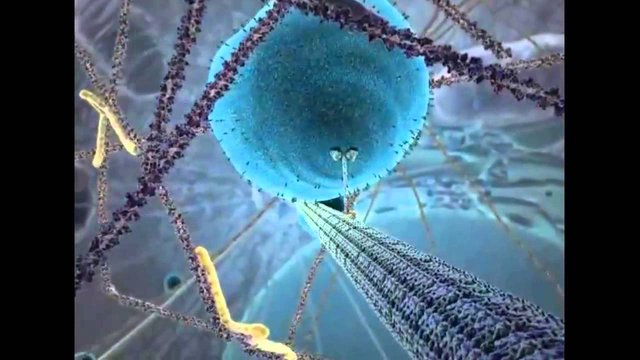 Source
Nanotechnology is one of those disciplines that leaves no one indifferent, some are great enthusiasts of this type of technology because they believe that it will solve all our health problems among others, on the contrary other people see in it a very dangerous technology that will end the humanity and that we would be playing God.
La nanotecnología es una de esas disciplinas que a nade deja indiferente, unos son grandes entusiastas de este tipo de tecnología pues creen que solucionará todos nuestros problemas de salud entre otros, por el contrario otras personas ven en ella una tecnología muy peligrosa que acabará con la humanidad y que estaríamos jugando a ser Dios.
Surely the blame for all this is the tabloid media, who like to paint nanobots as mini spaceships that shoot lasers at viruses, coupled with the scientific-technological ignorance of the average citizen, we already have all the arguments for an apocalyptic scenario.
Seguramente la culpa de todo esto la tienen los medios de comunicación sensacionalistas, a quienes les gusta pintar a los nanobots como mini naves espaciales que lanzan rayos laser a los virus, unido a la ignorancia científico-tecnológica del ciudadano medio tenemos ya todos los argumentos par un escenario apocalíptico.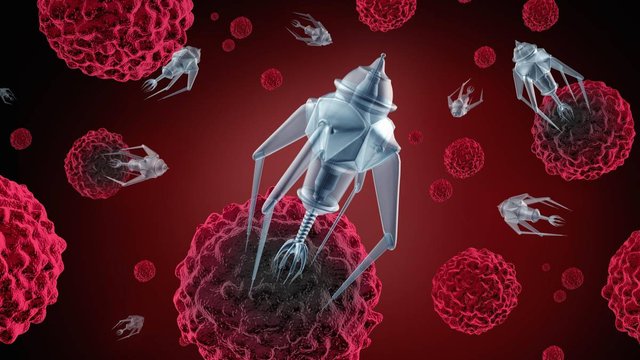 Source
However, all these nanobots are nothing more than crude imitations of the nano machines that we have in our factory bodies, that is, those that we all have at birth, much more sophisticated and effective than nanobots can be in several decades and that it works, apparently, in a totally autonomous way.
Sin embargo todos estos nanoobots no son más que burdas imitaciones de las nano máquinas que tenemos en nuestro cuerpo de fábrica, es decir, con las que todos contamos al nacer, mucho más sofisticadas y eficaces de lo que puedan a ser los nanobots en varias décadas y que funciona, aparentemente, de forma totalmente autónoma.
I mean ribosomes, capable of converting a strip of RNA into a functional protein using the amino acids we ingest, or protein engines that carry nutrients throughout the cell by walking on microtubules that give the cell consistency or packaging histones DNA strands.
Me refiero a los ribosomas, capaces de convertir una tira de ARN en una proteína funcional utilizando los aminoácidos que ingerimos, o los motores de proteínas que llevan los nutrientes por toda la célula caminando sobre los microtúbulos que dan consistencia a la célula o las histonas empaquetando hebras de ADN.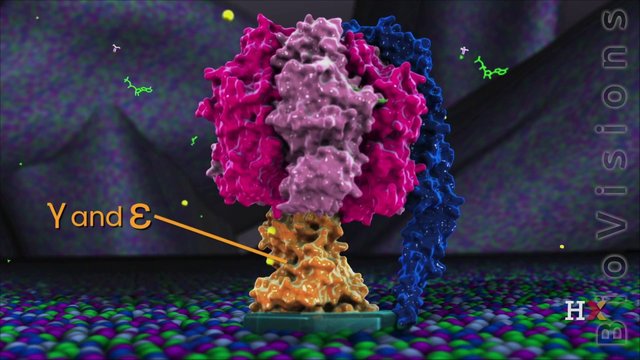 Source
Power generating plants, waste collection systems, transport and signaling systems in addition to the ability to become two identical entities and all this duly contained in a packaging of just a few thousandths of a millimeter in diameter and without the intervention of any presumably smart being.
Plantas generadoras de energía, sistemas de recogida de residuos, sistemas de transporte y señalización además de la capacidad de convertirse en dos entes idénticos y todo esto debidamente contenido en un envoltorio de apenas unas milésimas de milímetro de diámetro y sin la intervención de ningún ser presuntamente inteligente.
That is why I think we should be more humble and recognize that we have no fucking idea and that all we do is imitate in a bad way the mechanisms that have been working perfectly for millions of years although, yes, this does not mean that we stop investigating and to continue imitating nature that is very well made and has many years of guarantee.
Por eso creo que deberíamos ser más humildes y reconocer que no tenemos ni puta idea y que lo único que hacemos es imitar de mala manera los mecanismos que llevan funcionando millones de años a la perfección aunque, eso sí, no por ello dejar de investigar y de seguir imitando a la naturaleza que está muy bien hecha y tiene muchos años de garantía.
More Information/Más información