Claim Your Free ET Tokens By Signing Up on the New First Ever Web 3 Exchange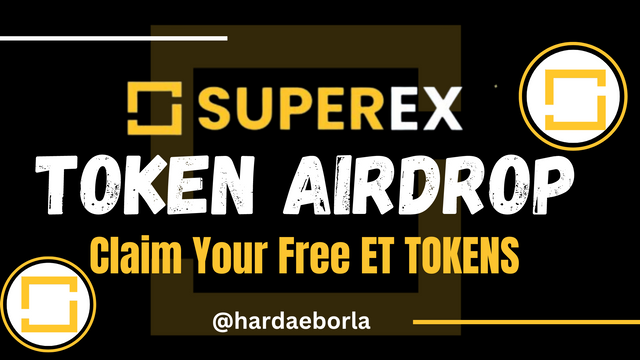 Hello Everyone!!! I hope you are having a great time over there? It's really nice to see you visit my blog today and I must say I'm really happy to have a great personality like you visiting my blog today 😊. Thank you once again 💕
There's actually no doubt that Web 3.0 has been one of the recent talks in the tech space and it's really also a great privilege having this decentralized Internet (Web 3.0) being implemented in the Crypto Space. This implies that we should keep expecting more Web 3.0 features integrated in more incoming Cryptocurrency and blockchain technology projects.
During my research about some Web 3.0 projects, I came across a newly developed first of it kind Web 3.0 Exchange known as SuperEx.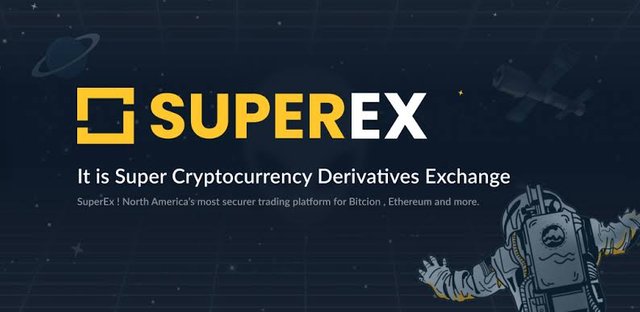 img src
SuperEx is the world's first cryptocurrency exchange based on a complete Web3.0 integration. According to the statement found on the project support blog,
SuperEx will spare no effort to build its reliable DAO organizational governance system to realize the decentralization of user assets and transactions, the decentralization of the platform team, and the complete decentralization of rights.
This connotes that the exchange will be fully decentralized in which user privacy will be highly considered in the process. Also, implementing a complete decentralized system (Web 3.0) on the exchange will definitely ensure maximum security on user digital assets with seamless decentralized transaction. The organization will definitely promote user community autonomy which enables more number of users to experience the beauty of cryptocurrencies in conjunction with a complete Web 3.0 features.
Grab Your Free ET Tokens on SuperEx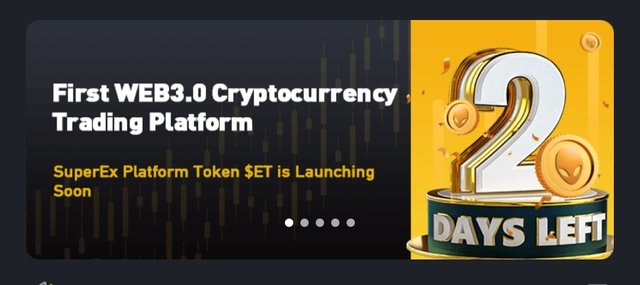 One of the smartest and effective way to make money in the Crypto Space is to take part in legitimate crypto Airdrops which can be done by being part of the Crypto project at the early stage. The fact is that SuperEx is actually a new project and it also happens to be the first ever Web 3.0 cryptocurrency exchange, I guess you know what that means since Web 3.0 is now the new game changer.
The Extraterrestrial Token (ET) is the native token of SuperEx just like BNB happens to be the native token of Binance. The total supply of ET is estimated to be around 1 billion according to this announcement as you can see in the below image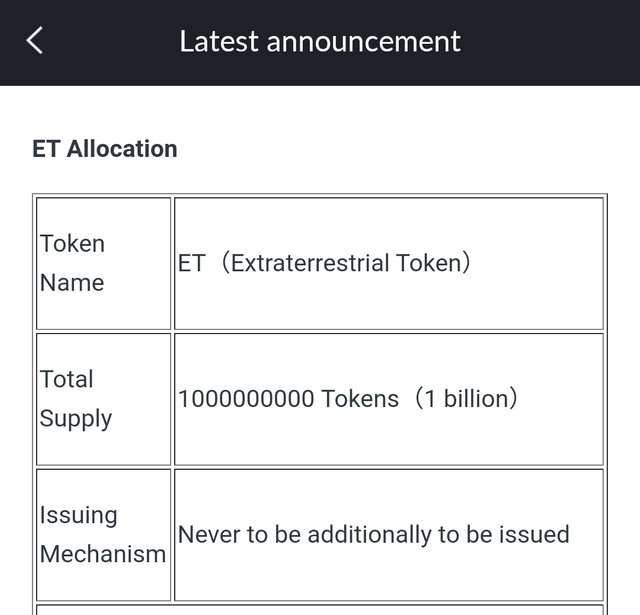 The Extraterrestrial Token (ET) is a utility token which will be used for many activities on SuperEx such as trading, voting, staking, DAO governance, gas fee, earn discount for holding, mining bonus, earning VIP rights and many other use case you can never imagine.
As a means of compensating early users, SuperEx is giving out 10 ET Tokens which is launching in 2 - 3 days time from now provided you sign up or register on the exchange and download the mobile App.
All you need to do is to visit SuperEx and sign up up on the App. Ensure your email is linked with your SuperEx account by inputting the code sent to your mail during the registration stage, download the mobile application compatible with your device and then you are good to go.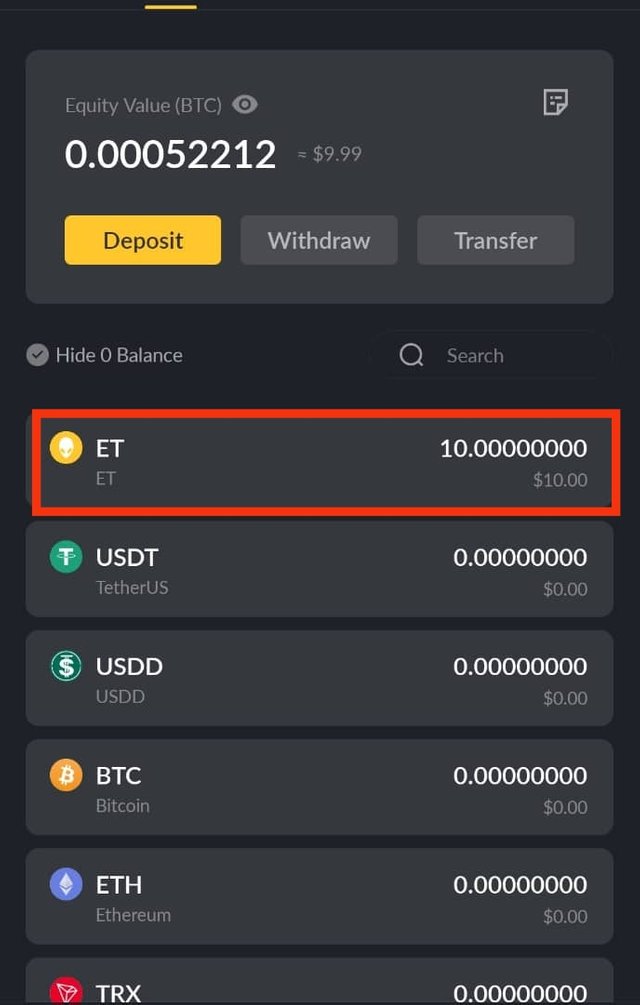 As you can see in the above screenshot that i already have my Extraterrestrial Tokens (ET) deposited in my SuperEx account wallet after signing up and downloading the mobile App.
You can also earn additional ET Tokens on SuperEx before launch by visiting the Airdrop Base as shown below;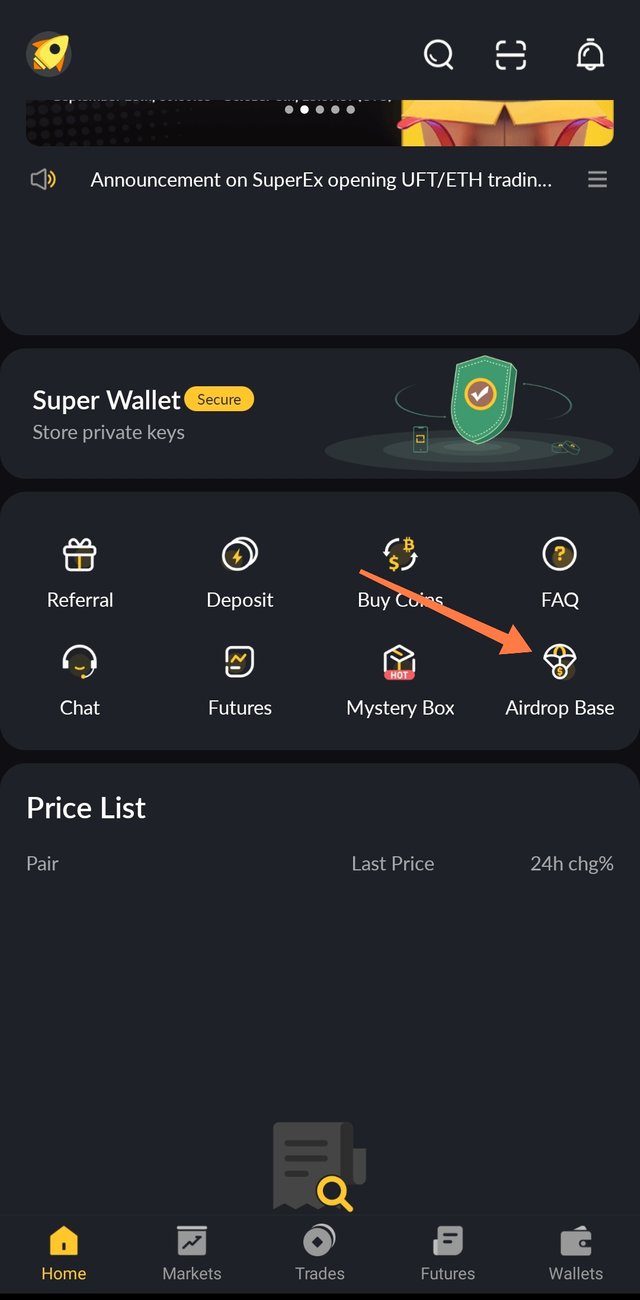 Click on the Airdrop Base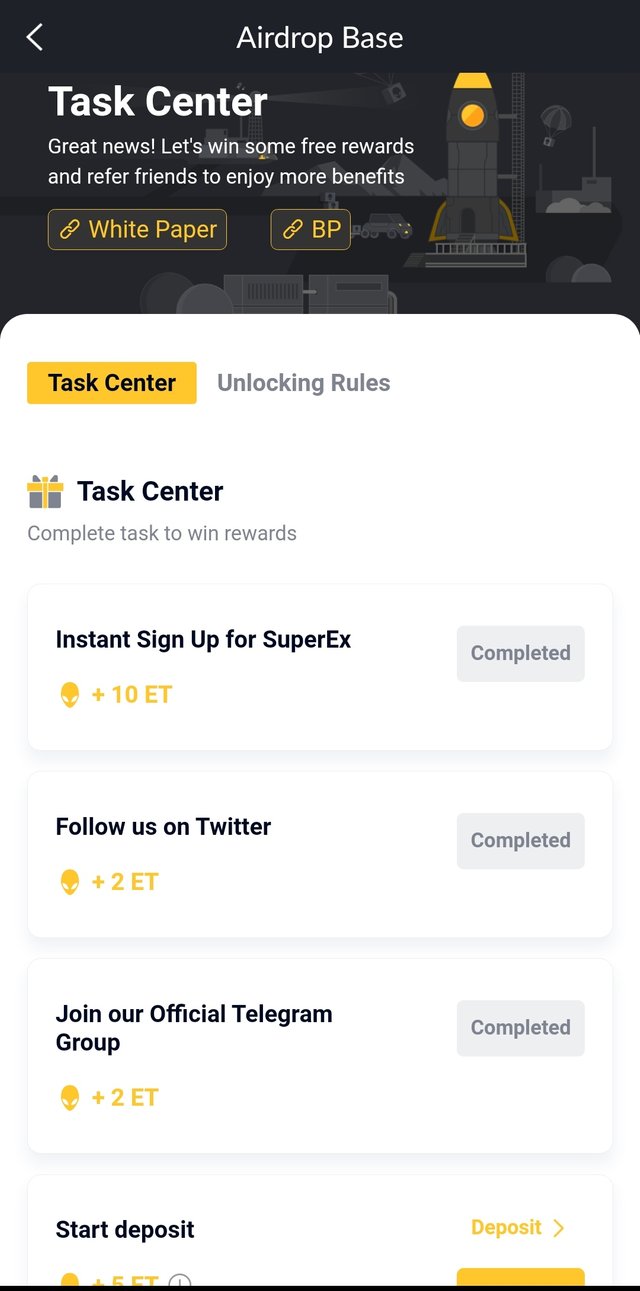 Take part in the Airdrop tasks and earn additional Extraterrestrial Tokens (ET) aside from the signing up reward
Summary and Conclusion
I will advise you shouldn't be left out as regards to technological advancement in the Crypto space. It's really great seeing different developers coming up with different ideas by integrating impressive features in crypto projects. SuperEx is definitely one of the Web 3.0 project to watch out for even though this isn't a financial advice (NFA) but I suggest you don't miss out the opportunity to earn yourself free Extraterrestrial Tokens just by signing up on the exchange and downloading the App because some crypto project can't really be predicted just the same way some people never believed in some crypto exchange native tokens when they got their Sign Up bonus (airdrop) which is now very valuable as we speak today.
Reference Links
About Me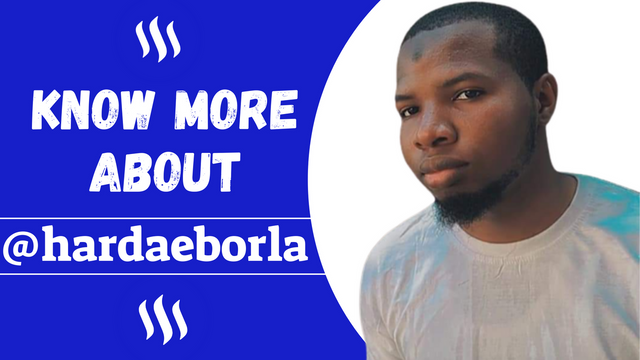 I am Adebola by name and I'm also a graduate of Agricultural Engineering (BSC). I am someone who cherish self development and being productive is in my DNA, this is why I am always open to learning from anyone and I love making research. I have been in the crypto space for the past five years and my level of enthusiasm for cryptocurrency and blockchain technology keeps increasing day by day. My hobbies are reading, writing, eating, engaging in agricultural operations, travelling, designing and blogging. My skills include Content writing, Graphic Design, UI/UX (Product) Deisgn, Copywriting, Internet Marketing, Blogging, Research and Coding (Novice). Feel free to connect with me via;
Email
Telegram
Discod: Hardaeborla#103
Twitter
Thank You for your time and I hope you have a great day ahead with love from @hardaeborla
💕❤️💕❤️💕

Please Support the Project

Special thanks to @crypto.piotr (Founder) and the team.
Learn more about Project Hope Community by clicking here here