To Die Another Day | Aston Martin Vanquish.
Cars these days are great at everything they do. So good in fact, that we sometimes forget how bad they used to be, and how much we've progressed in the century or so since we've transitioned from equine forms of transportation. We take for granted the modern comforts that we enjoy; by not having to worry about rust, electrical short-circuiting, feeling too hot or too cold, getting killed in a slight accident, catching fire, hearing squeaks and rattles, or the car not starting when you want it to.
These older cars were just about tolerable, and we accepted it, because those were the standards that you'd expect from a motorcar back then; four-wheels, and an engine. We've since refined the humble automobile, the same way we've made small improvements in mobile devices over the last decade. With most of us now being used to the feel, and snappiness of a modern smartphone, it's not a pleasant experience to go back and use an old Blackberry.
Credits to: Aston Martin Vanquish | He who came first.
It's just not the same, is it? In those years, the rough edges have been smoothened, and every little interaction just feels a little bit better on say, an iPhone 11. At least, that's what most people feel. For some of us however, there's just something about the bulk, simplicity, and analogue nature of older phones that we just find attractive. It might be the tangibility of typing out messages on a mechanical keyboard, and its comforting clicks, soothing ones sensory pleasure, even with short messages.
That's the keyword - sensory joy. Personally, my tastes for cars are more malleable than some others; but I do take pleasure in something a slight bit old-school, but without missing out on modern creature comforts. A collision of space and time, perhaps? Amongst the automotive community, we have a category of cars that are engineered in that Goldilocks zone, which we refer to as, 'modern classics '. That is to say, they're vintage enough for us to enjoy an unadulterated and analogue driving experience, while still being new enough that we're not sacrificing on nice-to-haves.
---
---
A Beast, Awoken.
Credits to: Ferrari F40, McLaren F1, Aston Martin V8 Vantage, Lamborghini Gallardo | A few examples on modern classics.
In the realm of cars, this era normally exists somewhere between the late-1980s, and the early-2010s; sandwiched between cassette tapes, and music streaming. In the case of one modern classic, the turn of the 21st-century called for Aston Martin to make a statement - to tell the world that they're back at it again, and ready to compete against the big boys on the world stage. That first barrage would come in the form of the best nameplate used in the automotive industry - the Vanquish.
Specifically, it was the first-generation Vanquish, unveiled before the world in 2001, before more refinements were made three years later, culminating in the Vanquish S, and before ending production completely in 2007. You know how they always say, "first impressions last a lifetime"? The Vanquish was archetypal of that proverb, as it was penned by Ian Callum; arguably the greatest car designer in modern times, and also fathered of two other beautiful modern-day Astons, the DB7 and DB9.
Credits to: Aston Martin DB7, Aston Martin DB9, Project Vantage Concept | More of Ian Callum's children, including the Vantage Concept, from which the Vanquish was born.
It was a stunning piece of design, inspired by none other than the DB4 GT Zagato of the 1960s, and even till this day, one can't help but fall in love. The muscular stance, its piercing stare, and those wide hips were characteristic traits of the Vanquish's exterior, while the later S variant placed more aggressive bodywork for aerodynamics' sake. Positive reviews from journalists may have helped Aston Martin to push Vanquishes off the dealership lots, it was none other than 007 that sold it.
If the Vanquish looked familiar to you, it may be because it made its debut in Die Another Day, with Pierce Brosnan at the wheel. It was this car that slid about on the ice, fighting hordes of baddies on snowmobiles, fending them off with missiles, machine guns, and camouflage paintwork. Not long after that movie came out, the Vanquish became an instant icon, placing its stardom alongside the DB5 from Goldfinger. Other than its menacing looks though, there are other reasons why it made the perfect choice as Bond's getaway car.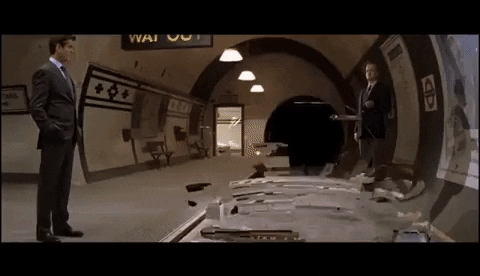 Credits to: GIPHY
Credits to: imcdb - Die Another Day | Because there's no other stylish way to fight evil.
Credits to: Aston Martin Vanquish S | Some additional exterior shots, for your viewing pleasure.
When it launched, the Vanquish became Aston Martin's fastest production car, and although there have been faster ones before, none from the factory could match its pace. Under the bonnet, it came with Aston's venerable 6.0-litre, naturally-aspirated V12 that they've used before, and since in their flagships. In fact, that V12 Zagato that I gushed over in a previous article had the same engine. When fitted onto the Vanquish, the engine puts out 460-horsepower, as the later S models pushed that to 520.
Amazing statistics on its own given its age, not to mention that the Vanquish S was capable of cruising along comfortably over 200 miles-per-hour, with ease and poise, despite its 1,900kg heft. This was a feat that its predecessor, the DBS couldn't muster, and was only beaten out by the insane, limited-production, 750hp Aston Martin One-77. So capable was the Vanquish, that even the folks over at Ferrari were trembling, with the British brute holding its own against the 575 Maranello. This was made ever more apparent, as Aston's engineers made fine adjustments to the suspension and chassis when the Vanquish S came along.
Credits to: Drive - Vanquish S | A look-around at the small design touches of the Vanquish.
Not all things are born perfect, however. The only thing that let down its driving experience, was the Vanquish's use of an automated-manual transmission; which Aston chose exclusively for their flagship car, as it was a cool and trendy bit of kit that people want. This gearbox was sort of a hybrid between automatic, and manual. Imagine an old-school three-pedalled car, with a stick-shift in the middle, and a clutch pedal under your left-foot. Now, take both those things out, and replace it with some extra cogs, alongside a pair of paddles at your fingertips, which you can see them mounted on the steering column.
While it seemed like a neat and fashionable idea, the end result was a gearbox that was lurchy at best, and didn't want to change gears properly at its worst. It was by far the biggest negative of this car, as this very same trend continued to plague cars from other brands, like Ferrari's own 575. So much was it hated, that years after the Vanquish ended production, Aston Martin Works - their in-house heritage division - had engineered a workable manual-transmission swap. For the cost of £17,000, you can send in any old Vanquish, and they'll do their magic as if the car had left the factory with three pedals, and an centrally-mounted lever in the first place.
Credits to: Aston Martin Vanquish S | The sometimes lovely, sometimes plastic interior.
There were other criticisms as well, and mostly regarding the interior. To truly experience the best of cars, it's important for the interior to be adequate, and proportional to the rest of the car, given that this is where you're going to sit and spend hours in. The Vanquish was built in an time where Aston Martin, along with Jaguar, Land Rover, and Volvo were all cash-strapped and owned by Ford, under their Premier Automotive Group. It encompassed the Blue Oval's attempts to break into the international luxury segment, and it also marked the dark days for those that live under its shadow.
Sure, Ford's large coffers meant that those companies, like Aston didn't go bankrupt. However, it also meant that huge cost-cutting need to be put in place. This is visible from all the shared parts placed inside the Vanquish, including all the buttons and switchgear, and even the key-fob; which is the same one you'd use to unlock your Fiesta, let alone a six-digit luxury car. The side-mirrors were borrowed from Jaguar's XK sports car, while the climate-vents should be familiar to Volvo owners, including my dad's old S80 that was built around the same time.
Credits to: Aston Martin Vanquish S | Deep under the skin, with its howling V12, and 6-litres of glory.
Nevertheless, apart from those plasticky bits, the rest of the interior was spectacular, befitting the bespoke nature of the Vanquish. It was the last production car to be made at Aston Martin's historic Newport-Pagnell factory, which also made it the last, truly coach-built production car from the brand that was borne in 1913. Aston takes pride in their craft, including that even their new, supposedly high-tech production-line has only one robot, which is used only to precisely apply adhesives.
But not the original Vanquish, as that was assembled entirely by hand, a tiresome process with wonderful results. Craftsmen would apply the bonding, as they laid panels together, and using their fine touch to feel-out any imperfections. Every bit of the fine leather, thick and smooth to the touch, was stitched carefully by a single seamstress, as they are today. Everything from the thick carpet, to the quilted headliner was made and fitted to be the best in any car. More distracting was its gauge cluster; while not very legible, was a work of art, seemingly finished like an expensive piece of jewellery.
---
---
A New Tomorrow?
Credits to: Igor Belozerov - Artstation | Looking pretty in blue. Also, is this from a game?
In its entirety, it might not be the sharpest tool in the shed when compared to other cars costing nearly $100,000 in today's market. Yet, to those who are looking for a bit more of an emotional connection with their cars, removed from all the electronic gizmos and interference, then I'll say this: there aren't many options that surpass this, and I reckon no other brand has the effortless elegance that Aston Martin exudes on the road.
This old Vanquish is a remnant from an old era, binding together the traditions of centuries of painstaking craftsmanship, combined with the modernity of new-age technology to push the boundaries of how to tug on a petrolhead's heartstrings. Yet, what if the Vanquish could be better? What if we round-off some of those jagged corners, left behind by a company barely affording its mortgage? What this old Vanquish doesn't yet know, is that come 10 years later, it will be reborn at the hands of its Maker as a new beast, awoken. You'll find out more, soon...
---
---
Thanks for reading! For more updates on my blogs, or the more minute things in life, feel free to follow me on Twitter, LinkedIn, and Medium, and maybe give a shout there as well!
While you're at it, follow along @zacknorman97 for more, coming soon :-)