Pocket Rocket On Bricks | Fiat 500, Mario, And Lego!
Credits to: SkareMedia
Think of the most iconic cars in human history, and you'll be hard pressed to not include a Fiat 500. Alongside Jeeps, Beetles, and Porsche 911s, the little mouse has left a strong mark on automotive legacy, and one that still carries strongly today. It's fair to conclude that every small city-car that we see today, from Smart and Fiestas, to the VW Up!, all had their bloodline started in Turin, with the 500 Topolino from 1936.
Every compact car that we love today has inherited the 500's ethos - that being small can still bring fun, practicality, and do all the things that big cars can. Back in the 50s and 60s, the Fiat 500 was a symbol of Italy's post-war economic revival, becoming the staple vehicle for every household. The wealthy may enjoy their Alfa Romeos and Ferraris, but it's the 500 that got work done, moving countless people and goods from across the Mediterranean.
It also became an icon for "La Dolce Vita ", symbolising the happy and easy-going lifestyles of mid-century Italy. Paying tribute to that heritage, a company in the far north of Europe, called Lego, has made a new scaled version of the Fiat 500 F. It's been conceived under their Creator Expert line, sitting alongside James Bond's Aston Martin DB5, and a Beetle, among other fantastic creations. As much of the urbanised populations have been locked down due to the ongoing Covid-19 (Coronavirus ) outbreak, here's 960 bricks to spend some time, and have many smiles with.
---
---
La Dolce Vita.
Credits to: NetCarShow (Fiat 500, 1957)
Before we start getting into the subject of bricks, here's a bit more background story on the original car, so called the Cinquecento , which is Italian for "five-hundred". The form that see here was built from 1957 to 1975, which is a fairly long lifespan in car terms. Throughout that period, nearly 3.9 million units were sold, all in various body-styles, from coupes, vans, and the typical convertibles.
Conceived to be affordable and practical, the 500 is as small as you think it is, measuring less than 10ft (2.97m ) long, and about 4ft (1.32m ) wide and high, respectively. The foldable roof does help to alleviate some of the claustrophobia, or if you're just wanting some fresh air. Some models do come with suicide doors that are rear-hinged, though the 500 F "Berlina " here has normal doors. Still though, it's amazing to think that you can fit four people in there.
Credits to: Motor1
As a result of the 500's miniscule size, it weighs only 499kg (1,100lbs ), which is only 1/3 of most modern cars. However, the equally small 500-ish cc, two-cylinder, air-cooled engine won't be chasing sporty credentials. It'll manage a 0-60mph run eventually, where it tops out at. Negatives aside though, the 500 is more than enough for city driving, and you'll look adorable doing it.
Back to Legos, the attention to detail is astounding, and there's plenty of small details to gush over. Unlike a scale model, there's more interactivity with a Lego set as you move the pieces around, and you'll have a grand ol' time building it. Though there doesn't appear to be as many moving pieces as the bigger, and more complicated Lego Technic sets. Watch the official reveal video in that embedded Tweet to see it in action, with some old-school grain.
The LEGO Fiat 500 is… come si dice? AWESOME 🤩 https://t.co/xiwEVA0of2 pic.twitter.com/GkwwLMUOWD

— LEGO (@LEGO_Group) February 29, 2020
Still, you can fiddle with the gear-knob and handbrake, and you can also fold down its roof to get a better view of the interior. On that note, if you're wanting to get your Lego mates into the backseat, then you can conveniently fold down the front seats forward. Overall, the finished model is 9-inches long, 4-inches wide and high, so it's safe to say that the 500 F Lego kit is not much bigger than the real car.
In the front, the bonnet can be opened to find the fuel tank, and a spare tyre, which will be important as you're driving over countlessly sharp Lego bricks scattered about your house, heightening the risk of punctures. As with the Volkswagen Beetle, the Fiat 500 is rear-engined, and its full glory can be seen in vivid detail with the Legos. There's quite the detail here, and I imagine that with enough gusto and shove, you can probably push this one faster than the 500 F's actual engine would.
Credits to: Lego (Creator Expert - Fiat 500)
But before one can access the engine compartment, you must first remove the luggage case, mounted as it would've been on an actual 500. Opening that adorably stickered briefcase, you may find a palette and brush, pairing with the included foldable easel, and a painting of the 500 in front of the Coliseum. Overall, I think this is a rather comprehensive package for $89.99, which is both cheaper, and less rusty than a vintage Fiat 500 on the second-hand market.
However, if you think that 960 pieces just isn't enough for you, then perhaps you'll be interested in a 1:1 scale version of it. Sitting proudly alongside its real-world counterparts at the Fiat factory in Italy, this life-sized 500 model contains within it; 189,032 Lego pieces and 830 hours of hard work. The only thing that isn't a Lego piece, is the authentically classic steering wheel.
Credits to: TopGear
Continuing a bit more with Legos and Italy, they've just announced that a Super Mario interactive set will be coming along. The keyword here is "interactive ", as the blocky, Minecraft-like Mario model has a built-in speaker, along with LCDs for his eyes, mouth, and belly.
Combined with being able to recognise unique blocks and pieces, it'll allow Lego Mario to emote depending on what actions you choose, whether that's stepping on a Goomba, or breaking Gold Blocks. While the sets come in different shapes and sizes, being modular means that you can interconnect them to form your very own Super Mario world. Neat!
Credits to: Lego (Super Mario)
---
---
A Whole New World.
Now going back into the real world, and onto something that I'm used to writing about, Fiat has more exciting news on the loveable Cinquecento . For years, the once-commercially successful Fiat 500 hasn't had its best years, and the current line-up remains very outdated compared to other minis. There were fears that this iconic piece of automotive history would share the fate of the Beetle.
Now however, there's a new 500, and it'll be the first fully-electric Fiat-Chrysler car, and on the flesh at least, it looks like a minor iteration of the old 500. Just like the Beetle or Porsche 911, the Fiat 500's design has merely seen small evolutions over the decades. But that's no bad thing, as the design hasn't really aged much, and from my point of view, it's avoided the ruination of a good style, compared to what BMW's done with the Mini. As they say, if it ain't broke, don't fix it.
Credits to: Fiat (500e)
The new 500e still carries over the fabric folding roof, and unlike the classic 500 that inspired the Lego set, this one can open its roof all the way back. The only significant change on the exterior compared to the previous generation, would be the headlights. Nevertheless, there has been massive improvements under the skin, with an interior that looks significantly better than the old one.
I can only judge from what I can see, though the interior materials and quality does seem well-built, compared to the plasticky trim panels of previous 500s. It's got some eco-friendly materials, with less buttons, and a pretty nice infotainment system and digital dashboard. Along with Apple CarPlay and Android Auto, you can pair your 500e to an app, as with many new cars nowadays. Another added bonus on the inside, is that this new architecture has allowed for more interior space, though I don't think you'd fit four people comfortably.
Credits to: Fiat (500e)
It'll pack new autonomous driving technologies, with a clever adaptive cruise control, lane-keep, parking assist, blind-spot monitoring, automatic braking, tired-ness indicator, and etcetera. As someone who prefers to drive their cars, this doesn't excite me, but for most people, the world's first city-car with Level 2 autonomy would definitely sound like some rather thrilling stuff!
What does excite me however, is the 500e's 42kWh electric powertrain. It has a combined WLTP range of 320km (199 miles ), or up to 400km for purely urban driving, which is significantly more than most others in its class. This is more than enough for most daily commutes, and it'll even work well for cross-country driving. Just as important with electric cars, the 500e will charge back up to 80% in just 35 minutes.
Credits to: Fiat (500e)
One trade-off for this class-leading efficiency, is that the 500e has rather subpar performance for its 117hp motor, with a 0-60mph acceleration of 9 seconds, and a top speed of just 93mph. Those aren't headlining figures, but it's more than enough for most consumers looking into this segment. Though if you're holding out for something faster, then fingers crossed, we might get one. Apparently, Fiat-Chrysler hasn't ruled out the possibility of a 500e Abarth hot hatchback.
Complimenting with the regular 500e, are a set of very vibrant one-offs and special editions, all from very Italians companies, and their proceeds will go to charity. There's a brawny Giorgio Armani version; a lurid and artistic trim from Bulgari; and one with a modern industrial design from Kartell. The launch version, so called "La Prima ", will start from £29,000. It'll be born into a competitive market, rivalling squarely against the similarly adorably Honda e, and the 500e's French sibling, the Peugeot e-208, following FCA's merger with PSA.
Credits to: Fiat (Bvlgari B.500, 500 Giorgio Armani, 500 Kartell)
---
---
Good Times To Come.
All in all, despite the hardships and despair that we now face, there's hope that our future will be bright. Remember that all thunderstorms will soon mark the beginning of sunshine. For starters, we'll have cute Lego pieces to play around with, whether you're into vintage Fiats, or old-school video game characters. We're also starting to see electric cars getting funky, and charming.
From the perspective of a somewhat old-fashioned car enthusiast, who for the longest time hasn't really been welcoming of EVs, cars like the Honda e and Fiat 500e brings hope, that I can enjoy this exciting new electric future. Though, I do wish that carmakers would come out with more creative names than just adding the words "Electric ", or the suffix- "e " . Still, it's a sign that electric cars might not be boring at all! For now, best wishes, and take care!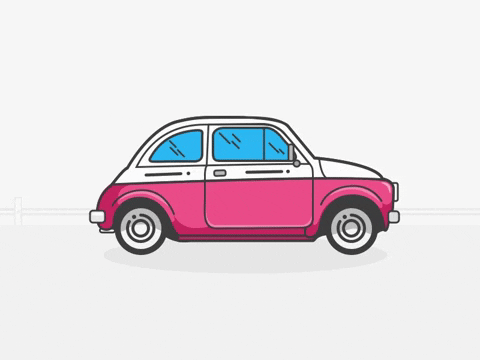 Credits to: Dribble
---
---
Thanks for reading! For more updates on my blogs, or the more minute things in life, feel free to follow me on Twitter, LinkedIn, and Medium, and maybe give a shout there as well!
While you're at it, follow along @zacknorman97 for more, coming soon :-)