STEEM-INR exchange looks more cost-effective now with zero-fees transfer of USDT from Binace to wazirX.
Hello, Steem community,
If you are a Steemian from India, then I have a cost-effective solution for you to exchange STEEM to fiat currency INR(Indian Rupees).
Generally, the exchange of STEEM to a fiat currency like INR, takes 2 to 3 fold exchange, that's not an issue, but the withdrawal fees in most of the cases are really high and most of the time in terms of percentage it goes above 5% if the quantity is less. Simply put, if you are doing a micro exchange it is not cost-effective and the net exchange fee(including withdrawal fee) is more than 5% to 10%.
For example, if you are exchanging to BTC and then withdrawing then the withdrawal fee is 0.0005 BTC which is 5 USD, if you are exchanging to ETH and then withdrawing the withdrawal fee is 0.01 ETH which is 2.7USD now. Similarly, for USDT it is 1 USD.
Normally, Indian Steem users exchange their STEEM through Binance, Bittrex or Blocktrades to a different crypto asset like LTC, ETH, BTC, etc and then withdraw their LTC, ETH, BTC (or any other) to WazirX and then do another exchange LTC (or ETH or BTC) to USDT and finally sell USDT for INR in P2P exchange of wazirX.
The users are not worried about the exchange fees, be it Binance or Bittrex, but the real tax form them is when they withdraw it. For a micro exchange, the net effective exchange fees including withdrawal fees are more than 5 to 10% or so.
WazirX is a very popular exchange in India because of its very high volume in its P2P USDT-INR market. We all know Binance has recently acquired WazirX. Further, with their recent announcement(yesterday), Binance has stated that they have completed deep integration with WazirX and a trader will be able to transfer USDT from Binance to WazirX P2P wallets at zero fees and instantly.
That means an Indian trader will now transfer the STEEM from Steem wallet to Binance first, then do a swapping for BTC in STEEM/BTC market followed by swapping to USDT in BTC/USDT market and then transfer the USDT to WazirX P2P wallet and sell it for fiat money like INR. This way it will be the most cost-effective solution for STEEM/INR exchange as compared to any other route.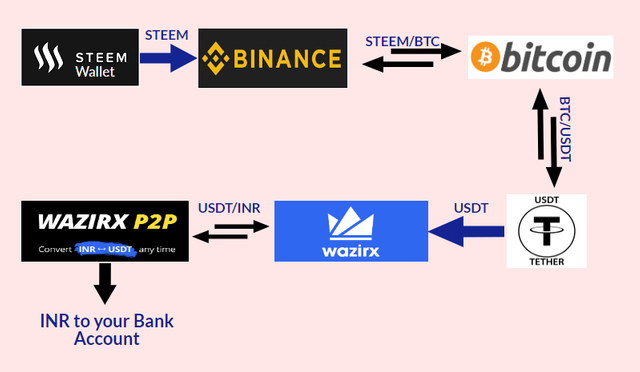 So what will be the net effective exchange rate?
There will be no fees to transfer STEEM from Steem Wallet to Binance exchange.
You will incur 0.1% exchange fees(or lower) when you exchange your STEEM for BTC.
You will incur 0.1% exchange fees(or lower) when you exchange your BTC for USDT.
You will incur no fees when you transfer USDT to INR.
You will incur no fees when you sell USDT for INR.
So the net effective exchange rate= 0.1+0.1= 0.2%
For a small amount of exchange, this really matters a lot, particularly when you include withdrawal fees. With Binance-wazirX integration, the USDT withdrawal is free and instant, which makes the STEEM/INR exchange(through the route as illustrated above)most attractive, cost-effective in a true sense.
Thank you. I hope it helps!
---
The infographic is my original work.
---
Resources