Fruits And Veggies Monday Weekend Feast - Curried Rice And Pigeon Peas, Roasted Sweet Potato Fries And Spicy Sweet And Sour Cauliflower
This is my post for #fruitsandveggiesmonday by @lenasveganliving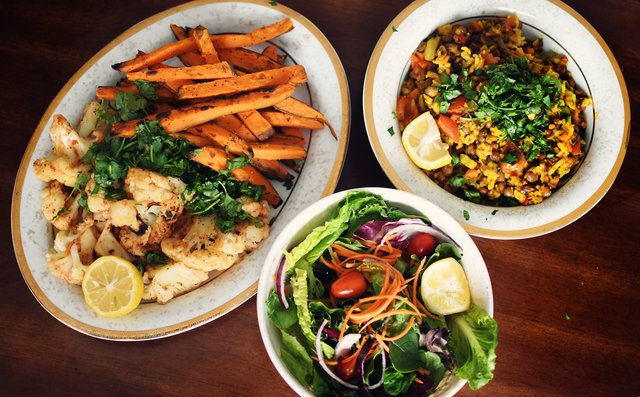 It's Sunday so we must feast like families did back in the day. They all gathered together at the end of the weekend. Some family members came from other towns or across town to be with parents ,grandparents, brothers sisters, aunts, uncles and cousins. Some are just good friends.
I know this because I use to watch a lot of movies. I never actually did this unless it was someone else's family on a special occasion.
Now we can't do it if we want to. It's become a nice idea for me though to imagine this kind of togetherness. Hopefully we can have this someday. We now just dream of those kinds simple things in life.
So Marc and I will feast alone as we are the only vegans in the house alongside two hard core ham and egg eaters. On special occasions they have fried pork and they hate what we eat so more for us I guess.
I bought a can of pigeon peas the other day and was reminded of some Caribbean food I had eaten long ago. I think it had coconut milk in it but I opted for something a little different. I had some Jamaican curry powder and quite a few habanero peppers which for some reason don't seem as spicy as they used to. So we made curried rice and pigeon peas.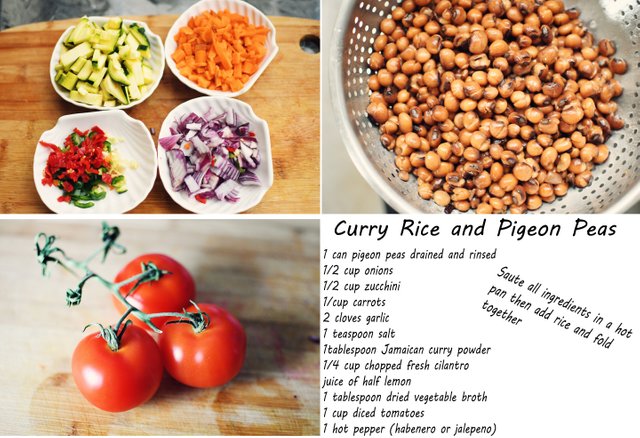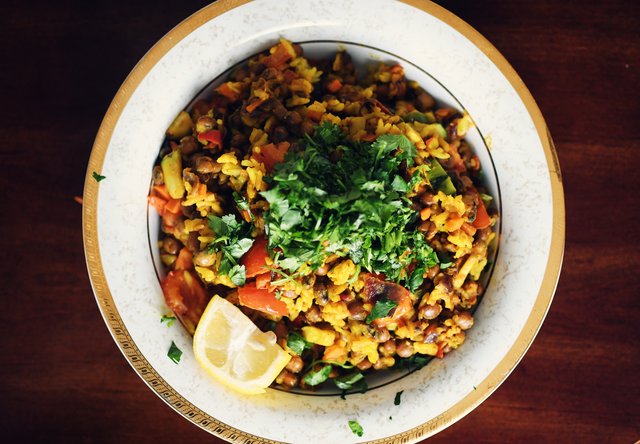 We have a spice tolerance that is becoming almost annoying. We add hot peppers to everything then we add more spice at the table. It seems we are spice junkies.
I had some sweet potatoes and a cauliflower taking up room on the counter so it was the perfect accompaniment for our feast.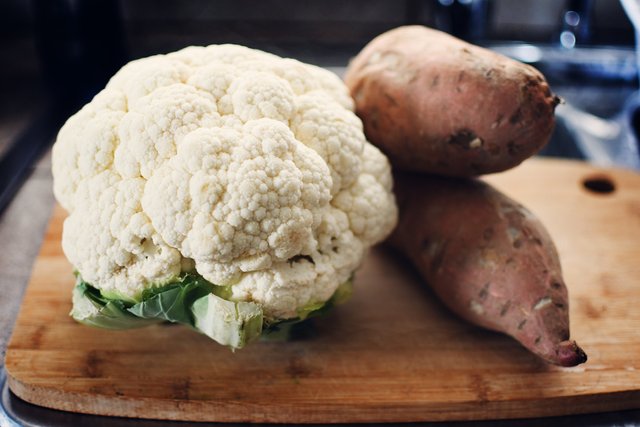 We didn't want to use too much oil so they were both thrown in the oven with just a little oil on them. The sweet potatoes would be cut like fries.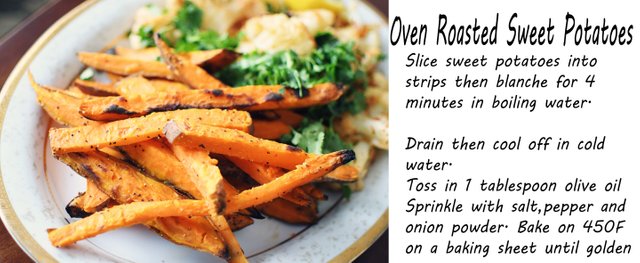 I wanted to spice up the cauliflower with a sweet and spicy sauce so I before the cauliflower went in the oven they were tossed with the sauce and bake until the moisture was evaporated and the cauliflower was tender.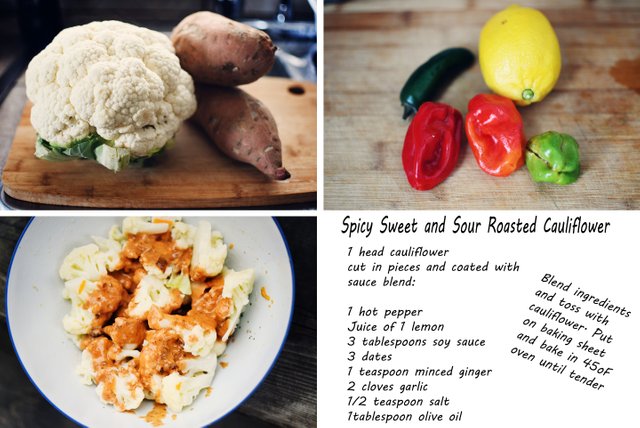 Believe it or not with a whole habanero pepper in it, it didn't burn at all. Marc and I like it to hurt so we had to add extra cayenne.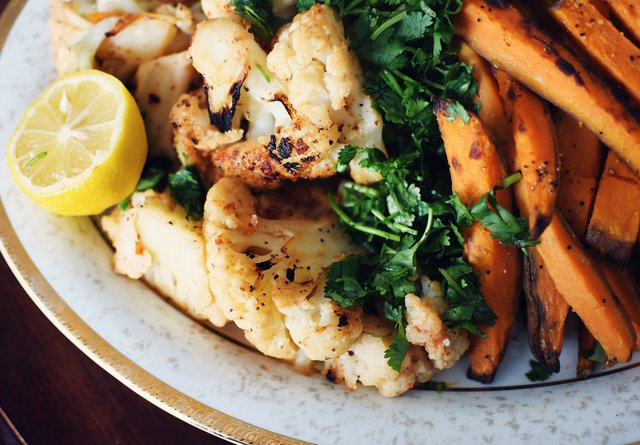 I had to have my daily salad and I had some left over tahini dressing from yesterday so that was convenient.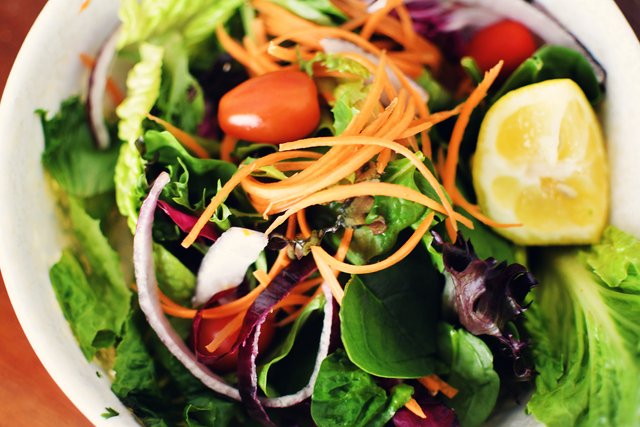 We normally don't make so much food when the in laws are home but they were
busy with watching the news and getting excited about sickness and death. It's their favorite sports event now.
We were sure we wouldn't eat it all but who doesn't love left overs.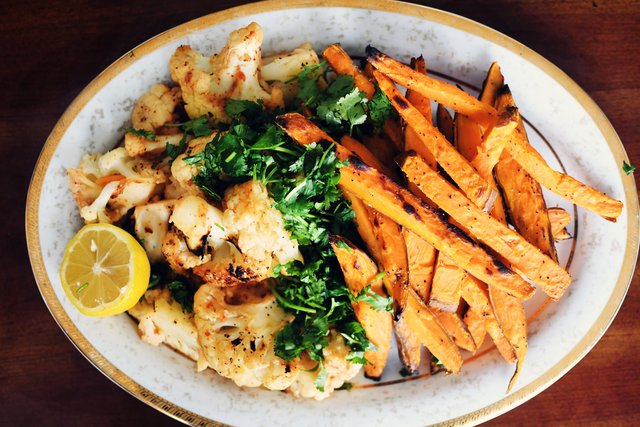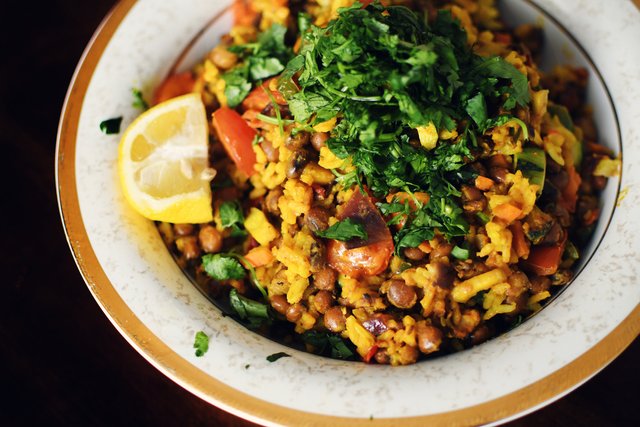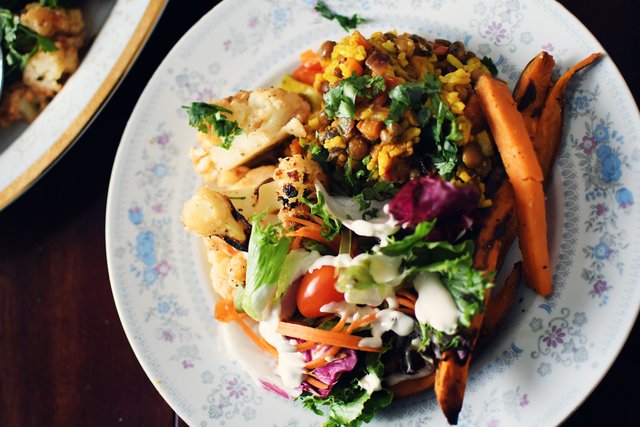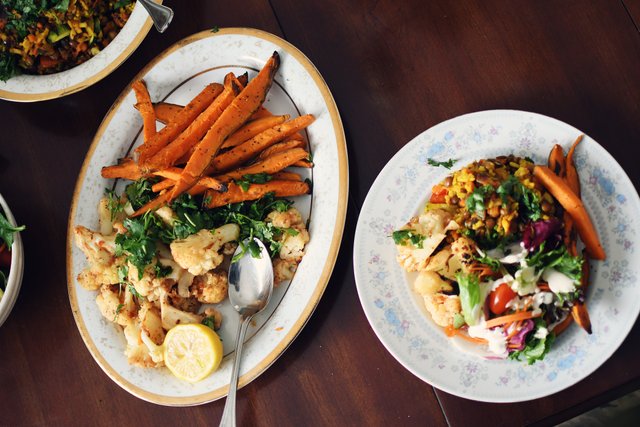 We did better than we thought but we packed a bit away. We'll have it later.
Let the long weekend continue! Peace everyone.