AT-AT a good boy - snow sculpture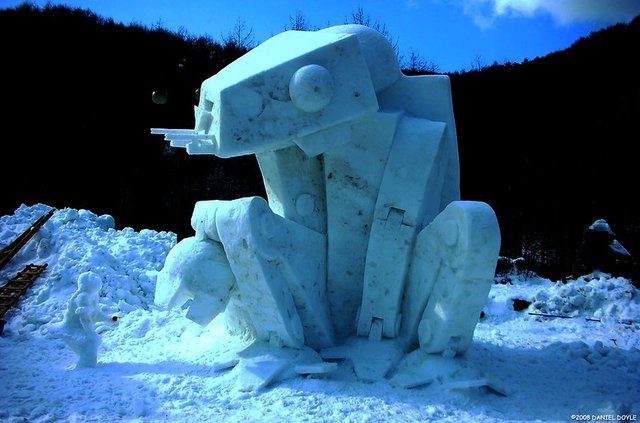 This is one for my Star Wars fan readers. It is an AT-AT sitting like a doggy which I made along With Wilfred Stijger @stijgerart and Edith Van Der Wetering in Taebaek, Korea in early 2008.
I only have one image of this sculpture and had to try and pull some detail out of it to make it presentable. I aggressively darkened the mid tones to give it some sort of detail and make the little girl with the red ball stand out.
I actually really like how it looks. It seems to be carved from marble because of all the dirt in the snow.
I don't know exactly how we came up with the idea and why we went for the Star Wars character but I think it was quite cute with the difference in scale between the two figures.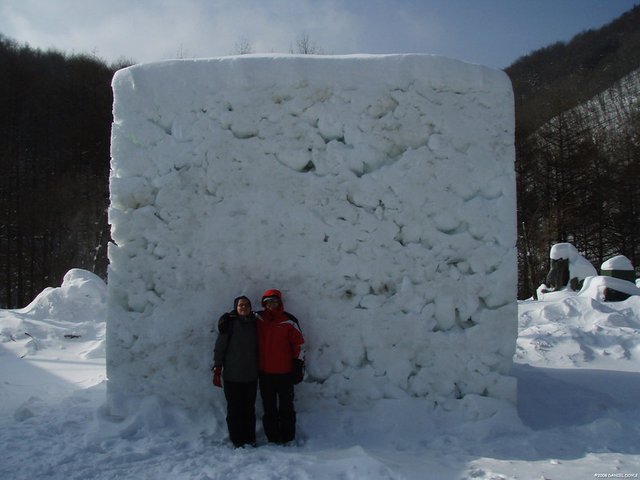 Car crash
It's a long ol' drive from Seoul Airport to Teabeck and having had to wait many hours in the airport for the Japaneses sculptors to arrive we all fell asleep on the drive. During the journey we awoke abruptly when our van skid off the road and landed down in a ditch. Luckily nobody was very hurt. Edith did get hit in the back by some flying luggage from the boot but she was luckily OK.
There was lots of ice and snow on the road and as we were driving up through the mountains it could have been a lot worse with many cliffs to break our fall.
After some phone calls a pickup truck arrived and towed us out. The van was knackered and required a tow all the way to somewhere we could get a new one. Wilfred and a few of the Japanese were able to travel in the pickup while Edith and I sat in the van getting dragged along. It was some scary shit, we felt like a skier behind a boat. We were going too fast and many times we lost traction. On corners we flew out and were in the opposite lane facing oncoming traffic. The seat in front of me winced as I dug my finger nails into it. We had to call the pickup driver to tell him to slow the hell down.
Finally we arrived at our destination. Wilfred well rested, Edith and I shells of what we were. After a few hours sleep it was up and at 'em and off to work.
Snow crash
This was our second time to this wonderful project and our main reason to be there was so that we could spend some more time having a little holiday after in Seoul which has become my favourite city.
This time, like last the snow was awful and we were presented with a 3 meter by 3 meter cube to make our sculpture from. Due to warm weather and the way they prepare the snow the block was like Swiss cheese with as much air as snow. Trying to resolve it into any kind of form would take lots of patching. Not knowing exactly what it was like inside was also quite dangerous as piece could break away while it was being worked on.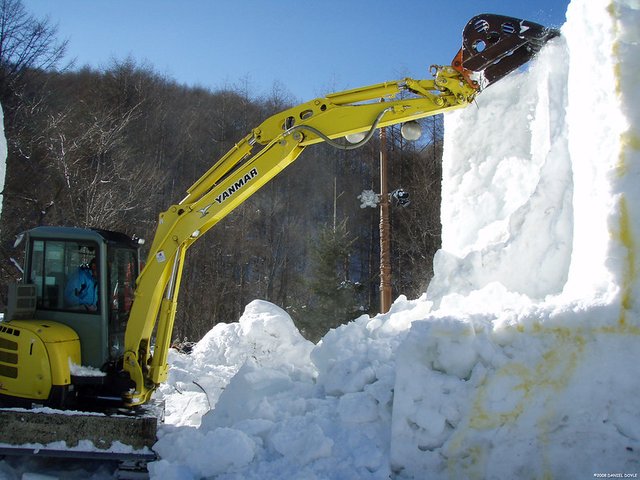 A helping hand
To speed things up we got the use of a mini digger who we could direct to take away chunks that we knew we didn't want. Being at a distance while parts broke away due to the bad compaction felt an awful lot safer. The driver was great and we could get him the nearly block out the whole sculpture.
One of the better quality corners was cut away and moved to the area where we wanted the girl to be. While Edith worked on the girls Wilfred and I made the AT-AT.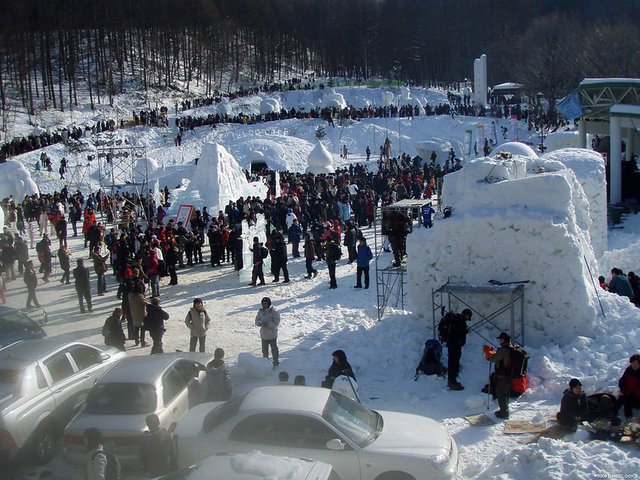 There were some long days put in to finish the sculpture. The temperature was well over 0 and this meant that night was really the best time to do finishing.
Finally we did finish but when I came back the next day to take photos the sculpture was already melting and parts were broken off by curious visitors, hence the one image of it nearly complete.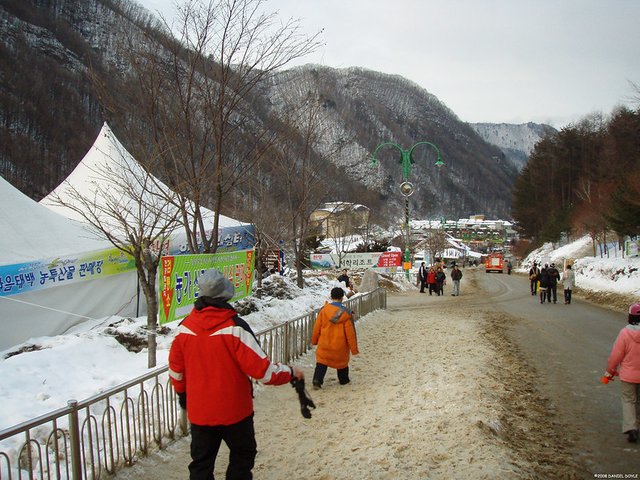 There is a famous shrine on top of the mountains near the sculpture and that is why there were so many visitors. To many this is a nice walk to do for a day out and the sculptures are a good resting point to break up the journey.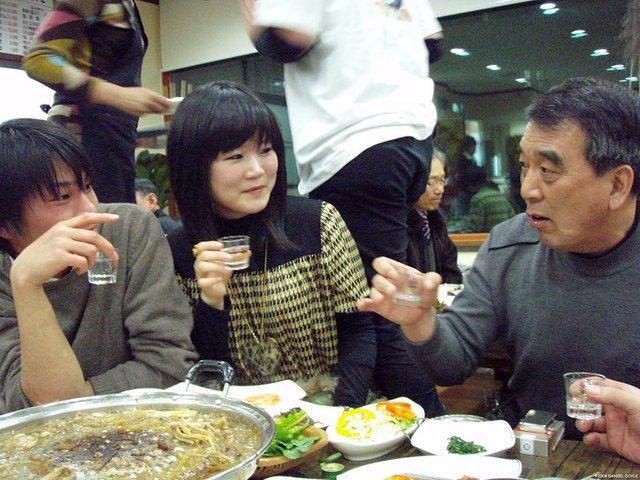 When not working we have a great time with the other teams and it was so nice to have the same interpreter from the last time that we were there in 2006. She could speak many languages and so was the center of all our conversations. Sorry I can't remember her name, I'll try to find out and update this post. I do think we called her Honey.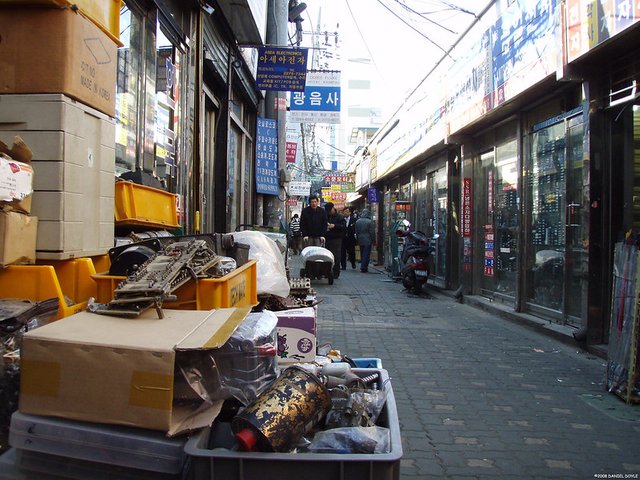 After the project we made our way back to Seoul for a bit of a holiday. I love Korea and it's culture. Seoul is such a relaxing place with great sites, food and hospitality. The shops are also cool with me favorite area being the electronics quarter where you can buy nearly anything and technology which is a year or two from being available in the west.
---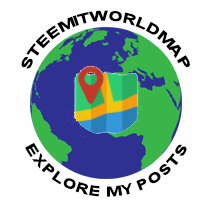 ---
Ps
Thanks for reading. I use Steem to document my work as an ephemeral Sculptor of sand, snow and ice, amongst other things. This will hopefully give it a new life on the Steem Blockchain. Below you will find some of my recent posts.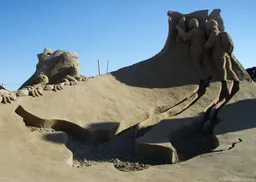 Nativity à la Spanish artists - sand sculpture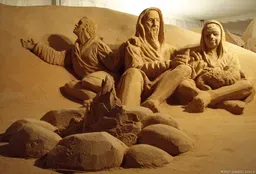 Guadalajara nativity - sand sculpture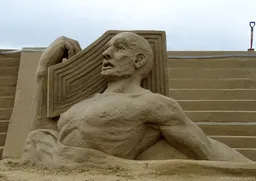 Zhoushan 2007 - sand sculpture (Part 2)
I hope you'll join me again soon
@ammonite
If you would like to support me
Bitcoin: bc1qp4lfg0ttz66nesgff8fd5unglg9y0l2jy53j36
Ethereum: 0x6abaE039b9BDFB67495A0588cb90F9EAF5f7556c
Eos: ammonitearts