Steem Fitness Hub Program of Activities || 03/10/2021
Steem Fitness Hub is happy to present herein her program of activities.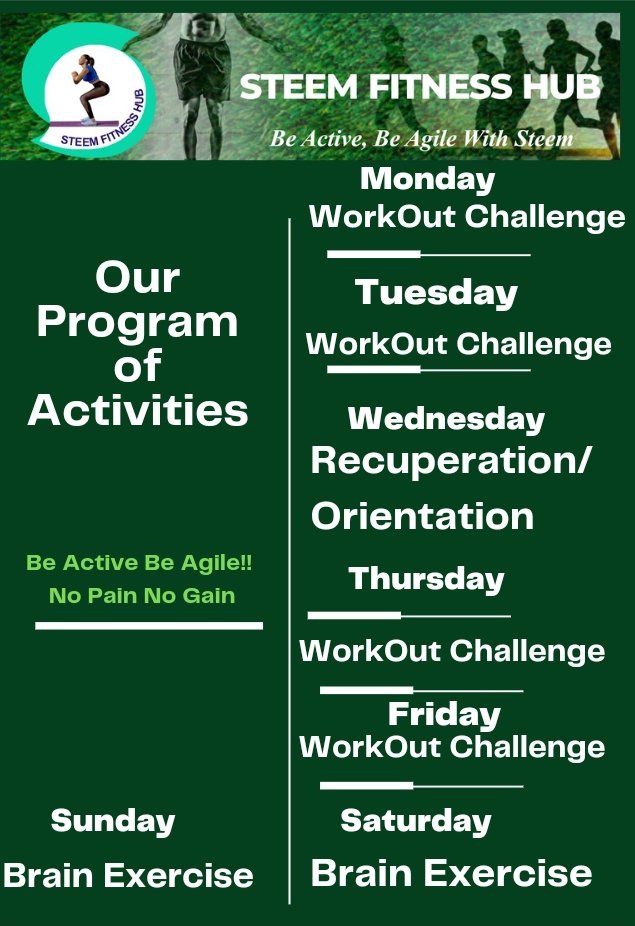 Activity breakdown
Workout Challenge: Mondays, Tuesdays, Thursdays and Fridays will feature workouts selected for the week. Members are expected to involve in these programs and write articles stipulated in conjunction with the weekly program.

Recuperation/Orientation: On Wednesdays, members are expected to rest to recuperate in order to engage in the activities ahead. We will equally used Wednesdays to publish articles related to health.

Brain Exercise: Saturdays and Sundays are for brain Exercise. Members are expected to produce unique articles on any topic of interest to showcase their Proof of Brain (PoB). Brain Exercise is a means to explore the uniqueness of our brains and our individual creativity. Stories, scripts, artworks etc., will be welcomed provided they are unique to you.

NOTE:. PLAGIARIZED CONTENTS GOES AGAINST THE COMMUNITY RULES. PERPETRATORS WILL BE FISHED OUT AND BE BANNED FROM THE COMMUNITY.

We as a team of Steem Fitness Hub are open to suggestions and constructive criticism. We will appreciate your loving input which will forthwith be given needful consideration.
Thank you all for your support.
Special mention
Written by @meymeyshops for Steem Fitness Hub.


Join our Telegram
steemfitnesshub