ACHIEVEMENT 1 || MY INTRODUCTION POST TO STEEMIT COMMUNITY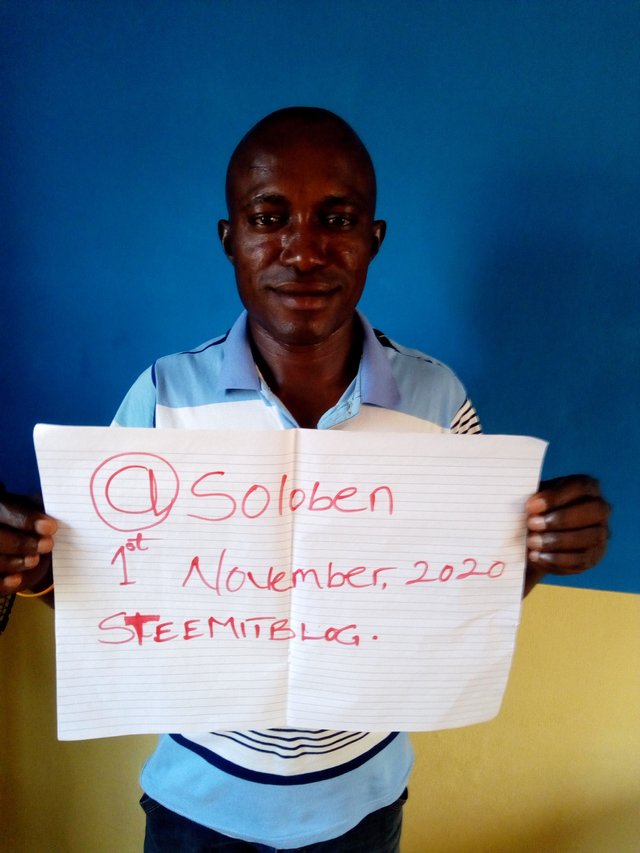 INTRODUCTION
I am so honoured to be a part of this amazing community. I have been told of the amazing and beautiful things that happen here, the connection and the daily cool earnings and getting to meet great minds. I feel alot excited.
Get To Know Me
My name is solomon benjamine. from Osun State, Nigeria. I am single and i reside in Abuja Nigeria. I believe you might have heard about abuja nigeria the federal captail territory of Nigeria.
Education and Background
I obtained a National Diploma in Banking and finance from Osun State College of Technology Esa Oke Osun State.
I was born into the family of 10 and am the thrid son, but the seventh born in the house. My mum is late while my dad is still alive, his a business man that made sure he brought up his children in good and godly way.
PROFESSION
I currently work as an engineer at AEDC.
My Interest and Hobbies
I am a counsellor by nature. I love it when I put smiles on people's faces. I also enjoy it when i give comfort to people.
Traveling around and exploring new things also gives me a good vibe as it is part of the learning process of life.
My Purpose Of Joining Steemit
I love socializing with new people and exploring new things of which steemit community is one good environment to socialize with people.
I'm glad being here and i look forward to meeting the great minds here, make friends, socialize, learn new things and contribute in my own little way by time, skill, intellect etc to make steemit a beautiful and conducive environment to inhabit.
How I Got To Know Steemit
A good samaritan friend of mine @talktofaith introduced me to steemit. Although she has been saying so many beautiful things about steemit for a while now. But i got to join officially yesterday. And here i'm i today with my introduction post.
Thanks alot for visiting my post.
I love you all and i know you love me too. I also anticipate your support.
@cryptokannon here is my introduction post.
#cryptokannon #introduceyourself #blogging #cryptoworld #socialize