Contest // Topic of the week №15 // Personal best //MI MARCA ES MI FAMILIA / MY BRAND IS MY FAMILY [ESP-ENG]
Puedo afirmar sin que me quede nada por dentro, que mi mejor marca es mi familia, desde toda la vida es algo que se ha dado de manera natural y que ha hecho de mí, mi insignia, mi razón de ser y así se ha proyectado hacia el entorno.
I can say that my best brand is my family, it has been something that has come naturally to me all my life and that has made me my insignia, my reason for being, and this has been projected to the environment.
Desde muy pequeña, siempre he estado atenta a todo lo que sucedía en mi familia, me refiero a la familia en general, no sólo a mis padres y hermano. Y la mayoría de mis familiares muy pendientes de mí, que hacía, como me sentía, me invitaban a sus casas. Mis tías preparaban platos especialmente para mí. Rodeada de mucho cariño y de muchas realidades también, así se fue desarrollando mi marca personal.
Since I was very young, I have always been attentive to everything that happened in my family, I mean the family in general, not just my parents and brother. And most of my relatives were very attentive to me, what I was doing, how I was feeling, they invited me to their homes. My aunts prepared dishes especially for me. Surrounded by much affection and many realities as well, this is how my personal brand developed.
Por venir mis padres de familias muy numerosas; numerosas también han sido las alegrías y tristezas. Recuerdo de adolescente acompañar a mis padres en su dolor ante largas enfermedades de mis abuelos y algunos hermanos, y como le he dicho a mi mamá: "creo que he sido de las pocas niñas que ha estado en una morgue, acompañando a su madre tras despedir de esta vida a su hermana". Recuerdo de niña, en secreto, servir de consuelo a una de mis tías, cuando ella se enteró que su hija adolescente estaba embarazada, su confianza primeramente puesta en mí. Son muchas las vivencias, que me han hecho concebir a mi familia como mi sello, mi marca personal.
Since my parents come from very large families, there have also been many joys and sorrows. I remember as a teenager accompanying my parents in their grief at the long illnesses of my grandparents and some siblings, and as I have said to my mother: "I think I have been one of the few girls who have been in a morgue, accompanying her mother after saying goodbye to her sister". I remember as a child, secretly, comforting one of my aunts, when she found out that her teenage daughter was pregnant, her trust first placed in me. There are many experiences that have made me think of my family as my seal, my personal mark.
Ha sido a lo largo de mi vida un interés y amor recíproco entre mi familia y yo. Mis primos me dicen que más que prima, yo soy su hermana. Mis hijos me dicen que soy la mejor mamá del mundo y mi madre repite a diestra y siniestra que soy la mejor hija y la mejor madre con sus nietos. Creo que lo primero es no creerse la mejor; yo estoy consciente de mis debilidades y errores, pero sí me llena de mucha satisfacción que ellos me digan esas hermosas y sinceras palabras que expresan sus más puros sentimientos hacia mí.
Throughout my life, it has been a reciprocal interest and love between my family and me. My cousins tell me that more than a cousin, I am their sister. My children tell me that I am the best mother in the world and my mother repeats left and right that I am the best daughter and the best mother to her grandchildren. I believe that the first thing is not to believe you are the best; I am aware of my weaknesses and mistakes, but it fills me with great satisfaction when they tell me those beautiful and sincere words that express their purest feelings towards me.
Hace casi 18 años cuando planificaba con mi madre y tías mi boda, hice algo inédito para la época en mi país, estaban muy de moda las fiestas "por todo lo alto" en hoteles lujosos, diseñadores de alta costura, en cambio, yo me decidí por una fiesta en la casa de mis padres, e invité a toda mi familia y a toda la familia de mi esposo, nada de pases limitados, ni condiciones de regalos escogidos previamente o solicitudes de regalos en tarjeta de invitación. Mucho menos indicar el tipo de traje que debían llevar los invitados, eso se estilaba, pero yo deseaba que todos en mi familia que desearan o pudieran ir a compartir Nuestra Boda, lo hicieran sin restricciones. La fiesta fue hermosa, un éxito y una bendición.
Almost 18 years ago when I was planning my wedding with my mother and aunts, I did something unprecedented for the time in my country, it was very fashionable to have parties "in style" in luxurious hotels, haute couture designers, instead, I decided to have a party at my parents' house, and I invited my whole family and my husband's family, no limited passes, no conditions of previously chosen gifts or requests for gifts in invitation card. Much less indicate the type of attire to be worn by the guests, that was the style, but I wanted everyone in my family who wished or could go to share Our Wedding, to do so without restrictions. The party was beautiful, a success and a blessing.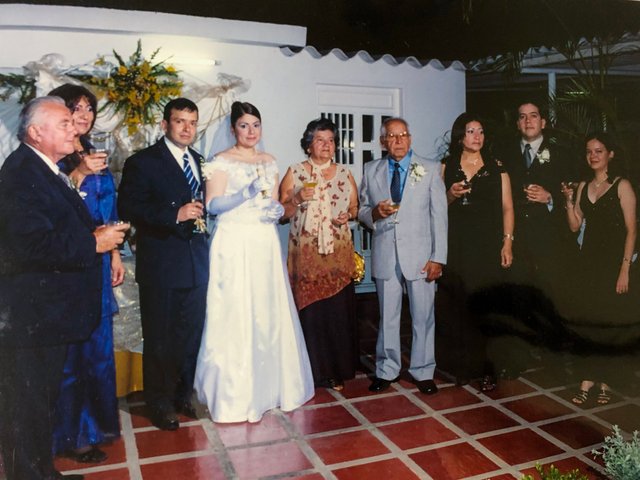 [ Celebración de mi Boda | My Wedding Celebration]
Hoy día mi marca personal, mi familia es aún más acentuada, ahora con mi esposo y mis hijos. Mi hija adolescente bromea acerca de que ella es de las pocas en su salón de clases que sus padres siguen casados. En la actualidad, ya mis padres son de tercera edad, y dejo un espacio para dedicarme a ellos; mis hijos adolescentes, debido al modelo que han visto, también hacen presencia en la vida de sus abuelos sobretodo en el plano afectivo. Este 25 de abril celebramos los 79 años de vida de mi padre, les preparamos en casa una pequeña torta de vainilla, ponquecitos de chocolate y galletas de naranja, a todos nos encantó. Hemos atesorado muchos momentos juntos y los que faltan.
Today my personal brand, my family is even more accentuated, now with my husband and children. My teenage daughter jokes that she is one of the few in her class that her parents are still married. Today, my parents are now seniors, and I leave space to devote myself to them; my teenage children, because of the model they have seen, are also present in their grandparents' lives, especially on an emotional level. This April 25th we celebrated my father's 79th birthday, we prepared a small vanilla cake, chocolate cupcakes and orange cookies at home, we all loved it. We have treasured many moments together and many more to come.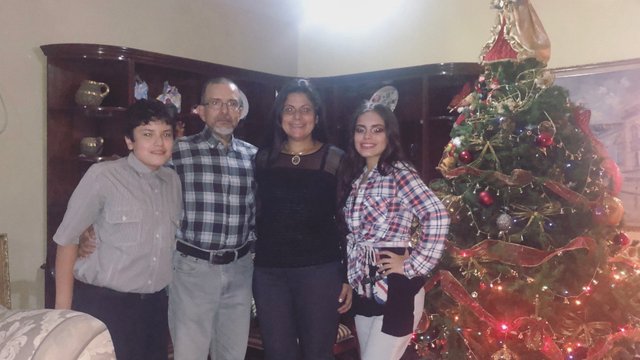 [Mi Familia, Mi Marca | My Family, My Brand]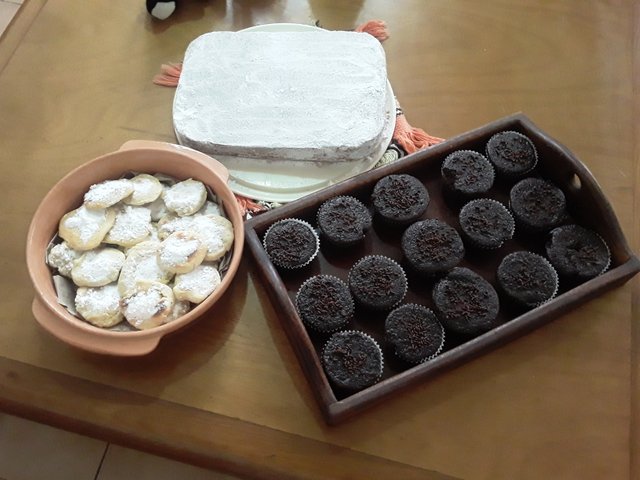 [Dulces hechos en casa por motivo de los 79 años de mi papá | Homemade candies for my dad's 79th birthday]
Por otra parte, la gente en mi trabajo , compañeros y amigos , pasan y pasan los años y me preguntan por mis padres, hijos y esposo, con sumo interés y cariño. Y me he percatado que no es así con todos. Me he auto examinado del porqué de esta situación, preguntándome si es que hablo mucho de ellos y no encuentro esa razón, creo que es más por lo que han podido observar. Por decir un pequeño ejemplo, mi hora de almuerzo yo la aparto para buscar personalmente a mis hijos en el colegio; y no las comprometo salvo excepciones, eso me da la oportunidad de verlos y saber cómo están, cómo se sienten. Aún cuando esté la facilidad de colocarles un transporte es una de mis estrategias para hacer contacto con ellos y no estar ausente todo el día. Confieso que no es sencillo, pero los resultados han sido muy gratificantes.
On the other hand, people at my work, colleagues and friends, years go by and they ask me about my parents, children and husband, with great interest and affection. And I have realized that this is not the case with everyone. I have examined myself as to the reason for this situation, asking myself if it is because I talk about them too much and I do not find that reason, I think it is more because of what they have been able to observe. To give a small example, I set aside my lunch hour to personally look for my children at school; and I do not compromise them except for a few exceptions, this gives me the opportunity to see them and know how they are, how they feel. Even when I have the facility to provide them with transportation, it is one of my strategies to make contact with them and not be absent all day. I confess that it is not easy, but the results have been very gratifying.
El ámbito laboral ha sido algo muy curioso, en distintas áreas que me desarrollado con éxito, me caracterizo por darle un lugar importante a mi familia. He ocupado puestos de alta responsabilidad pero me he propuesto y logrado dejar espacio a los míos. Considero que de alguna forma he educado a mis superiores y han entendido mi posición, dándome apoyo cuando lo he requerido, sin caer en excesos. Esta consideración se logra cuando no se pone en riesgo tu eficiencia como trabajadora, sino que la empresa también pueda también contar contigo en momentos excepcionales. Es un ganar - ganar. Las madres y padres que trabajan, se ganan la confianza en su entorno laboral cuando pueden equilibrar las áreas de su vida.
The work environment has been something very curious, in different areas that I have developed successfully, I am characterized by giving an important place to my family. I have occupied positions of high responsibility but I have proposed and managed to leave space for my family. I consider that in some way I have educated my superiors and they have understood my position, giving me support when I have required it, without falling into excesses. This consideration is achieved when your efficiency as a worker is not put at risk, but the company can also count on you in exceptional moments. It is a win-win situation. Working mothers and fathers gain trust in their work environment when they can balance the areas of their life.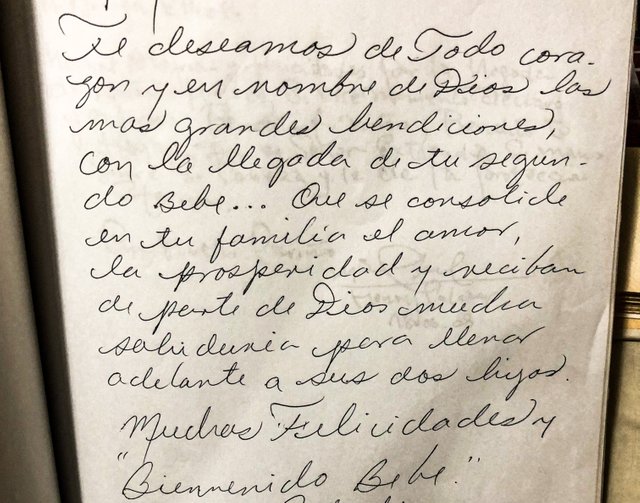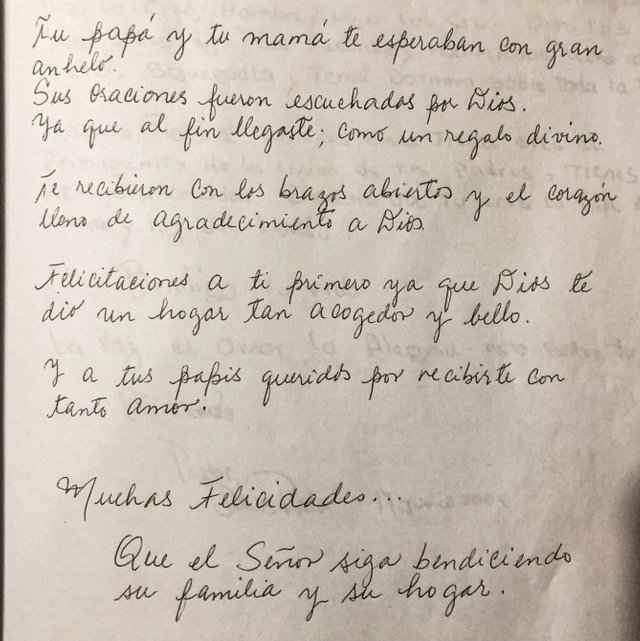 [Dedicatorias de mis compañeros de trabajo por el nacimiento de mi Hijo|Dedications from my co-workers for the birth of my Son.]
Sí he visto cómo algunas personas que para triunfar en el trabajo descuidan de forma inconsciente a la familia. Es una postura que puede traer consigo problemas a mediano y largo plazo: desorientación de los hijos, bajo rendimiento escolar, divorcios, factores psicosociales negativos que suelen afectar el desempeño laboral, justo lo que no se deseaba perseguir.
I have seen how some people, in order to succeed at work, unconsciously neglect their family. It is a posture that can bring with it medium and long term problems: disorientation of children, poor school performance, divorce, negative psychosocial factors that often affect job performance, just what you did not want to pursue.
Definitivamente, mi marca personal es y ha sido mi familia. Gracias por permitirme llegar a ustedes a través de este concurso y dedicar parte de su preciosa vida y tiempo para leerme. Un abrazo.
Definitely, my personal brand is and has been my family. Thank you for allowing me to reach you through this contest and dedicate part of your precious life and time to read me. Best regards.
Todas las fotos son de mi propiedad y fueron tomadas con mi cámara.
All photos are my property and were taken with my camera.