The three wishes I will have after getting Aladdin's lamp || My Fantasies
More or less we all have fantasies, such as we want to see oneself as special someone. Its not alter to me and I always wanted to be a queen or princess and by heart I'm a princess and I've my own kingdom which is part of my fantasy. Since childhood days I'm a day dreamer and I often sink into the imagination and it was seeing myself as a fairy who had a magic stick too, lol.
I grew up with the time and my fantasies are changed but those become more funny and impossible too and that's why those are fantasies not the part of real life. This Aladdin's magic lamp contest concept remind my fantasies that buried for having a busiest lifestyle these days. Let me share my three most cherished fantasies or wish.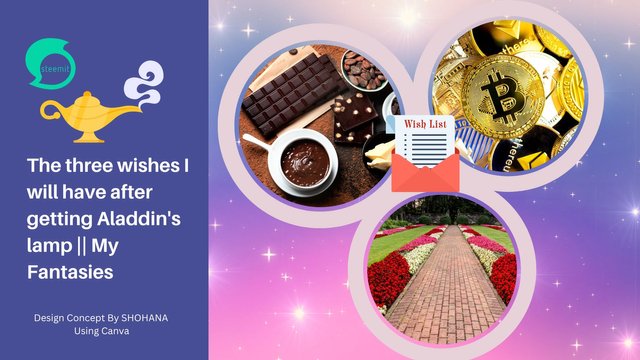 Designed Using: canva
I think the image above saying it all as I've framed my three wishes in the image above. These may sounds funny and this blog could be a great source of entertainment for my readers. Let me make you laugh. Let me know in the comment section bellow if my silly wishes match with yours. Have fun!
First wish: Rivers Of Chocolates:
---
I know this is kiddy but still its a wish that I'm going to ask for it to the genie inside Aladdin's lamp and this going to be my first wish as I'm a fond of chocolate and having a chocolate of river will be enough chocolates for my lifetime and I've no need to buy it from shops and I can eat it whenever I want to have some chocolates. I can feed chocolate to my friends too and can use them as gift for my most favorite people in this world.
Its true that when I will have more money I can afford buying more chocolates but I want this instantly like a endless river of chocolate where from I can collect chocolate like we collect water from rivers and ocean and it never end. I want this wish to be fulfilled instantly and there will be available all flavor of chocolates.
Second wish: A Never Ending Crypto Wallet :
---
Second fantasy or wish is having a crypto wallet where my assets will never end. There will be huge steem and tron that can help me making my steemit wallet and account stronger and I can help authors curating with big upvote. I can do p2p trading anytime whenever I need to have money. I will be free from any rules and restrictions by others and can be a free bird to spend my endless cryptos as I want.
This second wish will also help me to be financially tension free and helping others to be financially stable for lifetime. I will travel around the world and eat yummy foods around the world because I'll be financially rich and can manage enough time for travelling and visiting new places. There will be no shortage and my life will be financially fit for lifetime.
Third wish: A Piece Of Land For Gardening :
---
I always love to connect with nature so I want a piece of land for gardening where there I will grow my own organic foods like veggies and fruits. Its not end here, I want a garden with full of flowers I love most and it only possible via magic instantly. After having the second wish I may can afford buying such piece of land but the type of garden I'm expecting that will take a lots of time to be done so I want this as my third wish.
Yes my all wishes are self centered because I love myself a lot and I can't do show off or pretend to be something I'm not. I could mention three wishes like a generous individual who care for others but I can't tell lies so sharing my kiddy fantasies as wishes. Hope you all enjoyed the fun.

Thanks For Reading
---
Would like to invite my friends @ripon0630 @aaru @beautiful12 @asiahaiss @jyoti-thelight @lavanyalakshman @intrepidthinker @ternuritajessi to take part in this contest. If you already participated, pass it to others.
Find more details here: Contest Announcement By @msharif Thanks for arranging such awesome contest. I wish all participants best of luck.
---
A #steemexclusive Blog Written By @shohana1
---