Steemit Philippines Community Daily Update (Diary Game Contest and Other Games Update, Member's Update, Delegators Update and More) | JUNE 04, 2021
Long live and have a nice day for all of us!!!
The Steemit Philippines Community is now better after 2 months as we keep doing what is best for our community members and the Steemit platform itself. One great action we did is our participation in the June 1st #SPUD4STEEM campaign which makes us 5th place and I thank God for this. This is our second time participating and the second time in a row that we belonged to the top 5.
Now, as my desire to continually support our community, I will be going to share some important events and updates which everyone might like to know. Hopefully, this will give attention to everyone and finish this up to the end.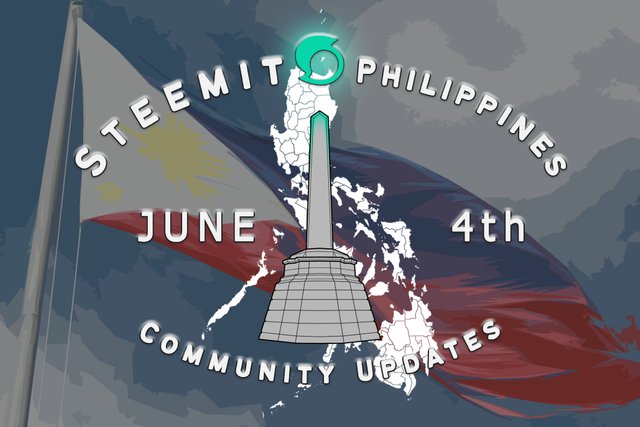 Since we have powered up again, we now have a little bit bigger curation reward than before. It is my joy to help all our members as long as I can.
Now, I will update you with some of the most important things we should know here in our community most especially about our contests and some contests featured. We will also be going to know some updates to our members and delegators, so please stay with us.
Our Contests Available For Members To Participate
Diary Game Steemit Philippines Contests/Daily Best Comment Contest
We will now share another update on our Diary Game contest with our community, but first of all, I will remind you again of our rules and regulations that we better follow all of this to have a big chance of winning. Although we are not very strict about our rules and regulations because even if all of them are not followed you are still involved. But I will still encourage you all to follow it so that one of the Steemit Team curators, @steemcurator08, can also support you.
For the full details about the "The Diary Game' contest, please read the Daily Update by clicking the link below.
We can also found here our additional contest about "DAILY BEST COMMENT OF THE DAY and the "MOST NUMBER OF DIARY GAME ENTRIES OF THE WEEK". Have time looking and ready it for more details of our newest contest available in the community.
---
Show Me Your Talent Contest #4 by @olivia08
Our member @olivia08 is continually supporting our community by conducting her own contest which allows everyone to share their talents. For more details about this, please click the link below.
---
We can join the following but it is not obligatory for all of us to do, it just depends on you. Just read carefully each rule and regulation of each contest to have a better chance of winning.
---
To get to know our new Members even better, here are 3 of them that we will introduce.
1. @yurie.ali


2. @rosa2021


Another 2 members I would like to introduce here in our community. The first is @yurie.ali who shared an introduction post in the community and secondly, @rosa2021 whos shared a nice scene of a beautiful morning with a photo of her pet. I warmly welcome the two of you to our community.
HOW MANY ARE MEMBERS AND ACTIVE MEMBERS?
Today, I am pleased to inform you of all the current members we have today and those who are active in it in our Steemit Philippines Community.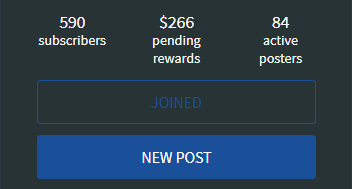 After 2 months, we have already reached more than 500 members which I definitely didn't expect this for we start the community from nothing. As of today, we have a total of 590 Members which increase by 7 members as compared to 583 Members from our last update. In terms of our active members, we were in the 80-90 range of active members which is the actual of 84 Members today.
UPDATES ON OUR DELEGATORS AND STEEM POWER (SP)
Today, I will also share with you our new update with our Delegators so that we can get to know our colleagues who have undoubtedly helped our community. We will also present another update to our current STEEM POWER (SP).
As we all know that we won 5th place from the last #SPUD4STEEM for the month of June which reward us with 1,500 Steem Power Delegation for 21 days. Today, we have received the 1st 500 SP delegation from one of the sponsors, @abuahmad and we still waiting for the additional 1000 SP delegation from other sponsors.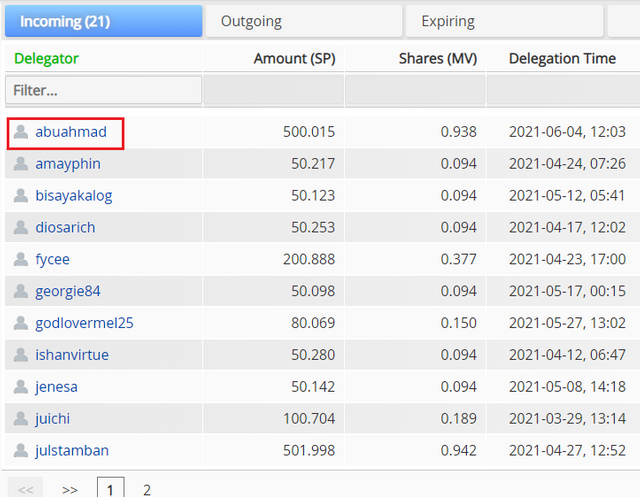 With regards to our original delegators, we still don't have new members delegated. Though we don't have additional delegators today, our current delegators were also a big help because of the SPs they lent, it added support for everyone. I am also thankful because we the trust and unending support from our delegators.
They are;
@amayphin, @bisayakalog, @diosarich, @fycee, @georgie84, @godlovermel25, @ishanvirtue, @jenesa, @juichi, @julstamban, @junebride, @jurich60, @kneelyrac, @loloy2020, @me2selah, @olivia08, @reyarobo, @sgbonus, @mers, @nickjon

Since we have powered up our community curation account, our Steem Power slowly growing and adds more support to our members. We also have additional Steem Power from our reward from the last #SPUD4STEEM that add more power to us. Now, from our @steemitphcurator account, we have a total of 4,100.39 SP and from our delegators and our reward were a total of 3,589.52 SP that makes a total Steem Power we have of 7,689.92 SP. We will wait again next month for another #SPUD4STEEM campaign for July to participate.
---
---
If you want to help our Community by delegating and curating, you can do the following.
1. Quick Link
I've created an easier way to be able to delegate just select at the link below.
Delegate 50 SP | Delegate 100 SP | Delegate 150 SP | Delegate 200 SP | Delegate 250 SP | Delegate 300 SP | Delegate 350 SP | Delegate 400 SP | Delegate 500 SP | Delegate 750 SP | Delegate 1000 SP
2. Delegate to how much you want.
To be able to delegate use the link.
---
3. Use Steemworld.org
Go to https://steemworld.org/link then log in. Just follow these simple steps.
Go to the Delegations Option


In Delegations, go to Delegate so you can delegate.


Type steemitphcurator and the amount of SP how much you want to delegate.

Then use the Active Key to make the delegation successful.
4. Curation Trail
So that you can auto-vote when the Community Account has a new post, follow us on.
---
For the full Tutorial on how to delegate and follow the curation trail of the @steemitphcurator community curation account, please go to @loloy2020's Tutorial. Please Just Click the link below.
---
Hopefully, it will go through and be supported by the Steemit Team and Curators. Many thanks to the Steemit Team for their support, especially to:
THANK YOU TO EVERYONE WHO SUPPORTED OUR STEEMIT PHILIPPINES COMMUNITY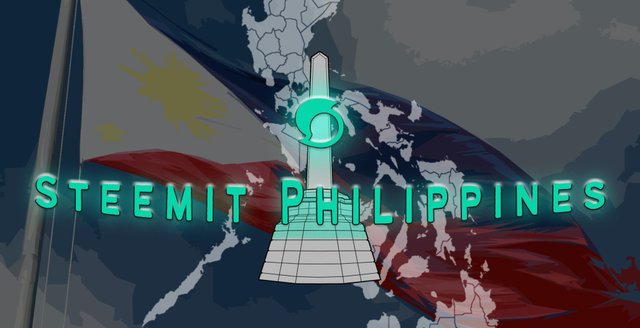 All Banners Credits to @deveerei. Thank you for the support.

GIF Footer Credits to @baa.steemit
Many Thanks to all and to God all the Praise and Thanksgiving !!!