Goulash Stuffed Peppers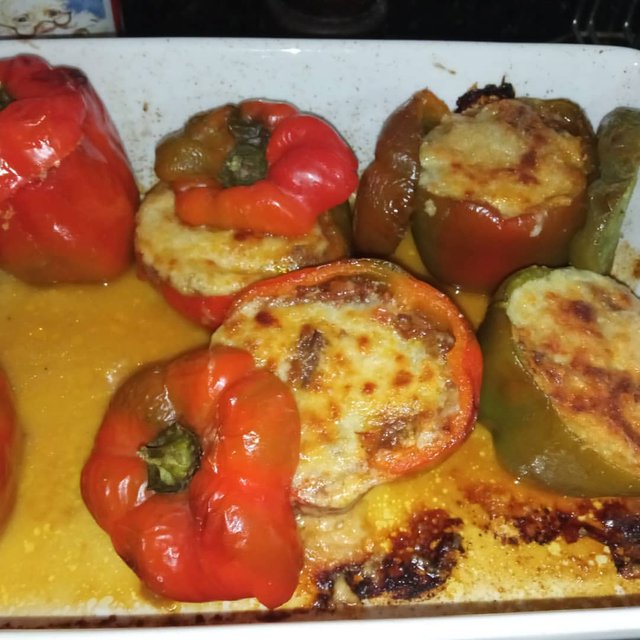 Hello friends of @secretbeauty today I come to share with you this
Delicious 😋😋😋, sweet
and with a lot of character due to the flavor of goulash with its characteristic smoky touch.
Ingredients:
Goulash
1 kilo of beef, minced veal into medium cubes.
2 large onions
5 cloves of garlic
4 large tomatoes
3 carrots
1 cup of red wine
1 liter of broth
2 bay leaves
1 tablespoon ground cumin
1 tablespoon of paprika, if it is smoked much better (here you can add more if you like).
Salt, pepper to taste
Oil c / n.
6 medium bell peppers, which are firm.
Mozarella and parmesan 3 tablespoon each.
How do we do it!!!!
1️⃣Brown the meat previously seasoned, in a little oil, remove and reserve.
2️⃣In the same pot, fry, onion and minced garlic, small carrot in rings
3️⃣Incorporate the grated tomatoes, without skin.
, 4️⃣Add cumin, bay leaves and paprika or smoked paprika, stir, return the meat and leave to cook for about 5 minutes.
5️⃣ Add the red wine, let the alcohol evaporate and the broth, salt and pepper, cook over low heat until the meat is tender.
🍴🍴🍴🍴🍴🍴🍴🍴🍴🍴🍴🍴🍴
7️⃣Wash the peppers, make a cut in the upper part to make a kind of lid, remove the seeds and the white veins, season and add a little olive oil.
8️⃣on a baking tray we place the peppers and fill up to 3/4 part with the goulash (I have crushed it a little)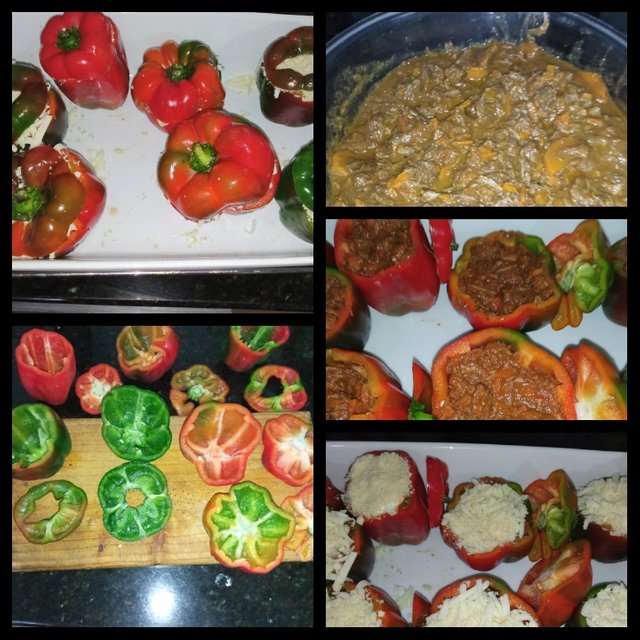 9️⃣Place mozarella and Parmesan cheese on top, place the caps of the Paprika, put in the oven at 180 degrees for 40 minutes, cover the tray with aluminum foil, remove it over time and cook au gratin.