Country Representative Application for INDIA by @drqamu.
The @steemitblog
Sub: Application for Post of Country (INDIAN) Representative.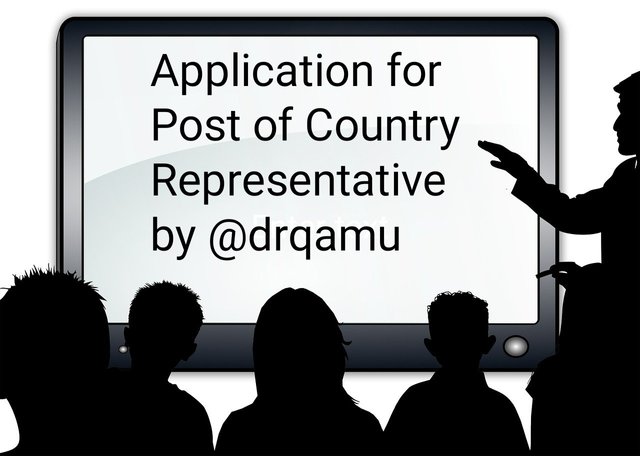 source
My journey on Steemit dates back to Sep 2020. After posting an introductory post, I was left in the middle of nowhere and then greeters came to my rescue and guided me through the achievement programme. I completed my achievement programme in less than a month. At the same time, our country representatives were also organising contests in a community and that also smoothened my journey. Whenever I had any problem, I used to contact our CRs on discord and honestly speaking they were always ready to guide me. The point to emphasise is that CRs had a great role to retain users and maintain the integrity of the steem ecosystem.
Towards the end of last year, I realised that our CRs were just mute spectators as they were doing nothing here and soon thereafter they dissolved the Best of INDIA community and betrayed Indian users. I was a lone user who raised my voice and tagged SC01 /02 to take cognizance of the issue. Since then, we had no CRs and so Indian users have been wandering from one community to other. After raising the issue, I also decided to create a new community but then one very renowned user from India told me that he had already finalised the paperwork for the community and will be launching the community within days. Shortly thereafter he too left the platform and unfortunately, my health deteriorated and I was advised by my health professionals to stay out of the screen. I couldn't launch the community then. After regaining my activities on Steemit, I am pleased to see that another India community is live. Steem iNDIA community Admin and Mods are doing a commendable job but we still don't have CRs to guide new Indian users.
It is a matter of great pleasure that the opportunity is now being provided to apply for country representative and thereby channelise efforts to maintain the integrity of the platform in general and recruit and retain new Indian users and boost the interests of existing users through different activities.

Fact check of requirements

I will try to evaluate my eligibility as per the criterias set by @steemitblog.
active on the platform for at least the past 3 months
I have been on the platform for about two years now and hardly any day may have been left without posting anything. Starting from the achievement program, I left no initiative untouched. My keen area of interest has been the crypto academy. I have participated in all the seasons and won weekly rewards many times. I remained inactive on Steemit during last season on academy due to inevitable health issues and during that period I had to power down as well. For about three months now, I am again active as per guidelines by my health professionals.
At least 1000 SP of their own (not delegated)

I have more than 1600 SP of my own and a repo of 72.149. I delegate my SP (200) to Steemit Pak and do not receive a delegation from anyone. It is worth mentioning here that during the last season of the crypto academy, I powered down to fix my health issue. Since then I am powering up all my earnings already club75 and within the next two weeks, I'll be club100 eligible and I am determined to power up and regain my SP.
Live permanently in the country they want to be a Country Rep for
I am a permanent resident of the Northern state of India named Jammu And Kashmir.
Be fluent in the main language of the country they want to be a Country Rep for
More than 22 regional languages are being spoken in INDIA but the main language is English. I have been posting all my content here in English only. In addition, I know Hindi, Urdu and Kashmiri as well. As for my experience on Steemit is concerned, we have a few Indian users who post in Hindi and all other users publish their content in English.
Have a CSI and voting pattern that ates that they are already supporting other Steemians in the country they want to be a Country Rep for.
My CSI is 10.2 with 0% self-upvotes. I don't only vote for Indian users but i vote for quality content users from any community. As of now my SP is not enough to fractionate the voting strength otherwise CSI would have been more . Moreover , i have never used bid bots as it is against community guidelines.


Why I am suited for this post?


Having spent more than 1.5 years on Steemit, I am well aware of all the rules of the platform. I have participated in all the activities that are going on with Steemit since my joining like steem for a better life, cryptoacademy, Steemit engagement challenge etc and have met good support from curators always due to my sincere efforts.
I am active in wide range of communities like four to five weekly engagement challange publishing communities , in addition i also publish diarygames in various communities like steem for betterlife , Steemit Pakistan etc. Since the dissolution of last community , i have stopped posting in any Indian community . I haven't even posted in steem india as legal status was not known to me . I recently came to know that the community has been permitted by SC01.
I'll channelise my efforts better for promoting integrity of platform and growth thereby among Indian users.
Regards
@drqamu