SPinvest Great Treasure Hunt - Collect all the keys to claim your chest of booty - Everyone is welcome #9

Ahoy, me hearties. Grab ye eye patch and start walking with a limp, treasure hunting session is open and all mateys are required on deck. Dere be the word of booty stashed from an old salt that carries a map of unseen eyes. Arrrggg!!!. Avast ye all!!, batten down the hatches and bring a spring upon'er. We be off in search of treasure and dere be plenty of blunder to be had by one and all.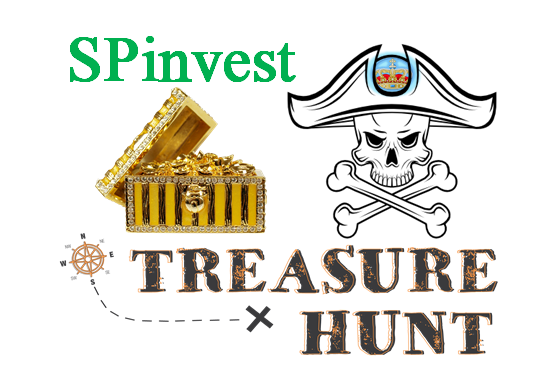 Welcome to number 9 of the 13 part SPinvest treasure hunt. Each week, i present a challenge and if you complete your task within 7 days, you will receive a letter. Collect all 13 letters to make a 13 letter word. The first person to unlock their treasure chest will get an extra bonus and for that reason, the letters are not given out in order.
This is an open treasure hunt and everyone is welcome to take part
---
Challenge #9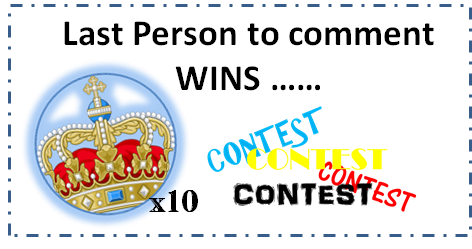 .
This is your 9th task to unlocking your treasure chest. All you have to do is comment with your date of birth (make one up if your shy) and resteem this post and that's you done and you've completed the 9th task.
If you are the last person to comment, you'll win 10 SPI tokens.
Rules are simple,
The last comment made on the post be it a new comment, reply to your comment are someone else's wins. I have picked a time that falls between this post being uploaded and post payout. That means it could 1 day, 73 hours are 6 days and 18 hours. I have set a countdown timer on my echo dot to a time that i know that i will be at the computer, that's the only clue your getting. No limit on how many times you can comment and if your thinking of being smart and using a bot to auto comment, don't bother cause I'll sniff you out.
So let's see how many comments we can get on this post.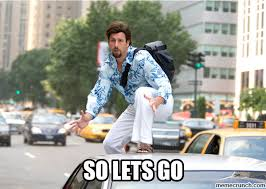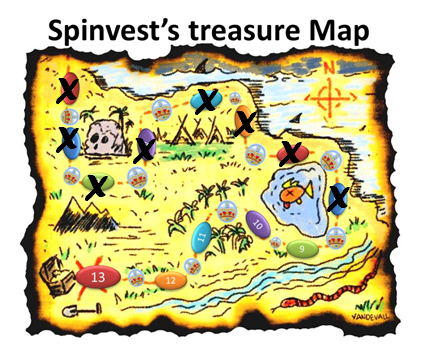 ---
How to claim your letter each week
When you have completed this week's challenge, your name will be added to the comments below to confirm before the post ends. You can either manually claim your letter each week by DMing me on discord to username silverstaker#3236 are you can wait until the final week and i will issue out all your letters at once.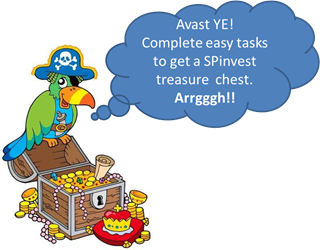 ---
What's in a treasure chest?
13 weeks is a long time, 3 months to be exact but a proper treasure hunt takes time and adventures are to be had along the way for sure. Each treasure chest will contain a mix of either SPI tokens, Leo tokens, Neo tokens, STEEM POWER/LEO delegations, straight STEEM, Steem monster cards and weekly upvote subscriptions from steemcryptosicko. Each treasure chest will contain ** at the very least** 15 STEEM's worth of goodies with a minimum total treasure chest fund of 200 STEEM.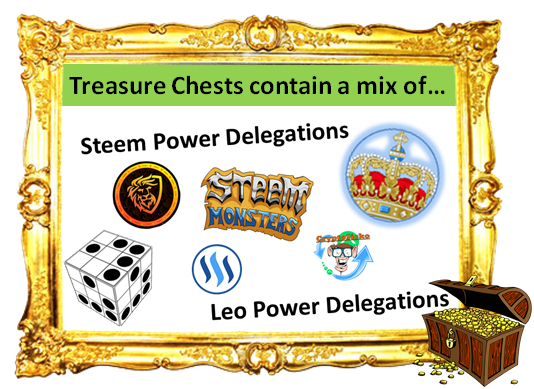 ---
Main Rules
This treasure hunt is open to anyone that holds a STEEM wallet
1 New challenge will be uploaded every week. Each challenge will be very simple and require no more than 2 minutes of your time and little effort
To claim your treasure chest, you must have all 13 letters to make 1 single word
The first person to guess the 13 letter word will receive an extra bonus (secret)
If you miss a week due to life being busy, you can claim missed weeks letter(s) by burning either 2 SPI tokens, 10 Leo tokens are 100 NeoxAG tokens per each missed week.
Treasures chests will be awarded the day after the 13th challenge post ends
Finer Details
I will be recording everything on a trusty excel sheet and will release stats from time to time.
Prizes of Steem Monster cards and CSB weekly bundles are donations from a member (free)
STEEM POWER leases will range from 250-2000 SP for periods between 7-21 days funded by @spinvest (almost free)
Leo Power delegations will range from 500-1000 for periods of 7-14 days funded by @spinvest-leo (almost free)
Some liquid STEEM will be removed from post payouts on these treasure hunt posts and to fund that prize (free)
Leo and Neo token prizes will be provided by setting aside some from earnings every week for the next 13 weeks. (free)
SPI tokens will be funded directly from @spinvest (almost free)
Not every treasure chest will contain something of each prize. Each treasure chest is unique and will be a mix of 3-5.
1 Treasure chest per user. Using different accounts in order to claim more than 1 treasure chest will result in being forced to walk to plank and sleep with the fishes (your out)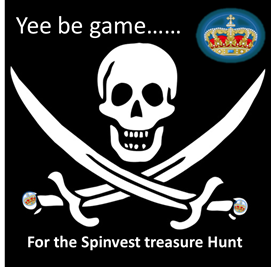 ---
What is Spinvest all about?
Steem powered investments @spinvest has been set up to offer an investment fund based on funding from STEEM POWER. Investments are funded through extracting value out of STEEM POWER and taking advantage of STEEM's high inflation rate. The aim is not to get rich quick; the aim is to build a safe portfolio of investments that will stand the test of time while ensuring all investors starting capital is not at risk. Full details can be found here.
Since launch, we have issued over 64,000 SPI tokens, had sales of over 72,000 STEEM, generated around 4000 STEEM in profits and were only getting started. We have also written a partnership agreement, started an investment club, launched a sub-account for club votes and 2 other sub-accounts devoted to the steemleo and neoxian city tribes. To say things are going well is an understatement and again we are only started. Please check out my old posts, read comments and my replies and do research, feel free to ask questions in the comments below. Spinvest is geared to become a powerhouse and the foundations are being put in place little by little. Check out our growth rates in terms of STEEM in the chart below showing the first 5 months of growth week to week. Please also see "Information" at the bottom of each post that includes direct links to key SPinvest posts

---

Below are steemconnect hotlinks that allow investors to buy SPI tokens directly from @spinvest. Each token is currently priced at 1.00 STEEM and beside each link is the true STEEM cost to reduce confusion. You can also send any amount directly to @spinvest and i will issue you SPI tokens to 2 decimal places for the value of STEEM to send. All tokens bought directly will be sent to investors SE wallets within 24 hours but most likely much sooner.
.
5 SPI tokens - 5 STEEM
.
10 SPI tokens - 10 STEEM
.
25 SPI tokens - 25 STEEM
.
50 SPI tokens - 50 STEEM
.
100 SPI tokens - 100 STEEM
.
250 SPI tokens - 250 STEEM
.
500 SPI tokens - 500 STEEM
.
1000 SPI tokens - 1000 STEEM
.
2500 SPI tokens - 2500 STEEM




---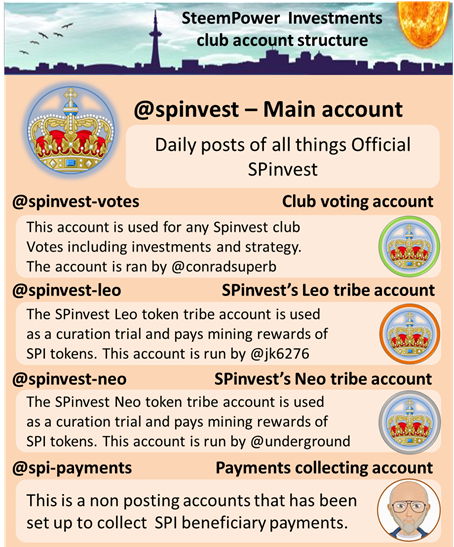 Important Information
| Information | URL Link |
| --- | --- |
| SteemPower Investments Introduction Post | Click HERE |
| SteemPower Investments Club Partnership Agreement | Click HERE |
| How to become a club member | Click HERE |
| How to convert SE tokens into SPI tokens | Click HERE |
| Join the SPI club Discord server | Click HERE |
| Join the SPI curation trail | Click HERE |
| What's best for the SPI Club? Centralized vs Decentralized | Click HERE |
| SPI tokens 95% buyback guarantee | Click HERE |
| SPI Club monthly Fiat to SPI token group buy | Click HERE |
| | |
| | |
All questions are welcome, please ask in the comments below


CLICK here for full details about SPI beneficiaries
Show support to SteemPower Investments through it's Patreon Page
Click here to join the SPinvest community over at beta.steemit.com (Steemit Communities)

Posted via Steemleo